Chris Williams' 1996 Ford Bronco
Items installed:
Rockford Fosgate Symmetry processor
Front Stage Diamond S600A 6.5
Rear Fill Diamond S600A 6.5
AMP (HIGHS) 2 Rockford Fosgate Punch 600a4
2 Optima Yellow Top Batteries
2 Custom 1 farad Caps
Installation Description
This installation has been completely done by myself. I have never been to a stereo shop for any part of the install.
I started with the custom amp rack with the plexiglass insert and went from there. After I finished the amp rack, I took everything out of the vehicle, and put over 300 square feet of Dynamat in the interior. I then replaced all the carpet and went to work on the wiring for the amp rack, the processor, the motorized boxes (vertical 3-way boxes) and the subwoofer enclosure. The sub enclosure is a bandpass enclosure that I painted burgandy to match the exterior of the truck as well as the amp rack.
All of the upholstery matches the vinyl that I covered the install in. I had all the colors of fabric and paint color matched by Ford to meet the same colors as in the factory. The piece of plexiglass in the middle of the amp rack I designed and cut it out with a jigsaw and sanded and polished the edges. I also did the edge lighting on the plexiglass.
The tailgate of the truck has been reupholstered by myself with a window and the Rockford Fosgate logo done on plexiglass in the middle. The tailgate itself is held up by Streetwires 4 gauge wire.
The Rockford component sets in the doors and the rear 3-way boxes can be turned on or off for sound quality or all-out loudness.
Q&A Section
Why did you decide to upgrade your A/V system?
I have been doing this my whole life.
What's the first thing you show people about your installation?
The amp rack and the motorized boxes.
Why did you choose these products?
I am well informed and I have found them to be top of the line.
What was the most difficult part of the installation?
The motorized boxes.
What plans, if any, do you have for future upgrades?
Update the center console and modifications to the truck itself.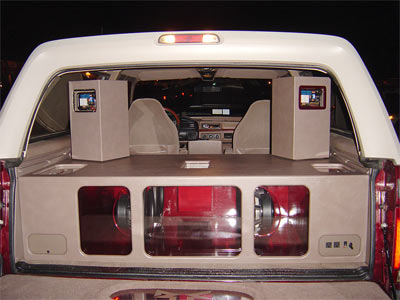 Chris Williams' custom sub setup in his 1996 Ford Bronco.