Sony's Xplod Dodge Pickup
Items installed:
sixteen 10" XS-L1030 subwoofers
eight XS-HF55 5-1/4" component systems
four XM-752EQX amplifiers
four XM-2252 amplifiers
CDX-C680 in-dash CD receiver
CDX727 six-disc CD changer
MDX65 MiniDisc Changer
Sony XTL-750W TV monitor
Discman PBD-V30 DVD player
Each door is filled with four XS-HF55 component systems. Four 5-1/4" woofers are mounted in the custom-designed door panels, two 1" tweeters fill the door sail, and two fit near the windshield. Four 75-watt, two-channel XM-752EQX amps drive these component systems.
Perhaps most impressively, the entire rear wall of the cabin is loaded with sixteen (that's right,
sixteen
) XS-L1030 10" subs. They're driven by four 225-watt, two-channel XM-2252HX amps. The phrase "bone-crushing" doesn't even begin to describe the bass capacity of this system.
The brain of the system is found in the in-dash CDX-CD680 CD receiver. Much of the system operation information is displayed on the console-mounted XTL-750W TV monitor.
A second XTL-750W is mounted in a side window, facing outward next to the external control panel designed specifically for the Dodge by Sony, and another control panel is located overhead in the cabin.
No slouch in the entertainment-source-variety department, the Xplod Dodge also features a CDX-727 installed snugly in the glove compartment, an MDX-65 MiniDisc changer in the dash above the glove compartment, and a Discman PBD-V30 DVD player stowed neatly behind the flip-down TV monitor.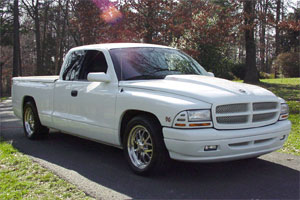 Sony's designers turned an average Dodge Pickup into "Xplosive" sound on wheels.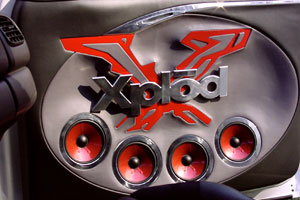 The 5-1/4" midrange components of the XS-HF55 system and the Xplod logo in the passenger-side door.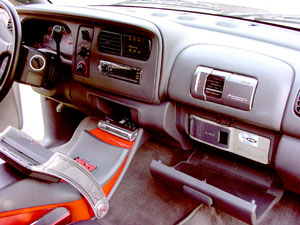 Counterclockwise from center: in-dash CD, DVD Discman, TV (folded back), CD changer (in glovebox), and MD changer.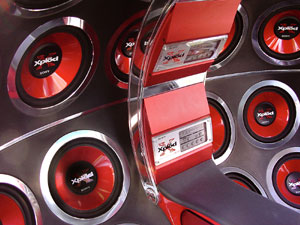 The rear wall is loaded from floor to roof with 10" XS-L1030 subs, with amps mounted between the seats.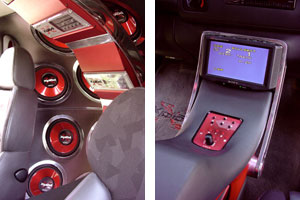 Left: A view of the rear-wall woofers from driver's seat.
Right: A closeup of console-mounted TV monitor.