David Leonard's 2003 Mitsubishi Eclipse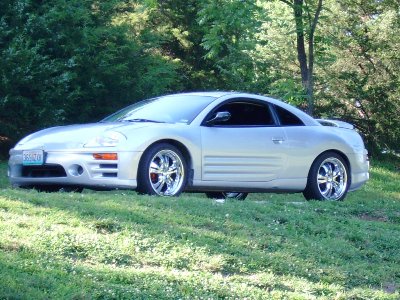 Items installed:
12" Kicker Solobaric L7 in handmade 3/4" MDF/fiberglass box
8" Touchscreen monitor molded into double din slot
Mini ITX Computer with 1GB RAM, 500GB HD, 256 ATI Graphics Card, mounted inside dash behind touch screen
Microsoft GPS Receiver
JL AUDIO Component Speakers
SPL 1600W 2 Ohm Amplifier
2.4 Farad Cap
0/0ga Power Wires
Altec High Definition TV Receiver
4 plug USB 2.0 adapter
Wireless N Network Adapter
Audigy Extigy 2 THX 24bit 7.1 Channel Audio Card
Panasonic Single DIN Unit, mounted in old clock position
100amp fuse Distro block
4ga power wire for PC
M2 ATX power supply for PC
Optima Redtop battery
Bluetooth adapter
USB OBDII reader
Installation Description
I've been installing car audio equipment for over 10 years, and it all boils down to having any type of entertainment/necessity at your fingertips. I decided to remove the factory clock and install my single DIN head unit in its place. I needed power so I purchased a bigger alternator, and an Optima battery using 0/0ga and 4ga wiring stinger distro block with fuses. I gutted out the space where my Head Unit was located, installed a micro ITX form factor Motherboard, 500GB HD and power supply. I also fabricated a docking station for my GPS unit above the new bezel for my Head Unit, and I molded a new front dash cover from fiberglass and other materials for my touchscreen, blue LED backlit USB ports and DVD burner. I installed a USB high definition FM/TV receiver into my factory spoiler. I also Painted the dash silver and black to match color scheme of car, built a conforming fiberglass and MDF sealed enclosure for my 12" L7 subwoofer, built amp rack on back of my box, enclosed amp in 1/2" Plexiglas and installed two 4" brushless fans to keep it cool. I now have full 7.1 channel 24 bit THX Certified Surround Sound, and can download all my music from home, watch Star Trek in HD, navigate with my GPS, play World of Warcraft(lol), burn my buddy a CD, talk to a buddy with my cell via Bluetooth, tweak my fuel air mixture, all on voice command or at the touch of my screen, while driving!!! FM remote start. As for security, thats my little secret...
Q&A Section
Why did you decide to upgrade your A/V system?
It just made sense, why spend all the money on separate stuff (GPS, DVD, MP3, ect.) when I can build a system thats small and does everything!!!
What's the first thing you show people about your installation?
PC
Why did you choose these products?
One Solobaric L7 in the right kind of enclosure will be louder and sound better than two of the competitions subs
What was the most difficult part of the installation?
Fabrication
What plans, if any, do you have for future upgrades?
Give me an idea I will put it in my ride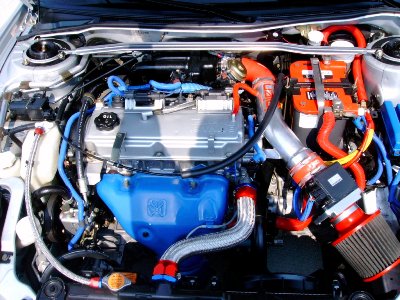 my engine bay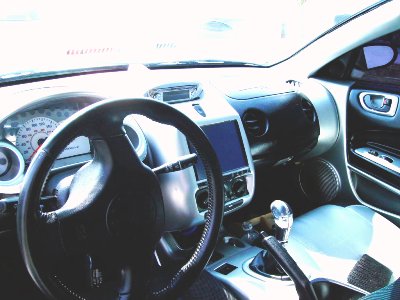 my dash with touchscreen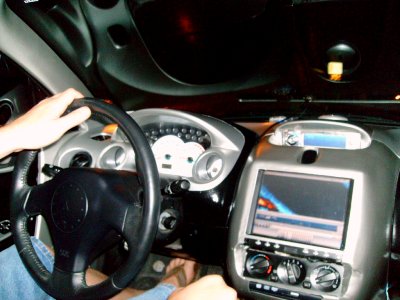 driving listening to music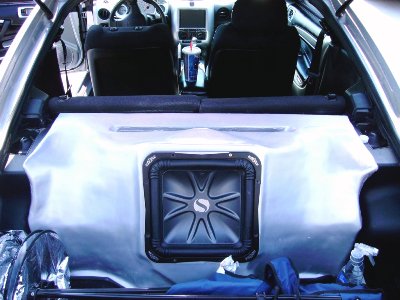 my 12" L7 inside handmade box
my ride, i want to keep the outside looking as stock as possible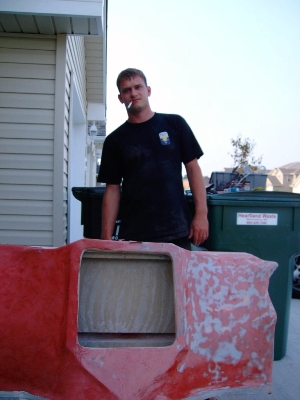 me making enclosure for L7