Denon AVR-1912 Home Theater Receiver Review
A big world of entertainment possibilities
Heads up!
Welcome to this article from the Crutchfield archives. Have fun reading it, but be aware that the information may be outdated and links may be broken.
Trickle-down technology is a wonderful thing. You see it frequently in a number of places, like the automotive industry for instance. This year's entry-level ride boasts built-in GPS navigation, tire-pressure monitoring, and Bluetooth® connectivity that filtered down from last year's top-of-the-line luxury model. And so it is with electronics, especially the Denon AVR-1912 receiver.
Even though it's only a few steps up from Denon's most basic home theater model, the high-end technology found inside this surround sound receiver is more like a flood than a trickle. The list of features is long and impressive, and reads like one of Denon's flagship models from just a few short years ago.
Connections galore
Its seven channels of amplification can be configured to drive a seven-speaker home theater system, or power a five-speaker system and an extra pair of stereo speakers, say in the kitchen or outdoors on the patio. Six HDMI inputs offer enough switching convenience for all but the most ambitious setups. And its computer networking capabilities open up a whole new world of entertainment possibilities.
But sometimes, too many features can create a level of complexity that makes a product difficult to use, and pulls attention away from important fundamentals like sound quality and construction. To see how this Denon would fare on all these counts, I fired it up in our Crutchfield Labs home theater listening room. I'm happy to say that the performance, build quality, and ease of use exceeded my expectations.
Don't worry, the Wizard will help you get started
When it comes to home theater setup, just the process of getting started can often be intimidating. There are multiple speakers and source components to plug in, surround sound and listening modes to consider, and in the case of the '1912, Internet connections to deal with. The receiver includes a small printed quick start guide to get you going, but the full owner's manual is on a CD. Personally, I prefer a printed manual, but this seems to be the way of the future, and if it saves some trees that's okay by me. In any case, the real star of the show is Denon's Setup Wizard.
This user-friendly setup guide takes you step-by-step through each phase of your system's basic connections and settings using plain language and an on-screen menu that's displayed on your TV. Visually, the Wizard's menus are rather low-tech in appearance, but they're clear and easy to read. Sometimes, simple really is better.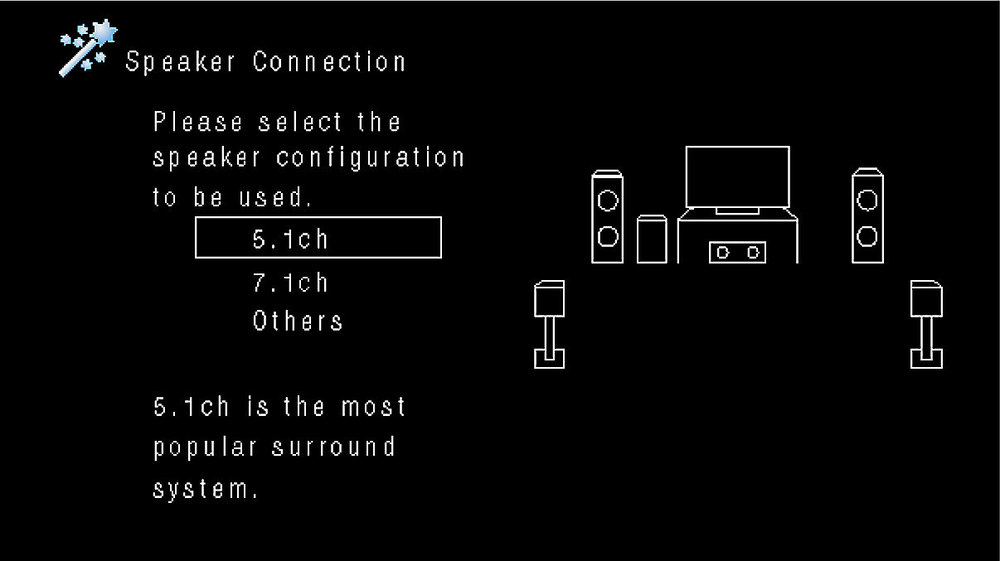 The on-screen Setup Wizard helps you get your system up and running quickly.
The Wizard showed me how to connect all seven Polk RM87 satellite speakers in our listening room, as well as the Polk PSW108 powered subwoofer and a Sony BDP-S580 Blu-ray player.
It also stepped me through Audyssey's MultEQ six-point speaker and room calibration, and gave me the remote control codes for the Sony Blu-ray player and our Samsung TV. I plugged those codes into the receiver's own multibrand remote, and they worked perfectly to operate the player and the TV.
Finally, the Wizard helped me set up the computer network connections in order to take advantage of the receiver's Apple AirPlay®, Internet radio, and remote control app features. It should be noted that the '1912 requires a hardwired Ethernet connection to your modem or router to utilize these features; it doesn't connect wirelessly to your home's Wi-Fi system (I have read of people using a wireless bridge with some success to get around this requirement, but I did not try that option and can't vouch for its effectiveness).
Although I've hooked up a few home theater systems in my time, I can't tell you how much easier the Wizard made the process. So with all of my connections connected, and my settings set, it was time to see what this Denon was made of.

Denon's free app lets you use your iPad, iPhone, iPod touch, or Android phone as a Wi-Fi remote control.
Built to dish it out of thin air
Denon receivers have always enjoyed a reputation for high-quality sound and sturdy construction. The '1912 is no exception. Coming out of the box, it felt beefy and well put together. No flexing chassis panels or loose controls here, everything was tight and solid. But how did it sound?
To find out, I pulled out my iPod touch® and used the receiver's built-in Apple AirPlay® feature to listen to some tunes. AirPlay technology lets you stream music wirelessly from your iTunes® library directly to the receiver, either from a networked computer or right from your iPhone®, iPad®, or iPod touch®.
I had also previously downloaded Denon's free remote control app from Apple's App store. The remote app lets you control a number of basic receiver functions, like volume, input source selection, Internet radio, and listening modes. There's a remote app available for Android™ phone users, as well, but I didn't have a chance to test that feature.
Surround sound vs. two-channel music
After listening to a couple of tracks by The Dandy Warhols and Dire Straits from my iPod, I found the sound coming through just the front left and right satellites a tad thin, even with the subwoofer on. I don't fault the Denon here, because these tiny speakers are made primarily for surround sound. (Serious music listeners may want to substitute larger bookshelf or even floor-standing speakers in the front for fuller sound.)
I used my iPod's touchscreen and Denon's remote app to switch the receiver into the multi-channel stereo listening mode, instead. That made a huge difference. With all seven of the Polk satellites playing, the sound immediately became richer and warmer, with the lower midrange and upper bass frequencies nicely fleshed out. I was very impressed with the sound of the Denon in this listening mode.
Volume was no problem either. Even though our listening room isn't huge, it's very well padded to soak up sound. The '1912 would easily play as loud as I was comfortable listening, which is to say, pretty darned loud! The receiver never broke a sweat, in fact, it barely even got warm the entire time. And the sound stayed clear, open, and undistorted all the way up to my ear's comfort limit.
Internet radio
At this point, I decided to give Internet radio a listen. The variety of stations was virtually unlimited: think Morrocan Jazz, Russian Disco, and Delta Blues! But the sound was decidedly lower fidelity than music from my iPod. However, I do store mostly lossless and uncompressed music on my touch, so comparing Internet music streaming at 128kbps or less really isn't fair.
Once again, I was able to use my iPod's touchscreen and the remote app to easily scroll through lists of different stations and genres of music for consideration. There are lots of presets for storing your favorites, plus a "most recently played" list to go back to for easy review.
I also discovered a button on the receiver's remote app screen labeled Restorer, a feature design to improve the sound of compressed audio. When I engaged it, I could definitely hear a difference. The effect wasn't super-dramatic, but it did smooth and enrich the overall sound. I found that Restorer provided similar improvements to the sound of Pandora® Internet radio, one of the online music streaming services, along with Napster® and Rhapsody®, that the '1912 is designed to work with.
What about movies?
WIth all of the latest surround sound decoding and HDMI switching built in, the '1912 was truly born for home theater. To see how well it handled these duties, I popped a Blu-ray copy of Avatar into the Sony disc player and spun up this big-time, blockbuster hit. The sharp 1080p picture passed cleanly through the receiver via HDMI, and displayed brilliantly on the Samsung's high-def screen.
As expected, there were no lip synch issues, and the dialog remained firmly anchored to the picture, where it's supposed to be. The surround effects were deep, detailed, and immersive. I don't get to hear full 7.1-channel surround systems all that often (my home system, and my friends' systems are mostly 5.1). The difference it made pleasantly surprised me. The additional back surround speakers added a good deal to the overall effect, creating a "full circle" ambiance that really complemented the movie. I may have to consider installing an extra pair in my system now.
Power choices: Zone 2 audio or bi-amp your front speakers
If you can't manage to squeeze those back surround speakers into your listening room, and wind up powering only five speakers instead of seven, the '1912 gives you a couple of cool options. You can use those two leftover amplifier channels to drive a spare set of speakers in a different room, or "Zone 2" in receiver speak. This is a nice feature that lets the kids watch a surround sound movie in the family room, while you chill out to some music on the porch. (And if you're within range of your home's Wi-Fi network, you can even operate the receiver with your remote control app to change stations and adjust the volume independent of the main zone.)
Or, you can use that extra power to bi-amplify your compatible left and right front speakers. This feature allows you to redirect the back-surround amplifier channels to your front speakers to give them a big power shot in the arm. As a card-carrying audio geek, I can assure you that this extra juice going to your main speakers makes a big sonic improvement for both movies and music listening.
Some suggestions for configuration
I lifted this section wholesale from Marshall's review of the Denon AVR-1612, the '1912's little brother, because the same insightful suggestions hold true for both models. Here's what Marshall had to say...
After hours of testing I discovered a couple of tweaks I'd like to recommend.
Although I had everything connected properly I still didn't hear anything out of the speakers initially. I know this happens to people in the "real world" too. If this happens to you, here's the fix. When you first set up the '1612 (or '1912) you will come across the "HDMI Audio Out" in the "HDMI Setup" menu. Select "AMP"; otherwise audio and video will pass through the '1612 (or '1912) to the television, but won't play on your speaker system.
When I did the "Audio Setup", I left the "Auto Surround" function "ON". I didn't like the result. Auto Surround automatically plays your new program using the last used decoding function. That's not much fun if the last mode you used was a two-channel stereo format and the one on your movie is in 5.1-channel surround. I turned the Auto Surround OFF and had no further trouble getting to the best decoding for each tested source.
A few final thoughts about the AVR-1912
I give the '1912 high marks for ease of installation, thanks to Denon's Setup Wizard, and its impressive versatility and connectivity. I also appreciate that Denon appears to have maintained the high level of construction and sound quality that has been a hallmark of their components for years. The '1912 looks and sounds fantastic, and should be able to easily handle all but the most bruiser speaker systems or cavernous rooms. Its surround sound decoding credentials are also impeccable.
I absolutely loved the remote app that allowed me to use my iPod's touchscreen to control the receiver instead of using the adequate, but unexciting, Denon remote. The only negative I have to say about this functionality is that there seems to be a slight time delay between choosing a command and the receiver's response. It's certainly not a deal breaker, and I became accustomed to it over the review period. Everyone's in such a rush these days!
AirPlay was another feature that I totally enjoyed. The sound quality was far beyond what I expected for wireless audio transmission, and being able to go through my iTunes library to pick out a song at whim was sweet. But much like Bluetooth®, I found that using AirPlay (and the remote app, as well) drew down the battery level on my iPod rather quickly. Fortunately, Denon provides a front-panel USB port that not only lets you play your music through the receiver with high-quality sound, it also charges up your device so it's always ready to go. (You can also use the receiver's remote to control your connected iPod/iPhone/iPad while viewing the player's contents and metadata on your TV screen.) Two very nice conveniences, I'd say.
Even with its easier-than-expected initial setup, the AVR-1912 offers many levels of options and control that take you far beyond simply getting a good picture and sound. Like most sophisticated receivers of its kind, this Denon requires a good bit of investment in time and patience to get the most it has to offer.
More casual users may find this level of complexity frustrating, at least at first. Don't worry, with a little perseverance, things will eventually fall into place. For power users, the Denon AVR-1912 receiver provides a virtual playground of adjustments and settings that will keep you tweaking to your hearts content.