Denon DNP-720AE network music player review
Add streaming music to your existing home stereo
Heads up!
Welcome to this article from the Crutchfield archives. Have fun reading it, but be aware that the information may be outdated and links may be broken.

Here's your dilemma: You have a stereo or home theater receiver that you're very happy with. It's got plenty of power, great features, and helps your speakers sound their best. However, it's missing something: a network connection for streaming music.
Most new receivers include some type of network connectivity – either via Ethernet or Wi-Fi® -- and all the streaming benefits associated with it. Internet radio stations, music services, and Apple AirPlay® have opened up an endless supply of music to discover and enjoy.
So how do you get streaming music to your speakers without upgrading your receiver? If your receiver has HDMI inputs and you're an Apple user, Apple TV is a good option.
If you have a computer close to your system, you can connect it directly to your receiver.
A third option is to buy a component-style network receiver. While there are several excellent models from Cambridge Audio, NAD, and Marantz, the Denon DNP-720AE is currently one of our hottest sellers in this category. Featuring built-in Wi-Fi, AirPlay, and support for Internet radio and music services, this could represent a real bargain for music lovers who aren't willing to part with their current amp or receiver.
Given the Denon network player's recently discounted price and increasing popularity with our customers, we thought we'd take a closer look at its features and performance. I spent some time with it in the Crutchfield Labs.
The included remote control offers complete control of the DNP-720AE's functions.
Easy to set up, easier to control
The DNP-720AE is about the size of an older CD player. It's designed to fit in your component rack or shelf. We connected it to a vintage Pioneer SX-950 stereo receiver, a huge wood-enclosed powerhouse from the 1970s. You might wonder why anyone would choose to keep such an old receiver rather than upgrade to something new. But if you could hear how this beast makes our PSB Imagine Minis sing, you would understand. Ultimately, a receiver is about providing power to your speakers. Once you've achieved a good match between those components, you may want to preserve that chemistry.
I connected the DNP-720AE to our network with an Ethernet cable and got it up and running quickly. If you're connecting it to a wireless network, you'll need the included remote control to enter your network password. Once you're connected, be sure to download the Denon Remote app for your Apple® or Android™ smartphone or tablet. While the supplied remote allows you to control all functions, most are far easier to use with the remote app.
One function you can't control with either remote is the volume. Because this player's volume output is fixed, all volume adjustments must be made on your receiver. That was a bit frustrating, given that our vintage Pioneer doesn't have a remote.
One advantage of the Denon is that it requires no TV, which is nice if you have a dedicated listening area without one. The Denon doesn't have a video output. The large 3-line display and remote app provide all the info you need for operation. This makes it an attractive option for adding digital music to a second zone, particularly because most multi-room home theater receivers will not output digital audio to Zone 2.
The free Denon Remote app is the easiest way to control most of the player's functions.
Internet radio stations
Once the player linked with our network, I selected "Internet Radio" from the remote app on an iPhone®. This accesses free Internet streams of thousands of radio stations around the world through vTuner Internet Radio. With so many choices, it can be a bit overwhelming to navigate. Fortunately, Denon provides some easy ways to browse through vTuner's many selections.
Using the remote app, you can search for specific stations or browse by genre and location, including local stations. Within each category you can limit viewable results to "high-quality" streams for higher bitrates, which translates to better sound quality. You can also browse stations and select favorites online through RadioDenon.com, Denon's vTuner portal, for a more user-friendly search on your computer. Once you've selected your favorites, it's easy to recall them instantly using the factory remote or remote app.
One gripe about the remote app: It doesn't let you scroll when browsing stations. You have to touch arrow keys to flip through screens. It's a small complaint, but with a couple of years of Apple touchscreen scrolling under my belt, it's a little frustrating (not to mention completely flummoxing the first time I used it).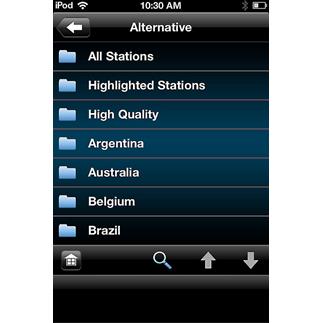 The Denon Remote app lets you search for Internet radio streams by genre and location while highlighting stations with high streaming bitrates.
Sound quality varied greatly even among high-quality streams, from quite good to not very good at all. This is the nature of Internet radio with any playback device, not just the DNP-720AE. Some streams are just better than others. One station featuring nothing but Celtic music delivered nice full sound. But one South African station left me wondering how it ended up in the "high quality" list.
I really liked how the Denon's display and the remote app both show the station, artist, and song info for stations that broadcast those details. It made it easy to keep track of what I was listening to while searching for other stations.
I could spend quite a long time sampling stations from around the world looking for interesting music. While the web portal makes browsing easier, it's easy to save a station to your favorites as you listen using the factory remote and remote app.
Pandora® Internet radio
Next, I moved on to Pandora, another built-in free streaming option (with commercials and song-skipping restrictions unless you're a paid subscriber) which lets you create stations based on an artist, genre, or song. You can enter your account info with the factory remote, though new users will need a computer to complete their registration.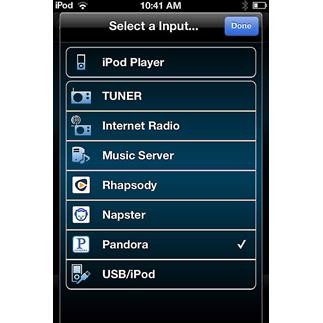 Choose from a variety of streaming music source, including Pandora, with the remote app.
I don't use Pandora a lot, partially because the sound quality of the stream is a bit low for my taste. But I was immediately impressed by how good it sounded with the DNP-720AE. "The Cave" by Mumford and Sons sounded very full, though not as detailed as I would prefer. But it was much better than I expected -- particularly the natural sound of the vocals -- and far better than what I hear from the Pandora iPhone app through my headphones.
Fortunately, it's easy to browse through your stations using the factory remote as the remote app doesn't have this capability. All artist and song info is displayed on both the player and remote app, so you always know what station and song you're listening to. Given how easy it is to use and how good it sounds, the DNP-720AE would make Pandora a much more attractive listening choice for me.
In addition to Pandora, the Denon network player also offers built-in support for the subscription music service Rhapsody, which offers access to more than 16 million songs for a monthly fee.
Apple AirPlay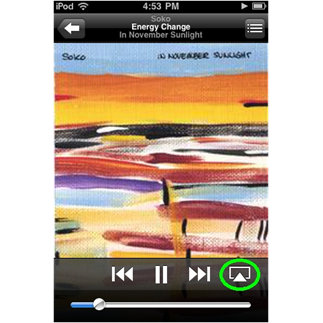 Touch the AirPlay icon to stream music from your iPhone, iPad, or iPod touch to the DNP-720AE.
Because of the popularity of iTunes®, iPhones, and iPads®, AirPlay is becoming a valuable feature for many streaming music users. If you use iTunes or any Apple device, it's the easiest way to get music from your collection or from apps like YouTube™ and Spotify® to the DNP-720AE. I tried it using MOG, a streaming music service I happily pay for to have millions of songs at my fingertips. "Just Beneath the Surface" from the new album by Dawes sounded quite lovely streaming at 320kbps, with clear vocals alongside dynamic guitar and organ fills. Other tracks I sampled sounded very good, though slightly compressed through the revealing PSB Imagine Minis. But like most music lovers, I'm often willing to sacrifice a little sound quality for quick and easy access to millions of songs.
With so many people using YouTube as a music player these days, I wanted to hear how it sounded through the DNP-720AE. I found a concert video of Wilco performing "Impossible Germany." The sound quality through the Denon wasn't astounding, but it was very listenable, and certainly far better than the tiny iPhone speaker I often rely on for YouTube audio. Plus, I had the benefit of being able to watch the video on the iPhone while enjoying the sound through a fantastic stereo system. The audio and video were very nearly in sync, too. Listening through a high-quality playback system makes YouTube even more attractive as a music player.
The DNP-720A is also capable of streaming high-resolution 96 kHz/24-bit files via AirPlay. I streamed some of our favorite high-resolution reference tunes stored in AIFF format on a Mac® mini. This was the highlight of my listening experience with the Denon network player. "Hotel California" by the Eagles featured incredible instrument separation and depth. Allison Krauss's vocals on "Paper Airplane" were drop-dead gorgeous. And Steely Dan's "Babylon Sisters" was superbly detailed, without being harsh or fatiguing. Certainly the quality of the receiver and speakers accounted for a large part of the performance. But the DNP-720AE held up its end of the bargain to accurately deliver the digital goods to this system.
DLNA support for PCs
Even if you're not an Apple aficionado, you can still get in on the streaming music fun. The DNP-720AE has DLNA music server capability for streaming music files from networked PCs, music servers, and select Android devices. And like AirPlay, it even does high-resolution, for streaming 96 kHz/24-bit FLAC files.

Connect your iPod, iPhone, or flash memory device to the DNP-720AE's front panel USB port.
Front-panel USB port
The DNP-720AE's front-panel USB port provides a couple of options. You can connect your iPod or iPhone, or you can use it to listen to music stored on a USB memory device. This is a great way to get digital music files playing through your speakers without a Wi-Fi network. And thanks to the Denon's 192 kHz/24-bit DAC, it's also another way to play high-resolution files like FLAC downloads from HD Tracks. I sampled a 96 kHz/24-bit version of Paul Simon's "The Afterlife" from a thumb drive, which the Denon player delivered with a wide soundstage and outstanding vocal presence.
Next, I plugged my iPod touch® into the Denon and set it on top of the player. That allowed me to sit back and control the iPod with the factory remote to play, pause, and skip songs. Artist and title were displayed on the Denon's front-panel, a feature I was really getting used to. My lossless version of "Loving Cup" by the Rolling Stones sounded clear and smooth with nice detail in the piano and strong bass response.
The bottom line
I had a lot of fun playing with the DNP-720AE and its many ways to connect with digital music. The wealth of tunes this player can add to a system is intoxicating. There are so many options to discover and enjoy a seemingly endless supply of artists, songs, and styles. There's even an AM/FM tuner for those who'd rather listen to radio stations the old-fashioned way. Of course, it's the Denon's streaming capability that makes it an attractive addition to a home stereo. Though delivered with varying levels of sonic performance, the Denon made the most of the digital formats I fed it.
For Apple users with subscriptions to MOG, Spotify, or any music service with an AirPlay-compatible app, this player is a great way to get your money's worth. Both Mac and PC users can liberate their digital collections from their computer or hard drive. And the on-board support for Internet radio and Pandora offers plenty of free listening options before you even tap into your own music. If you're looking to add music streaming to a receiver that you're just not willing to part with, the Denon DNP-720AE is a great way to do it.