6 reasons why I'm excited about the Denon HEOS AVR
An app-based A/V receiver with wireless surround? I'm intrigued
I took the Denon HEOS AVR home to see how easy it was to set up and use.
If there's a single over-arching trend in audio/video gear, it's simplicity. People want products that are easy to set up and use.
So how do you make a home theater receiver, one of the most complex and sophisticated products in the A/V world, easier to use? By rethinking it from top to bottom. That's what Denon did when they designed the HEOS AVR. When I first learned about it, I had lots of questions. To answer them, I took the HEOS AVR home and set it up in my living room.
After living with the HEOS AVR for a few weeks, here's why I'm excited about this groundbreaking product.
1. Form factor – small, sleek, streamlined

The sleek HEOS AVR doesn't look like any AV receiver I've ever seen.
I've owned a series of A/V receivers, and they all had one thing in common: each was a bulky black box with a bunch of buttons on the front. So the first thing that stands out about the HEOS AVR is an utter lack of them – there are NO buttons. There's not even a display! Only a single volume knob adorns the sleek front panel of the silver chassis.
Speaking of the chassis, it's smaller and lighter than most AVRs. It would look at home in a classy apartment with glass furniture and expensive accoutrements.

There aren't tons of inputs and outputs on the back panel — just the ones that most people need.
When I turned the AVR around, I noticed far fewer inputs than comparably priced receivers. Why so few? It's all part of Denon's drive to make the HEOS AVR easy to use. Why clutter it up with more inputs than most users would ever need? Streamlined is the name of the game.
2. Where's the onscreen guide?? It's in the app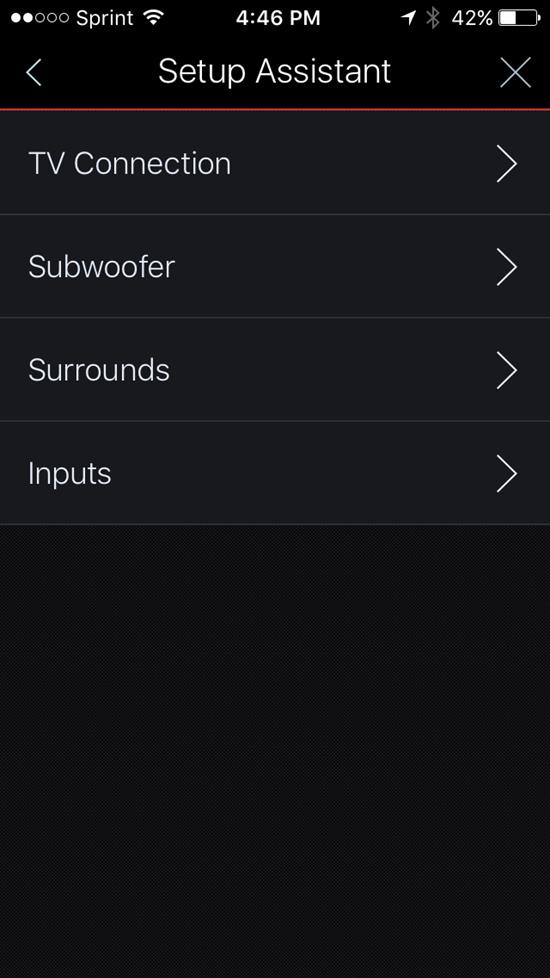 All setup info and settings are found in the HEOS app for phones and tablets.
After unboxing the HEOS AVR, I connected my speakers, TV, satellite box, and Blu-ray player to it. Then I turned on my TV, expecting to see some sort of welcome screen from Denon. Nothing. Just blackness. How strange. And then it hit me: there's NO onscreen guide. ALL of the receiver's setup info, settings, and features are accessed through the Denon HEOS app.
I'll admit: at first, this was frightening. I was clinging desperately to a familiar convention. But as I started to dive into the HEOS app to get the AVR configured, I realized how much easier it is to do on a phone rather than with an onscreen guide using an old-school remote.
I quickly fell in love with the app-based approach. (The HEOS AVR does come with a small remote for basic functions like source switching and volume control.)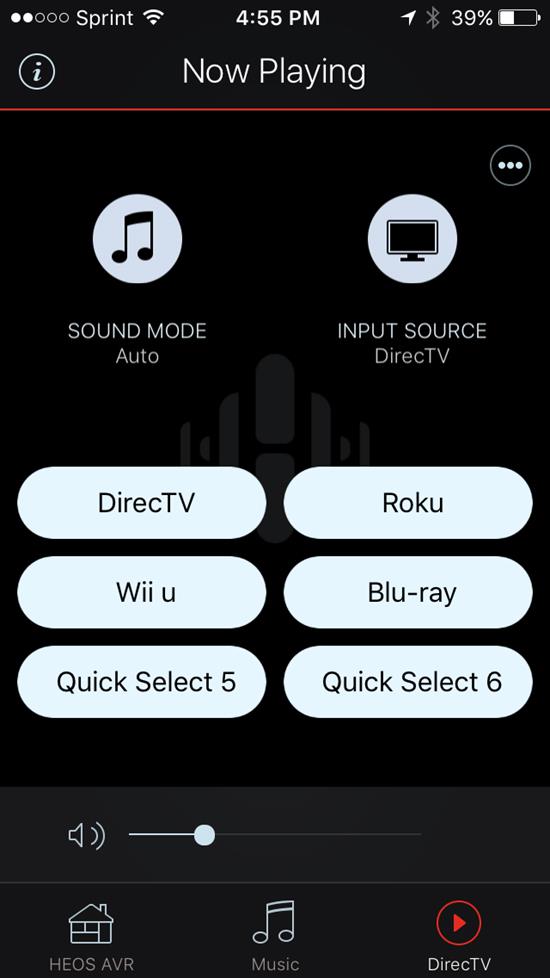 You can customize source names in the app.
It took a little bit of searching to figure out how to get everything properly configured. The instructions for getting the HEOS AVR on my network were easy. And once I found everything in the app, setup was straightforward.
I'd love to see Denon add some sort of setup wizard to the app for the AVR. Once it sees it on your network, it could have a pop-up that says, "I see you have the HEOS AVR. We'll help you get started." Currently, you have to hunt a bit to get to the Setup Assistant screen in the app.
3. Wireless surround sound
I wish I had the perfect room for surround sound. But like so many people, I don't. Normally, I just use front-stage speakers: stereo speakers flanking a center channel, along with a powered subwoofer, all connected to my receiver.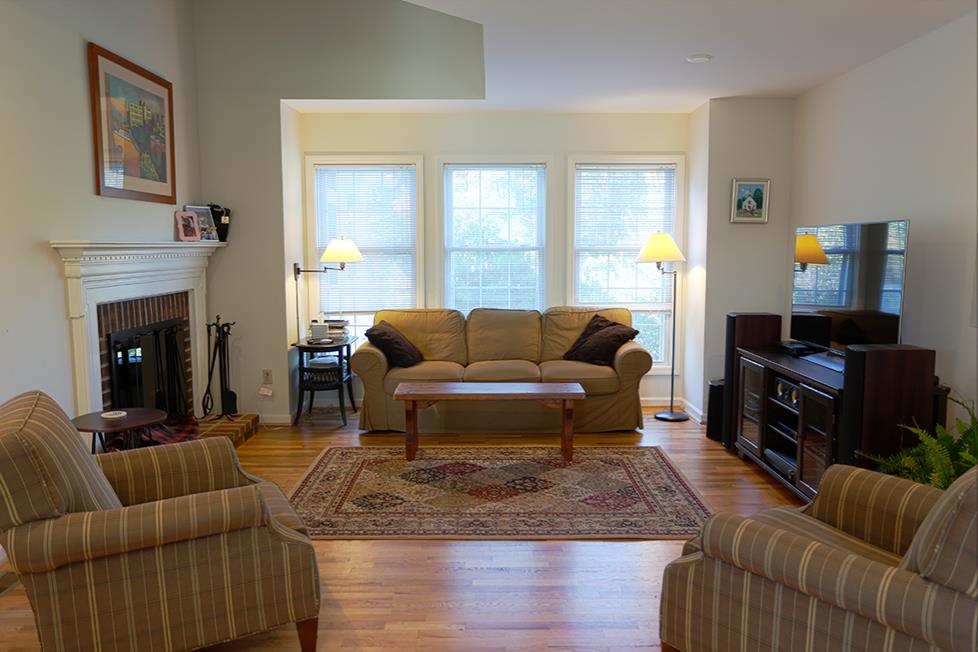 With a fireplace on the back wall and an unconventional seating layout, my living room is NOT conducive to permanently installed surround speakers.
But every once in a while, we like to move our couch and chairs right in front of the TV and watch a movie as a family. I've toyed with the idea of bringing up a couple of stereo speakers from the basement and running wire across the floor for these occasions. But it's more trouble than it's worth.
Enter the HEOS AVR. It allows you to add wireless HEOS powered speakers as surround speakers – no wires needed. Just plug them into an outlet and use the HEOS app to sync them with the AVR (it's very simple). So I did just that with a pair of HEOS 1 speakers, which I placed on a couple of small tables I already had in my living room. Within about 3 minutes, I had 5.1-channel surround sound.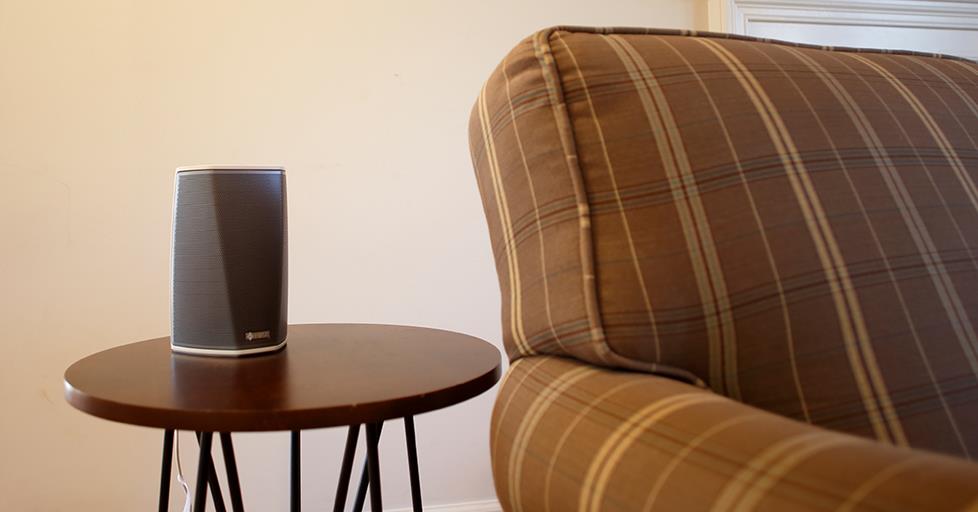 The HEOS 1 speakers make easy add-on surround speakers for movie nights when we move the couch and chairs to the center of the room.
Here's another benefit of this setup. You can use those HEOS speakers in other rooms when you're not watching a movie. They're part of the HEOS multi-room system. So when I wasn't having movie night watching Kong: Skull Island with my son, I set up one speaker in my kitchen and another in my bedroom for music listening.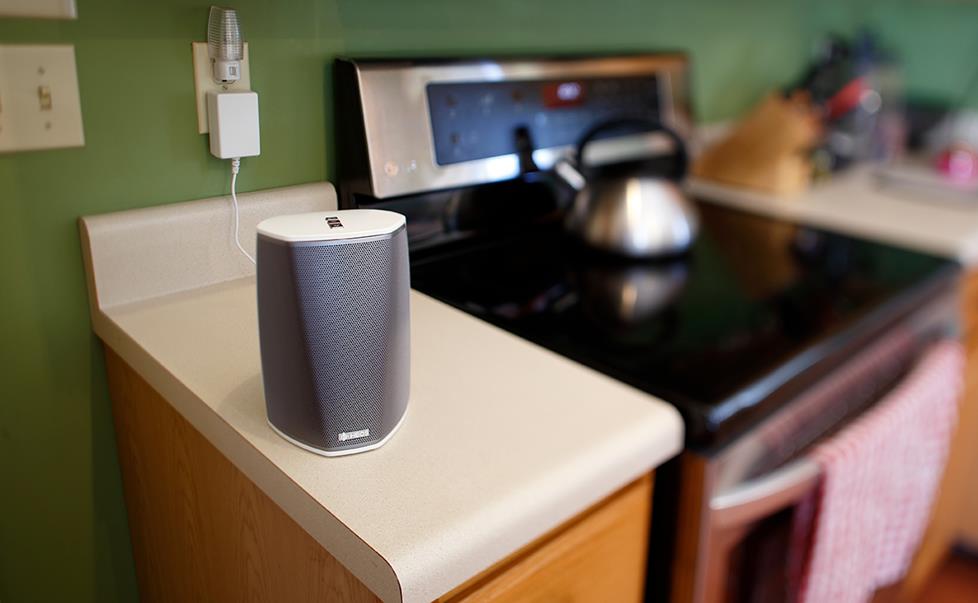 When I wasn't using this HEOS 1 speaker as a surround speaker in the living room, I set it up to play music in the kitchen.
PRO TIP
I recommend going with the bigger HEOS 3 speakers for surround if you have a larger room, or if the speakers aren't going to be close to your seating position.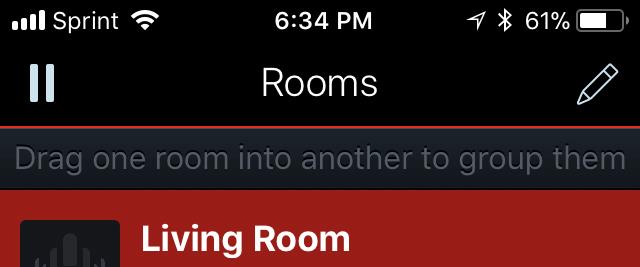 To unpair HEOS speakers from the AVR, tap on the pencil icon in the upper right of the "Rooms" tab in the app. Then you can use them for music listening.
4. Set it and forget it
Because I'm your typical Crutchfield employee, I'm ALWAYS tweaking my system at home. It seems I can't go a day without diving into my receiver's settings and messing with something.
But after a couple of weeks with the HEOS AVR, I noticed that I wasn't messing with it. Aside from the occasional bass adjustment, I didn't touch the settings. It always just seemed to work the way it was supposed to. That's because Denon has stripped out a lot of the advanced features that most customers just don't use. I really enjoyed having a receiver that doesn't offer endless settings to tweak.
5. It's a real AVR
Wireless surround sound setups aren't new. There are systems that let you use wireless surrounds with matching front speakers or a sound bar. But I want to use MY speakers and a receiver to power them. That's exactly what the HEOS AVR does. (There are even outputs for wired surround speakers if you prefer to go that route.)
So how did the HEOS AVR perform with my PSB tower and center channel speakers? Quite admirably. When my son and I watched Kong: Skull Island, it was a truly immersive, dynamic experience. There was never any sense that this was a "dumbed-down" surround experience.
I also listened to lots of music on this system. The HEOS AVR is compatible with lots of music services. I'm a Spotify guy, and I listened to lots of different albums and playlists. It was great to hear my speakers sound like I expect them to sound with the HEOS AVR.
A more powerful receiver would probably yield better performance. But trading a little bit of sound quality for a lot more convenience is worth considering for customers who crave a something simpler.
The HEOS AVR offered wireless surround, easy everyday use, and let me use my own speakers in the front of the room.
6. Instant, easy multi-room sound
The HEOS AVR also offers the benefit of the HEOS multi-room platform. That means that any song you play through the AVR can also be played through HEOS speakers in other rooms.
Of course, you can add multi-room capability to any receiver with products like the Denon HEOS Link. But having it built into the receiver makes for a much more seamless user experience.
I had my living room, bedroom, and kitchen all playing the same Spotify playlist for most of a Saturday afternoon as I moved about the house doing chores.
Bonus reason – Alexa compatibility
HEOS is now compatible with Amazon Alexa for voice control when used with an Echo Dot.
One of the newest developments with HEOS is the ability to connect with Amazon Alexa voice assistants like the Echo and Echo Dot. This is still in the early stages, so at the moment it only offers basic commands like play, pause, skip, and volume control. More features are coming soon.
The bottom line
I haven't seen a receiver that's as simple to set up and operate as the HEOS AVR. And if you're in a room where running wires for surround speakers just isn't practical, this is a truly unique solution.
Old-school audiophiles will probably be content to stick with a traditional receiver. But for younger people who are looking for an easier entry into the world of home theater, the HEOS AVR represents an exciting new opportunity. I can't wait to see what else Denon has up its sleeve.