Denon HEOS wireless audio system review
Play your music in any and every room
Heads up!
Welcome to this article from the Crutchfield archives. Have fun reading it, but be aware that the information may be outdated and links may be broken.
Editor's note: This is a review of the original version of the Denon HEOS system. Click here to see the latest HEOS products, which adds Bluetooth® and support for high-resolution audio files.
All your music, anywhere you want. That's how Denon introduces their new HEOS wireless music system. The slogan is apt, but it barely hints at how easy to use and how much fun HEOS is, compared with old-school wired hi-fi systems.
Building a multi-room music system used to mean running wires through walls and ceilings. Now, anyone with a Wi-Fi® network and a smartphone or tablet can create a whole-home music system just by placing wireless speakers throughout their house.
To do this, you need powered speakers that allow you to play multiple songs in different rooms, or play the same song in every room. That's what Denon's HEOS speakers offer – not to mention, they're backed by Denon's decades of audio expertise. I took them home to try them out.
The HEOS Lineup

Denon launched HEOS (Home Entertainment Operating System) with three sizes of powered wireless speaker. Each speaker has built-in Wi-Fi, so you don't need a wired network connection to any speaker or component. Just plug them into a wall outlet or power protection device.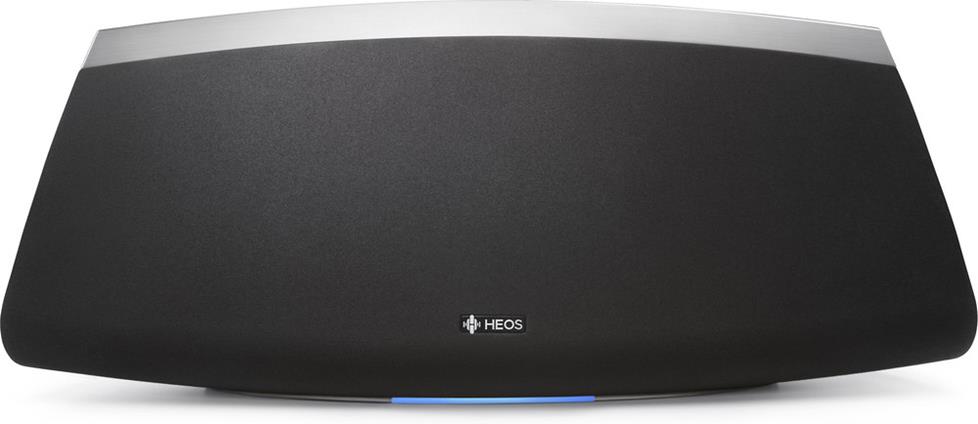 The HEOS 7 is the largest speaker, with two tweeters, two midrange drivers, and one bass driver powered by five Class D amplifiers. There are also two passive radiators to enhance bass response.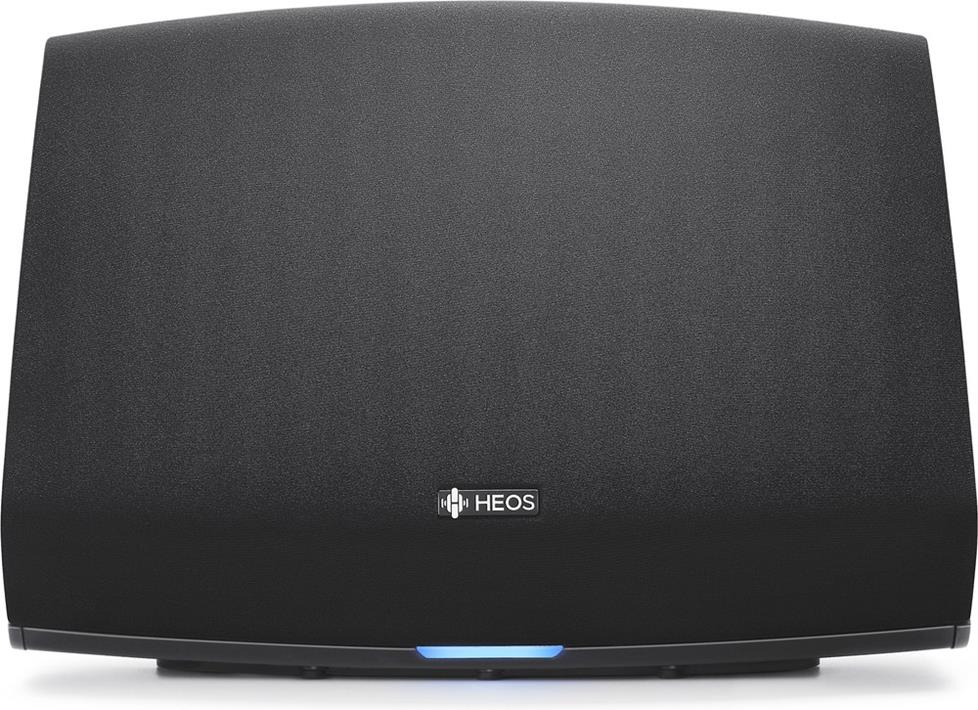 The mid-sized HEOS 5 has two tweeters, two midrange drivers, four Class D amplifiers and a passive radiator. A rear carry handle makes it easy to pick up and move to another room.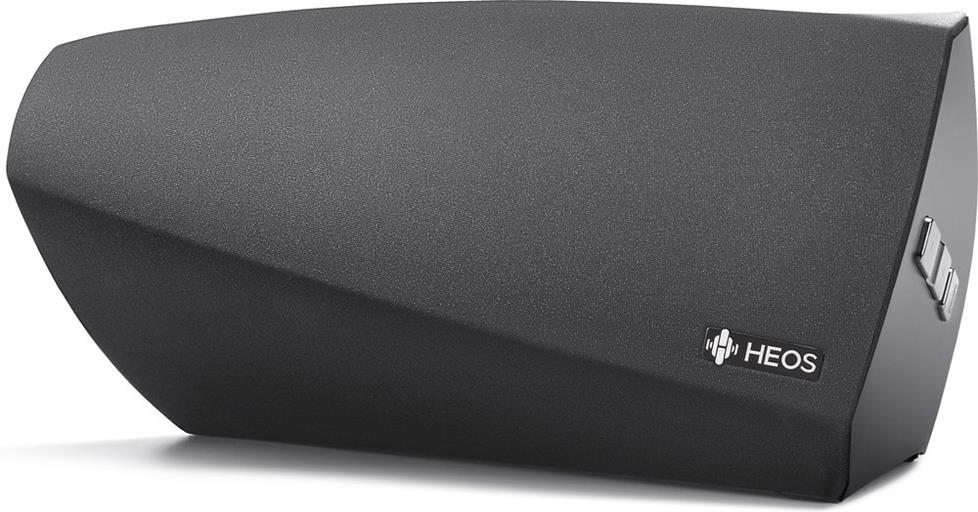 The HEOS 3 is the smallest speaker and features two full-range drivers, dual amplifiers, and a rear port for added bass response. It can rest vertically or horizontally, or be mounted on a wall. You can pair two HEOS 3 speakers for stereo listening.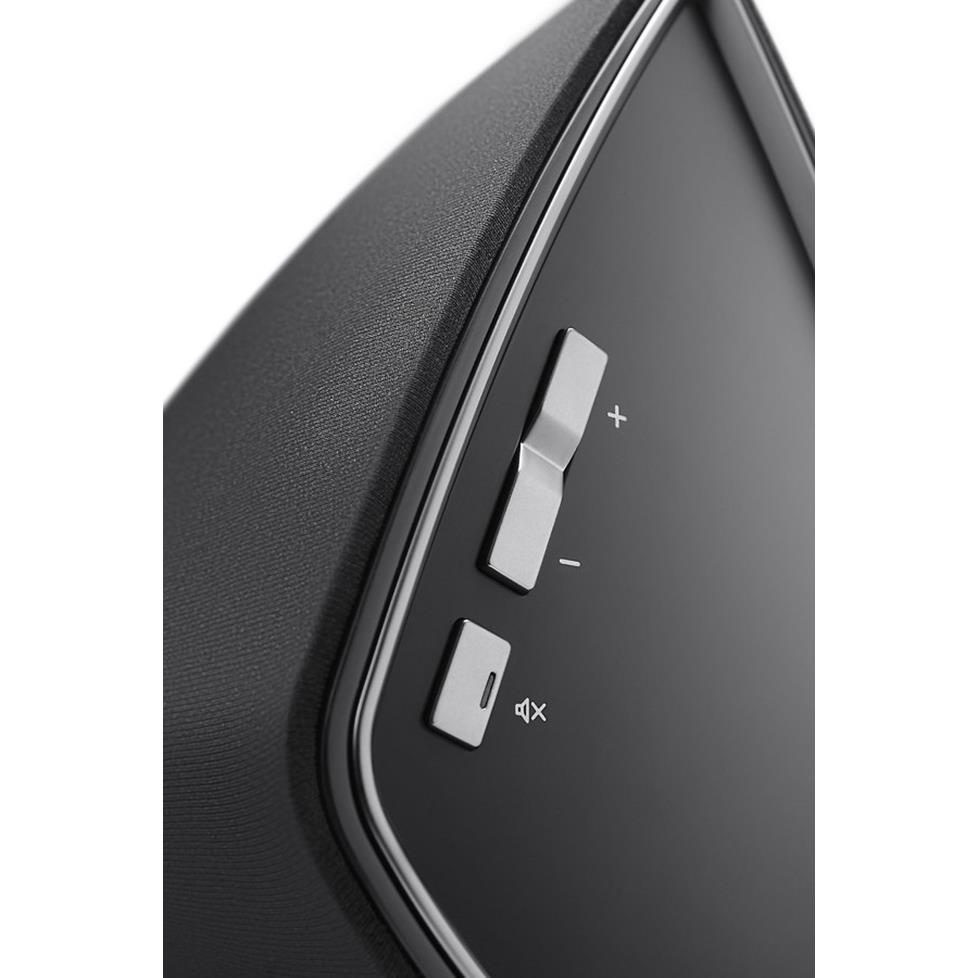 HEOS speakers feature unique curved and angular designs to minimize internal standing waves which can degrade sound quality. Side-panel buttons offer on-board volume and mute control (HEOS 5 shown).

The rear panel of each HEOS speaker features a 3.5mm AUX input, a USB port for playing files on a memory stick, and an Ethernet port for a wired network connection (not required).
If you want to use HEOS with your existing equipment, you can connect the HEOS Amp to any pair of stereo speakers. Or, add the non-amplified HEOS Link to your stereo or home theater system.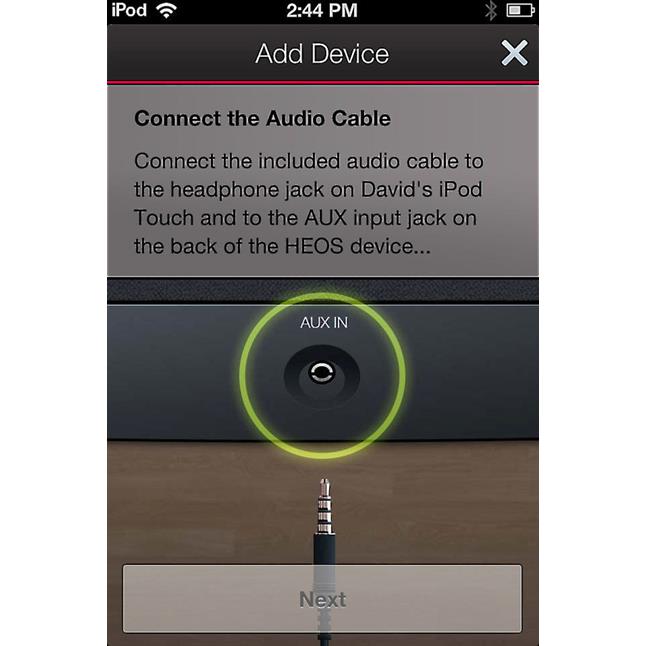 Setup so simple, a child can do it
Setting up a HEOS speaker is very simple. If you can operate a smartphone, you've got all the technical savvy required. Download the free HEOS app on your Apple® or Android™ device. Then, just plug in your speaker, open the app, and follow the instructions.
A special cable is included with every speaker and is required for setup. It allows the speaker to automatically load your network info from your smartphone or tablet. It looks like a standard audio cable, but it's not; use the one that's in the box. You'll only use it once to set up each speaker – the only cable you need for operation is the power cable.
I asked my nine-year-old daughter to set up the HEOS 7. All I did was download the app on her iPod touch®, take the speaker out of the box, and hand her the included instructions. In less than five minutes, she was blasting Selena Gomez and feeling pretty proud of herself.
Lots of ways to listen
With HEOS, you can listen to music stored on your smartphone, a networked computer via DLNA (Windows Media Player works great for PCs, JRiver or Plex for Mac®), or a USB thumb drive connected to any HEOS speaker's rear-panel port. You can also connect any device with an analog output to the 3.5mm AUX input – I used it to send tunes playing on my iPod Classic to all three HEOS speakers.
There's also support for online music services, including Spotify®, Pandora®, SiriusXM, as well as free Internet radio stations. Denon expects to add more services in the coming months.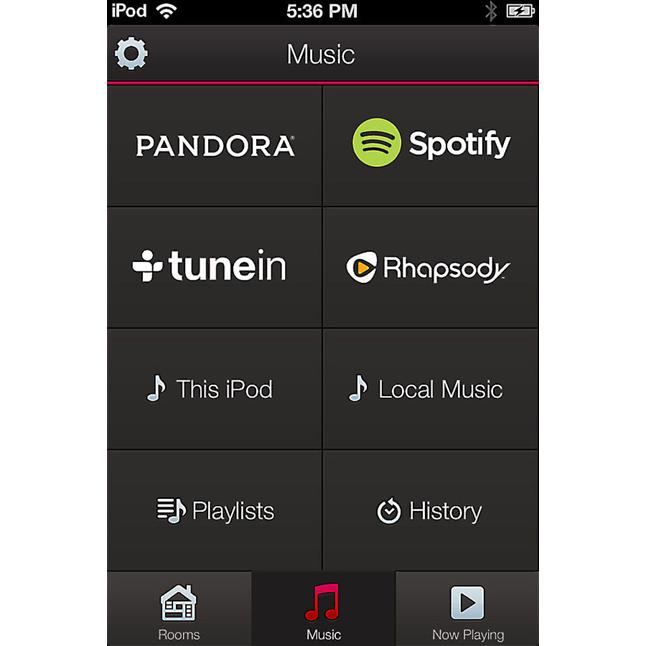 The free HEOS app for Apple and Android lets you play music from your smartphone or tablet, online music services, a USB memory device, and networked computers.
Controlling HEOS is a snap with the app
Once you've set up your HEOS speakers, the app becomes your control center. I found it very intuitive and pretty easy to navigate.

Tabs at the bottom of the HEOS app provide a quick method to move from music selection to speaker control (rooms) and to view the current song.
The "Rooms" tab is the hub of HEOS's multi-room capability, and features a pretty smart design. It shows which speakers are in your system and which songs they are playing.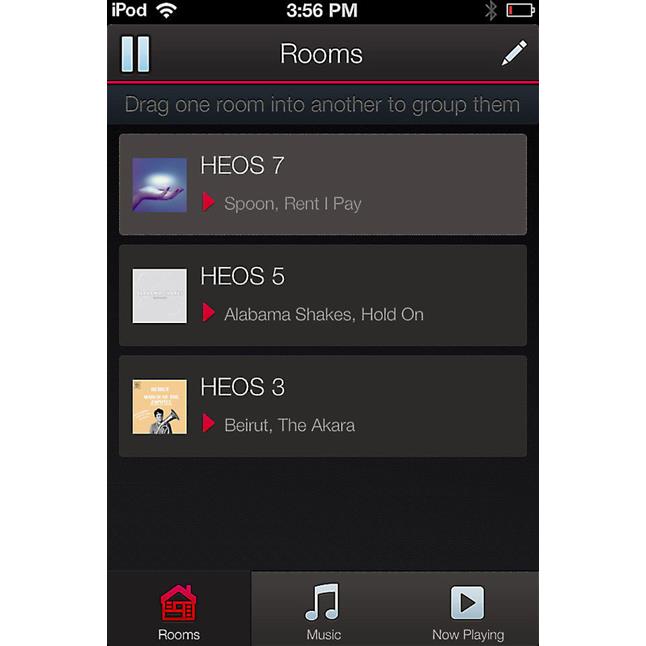 In the Rooms tab, tap to highlight which speaker you want to control. To play a song through multiple speakers, drag and drop one room onto another.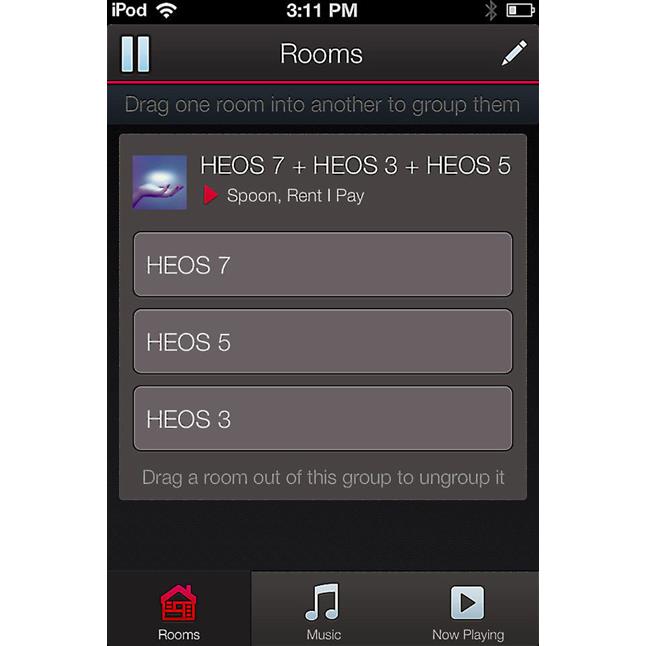 You can pinch the screen to group all speakers for "party mode" and play the same song everywhere. To ungroup a speaker, just drag it out of the group. Very cool, and very easy.
Each music service is accessed and controlled within the HEOS app with the exception of Spotify. Tapping the Spotify logo in the HEOS app opens the Spotify app (or prompts you to download it). Spotify is moving control out of the equipment manufacturers' apps and into their own with Spotify Connect.
I listened to Spotify a lot with the HEOS speakers. It's sometimes frustrating to navigate back and forth between the Spotify and HEOS apps. However, each app does offer limited integration with the other: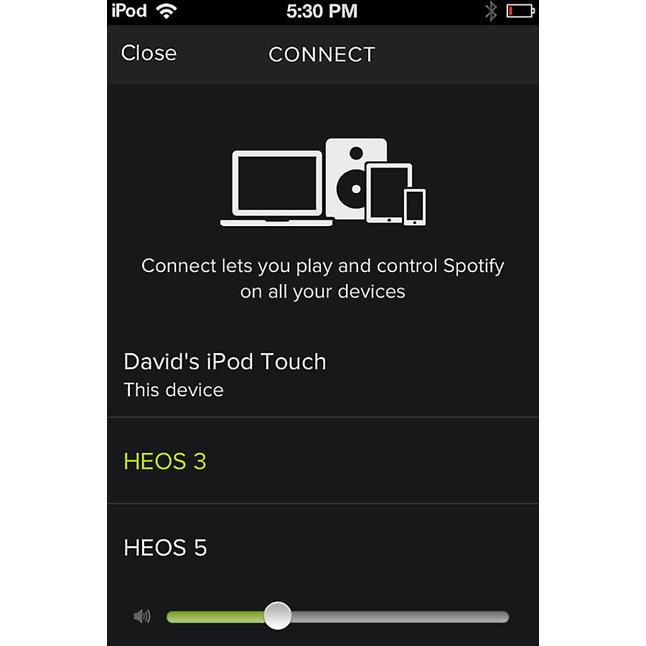 The Spotify app lets you select a HEOS speaker and control the volume for that speaker.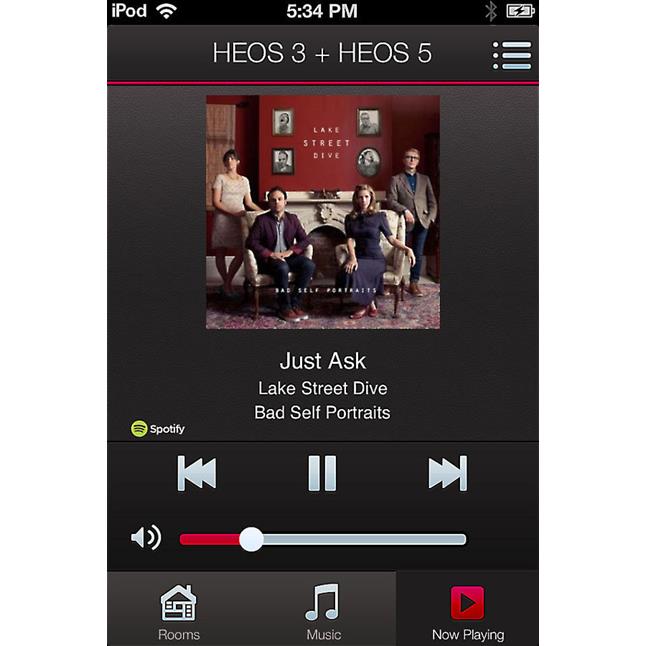 Once you load music into your queue in Spotify, you can play, pause, and skip ahead within the HEOS app, which can also reduce the back and forth.
My only other issue with the app is the Settings menu. It's only accessible through the home screen of the "Music" tab. I'd like to see the settings icon on every screen, so it's easily accessible from anywhere. I suspect we'll see Denon continue to improve upon what is already a very user-friendly app.
What about the sound?
When evaluating each of these speakers, I listened to music just about every way HEOS allows: from my iPod touch and iPad, my computer, a USB stick, an iPod Classic, as well as from Spotify and Pandora. My home network is not exactly robust (DSL that pulls down 3mbps on a good day), yet I had no problem streaming music to all three speakers at once.
First, I tried the HEOS 3, the smallest of the group. Immediately, I was very impressed with both the quantity and quality of sound this little speaker put out. I set it up in my kitchen and was nearly blown away by the amount of bass coming from this thing – not at all what I was expecting from something so compact.
I quickly discovered that placement has a lot to do with the bass performance of each HEOS speaker, particularly the HEOS 3. By pushing it back on the kitchen counter near the backsplash and under a cabinet, I was essentially placing it into a low-frequency echo chamber. I had to dial the bass way down in the app's EQ setting (a valuable feature), which smoothed it out a bit. Moving it onto the bar and away from the wall had a similar effect, allowing me to restore the bass to its default setting.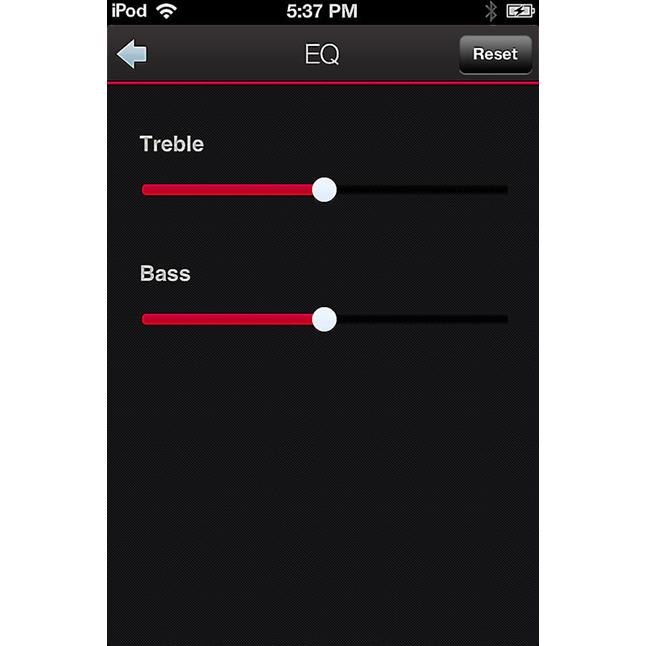 The app offers tone controls for each speaker, so you can dial in the bass and treble levels to your liking.
For a speaker of its size, the HEOS 3 has impressive bass response and high-frequency extension. It sacrifices a little midrange response for more bass kick and treble sizzle. That's a good trade-off in a speaker this small, in my opinion, making it sound bigger and livelier than I expected.
The HEOS 5 is a definite step up from the HEOS 3. The bass goes quite a bit deeper, the midrange is more present, and the highs are tamed a bit. Its sound is more balanced overall than the HEOS 3. The difference was stark with D'Angelo's "Lady" from Live at the Jazz Café. The HEOS 5 was better able to settle into a deep groove for this tune's slow-burn soul intro, with the bass line taking center stage without dominating the entire performance.
Switching to the HEOS 7 was a real treat. Suddenly, the sound opened up in a big way. Vocals sounded more natural. Bass extension went even deeper, delivering some serious impact. More high-frequency detail emerged.
I was pleasantly surprised at how the HEOS 7 offered a sense of stereo imaging when listening on axis from relatively close range. "Birth in Reverse" by St. Vincent is a texturally busy song, and I could hear different sounds emanating from the left and right drivers – it really brought the song to life more than the HEOS 3 or 5 could.
The HEOS 7's slightly convex front panel allows the drivers to be angled for more dispersion than with a flat design. This speaker provided by far the best off-axis listening experience. I could imagine it performing quite well as a main music source in a large living room.
But the real magic of HEOS speakers is when they're all playing at the same time. I could move from my kitchen, to the living room, to my bedroom as my music followed me. It's a very cool experience if you're a music lover who dreams of having your personal soundtrack playing in the background all the time. The ability to give every member of the family their own speaker for their own bedroom is equally valuable. And the only installation required is plugging them into a power outlet.
The Bottom Line
Denon's HEOS powered wireless speakers are an excellent entry point to a whole-home system. They're easy to set up, easy to control, and there's a nice variety of great-sounding speakers to choose from. As impressive as they are, future expansion of the HEOS ecosystem has the possibility to be a real game-changer. For now, there's plenty here to start filling your home with music.