A hands-on review of Denon's Home series wireless speakers
Testing out multi-room music and wireless surround sound with HEOS Built-in
I'm an old-school "wired speaker" guy, with a home theater receiver and a mixture of in-wall and floor-standing speakers in my living room. I love my system, but have been curious about recent advancements in wireless speaker technology.
When Denon debuted their new Home series wireless speakers, I saw it as an opportunity to see how they stack up. I brought some gear home, took apart my existing home theater, and set up a wireless 5.1-channel surround sound system and a few other speakers.
So how'd they sound? Simply put, I was blown away by their performance. And I was positively delighted by how easy everything was to set up and use.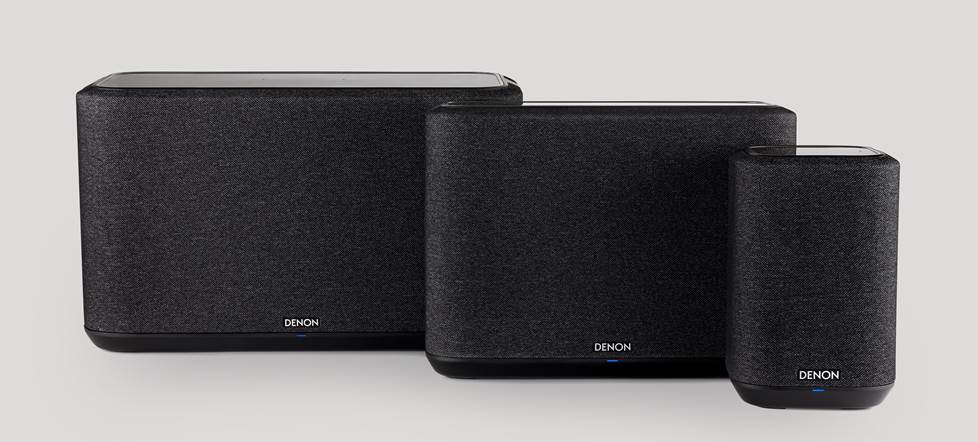 Denon's Home 350, Home 250, and Home 150 wireless speakers combine multi-room music playback with incredible sound quality.
Meet Denon's wireless ecosystem: HEOS Built-in
I'll jump into the Home speakers in a moment. But first I want to introduce the technology that makes Denon's wireless gear go.
It's called "HEOS Built-in," and it allows Denon's home theater receivers, wireless speakers, and even compatible sound bars to link together through Wi-Fi®.
Audio products with HEOS Built-in let you play your favorite music streaming services like Spotify® and Pandora®. They can also play songs from your network library, or directly from your device.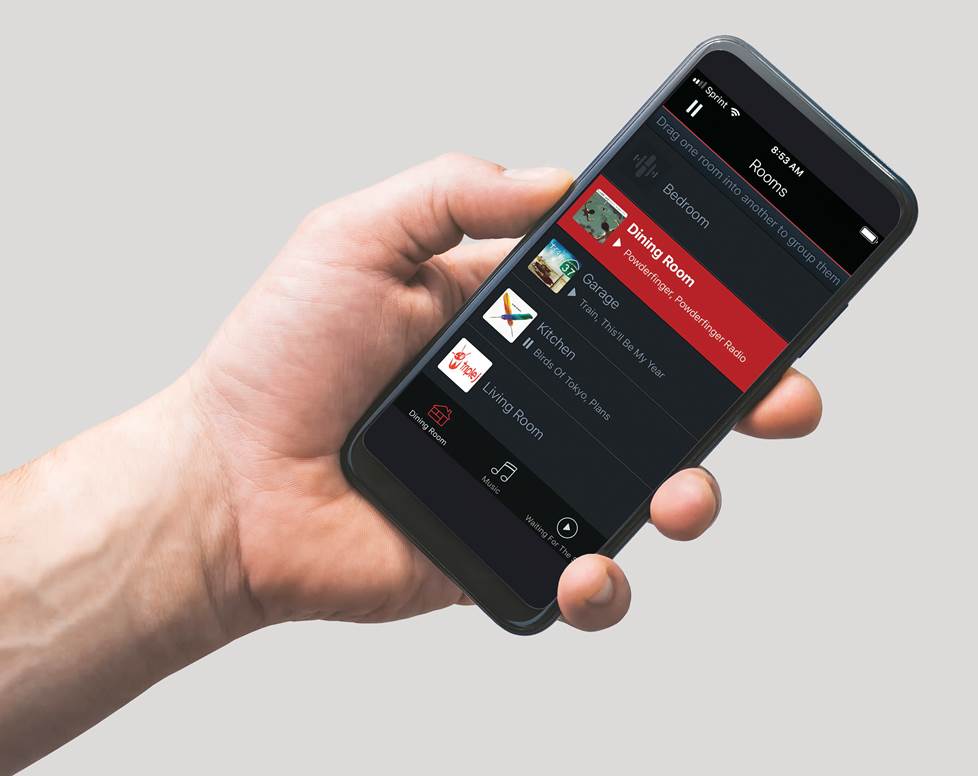 The HEOS app makes listening to music simple, fun, and flexible.
HEOS Built-in lets you control multiple speakers throughout your home from your phone or tablet using the HEOS app. You can play a different song in every room, or the same song everywhere at the same time.
And here's the good news: if you bought a Denon or Marantz receiver in the last five or six years, it probably has HEOS Built-in already.
You can easily add a second zone of music by picking up any of the wireless Home speakers shown below.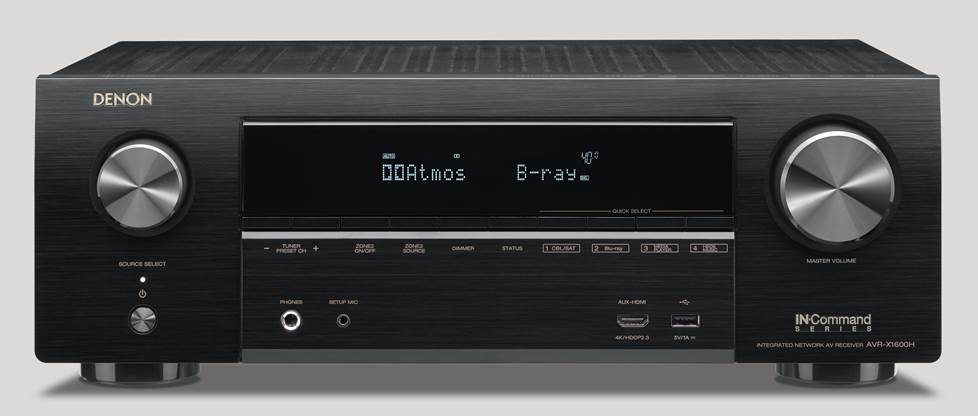 Many Denon and Marantz home theater receivers, like the Denon AVR-X1600H, have HEOS Built-in under the hood.
Small speaker, big sound
Now, on to the speakers! The first thing I did was set up the Home 150 next to my living room recliner. I wanted to take Denon's HEOS app for a spin, so I plugged the '150 into the wall, and fired up some music.
Despite its small size, the Home 150 produced surprisingly stout sound with more bass than I expected.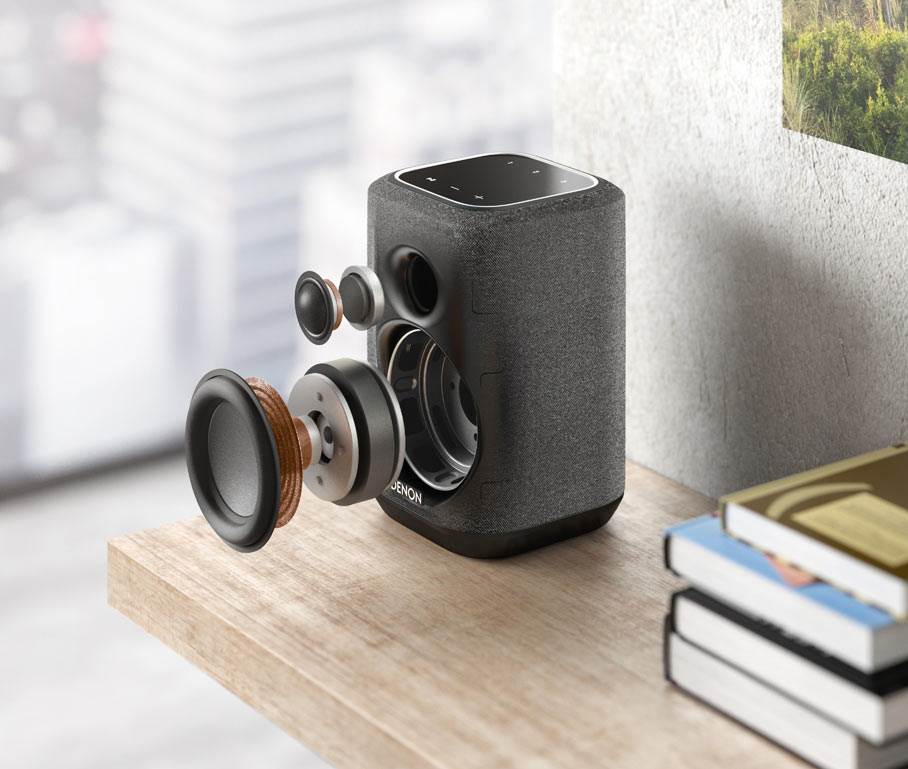 An inside look at the Denon Home 150. It packs a ton of advanced speaker and amplifier technology into a small, attractive form factor.
I'm used to speakers this size sounding like, well, small speakers. But the Home 150 sounds way bigger than it looks. It was delightful to listen to, especially when I learned I could stream podcasts from my iPhone® over Bluetooth® or Apple AirPlay® 2.
Stereo music made simple
One Home 150 was impressive by itself, but two were even better. You can set them up as a left/right stereo pair using the HEOS app, so that's just what I did.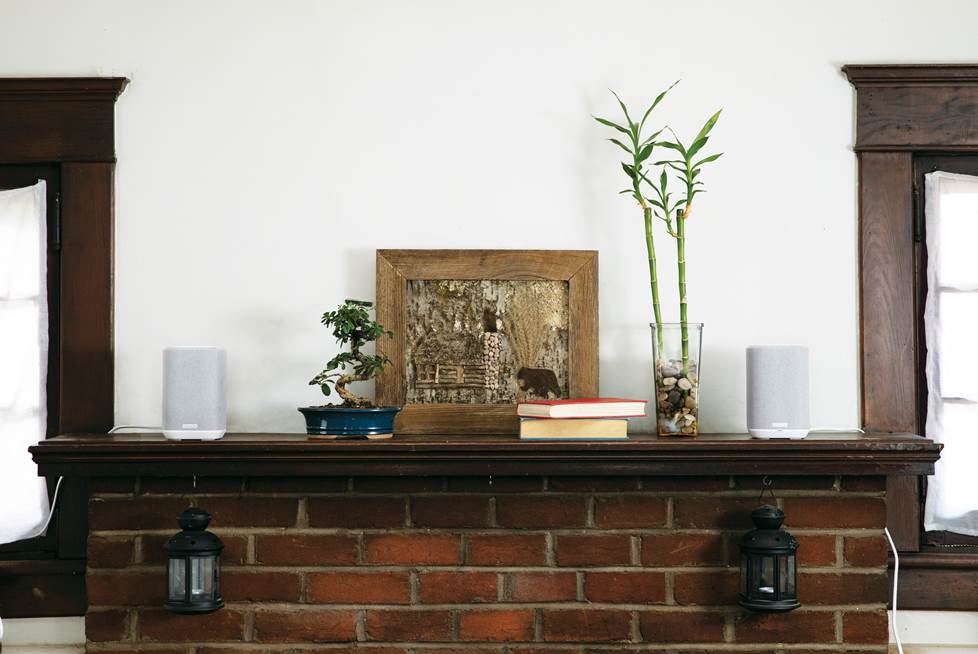 Use two Home 150 speakers as a rockin' stereo system that doesn't take up much space. All you need is an AC outlet for power.
I placed two on my mantel, and assigned them as left and right channels in the app. Together, they provided the kind of rich musical sound and imaging that I'd expect from a hard-wired system, but without the need for a separate amp or any components.
A pair of Home 150s is a great way to add true stereo sound to rooms where space is tight.
Jazzing up my kitchen with the Home 350
After listening to the Home 150s, it was time to try out Denon's flagship Home 350 wireless speaker. I decided to set it up in my kitchen, where I spend a fair amount of time preparing food.
I quickly discovered two things about the '350. First, it sounded fantastic no matter how much noise I made while cooking, thanks in part to the six (!) amplifiers it uses to power its beefy drivers.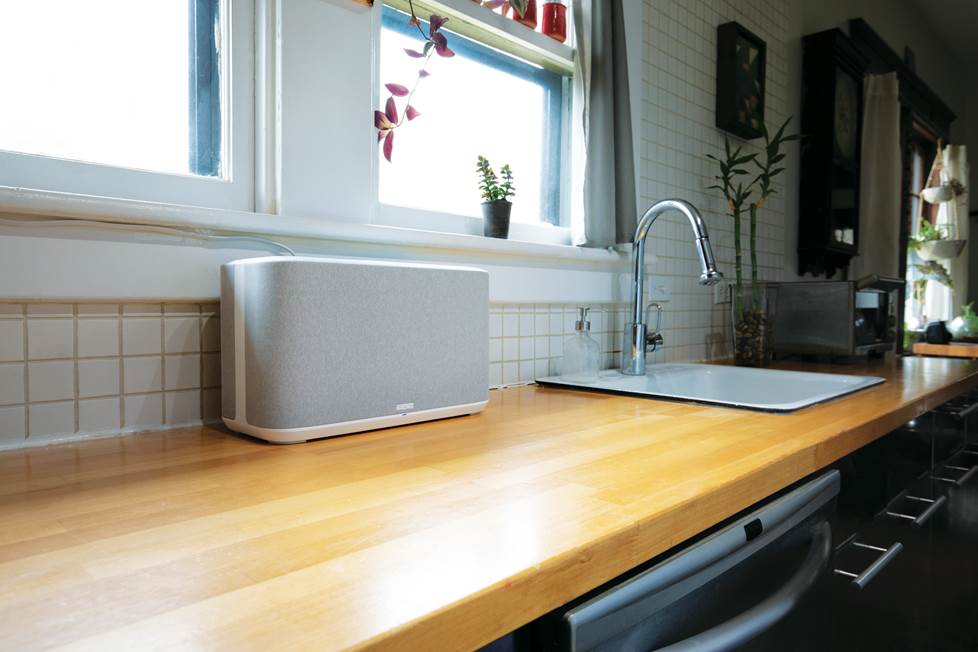 The Denon Home 350 filled my kitchen with high-fidelity music. I recommend it for large rooms where you want top-notch sound.
Second, I found that within the HEOS app I could link "Kitchen" with "Living Room," and have the same song play throughout my open-floorplan house as I moved around. I put on some of my favorite folk and rock songs, and enjoyed track after track as I went about my day.
The HEOS Built-in platform made playing music easy, and one heck of a lot of fun. Not having my tunes tied to one room was a powerful reminder of just how enjoyable listening is!
Preset buttons for the win
One thing I came to love about the Home series speakers is the panel of touch-sensitive preset buttons on the top of each unit. I could simply tap on one to select my local indie rock station or other favorite music channels without having to take out my phone.
Alongside the preset buttons are touch controls for play/pause and volume. These give you easy control over your music, and help make the listening experience simple and seamless.
Wireless 5.1-channel surround sound
When I bought my house, I cut holes and ran in-wall wiring for my home theater before I even moved in. I get a lot of enjoyment out of it, but you can see below that my floor-standing speakers take up a fair amount of floor space.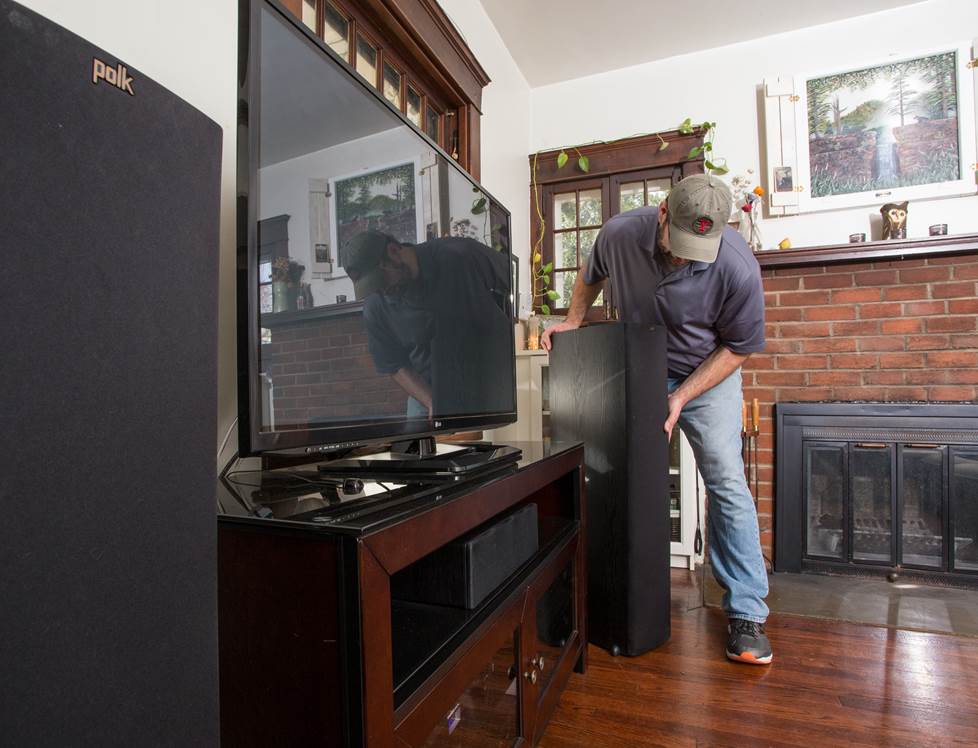 A shot of my home theater prior to swapping it out for the HEOS wireless surround sound system.
My hard-wired system took forever to install. By comparison, the Denon DHT-S716H sound bar system was light years simpler to set up. You can see the difference in floor space too — the sound bar and wireless sub take up a fraction of the real estate that my regular system does.
Comparing my wired home theater with Denon's wireless system
I used the HEOS app to quickly set up the sound bar, wireless subwoofer, and wireless surround speakers. It only took a couple of minutes to get things up and running.
I watched a few sci-fi movies to get a feel for things, and then started playing The Legend of Zelda™: Breath of the Wild (which I contend is the greatest video game of all time.)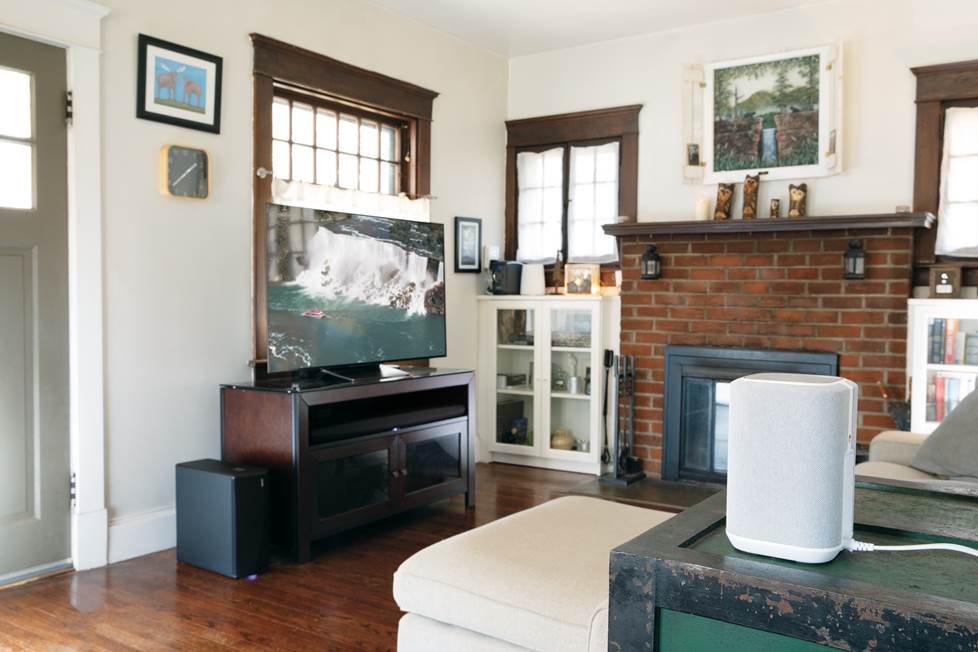 Denon's wireless home theater system sounded fantastic, while only taking up a tiny bit of space. The sound bar tucked away perfectly underneath my TV.
Dialogue from the sound bar was clear and crisp, and bass from the wireless sub was deep and tight. I loved that I could adjust the subwoofer in the app, which made raising its output level easy.
Superb special effects from the Home 150s as wireless surrounds
The icing on the cake was the awesome special effects coming from a pair of Home 150s in the back of the room. Yup, the same speakers I used for stereo music were repurposed as wireless surround speakers for movies and video games. Talk about versatile!
I plugged the '150s into an extension cord I had behind the couch, and paired them to the sound bar in the HEOS app. That's all it took — a far cry from cutting holes and fishing wire through the crawl space when I installed my in-wall speakers.
Fantastic sound without taking up a lot of space
I was surprised to find that the HEOS sound bar system rivaled my wired system's fidelity and sense of realism. The soundstage with this system wasn't as wide as it is with my usual setup. But I think that's a worthwhile trade-off if you have a smaller space, or don't want to run speaker wire from a receiver to the back of your room.
And here's the kicker: I linked the sound bar system together with the other wireless Home speakers I had on hand, and got music playing through all of them at the same time. Man did that sound good, especially with the wireless sub as part of the whole-house system.
Crutchfield gets hands-on with Denon Home speakers
In the video below, J.R., Crutchfield's training manager, walks you through the differences between the Home 150, Home 250, and Home 350. It's worth a watch if you're considering picking up one of these awesome wireless speakers.
Connect with us for a personalized recommendation
I loved auditioning Denon's Home speakers. I bet you'll enjoy them, too!
For free one-on-one shopping advice, contact us today. We'd love to help you choose the right speakers for your wireless audio system.
Thanks for reading, and feel free to leave me a question or comment below. I hope you have a wonderful rest of your day!