Etón Rugged Rukus review
Solar-powered outdoor fun
Heads up!
Welcome to this article from the Crutchfield archives. Have fun reading it, but be aware that the information may be outdated and links may be broken.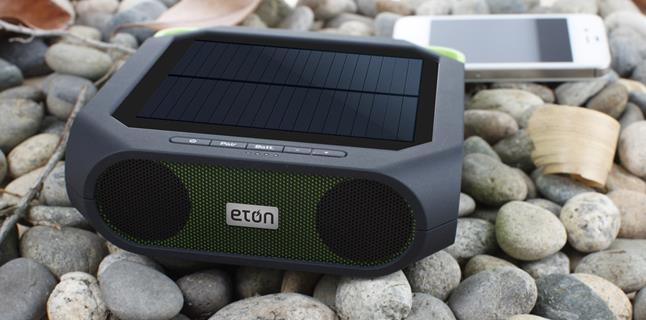 The Rugged Rukus can also charge a smartphone via a USB cable.
I like working outside around the house on sunny Saturdays. I like it even better when I can have my favorite tunes blasting away and keeping my energy level up. And that was pretty much my experience with the Etón Rugged Rukus solar-powered Bluetooth® speaker system. I worked, the Rukus played, and life was good.
First impressions
Pulling the Rugged Rukus out of its box, I was struck by two things — its feel and its weight. The Rukus has a rubberized exterior that makes it water-resistant. The coating is a little rough, so you can set it on a slight incline and it will stay in place.
The Rugged Rukus weighs just a little over a pound, which made it easy to tote around. Just clip a carabiner to the frame, and you can carry it on a backpack.
Bluetooth connectivity
The Rugged Rukus is primarily a wireless Bluetooth speaker, although it does have auxiliary input for a wired stereo minijack connection. We didn't fool with that. I wanted to control and select my music, so the iPhone® stayed close at hand. It only took a minute or so to pair the Rukus with my device, and we were ready to go outside.
Rugged by name, rugged by nature
There's no question this system was built for outdoor use. As we were watering the garden the wind shifted, momentarily showering the Rukus. No problem. Rubber flaps protected its inputs and outputs, and drops just beaded up on the casing. So you'll have no worries taking the Rukus poolside (just don't actually take it into the pool).
And the Rukus is built, well, ruggedly. I didn't mean to test that feature — the Rukus just kind of fell off the ladder it was perched on when I bumped into it. No matter. This case was designed for tumbles. There's nothing protruding that can be broken off, even if it lands on a hard surface.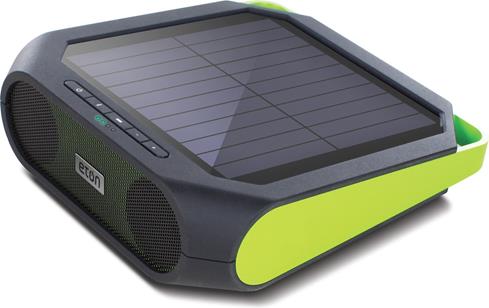 That solar panel isn't for show. It really helps charge the Rugged Rukus.
Soaking up the rays
The top of the Rukus is covered with a solar panel. For outdoor activity, it's ideal. We spent a good part of the day outside with the sun beating down, and the Rukus played on through it all. The device can fully recharge in less than five hours of direct sun.
The Rukus has a USB charging port for a smartphone, which came in handy as the day progressed. Because the iPhone was connected for part of the day, we didn't finish with a full charge (even though the Rukus had more than five hours of sun). But it did finish with more than enough power to keep playing for another hour or so.
So how's the sound?
When the Rukus was pointed straight at us, we could enjoy our music at moderate volume levels. When we moved around and were listening off-axis we needed to crank it a bit more. Of course, the Rukus is small and light enough to be moved around, too. So as I worked in different parts of the yard, I just picked up the Rukus and plopped it down in my new location.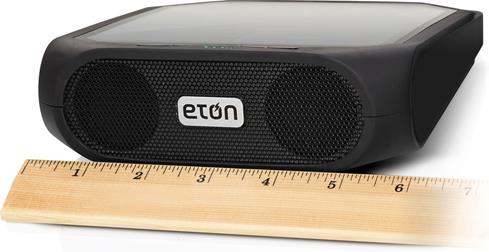 Small size — big sound
The Rukus has a tight, punchy sound that's perfect for outdoor party music. It sounded great as we streamed our top 40 station from Pandora Internet radio. Ditto for tracks by Dick Dale, the Ventures, and other surf guitar masters. Rap, techno — even electric blues all sounded killer on the Rukus. The sound was balanced, the bass was present, and there was a good amount of volume so the music didn't get lost in the open air.
The Bottom Line
This is a great outdoor portable speaker. I would use this at the beach, poolside, on a hike, on the deck — anywhere outside. Because it's solar-powered, long exposure on a sunny day can keep the Rugged Rukus charged and ready. And being able to use that stored power for a smartphone is an added plus — especially when you're outdoors and far from an outlet.