Flash photography techniques
Creative ways to light indoor and outdoor photos
Heads up!
Welcome to this article from the Crutchfield archives. Have fun reading it, but be aware that the information may be outdated and links may be broken.
When you buy your first camera, flash may be the last thing on your mind. There's that little automated bulb you can set to fire automatically, and that's good enough, right? But that basic flash has limited range. You may end up with a sea of blurry, brightly lit hands waving at a dark and distant bride and groom, grandpa's washed-out face as he blows out the candles on his 80th birthday cake or the dreaded "red-eye" group shot at the company Christmas party. The built-in flash generally shines too much or not enough light on the subject, and puts it in the wrong place to boot. Even natural sunlight can throw shadows in less-than-ideal spots.

Ambient light can leave harsh shadows on your subject. Use a portable flash to alter the amount, quality and direction of light for perfect photos.
Great pictures depend on the amount, quality and direction of light we cast on our subject. Great lighting can be the difference between forgettable snapshots and artistic, frame-worthy memories of life's special moments.
If you're ready to take the next step in lighting, we'll help point you toward the gear you'll need to take well-lit photos in just about any environment.
Choose a camera with a hot shoe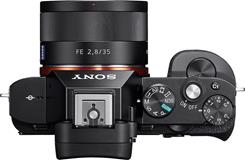 The hot shoe provides power for your portable flash and other accessories.
A built-in flash follows the same axis as your camera lens. In outdoor photography, that would be like having the sun right in front of your subject. That angle won't always give you the subtle, flattering light you want. If you want professional-quality photographs, you need to be in control of how much light, what kind of light, and where that light is coming from. You'll need a camera with a hot shoe.
The hot shoe (also known as an accessory shoe) is a small bracket you'll find on top of many cameras that allows you to mount all manner of useful gadgets. It's called a hot shoe because it provides power to run your accessories.
Some top-of-the-line point and shoot cameras have a hot shoe built in, but it's more commonly found on SLR (single-lens reflex) and mirrorless cameras. Manual control of settings is the key to getting exactly the image you want, and these more sophisticated cameras offer that flexibility.
The hot shoe allows you to add a portable flash to your tool kit. The first thing you'll notice about a portable flash is that it's bigger than the tiny built-in flash. The larger bulb can illuminate more area, and put more light on subjects that are farther away from your lens.
The size and shape of the hot shoe can vary in different brands and models, so make sure to check compatibility before you buy an accessory flash.
Get the right angle
Remember our goals for great flash photography? Adding a portable flash increased the amount of light we have at our command. Now we'll learn how it can improve the quality and direction of light.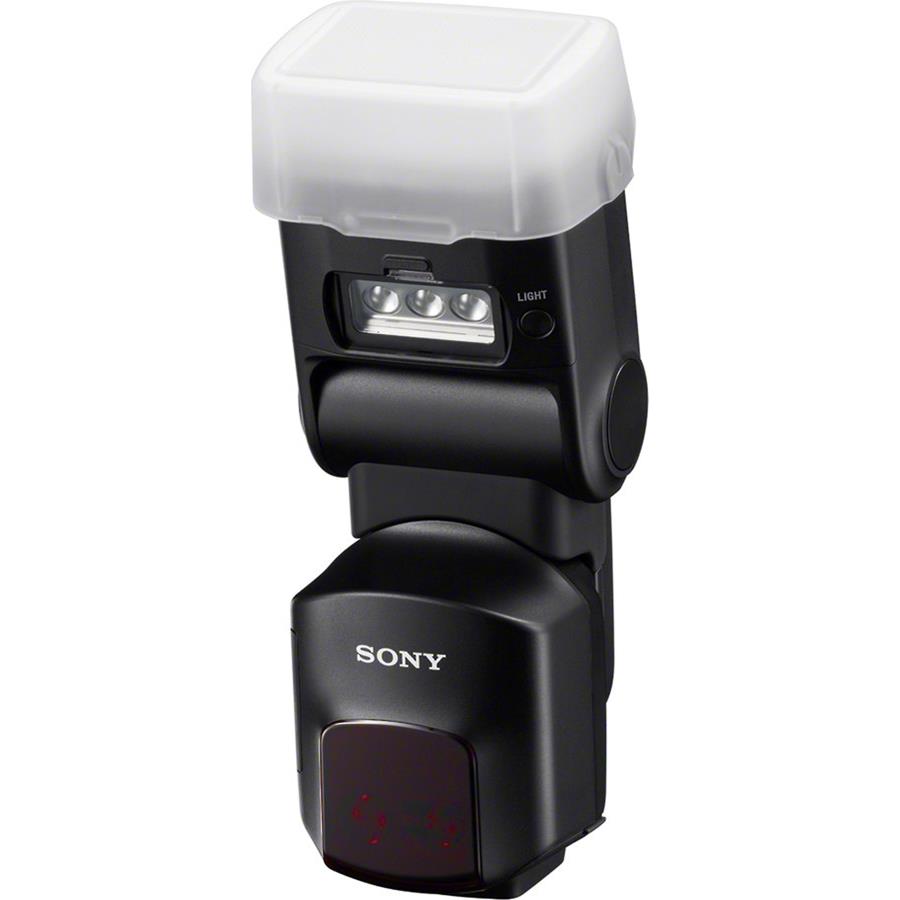 A portable flash tilted to bounce light, with diffuser hood attached and fill flash ready to fire.
To vary the direction of light, many units tilt downward a few degrees to cast direct light on a close-up subject, or anywhere from zero (straight ahead) to 90 degrees (straight up). You can use the tilt function to bounce flash off of overhead surfaces like ceiling tiles, simultaneously softening the exposure on the subject and muting harsh shadows that can result from direct flash. For even more sophisticated effects, the flash swivels left and right, up to 150 degrees in either direction.
With all that light bouncing around and softening things up, you may find you want a tad more light on the subject's face. A catch-light panel or small fill flash is built into many portable units, allowing you to redirect a small amount of light straight ahead, so you can see the bride and groom's eyes sparkle as they hit the floor for their first dance.
Now you have plenty of light and it's illuminating your subject from the right direction, so how about the quality? Even at an angle, bright white light is not always going to be what you want. Most portable flashes come with add-ons that affix to the head of the unit. Most common is a diffuser; it may be a semi-opaque panel that slides out of a compartment on the flash head, or a separate diffusion dome that fully covers the bulb and can be added or removed as needed.
Snap-on diffusers and color gels are included with most portable flashes. You can use these accessories to compensate for the effects of artificial light and produce a range of practical and artistic effects. Play around and see what you can do when you're in full control of the spectrum.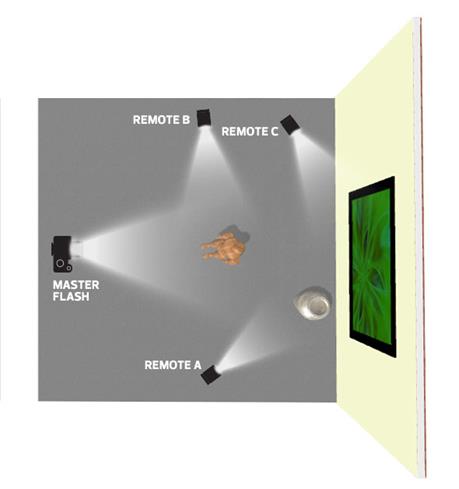 Illuminate every element of your scene with remote flashes wirelessly synchronized to your master flash.
Go wireless to light every part of a photo properly
Suppose you want to shoot your best friend's gallery opening. You'll want some light on her, and more light from a different angle on her paintings. Properly lighting items in the foreground and background presents a challenge that can be solved by using multiple flash units, and taking them off-camera.
If you have more than one flash to work with, you can designate one master – the flash you'll be triggering directly from the camera body – and one or more remote units that will communicate with the main module and fire when the shutter clicks. The master flash can be set to make your artist friend look her best, while another flash on a stand five feet away brings out the vivid colors of her work. If the shoot becomes more complex, add more subordinate flashes. Illuminate each important detail, even if some of it is far away from your lens.
Most accessory flashes have built-in LED screens so you can keep track of individual settings. That information is also transmitted back to the camera, so you can keep everything synced up from a central location.
Keep the power on
Once the remote flash goes off-camera, it's no longer drawing power directly from the hot shoe. That means batteries, and we all know batteries are never included. You'll want to not only keep fresh power cells in each flash unit, you'll want to have extras on hand when you're on location. Most accessory flash units have a built-in standby mode which engages automatically to conserve power.
A flash produces heat as well as light, and the faster you shoot, the hotter it gets. An overworked flash may experience "thermal stress" and shut down temporarily. The recycle speed – how quickly your flash can power up for its next firing – is a factor of how much life is left in the batteries, how much light you're asking the flash to produce each time and your camera's shutter speed setting. Check your owner's manual for a chart that will help set expectations for each model's minimum recycle time.
Get a little help
Does this sound overwhelming? Most SLR cameras offer sophisticated presets that can handle some of the core work while you wrangle the all-important details. Just take it at your own pace, add one piece at a time, and build your skills with the help of some online resources. We've found a few sites that share anecdotes from experienced photographers, reliable technical information and step-by-step tutorials to help get you started.
Speedlight videos: Nikon offers a wealth of information on flash photography.
Wireless Multiple Flash: Canon-centric tutorial from Digital Photography School.
Strobist: Learn how to light. An experienced photographer gives tips, reviews gear, and gives solid examples of how to do it yourself.