Focal Chorus 706 bookshelf speakers review
Heads up!
Welcome to this article from the Crutchfield archives. Have fun reading it, but be aware that the information may be outdated and links may be broken.
Focal may not be exactly a household name, but this French manufacturer boasts a rich audiophile pedigree that includes some of the world's finest (and costliest) loudspeakers. In fact the Chorus 706 bookshelf speakers I reviewed here are designed, engineered, and built right in the same facility in France as Focal's massive flagship Grand Utopia EM (starting price, $180,000/pair!).
Finish and fit
My Chorus 706 review samples came with an attractive, high-gloss black finish on their curved side panels, and a textured black leatherette material covering the front baffle, as well as the top, bottom, and back panels. The overall impression was one of class and sophistication. If glossy black and leather isn't your cup of tea, it also comes in a wood-grain vinyl rosewood or walnut finish.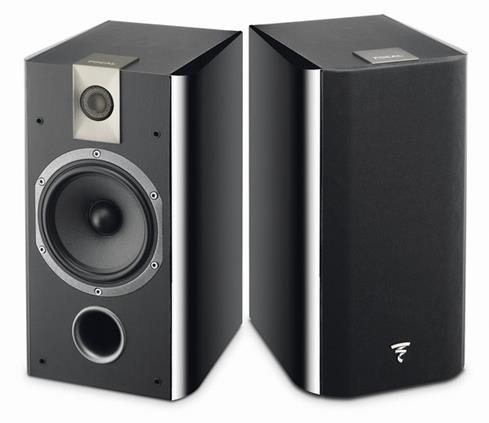 Focal Chorus 706 bookshelf speakers in Gloss Black/Leatherette finish
The cabinets felt very sturdy and well put together, but not especially heavy for their size. They also easily passed the "rap test" — which is to say, they exhibited a very solid, acoustically inert response when I tapped on them with my knuckles. This is a good indication that a speaker is well-braced inside to resist cabinet vibration — a major contributor of unwanted sonic coloration when playing music. In fact, I noticed that even when playing at very high volumes levels, the cabinets remained surprisingly vibration-free and un-boxy sounding.
The setup
I placed my pair of 706s on 24" tall stands that put the speaker's tweeters exactly at ear level. At home I normally bi-wire my speakers, but the Focal's single pair of binding post connectors precluded using that configuration.
I also usually toe my speakers in with the tweeters and front baffles facing directly at my listening position and remove the grilles for greater clarity. With the Focals, however, that resulted in a significant narrowing of the soundstage and excess upper midrange energy. After some experimentation, I found that putting the grilles on and facing the speakers almost directly forward (with a slight five degree toe-in angle), gave me vastly increased soundstage width and a more balanced sounding upper-mid frequency response.
The take away from all this — positioning is critical and every speaker reacts differently to room placement. Never be satisfied with the first place you plunk them down, even if that spot worked for your other speakers.
One final note on setup concerns speaker break-in. Many manufacturers recommend at least 30 to 40 hours of play time to allow the drivers and crossover elements to reach full operational stability and performance (some even recommend as much as 100-200 hours!). Although Focal suggests a 20 hour break-in period in the owner's manual, I found that the 706's sound improved steadily for at least the first 30 hours after a cold start fresh from the box. Highs became smoother and more relaxed, while the bass and lower midrange fattened up nicely. It was at this point where I began my review — the speakers' sound continued to improve as they played.
Listening
I auditioned the Focals using my old top-of-the-line Onkyo '989 receiver for power. It was being fed by a much newer Oppo BDP-105 Blu-ray player in the role of disc spinner and DAC. As much as I love my Onkyo as an amplifier, its digital-to-analog processing circuitry sounds dated. The Oppo conveys far greater warmth, clarity, and detail when playing digital music sources.
While breaking in the 706s, I went ahead and left my subwoofer on. To properly evaluate the bookshelves, however, it was time to switch off the sub. I had somewhat dreaded this moment because I was expecting a drastic loss of bass response and overall performance. But to my surprise, when the sub was taken out of the loop, much of the bass impact and punch were still there. Mind you, the 706s are still bookshelf speakers, and as such, can't be expected to deliver foundation-shaking bass. But the bass that was there was dynamic and well-defined.
I fired up the Ax, Stoltzman, Ma: Trios for Piano, Clarinet, and Cello CD and started with the Brahms Trio in A minor. This disc highlights three virtuosos of their instruments recorded live on stage together, and the Chorus 706 clearly portrayed a great sense of concert hall space and joyful interaction between the musicians. The woody tone and body of Richard Stoltzman's clarinet came shining through. Emanuel Ax's piano sounded rich and well defined, but was missing some of the weight in the lower registers that a larger speaker (or subwoofer) would capture. Even when playing the same melody lines, the sound of Yo Yo Ma's cello and Stoltzman's clarinet remained clear and distinct. Lesser speakers sometimes tend to blur the sound of two instruments playing the same note together at the same time—not the Focals.
Shifting gears a bit, I put on Supralingua, Mickey Hart and Planet Drum's tour de force of world fusion music. This CD contains heaping helpings of deep bass and explosive percussion that can push almost any speaker to its limits. One of my favorite tracks, "Endless River," is actually one of the more mellow cuts on this disc. The 706s never seriously plumbed the true depths of this track's low end (I didn't expect them to), but they hung in there gamely even when pushed hard. High-frequency extension was excellent, with plenty of natural sounding reverb and decay. Rebecca Mauleon's haunting vocals drifted in and out of a vast sonic tapestry, close-miked and intimate on one channel, then distant and echoey seconds later on the other — exactly as it should be. All the while the image remained tightly focused dead center with no tendency to drift left or right — nice!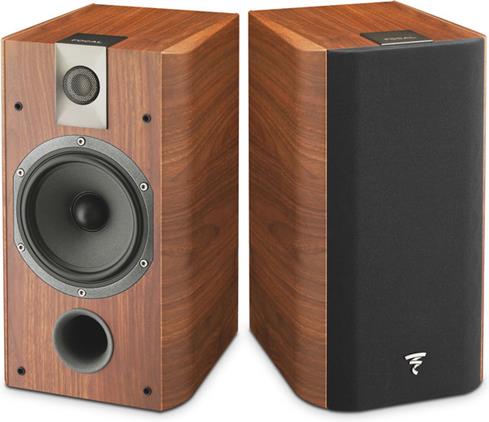 Focal Chorus 706 bookshelf speakers in Walnut finish
Switching to something completely different, I dropped Ry Cooder's brilliant Buena Vista Social Club into the disc drawer and cued up the first track, "Chan Chan." Recorded in Cuba on vintage vacuum tube gear by vintage Cuban musicians, this album features exceptional performances and sound quality. The sound of the recording studio itself was clearly audible on the Focal's. The spread of instruments across the soundstage was deep and even, with sounds appearing to emanate far out past the outer edges of the speaker cabinets themselves. Image depth overall was good, but perhaps not quite up to the same level of more costly speakers I've heard. Vocals were perfectly centered and well defined, with a sense of immediacy and vividness that brought them to life. The amount of fun these old Cuban rascals were having at this recording session was clearly conveyed through these speakers.
At one point during my listening sessions, my son walked into the room to ask me a question. It wasn't until I found we had to yell to communicate with each other that I realized just how loud I had the system cranked up. I generally don't play my music at such high levels, but the Focals sound was so clean and undistorted that I had inadvertently turned the volume control much farther up than I normally do. I believe that the 706's solid cabinet construction and lack of vibration contributes mightily to its low-coloration performance.
Although my intention was to evaluate the 706s as a stereo pair primarily for music listening, they were also at the same time incorporated into my surround sound system. So by default, whenever I watched a movie or TV show, they served as my front left and right speakers. Although they weren't officially voice matched to my center channel and surround speakers, they nevertheless blended in very nicely, never calling undue attention to themselves while serving up some very convincing and dynamic movie sound effects. I expect they would make a killer surround sound system when properly matched with Focal's other Chorus series speakers.
Conclusion
The Focal Chorus 706 delivered a large and spacious sound in my listening room, with one of the widest soundstages I have heard there. Image depth was very respectable for speakers in this price range. Their inverted aluminum/magnesium dome tweeters provide clear, extended highs that are largely free of harshness and grain. Brass instruments and cymbals had just the right amount of bite and ring, without being overly aggressive. And the 706's ability to play loud without compression was impressive.
My initial impression of a too-forward sounding midrange remained, but the more I listened the more I became convinced that some of that effect was recording-dependent, as well as break-in dependent (given that the more I played them, the less of an issue this became). Still, if you're looking for speakers with a "laid back" presentation, I'm not sure you'll find it here. Some listeners might find them a bit "forward" sounding for their tastes. Overall, I found the 706s exciting to listen to and that they serve the music well. To paraphrase Humphrey Bogart in The African Queen: "The Focals are like a shot o' gin. They make your blood race and your spirits soar!"