Four cool things from CanJam NYC 2018
Our headphone guy visits New York City for the world's premier personal audio show
Heads up!
Welcome to this article from the Crutchfield archives. Have fun reading it, but be aware that the information may be outdated and links may be broken.
"Have a good show."
I heard that phrase — or a slight variation of it — as I left each booth of the 2018 CanJam in New York City.
For one special weekend in February, headphone aficionados from around the world gathered at the MASSIVE, 48-story Marriott Marquis in midtown Manhattan. All to try out the latest and greatest headphones, amps, and accessories.
Acoustic engineers and designers from top-notch personal audio companies — including many brands we offer here at Crutchfield — talked shop with and got first-hand feedback from reporters, experts, and the truest of true headphone fans. And when our conversations (and debates) ended, it really did seem like we all just wanted each other to "have a good show."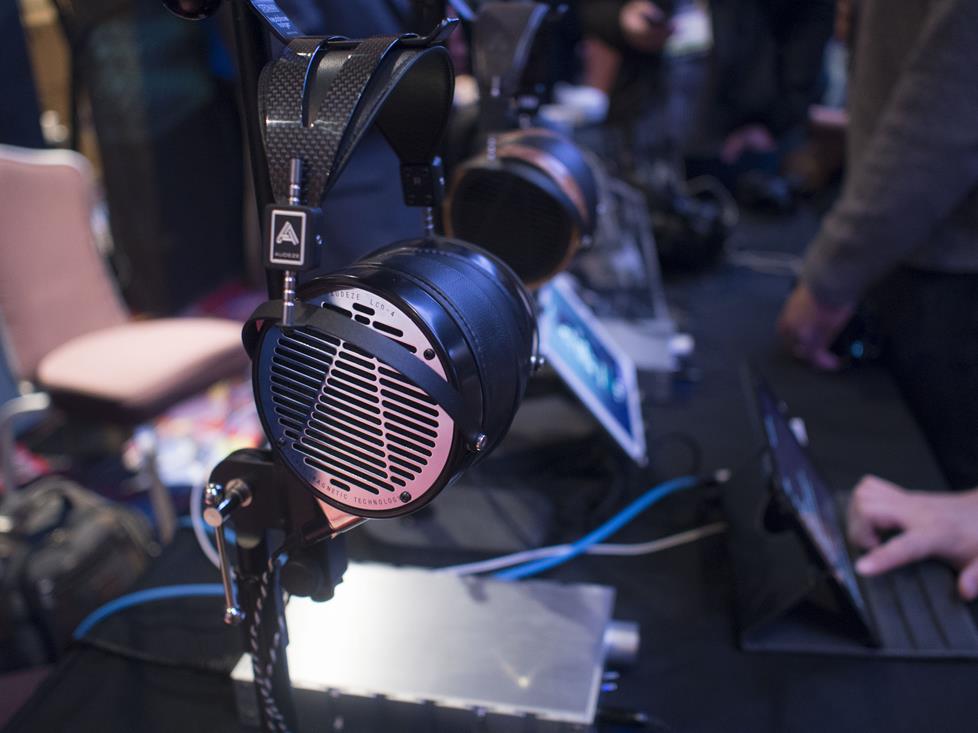 The world's best headphones were on display at CanJam — including Audeze's top-of-the-line LCD-4 headphones.
I came away with a ton of new information and experience. I'll have more in-depth articles later, but I wanted to share the four coolest things from this CanJam – and encourage you to go the next time there's one close to you.
The four coolest things
1) The Head-fi community is filled with good people
"CanJam Global" is a series of shows throughout the world, organized and run by a company named Head-Fi. Their website plays host to an ever-growing community of headphone enthusiasts, affectionately called "Head-fiers."
I noticed a lot of overlap with us: I talked to several Head-fiers who were also big fans of Crutchfield. And much like our own Crutchfield community, the Head-fiers I met in New York were very passionate about good sound — plus very respectful and welcoming.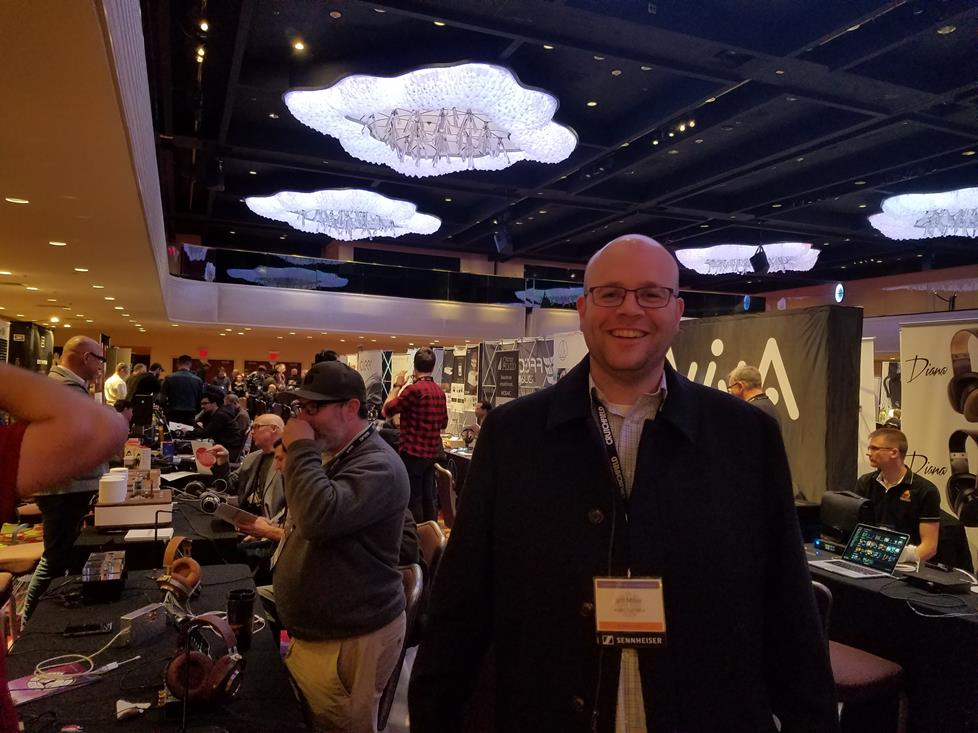 I felt right at home with my fellow headphone fanatics at CanJam in New York City.
This culture undoubtedly starts at the top with their founder Jude Mansilla, one of the world's leading headphone experts. I met Jude for the first time here at Can Jam NYC. Our brief conversation felt as comfortable as talking to an old friend.
Jude has a special connection to Crutchfield. He purchased his first pair of headphones — the Sony MDR-V6 — from our catalog in the mid-1980s. Jude told me, "I was young at the time, and I asked my mom for another pair that was $120. She asked, 'do you have $120?' I didn't, so the MDR-V6 it was."
Ultimately, Jude says he's happy with his purchase. Those Sony headphones are still well-respected, and they started him on this fun hi-fi ride.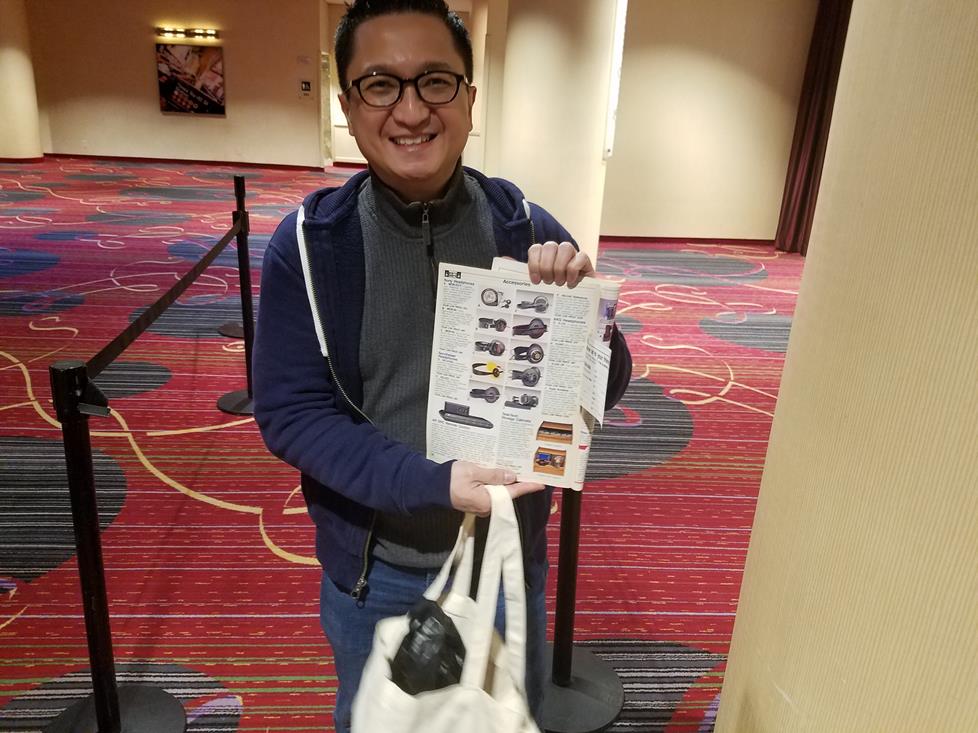 We presented Jude with a Crutchfield catalog from 1988 that featured his beloved Sony MDR-V6 headphones.
2) Getting hands-on with the gear I'd been anticipating
I never take for granted how fortunate we are here at Crutchfield: I get to test out a lot of cutting-edge headphones and headphone amps. But I don't get to try everything.
That's why my eyes widened when Axel Grell — the longtime chief engineer at Sennheiser — met us at breakfast carrying his latest masterpiece, the Sennheiser HD820. This closed-back version of their flagship headphones sport Gorilla Glass covers to give you a peek at the high-performance drivers.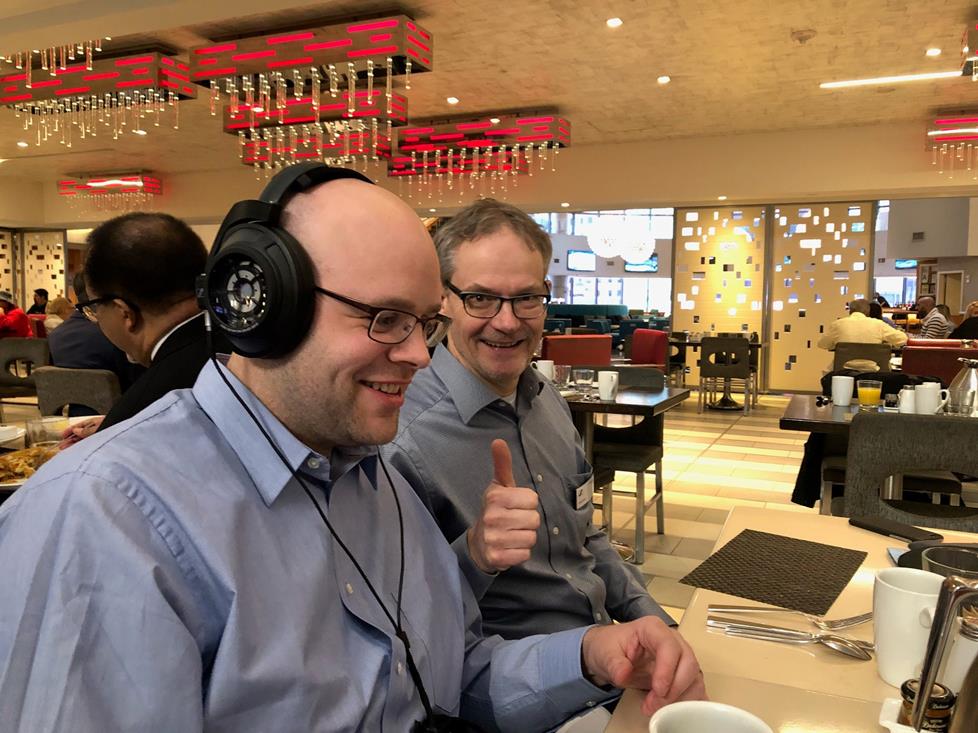 Sennheiser's legendary chief engineer Axel Grell let me try out the forthcoming HD 820 headphones.
Axel told me that he didn't set out to use Gorilla Glass, but they tried several more traditional materials and couldn't find one that gave him the right sound. Once they settled on the glass, it took over a year to develop what Axel called a "deep drawing" earcup design.
This reverse concave design directs airflow away from the driver to create the same kind of spacious, transparent airiness as Sennheiser's renowned 800 S open-back headphones.
I heard both side by side on the busy show floor. The HD 820 offered more isolation from the noise, but still sounded remarkably similar to the HD 800 S.
I was also excited to try out the forthcoming VOCE electrostatic headphones from MrSpeakers. Last year, they released two stellar planar magnetic models, the Aeon Flow headphones closed- and open-back. I talked to Dan Clark – "Mr. Speakers" himself – about the 3-1/2-year process of designing, tuning, and tweaking these new headphones that use an entirely different principle.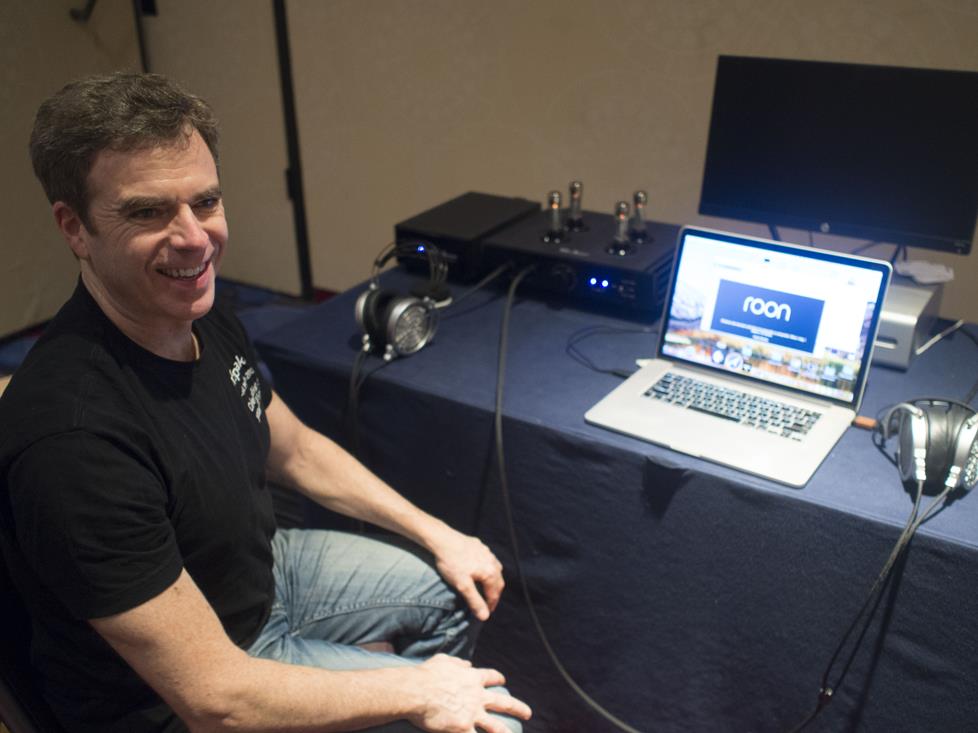 "Mr. Speakers" Dan Clark set up his new electrostatic headphones in a special listening room.
It was a fascinating look at the creative and engineering process, so I'll share that conversation in some form in the future.
We then went into their special listening room, and Dan played me a particularly powerful track that he uses for reference – Cowboy Junkies' "Square Room." I started out trying to listen technically, but got completely sucked into the melancholy mood of the song. It was an experience, for sure.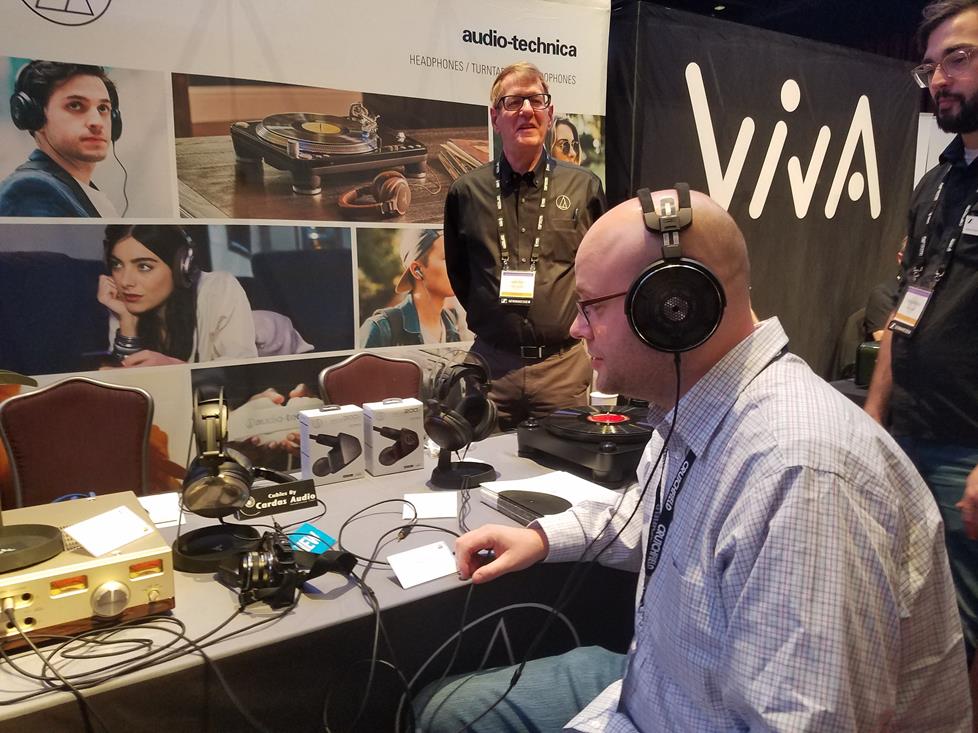 Any day with the Audio Technica ATH-ADX5000 headphones is a good day
Even though I had already spent some time with the Audio-Technica ATH-ADX5000 headphones, I was happy to sample some new tracks with my "old friends." These are some of the best open-air headphones I've tried lately, so I had to give them another spin here. It was worth it. Even with the crowd around, I could pick out the smooth, musical detail.
Speaking of which, the Klipsch HP-3 headphones paired up with Klipsch Heritage headphone amp offered a powerful punch that really cut through the showfloor noise. It was nice to finally hear these two together, the way Klipsch intended.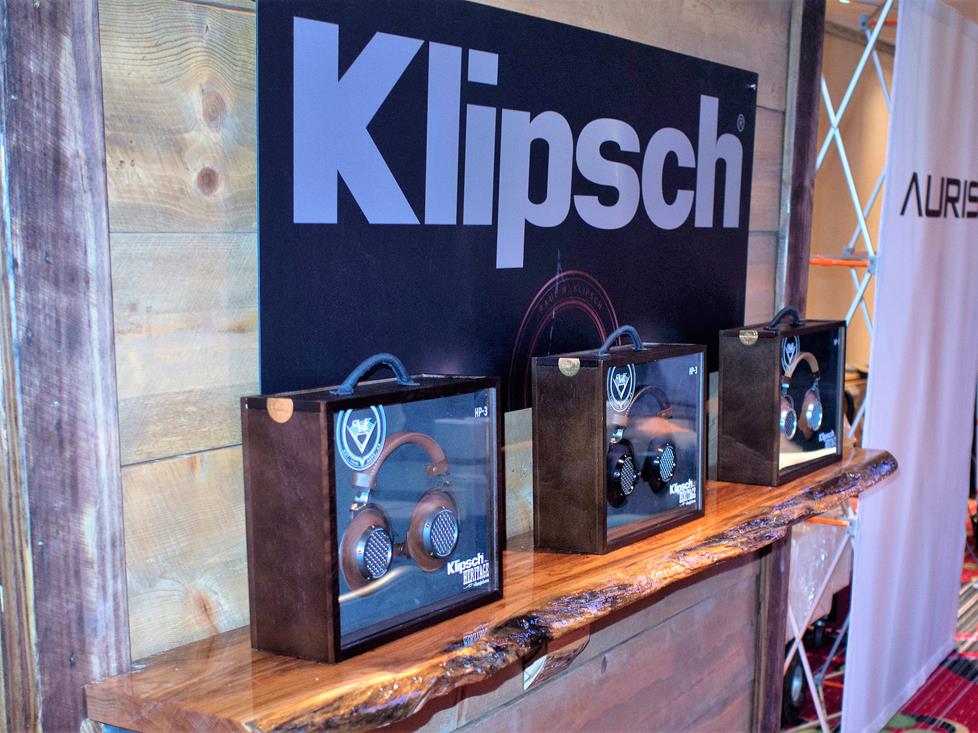 Klipsch had their new flagship HP-3 headphones on full display — a big favorite here at Crutchfield.
3) Discovering the gear I didn't know I was missing
Speaking of crowds, the Focal booth had scores of folks flocking to hear the new Focal Clear headphones. We've had a demo setup here at Crutchfield for a couple of weeks, and they are some really impressive headphones. But the display model on Focal's table took the cake.
Tournaire jewelers tricked out a pair of Focal's flagship Utopia headphones with 18-karat gold and 6.5 carats of diamonds. I jumped at the chance to wear these $120,000 headphones, and needless to say, I was EXTRA careful with them.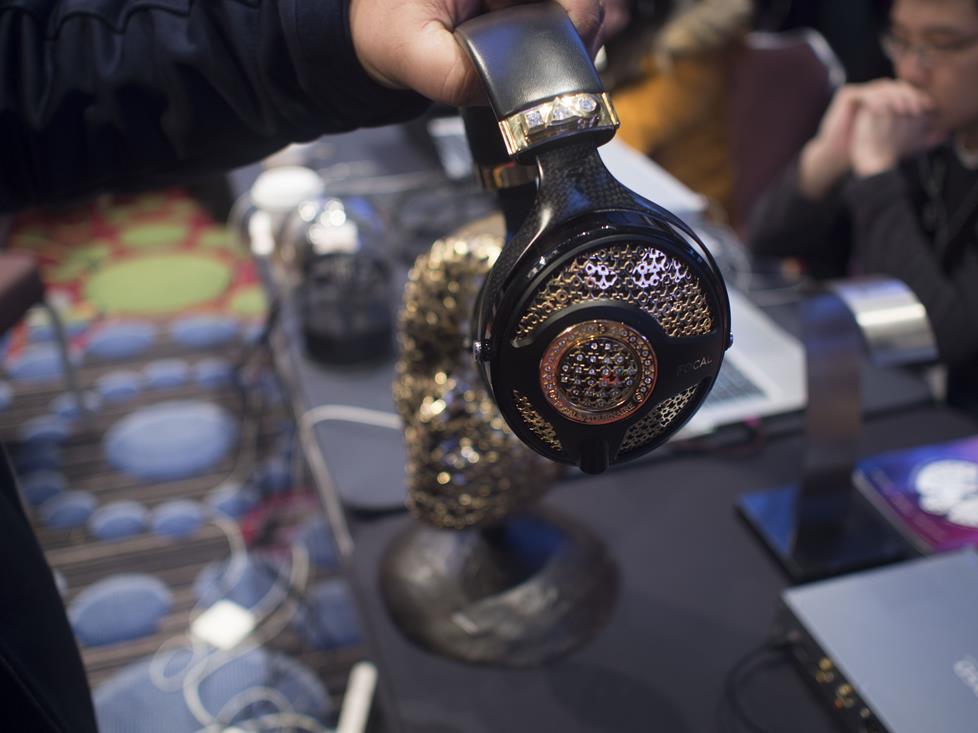 I certainly wasn't expecting to see — or wear — anything like this.
There were several companies off my radar with really great audio gear. It was a lot like walking around a large music festival. You have the bands you came to see on the main stage, but then you stumble into a tent and discover a mind-blowing new band. I won't be surprised if we offer some of these hidden gems here at Crutchfield soon.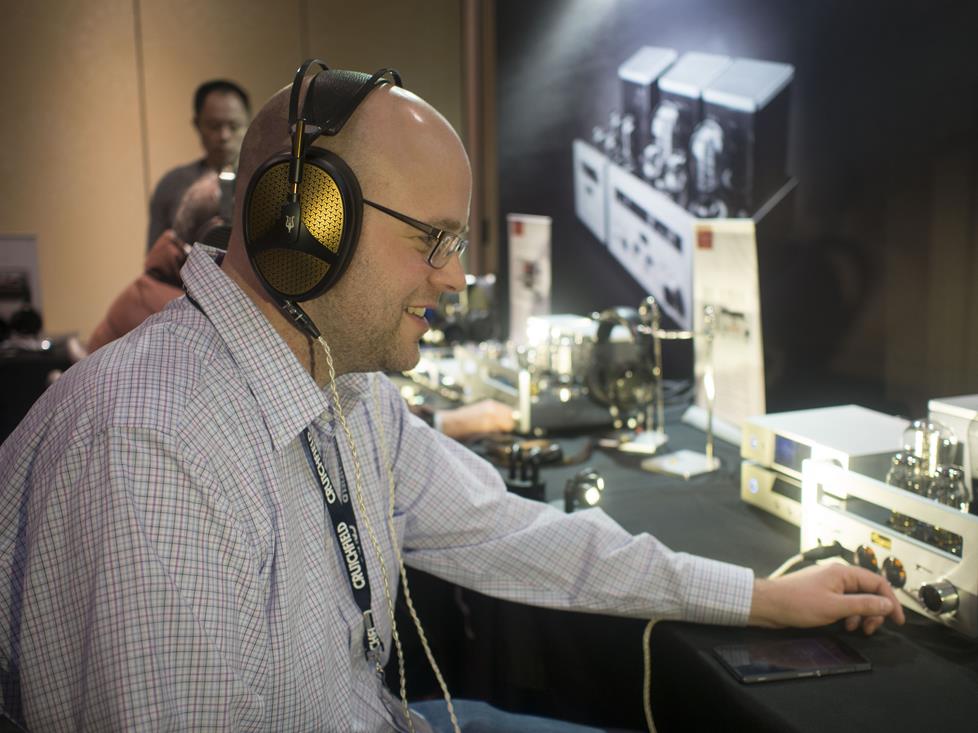 Meze Audio gave us "CanJammers" a sneak preview of their well-constructed, yet-to-be-released Empyrean headphones.
4) Mingling with the Titans of the headphone world
I couldn't believe the heavy-hitters just walking around Can Jam. Everyone was completely accessible and willing to talk to anybody there.
It was almost dizzying:
...Sony's acoustic engineer Shunsuke Shiomi flew in from Japan to chat one-on-one with folks about his Sony MDR-Z1R headphones....Paul Barton held a seminar about the special "Roomfeel" tuning of his new PSB M4U 8 headphones...Axel Grell popped in the session and peppered Paul with questions about sound measurements...Vlad Grodzinskiy from Klipsch dropped off a pair of headphones to another company's booth and got into a deep discussion about cables...
Talk about getting a Master class. It was all really — excuse the phrase — "heady."
The enthusiasm and positive energy was palpable throughout the Marquis' sixth-floor ballroom. We all listened, discussed, lived, and breathed everything headphones. This hardcore headphone scene might not be on everyone's radar, but for two days — smack dab in the middle of Times Square — it felt like the center of the world.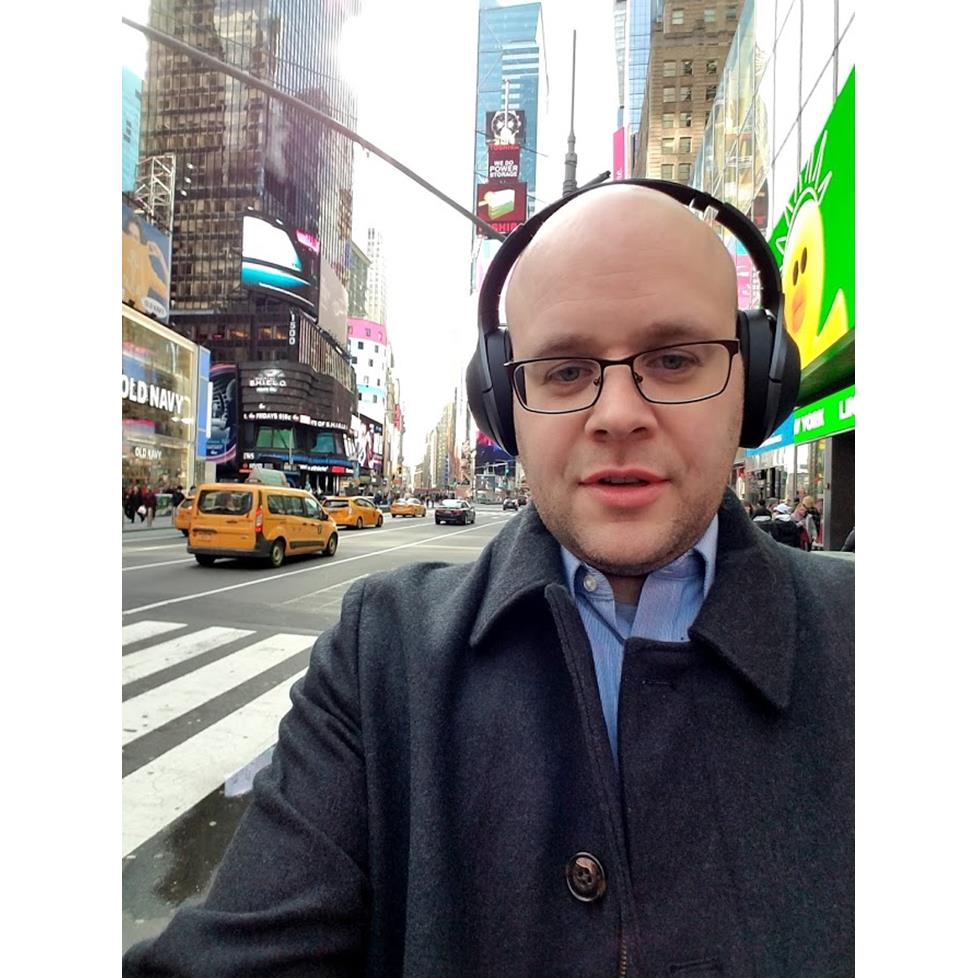 I had to take a selfie in Times Square wearing the Sony WH-1000XM2 noise-canceling headphones.