Garmin nüvi 2599LMTHD portable navigator review
Phone navigation just can't keep up
Heads up!
Welcome to this article from the Crutchfield archives. Have fun reading it, but be aware that the information may be outdated and links may be broken.
It's easy to understand why so many people are using their phones for GPS these days. However, products like the Garmin nüvi 2599LMTHD make it easy to remember that dedicated navigation devices have so much more to offer. It proved to be the perfect companion for my baseball road-tripping, thanks to its combination of powerful, useful, and, dare I say, fun features.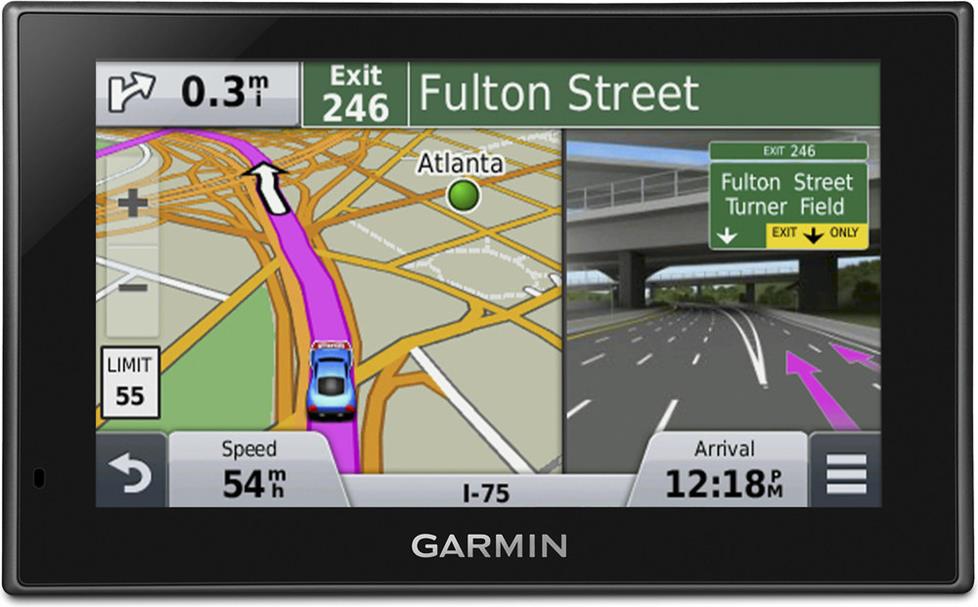 The highlight, for me, was the traffic monitoring. The older I get, the more I hate getting stuck in traffic. I'll take roads that add time to my trip just to avoid Interstates that I know are going to get backed up. But, for purposes of testing, I took I-64 down to Norfolk to tour the Norfolk Tides ballpark, just to see how well the HD Traffic would perform. It did not disappoint.
Avoid traffic delays
On the way down, I got a couple of warnings of congestion ahead, with plenty of time to react, had I needed to. About seven miles before the first incident, traffic around me started getting fairly heavy. Under normal circumstances, I would've taken the next exit, based on where I was, and hit the side roads to avoid the aggravation. However, after hearing the reassuring "there's live traffic on the road ahead," a quick glance told me that not only was the backup a good distance away, the delay was less than five minutes. As it turned out, the nüvi was dead on. I hit a little squeeze and had to slow down for a bit, but the jam wasn't bad at all. Just knowing that it was coming, and that it would be over soon, made all the difference for me.
My tour of the stadium ended right as rush hour was picking up. From the stadium, I could see massive backups on the highways, which I knew I wanted to avoid. This is where the nuvi shone. Like all current navigators, you can set certain kinds of roads to avoid, such as toll roads. Unfortunately, the only avoidance you can choose to keep you off the Interstate is "highways," which has the unfortunate side effect of skipping U.S. routes as well (the avoidance parameter is based on speed limits). However, with this particular nüvi, once a route is set, you can manually select roads to avoid. In my case, I went in and manually kicked out I-64, which put me right on track for the U.S. route I wanted to take home. A little bit longer, sure, but it kept me out of the massive backup I would've otherwise had to deal with, which made the drive home a delight.
Accurate guidance and alerts about your route
I really like that it gives you audible and visual alerts if you're approaching a school zone
Like most Garmin products, this nüvi was impressively accurate. I also appreciated the easy-to-read display, which is both informative and well laid out. Another new feature I really liked is the fact that about half a mile out, it gives you audible and visual alerts if you're approaching a school zone. It's a simple feature, but one that's incredibly helpful, and, I have to imagine, saves drivers from plenty of hard braking and tickets.
Voice commands that actually work
Lastly, I have to speak to the Voice Command feature, which lets you control lots of the navigator's functions just by speaking. In three simple words: I love it. It proved indispensible for finding food options and gas stations on the fly. Every once in a while, I had to repeat my instructions to it, likely because of road noise or because I hadn't turned the volume on the stereo low enough, but for the most part, it worked beautifully.
To sum up, then, the nüvi 2599LMTHD is a brilliantly designed device, and an invaluable traveling companion. Between the sophisticated features and quick, accurate routing, navigating by smartphone apps just can't compete.