Garmin nüviCam™ LMTHD driving assistant review
It's a navigator, a dash cam, and a whole lot more
Heads up!
Welcome to this article from the Crutchfield archives. Have fun reading it, but be aware that the information may be outdated and links may be broken.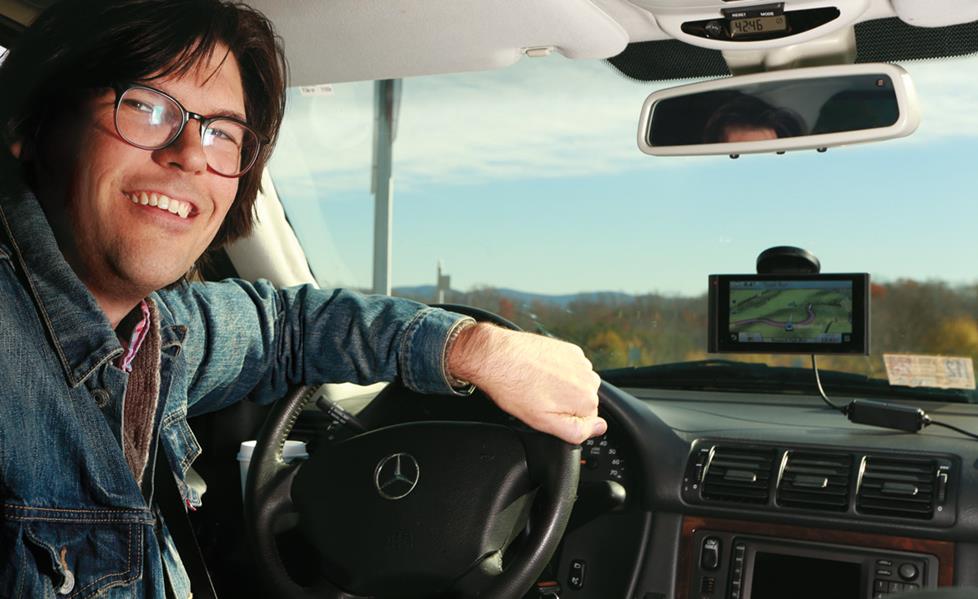 Garmin's do-it-all nüviCam came across my desk coincidentally when I could use it the most. First, I had a multi-city trip scheduled, and later in the month, I had to navigate Thanksgiving traffic on an 11-hour drive with two kids in the backseat. Typically, I don't need much more than my smartphone and a coffee when I hit the road, but if there was ever a time for a reliable device that does triple duty as a navigator, dash cam, and driving assistant, it was then.
A fit for any dash
My first big outing with the nüviCam was in a rental car in a new city, and as soon as I mounted it on my windshield, the appeal of a smart device dedicated to navigation was undeniable.
Great Garmin features...
The secure mount and vivid 6" touchscreen display clearly outclassed my smartphone, and Garmin kept things efficient with one dual-purpose cord for power and HD Digital Traffic reception. I just plugged it into my apple-red Chevy Spark's 12-volt power point and I was good to go. When it was time to get out of the car, I could just pluck the nüviCam off the magnetic mount and stash it in the glovebox.
...and a built-in dash cam
Ever since meteors rained down on Russia and the incident was captured on video from nearly every nearby car, dash cameras have sprung up more and more in the U.S.. Sure, they might catch something YouTube-worthy, but they're mostly indispensible for clearing up the ol' "what happened when" of an accident scene.
Garmin wisely builds a dash cam into the nüviCam to loop-record the road ahead because, well, it's mounted to the windshield already. All of the video from my trip was geo-stamped with date, time, and location. While I thankfully wasn't involved in a fender bender, I did roll over a couple vicious potholes. The jolt to my vehicle triggered the nuviCam's G-sensor to permanently stash video of the incident in an emergency file that couldn't be recorded over (until I told it to). Garmin also incorporates dash cam functionality into their Advanced Driver Assistance System which includes cool features like Real Vision™, which I'll talk about below.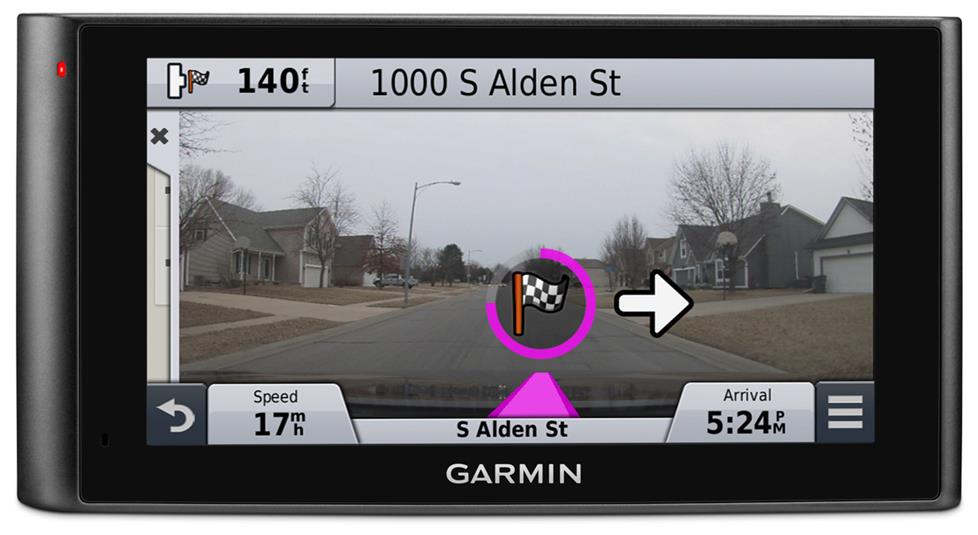 Garmin's Real Vision helps you understand exactly where you need to turn when you reach your destination.
Top-notch navigation features
The nüviCam's big screen made typing in my destination convenient, and Garmin's massive "points of interest" (POI) database with dropdown suggestions streamlined the search. If I needed to add a new destination while driving, I could use built-in voice control, but results tended to be mixed. Adding a new destination never messed with my current route since I always had the option to add the new destination as a next stop or final one.
On the actual navigation front, I was consistently impressed with Garmin's accuracy. Their Active Lane Guidance with voice prompts and split-screen expansion made complicated interstate interchanges no sweat when normally I might've been cursing. In fact, I don't know when I've ever driven with such assurance in a city I'd never visited before.
I could even pull up to my destination with confidence thanks to Real Vision, which switches the nüviCam to dash cam view as I arrived – a big help when signs or mailboxes were hard to spot. Nearby parking suggestions (with hourly rates for comparison!) and nearby gas stations also made navigating a new downtown less stressful.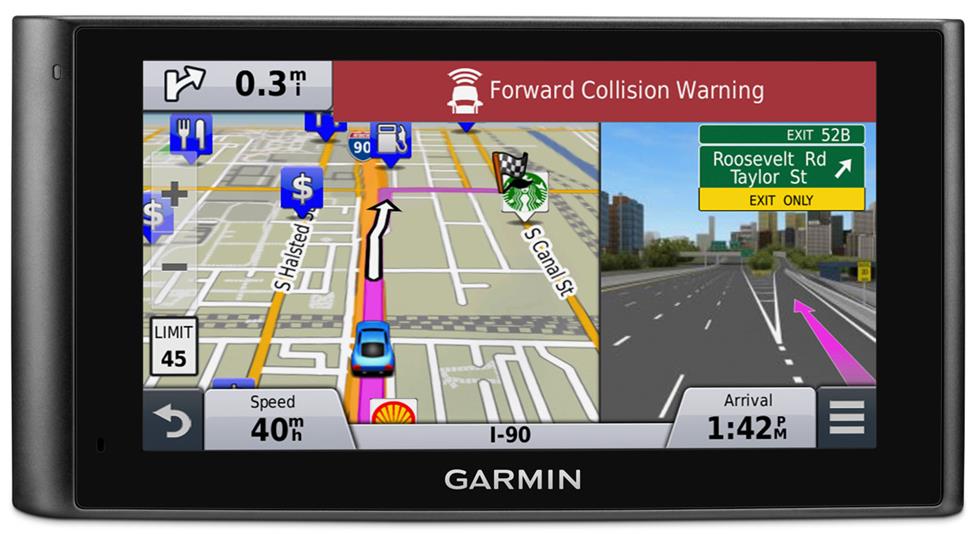 Garmin gives you audible and on-screen alerts if you're traveling too close to the vehicle ahead of you at more than 30 miles per hour.
Safety along the way with Advanced Driver Assistance
When you're driving a rental car, it never hurts to have a little back-up, even if you have the best insurance in the world. So, I was glad the nüviCam was my Chevy Spark copilot. It accurately clocked my speed and highlighted it in red when I was over the limit, and I was happy to get the occasional School Zone warning so I knew when to play it safer than usual.
The safety features of the nüviCam's Advanced Driver Assistance System make good use of the built-in dash cam's eye on the road. I'd like to think I'm a pretty attentive driver, but surprises on the road are inevitable. If a driver cut me off (and they did – the Spark isn't known for its speed), the nüviCam gave me a Forward Collision Warning.
In the moment, I brushed off the alert because I'd anticipated the other driver's move, but afterward I realized that if I hadn't been paying attention (i.e. engrossed in conversation), I would have been grateful for Garmin's heads-up. I wasn't as charmed with the nüviCam's Lane Departure Warning alerts, which only worked for me about half the time, but the feature was selectable, so I turned it off.
Of all the nüviCam features I was glad to have in a rental car, it had to be the built-in dash cam. On the off chance I was involved in an accident, I had all of my drive time recorded through a wide-angle lens. Pretty handy if your account of things is ever challenged.
Garmin Smartphone Link
Incredibly, everything I used the nüviCam for felt like only the tip of the iceberg. Most major features came with a number of useful subfeatures meant to ease a slew of driver headaches. One of my favorites was Garmin's Smartphone Link app, which was a free download on my Android™ phone (same goes for iPhone®). When I wasn't in the car, I could plan ahead and set destinations on my phone, which would then sync with the nüviCam via Bluetooth® later. Total timesaver.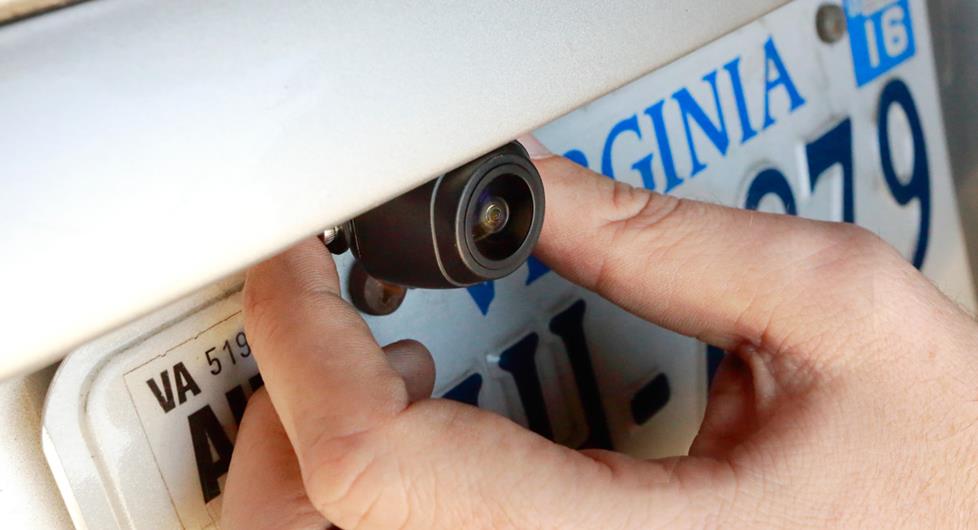 The Garmin BC™ 30 rear-view camera fits snugly onto any license plate.
Adding a wireless back-up camera
Garmin's BC 30 wireless rear-view camera system is an ingenious little accessory. Garmin cleverly built it to work with nearly all of their latest portable navigation devices, including the nüviCam. So, I couldn't just put the nüviCam on my dash and not try out the BC 30.
I installed the camera in my own SUV in time for the aforementioned Thanksgiving drive up the East coast. Setting up this universal-fit camera was surprisingly simple. I mounted it easily onto my license plate and tapped into my reverse lights for power. Getting the video signal on the nüviCam was quick, and with touchscreen control I could easily adjust parking lines to my liking.

There's no need to run any video cable between the BC 30's transmitter and the nüviCam.
I usually take a spartan approach to backing up – rearview mirrors are just fine by me, thanks – but driving in holiday traffic, pulling in and out of crowded parking lots for emergency kid bathroom breaks, all while the SUV's way back was brimming with stuff, it was enough to break me. The BC 30 and nüviCam combo helped make the drive a breeze.
Your compact copilot
If you're considering a device for just one of the features above – navigator, dash cam, rear-view camera monitor, etc. – Garmin's nüviCam is worth serious consideration. I was impressed that it not only wore so many hats, but that it wore so many so well. Garmin has put serious thought and effort into ensuring you'll have the best possible driving experience without cluttering up your dash. If you're interested in exploring more of Garmin's in-car excellence, check out their wide variety of gear.