Review of the Garmin vivoactive and vivofit 2
Two wearable solutions for getting in shape
Heads up!
Welcome to this article from the Crutchfield archives. Have fun reading it, but be aware that the information may be outdated and links may be broken.
I'll be the first one to admit it: I'm not in great physical shape. My diet's terrible, I don't sleep nearly enough, and only in the past couple of years have I made an effort to get at least 30 minutes of exercise on a daily basis. That being said, I believe that even at my age (just north of 40), I can make some improvements to my health. But it's going to take some help, which is where wearables like the Garmin vivoactive GPS smartwatch and the Garmin vivofit 2 activity tracker can come in handy. Since wearing both devices at the same time seemed kind of silly, I asked my wife to help out by doing a little evaluating herself.
Editor's note: the vivoactive smartwatch is no longer available, but we do offer a newer model — the Garmin vivoactive HR, which includes a built-in heart rate monitor.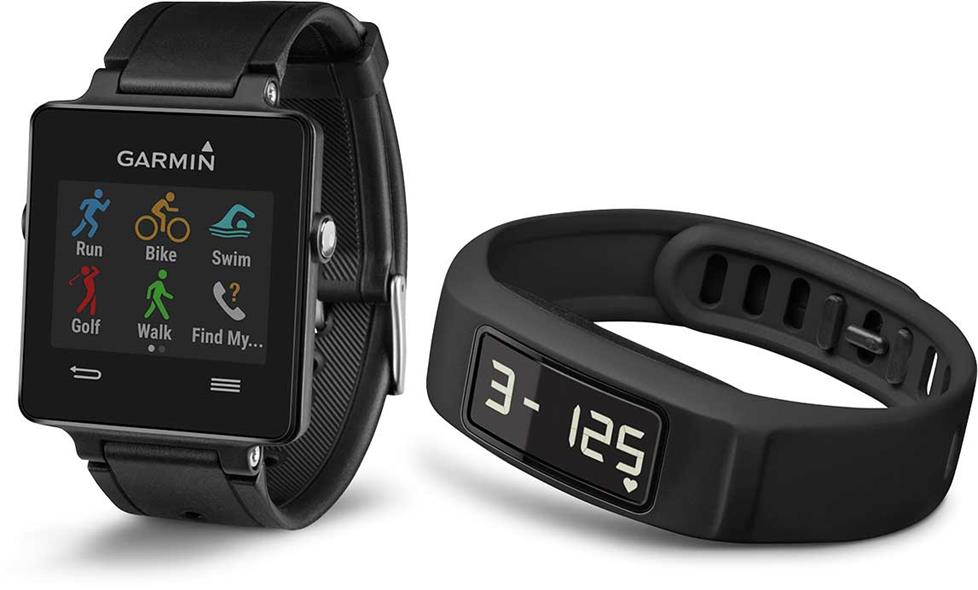 The Garmin vivoactive GPS smartwatch (left) and vivofit 2 activity tracker (right)
Thoughts on the vivoactive GPS smartwatch
The vivoactive GPS smartwatch — like most sport watches — covers a wide array of activities, including walking, running, cycling, swimming, and golfing. I'm not keen on golf and don't own a bike at present, so my experience with the vivoactive would be limited to walking and a quick exploration of a nearby pool. But I was also interested in seeing how well it tracked my sleep patterns, and possibly the best feature of all for health-conscious beginners: the step tracker with periodic reminders to get up and move around. The great thing about the vivoactive is that once those initial steps are taken toward regular exercise, it can keep up as the regimen expands and develops, and allows for detailed tracking of goals and milestones.
The vivoactive's face is a bit on the large size, but not obtrusively so. There are two dedicated buttons, one on each side of Its LCD screen, plus a pair of dedicated touch controls below the display. The display runs fairly dark, so it's not easy often easy to see the time in low light, but that can be fixed by turning on the backlight with the left dedicated button. I imagine this is done to save on battery life, which should be up to 10 hours in GPS mode, and up to 3 weeks in watch mode. One minor complaint about the backlight is that it would turn itself off very quickly, but after fiddling around with the settings a while I discovered how to change the backlight's duration. I found that after 5 days of mostly watch mode and 30-60 minutes of GPS use per day, the battery was ready to be recharged.
After charging up the vivoactive using the included cradle and updating its software, I downloaded the Garmin Connect app to my iPhone 6 and put in my relevant details, including my age, gender, height, and weight. Then I paired the vivoactive to my iPhone and looked at my options on the watch's face — the menu opens up with a touch of the watch's right dedicated button. I chose the icon for walking and off I went, covering half of my normal outdoor route in total, or 0.73 miles. The vivoactive told me the distance I covered and how long it took me (16 minutes and 3.1 seconds), as well as my pace (22:01 per mile). Firing up the app, i was able to see that I burned 105 calories during my walk, and the app also gave me some information about the elevation I covered.
Snoozing and cruising
That night I set the vivoactive to track my sleep, which wasn't as intuitive as I would have hoped. After plowing through multiple menu screens and swiping the screen to and fro, I finally got the sleep mode to engage by swiping left on the watch face while it was displaying the time, then hitting the right-hand touch control. That part was pretty frustrating, but at least in the morning the watch would ask me if I wanted to leave sleep mode as soon as I woke up. Here's what the Garmin Connect app on my phone showed me about that first night of sleep: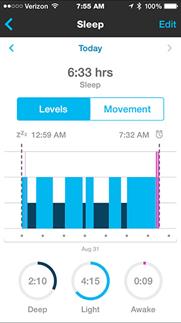 The pink bars on the right show where I got up to feed our dog briefly before realizing that I needed to turn sleep mode off. Otherwise it seems I drifted in and out of deep and light sleep cyclically, which is something a sleep doctor had told me about a few years ago when I went for a consultation and sleep study.
I prefer walking to running, so that morning I hit the treadmill with the vivoactive to test its indoor walking capabilities. Turns out it was really accurate measuring my distance over 30 minutes at a 4 mph pace. It told me I burned 266 calories and walked 2.01 miles. I made sure to consistently move my arms to engage the built-in wrist speed sensor, cadence tracker, and accelerometer. I also took the vivoactive for a 30-minute trip on an elliptical machine later in the week, but it doesn't it work as well as on a treadmill, because I'm not using an ordinary cadence on the elliptical.
The rest of the week I did my normal outdoor walking routine, which covers 1.63 miles round trip, and usually takes about 33 or so minutes (I have to cross a very busy street with no stoplights so sometimes it takes a little while longer). By checking the Garmin Connect app, I saw how the walks were mapped out with plenty of information, including elevation and pace (which dipped when I had to wait to cross the street). The app even allowed me to make notes for each walk, share them on social media, and mark favorites – lots of great stuff which I imagine could come in very handy for more enthusiastic athletes who want to set goals and mark progress, including personal records, best courses, and one-on-one challenges with others who use the app for similar activities.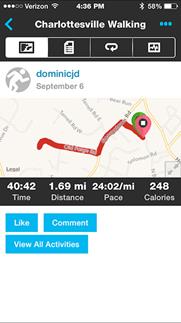 I also took the vivoactive for a quick dip in the local pool, just to see how it would feel in the water. I'm not much of a swimmer, but I semi-swam my way up and down the small pool a couple of times to see if it would record my distance accurately. Looking at my app, it shows helpful figures like total strokes, average strokes, and SWOLF (time in seconds + number of strokes to complete one pool length). The watch didn't seem to have any issues with the water, and the band felt extremely comfortable the whole time.
Step it up
During the day, I'm at my desk staring at a computer, so it's nice to have the vivoactive there to remind me to get up and move around every hour or so with a very gentle vibration and on-screen encouragement. On the first day I started using it, my steps goal was just north of 5,000 steps. I surpassed it (helped by my 0.73-mile walk), which gave me a feeling of accomplishment. The next day the step goal was around 5,250 steps. I noticed after that they went up daily in increments of 300-400 steps per day, so by the end of the week I was expected to walk over 7,000 steps – an increase over the first day by nearly 50%. This is a great motivational tool, for sure. Best of all, it didn't try to shame me for purposefully not reaching the goal on purpose on the penultimate day I was using the watch.
Text and call notifications
Since I had the vivoactive paired with my phone, I also got the benefit of notifications of incoming texts and calls through the watch. It would issue a slight vibration every time something new popped up, which wasn't annoying at all, but rather quite helpful. The watch's face would then show me who was calling or texting, so I would know if it was important or not. I also have the Crutchfield app on my phone, so one of the neatest things was seeing a notification pop up on my watch about a TV deal we were offering: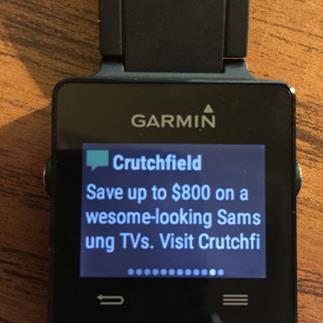 Final thoughts on the Garmin vivoactive
Like I said, I'm not in the best shape, but it's definitely a goal of mine to be more fit. The vivoactive seems like overkill for someone at my level of dedication right now, but It could be highly useful for those who like to get their exercise a variety of ways, and are serious about it. The Garmin Connect app is very user-friendly and makes a great companion to the vivoactive for tracking all kinds of activities. For the notifications and step counter alone, I would say the vivoactive is at least a good way to start toward a healthier lifestyle for the technologically inclined among us.
Checking out the Garmin vivofit 2 activity tracker
My wife (we'll call her Valencia) used the vivofit 2 for the same week I was using the vivoactive. The vivofit 2 fitness tracker is a little module which comes inserted into a large wrist band, but Garmin includes a smaller wristband for those with slender arms. Setup out of the box is easy because there's no battery to charge – the vivofit 2's built-in batteries should last about a year before needing replacement. She just had to pair it with her phone and enter some personal information into the Garmin Connect app. Garmin also includes an USB ANT+ Stick which is compatible with their optional wireless heart-rate monitor, and can be used to transfer the data from the vivofit 2 directly to a laptop or PC.
"...on the rare occasions she was stationary...she got a gentle reminder to get up and move."
The vivofit 2 module's display is pretty basic, and Valencia changed the screen by tapping a button on the wristband. The display shows steps taken, step goal, miles covered, calories burned, the time, and date. By holding the button down, she was able to pair the vivofit 2 with her phone, although the pairing took a few tries to actually take hold. The button also allowed her to start a timer so she could time her activities if she wanted to. The width of the button made it easy to pull up each function.
Using the Garmin Connect app, she was able to track her progress through her phone, albeit with much less thorough data since the vivofit 2 doesn't have GPS or an accelerometer or speed sensor – basically it's good for recording separate events, setting goals, and tracking progress. It does have the same capability to share through social media. The vivofit also monitors sleep when worn, with the results visible through the Garmin Connect app.
Valencia spends a lot of time on her feet, so the vivofit 2 adjusted her daily goals upward moderately for the first few days of her wearing it. She doesn't sit still for very long, but on the rare occasions she was stationary for more than an hour, she got a gentle reminder to get up and move. Then she took a trip to New York City for a conference where she was on her feet and moving for approximately 10 hours straight. Her goal leapt up from around 9,000 steps a day to over 12,000 steps after those two days in New York. After she returned and wasn't walking around quite so much, the goal moved back down to something more reasonable.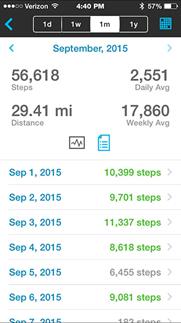 The vivofit 2 left a bit to be desired in the looks department in Valencia's mind, but didn't feel it was obtrusive or uncomfortable. She liked that it was waterproof so she could wear it in the shower without having to remember to take it off and put it back on. The band's turn-to-lock security let her carry on through her day without worrying that the vivofit 2 would pop off her wrist or get hung up on something else.
Final thoughts
I also spent a day with the vivofit 2 and it definitely feels less noticeable on the wrist than the vivoactive. I appreciated the smartwatch-like aspects of the vivoactive and Garmin's data-parsing abilities, but we both feel that the vivofit 2 is a better fit for our current fitness aspirations. It's easy to see how one could easily become a gateway to the other, which is what I suspect Garmin was thinking all along.
Need more info?
If you have any questions about either of these or any of the other fitness trackers and sport watches we carry, contact us via phone, email, or chat. Into more recreational activities and other forms of exercise? See all of our sports and fitness gear.