Grado Reference Series RS2i Headphones
Mahogany earcups deliver on looks and sound
Heads up!
Welcome to this article from the Crutchfield archives. Have fun reading it, but be aware that the information may be outdated and links may be broken.
I had an opportunity recently to try out the Grado Reference Series RS2i and the more advanced Statement Series GS 1000i headphones. My coworkers chided me for not assigning these reviews to Woody, who wrote about the Grado SR80i and the SR325is headphones. Why?
Because these headphones had wooden earcups.
I like puns, but that was just way too obvious. So I gave myself the assignment.
First impressions of the RS2
Grado doesn't spend a lot on packaging, which is fine with me. Once I've removed the headphones from their box, they'll never be returned to it. In this case, the cost of the headphones wasn't in the packaging, but where it should be: in the materials and electronics.
The hand-crafted mahogany earcups have a rich look and feel, but the wood is not there just for show. Wood is lighter than metal or plastic, which makes the earcups more comfortable. The mahogany has a soft reflective surface, providing some additional warmth to the sound (more on that later).
These are open-air earcups, so if you're thinking about using the RS2's at work, you should consider your co-workers. If you like it loud, there's a good chance they'll hear your music, too. Although I did most of my auditioning in the office, there's a fair amount of space between our cubes, and I seldom listen at very high volume levels. So leakage wasn't a problem.
Posts attached to the headband let the earcups swivel a full 360° — if you do any type of audio monitoring, this could be a plus. I can't really see these as DJ headphones, though. That same open earcup that lets your music out can let ambient sounds in. In a high-volume environment, such as a club or a dance, monitoring could be problematic.
Quality cable for quality sound
Attached to the headphones is a massive eight-conductor cord that runs to both earcups. The other end of the cord terminates in a sturdy, gold-plated 1/4" plug. There's no minijack adapter provided though. So to do some iPod® listening, I had to scrounge one up.
The cable features high-purity, oxygen-free copper and has a extremely low impedance. While that really helps the sound by delivering a low-noise signal very efficiently, there's a price (more on this in a bit).
That cable is a little heavy. Towards the end of my standard six-seven hour listening sessions, the cord seemed to pull down on the feather-weight headphones. I especially felt in where the headband crossed my scalp. Perhaps if the headband had a little more padding (or I still had all my hair), it wouldn't have been noticeable.
To be fair, for shorter sessions of two to three hours (read: normal usage), I didn't experience any discomfort. And even during those longer sessions, the open earcup design kept enough air circulating that my ears never felt hot or uncomfortable as they sometimes can with closed-design earcups.
Finding a match for the gear
I tried using the RS2's with a minijack adapter, plugging it directly into my iPod's headphone jack. The sound quality was good, but it seemed to me like the headphones were always a little underpowered. They didn't seem quite as responsive as I thought they should be. When I switched to my NuForce uDac-2/laptop setup, the difference was dramatic.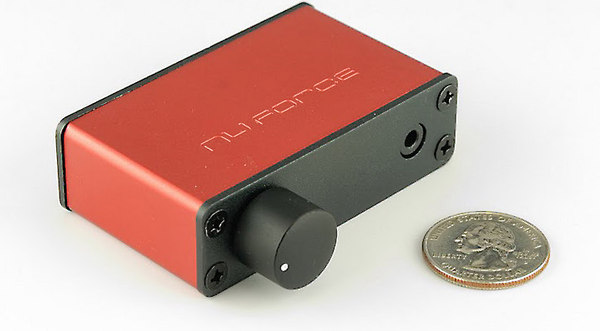 With quality headphones like the Grado RS2s,
even a small headphone amp can make a world
of difference.
This little headphone amp gave the Grados more power than my iPod could provide — and definitely enough to properly drive them. Now I was hearing a quicker response to sudden dynamic changes, and didn't have to turn up the volume all the way to get some real presence in my music.
Warm sound, nicely detailed
Most of my listening was done with the Grados plugged into the uDac-2 pulling a digital signal from my laptop (in this case, all Apple Lossless files). As always, I ran through several different genres, and on the whole, I really liked what I heard.
These are headphones that seemed to favor music with natural acoustics — bluegrass, singer/songwriter tunes, traditional world music, and classical. Classical especially benefited from the spaciousness of the open headphones, creating a sound field that didn't feel closed-in. Orchestral music sounded rich and full, but the more intimate chamber group and solo recordings sounded best.
I listened to Stephen Paulus' "The Three Temperaments," a thrilling (and difficult) work for organ played by James Higdon. With organ recordings, the space is almost as important as the instrument. I heard all the decay I expected as the music bounced around the hall, as well as the sound of the pipes filling up with air. Fine details, to be sure, but ones that add authenticity to the performance.
Headphones for a quiet afternoon...
Some of my test music came from Celtic guitarist Robin Bullock's debut album "Green Fields" This is a very carefully recorded CD, produced exactly the way Bullock wanted it to sound. When the "Farewell to Craigie Dhu" started playing, I actually called over a couple of coworkers to listen. I wanted to make sure it sounded as life-like as I thought it did.
They both agreed.
The RS2's did a great job with acoustic instruments. Whether it was flute, guitar, trombone or even upright bass, they never sounded harsh nor muddy. Just a natural, warm sound with the little imperfections (breath intakes, finger scrapings, valve clicks) that make a recording sound convincing.
...and a somewhat rowdy evening
Electronic music, such as heavy metal and trip-hop sounded pretty good, too, but there seemed to be a little something missing. If you want an edge to your Pitbull or Blake Shelton, then the voicing of these headphones may not be totally to your liking. The music always had presence, but not quite the in-your-face immediacy I expect from Cody Simpson or Cee Lo Green — even at higher volume levels.
But other types of electronic music fared well. One of my listening sessions included "Tears of Joy" a live album from pioneering jazz trumpeter Don Ellis. This 1971 recording has just about everything — a large jazz orchestra with amplified strings, three drummers, and Don Ellis' quarter-tone trumpet (with an attached ring modulator). The high-energy music's eclectic and electric, and it sounded great through the Grados. Here the instruments had the right amount of edge to them, and the detail was as good as I've heard through other headphones.
The bottom line
I wouldn't recommend the Grado RS2's for portable music listening. These headphones are designed for foreground listening, ideally when you have time to sit down and fully enjoy your music. Plugged into a nice audio system, the Grado RS2 headphones can deliver an engaging listening experience. And with those mahogany earcups, look good doing it, too.