Grado SR325is Headphones Review
Quality sound and industrial chic
Heads up!
Welcome to this article from the Crutchfield archives. Have fun reading it, but be aware that the information may be outdated and links may be broken.
A little while back I told you about my experience with the Grado SR80i headphones. I'm continuing my exploration today with a model a little higher up the line — the Grado SR325is headphones.
No-nonsense industrial design, built to last
When I took these headphones out of the box, one thought occurred me: I've had spark plug wires smaller than this cable. Okay, I'm exaggerating. But the eight-conductor connecting cable's gauge is impressive, and it's hard to imagine that this cable would restrict the signal path in any way.
Follow those cables up to the business end: now we're talking. The sturdy metal and plastic enclosure has a bit more heft than the entry-level SR80i. The construction is solid and has a decidedly stripped-down industrial look. The earcups feature a structured foam pad with a beveled edge for better ear clearance in the chamber. More of the pressure from the headband is focused on the outside of the ear, so the comfort level isn't as high as it is on the SR80i's. The design has acoustic advantages though, as I noticed the upgrade in better tonal balance.
Results across the musical spectrum
First, a disclaimer. These headphones would probably benefit best from getting their signal from a good headphone amplifier. Initially, I was just feeding them with a signal directly out of the my iPhone® 4's jack, with flat EQ and no limiting. The headphones seemed a little underpowered, but they took the signal efficiently. Even with this less-than-ideal setup, they delivered clean, balanced voicing at an acceptable volume.
One of my early listens was to Stravinsky's "Dumbarton Oaks" concerto, a work for 15 instruments. These headphones brought every voice into the clear, making an expansive yet coherent soundstage. The occasional muddying that I had come to expect from my workaday earbuds was nowhere to be heard.
When I switched genres to acoustic guitar, all the details of the flatpicking and fingerstyle string attacks came through clearly. It was only when I got to rock, the stadium rock of the 80's specifically, that things seemed a bit less defined. This could have been a feature of a) the compression of the original file and b) the fact I wasn't feeding much of a signal from my over-matched iPhone output.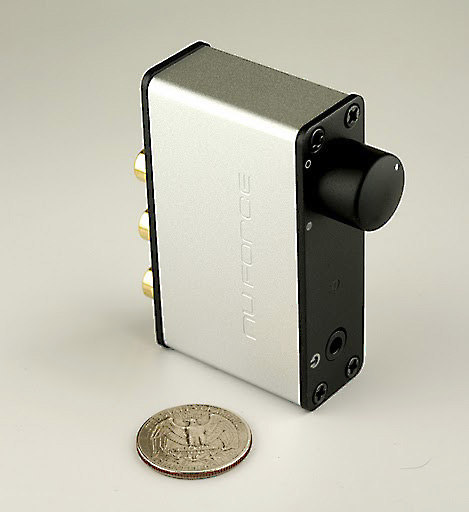 Even a small, portable headphone amp like
the NuForce uDAC-2 can make a big difference
in headphone performance.
My editor reappeared halfway through my evaluation with a much-appreciated loan: a NuForce uDAC-2 headphone amp. The uDAC-2 has a USB plug, so I couldn't use it with my iPhone — I had to connect it to my laptop. It did offer two advantages, though. The first was that the amp let the headphones operate at full power (something they couldn't do with the smaller power flow coming from the iPhone). The second was that the uDAC-2 bypassed my computer's sound card, and processed the digital signal with its own more sophisticated processor.
Time to light the stadium rock candle, I thought. After attaching the amp to my trusty MacBook® Pro, Van Halen's Panama lit up the headphones with enough presence so that co-workers' heads turned, hearing the leakage through the open-air earcup design. With my new upgrade, the bass became more clear and defined, while still staying in balance with Eddie's guitar and DLR's vocals.
I now had to hear a bit of everything. Joe Pass. Brahms. Mumford and Sons. They Might Be Giants. Earth, Wind and Fire.
Aside: Did you know that Earth, Wind and Fire was used to sell almost every stereo system from 1976 to 1981? At least it seemed like it to me back then, haunting the stereo stores for entertainment as I did. If you listen to them on these headphones, you'll understand why. Those engineers pushed the available technology to squeeze out every bit of dynamics and frequency range that they could. They set a standard for large group recording that laid down the gauntlet for future generations of musical technicians. The downside was this: everything sounded pretty good playing those tunes. Those recordings sold a lot of mediocre gear. So remember, it's important to listen to every genre you enjoy when evaluating equipment.
I had no complaints with how the SR325is headphones handled the odd meanderings of my song collection. All the tracks were clear, clean, and, most importantly, fairly free of color. I felt like I was getting a lot of the original engineers' intent. Like the SR80i's, these headphones probably won't please the mega bass, "punch-your-lights-out" crowd. But they will provide you with more of a "reference" experience, especially at lower listening volumes.
Bulletproof, not cushy
The SR325is headphones are a bit heavier than the SR80i's. Couple that with the beveled earcup design I mentioned earlier, and I found that after a few hours, I had a bit of physical fatigue from the compression on the outside of my ears and the top of my head. The actual listening experience was clean, though, and there was no equivalent listening fatigue. To be fair, there aren't many over-the-ear headphones that don't make me want to take a break once in a while. And actually, our ears need that break too, so listen responsibly.
Clean across the board
I found the Grado SR325is headphones to be a solid upgrade from the Grado SR80i's, one that is worth the extra cash after considering all variables. If you can swing a headphone amp in the bargain, you'll have a listening solution that can make your music collection come alive, while adding a touch of "industrial chic" to your favorite listening space.