Groundbreaking Pioneer car stereos
Get around typical dash openings with modular receivers
Crutchfield International Advisor Lex often gets calls from customers trying to find stereos for vehicles with challenging dashes. We gave him a chance to get hands-on with two new digital media receivers, the Pioneer DMH-C2550NEX and Pioneer DMH-C5500NEX, both of which feature modular designs so their screens can be mounted separately from their chassis units. He tried the stereos out at his desk, so he was able to evaluate their user interfaces, displays, and phone integration.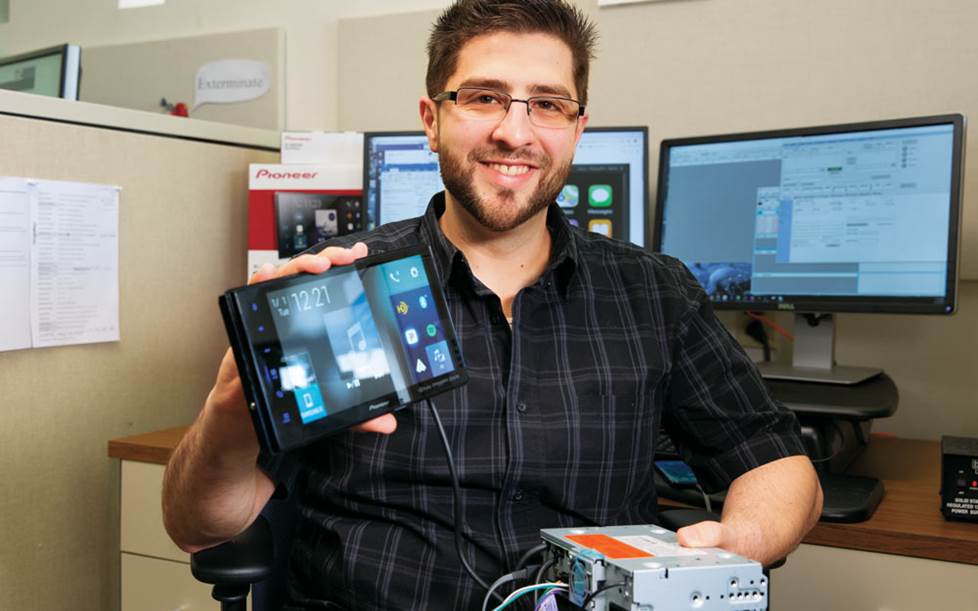 Out-of-the-box impressions
"There's no easy way to describe the feeling you'll get as you unbox Pioneer's new DMH-C5500NEX media receiver — that sense of awe as you gawk at the sheer size of the screen, even before you pull off the plastic sleeve. The 8" screen, a bit heavier than expected, slides onto your hands and immediately makes its presence known. Instinct immediately draws your fingers to the tablet-like receiver. But how different is this from the 6.8" Pioneer DMH-C2550NEX receiver, and how do they stack up to other receivers out there?"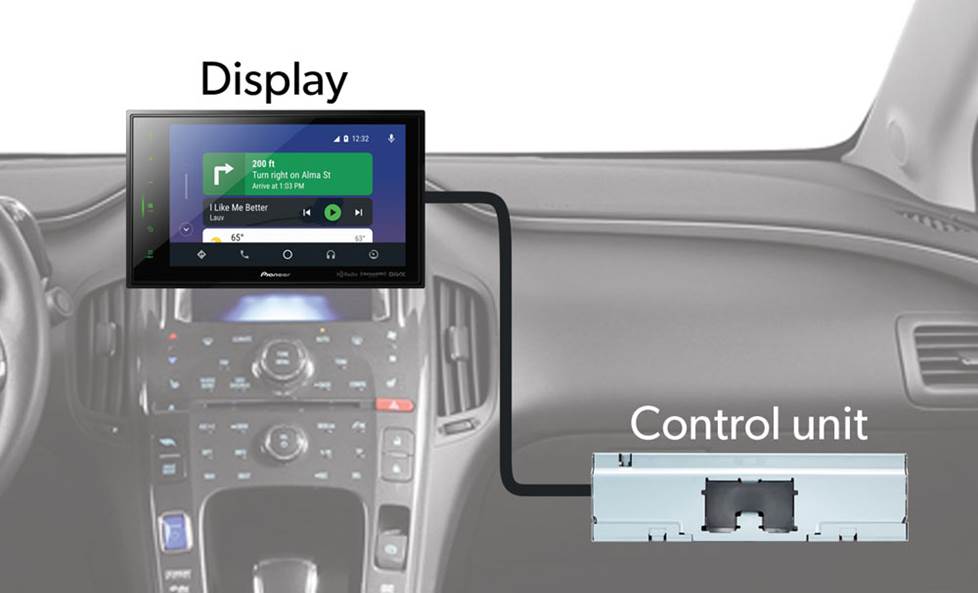 You can choose to mount PIoneer's modular display unit directly to its chassis or mount the chassis nearby if your dash opening is challenging.
Two separate units working together
"Each receiver is connected to its chassis by a 12-inch cord (longer extensions are available if you need more distance), which allows for optimum screen placement on the dash. Custom installers now have even more creative options available to put the screen higher or lower, even in areas with limited mounting depth. The DMH-C5500NEX will likely require some customization for most installations, but vehicle-specific dash kits should be available soon."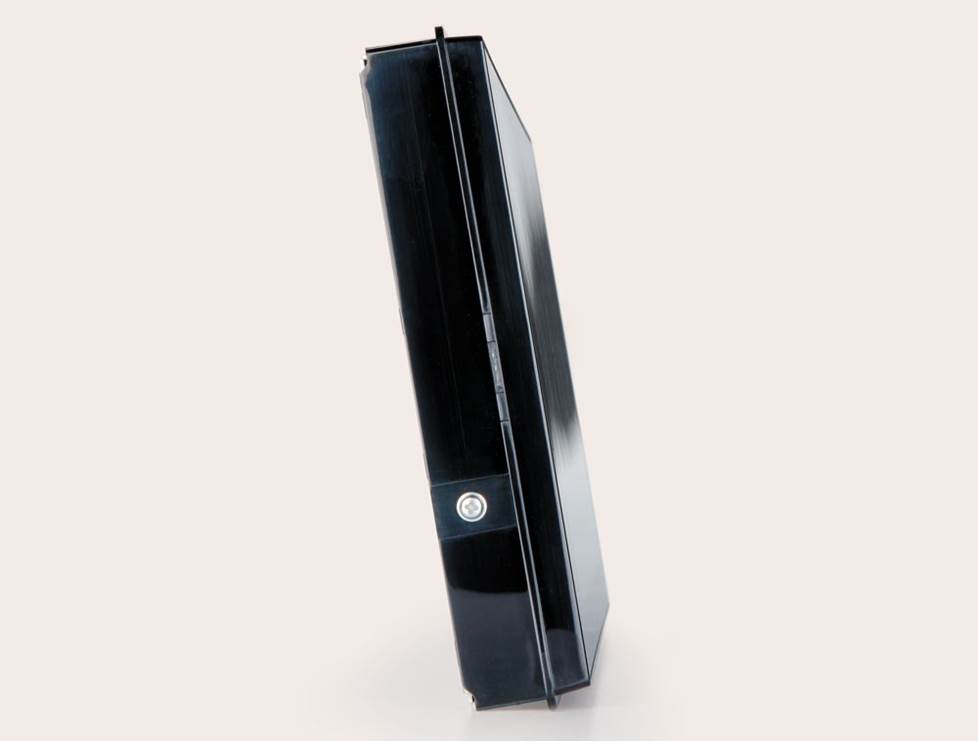 The DMH-C2550NEX's display unit's shallow depth of just one inch lets it go nearly anywhere, as long as it can connect to the separate control unit.
Stacked with features
The DMH-C2550NEX and DMH-C5500NEX are essentially the same receiver, with the main differences being the screen size and the lack of hard buttons on the larger stereo. "Regardless of which you choose, you will have all the latest bells and whistles you'd want in a car receiver. Apple CarPlay® and Android Auto™ are both supported, which is perfect for platform-divided homes such as mine. I personally like the built-in HD Radio® tuner and easy access to streaming apps like Spotify and Pandora. I also enjoy the Radio Data System (RDS) support. With that, I no longer need to scramble with third-party apps to find the name of a new song I like when it plays on my radio."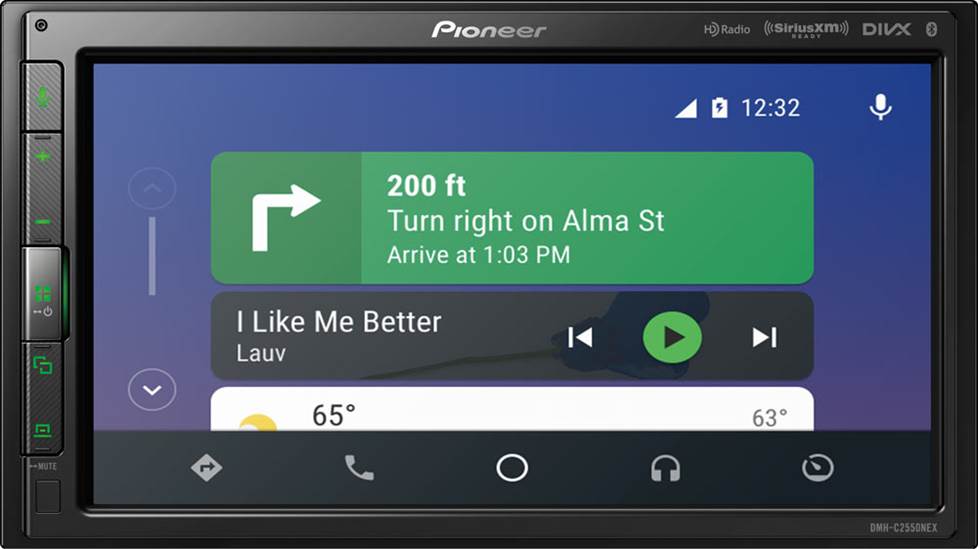 The DMH-C2550NEX features hard buttons on the side and a 6.8" touchscreen
Amazing displays that are sensitive and fast
One other key difference between the two stereos is that the DMH-C5500NEX's capacitive touchscreen offers pinch-to-zoom control, while the DMH-C2550NEX employs a traditional resistive touch display. In both cases, Lex was mighty impressed: "But the real beauty didn't reveal itself until I turned them on. I had the chance to have them both side-by-side, and the response time on both was incredible. They have among the fastest response times I've seen on any touchscreen receiver. Once my fingers were in place, I could access any feature with the lightest touch."
Save time with simple and accessible interfaces
"Display icons are clear, sharp, crisp, and just the right size to populate the screen without it feeling cluttered. And for those like me who enjoy having the album art for each song on display, just click on the home button while listening to your song and the art will fall front and center! Menus are simple and accessible, even with all the EQ options provided for those who want to perfect their soundstage. There's no digging in sub-menus to find what you need; everything is accessed quickly and easily within the same list under the 'Audio' tab."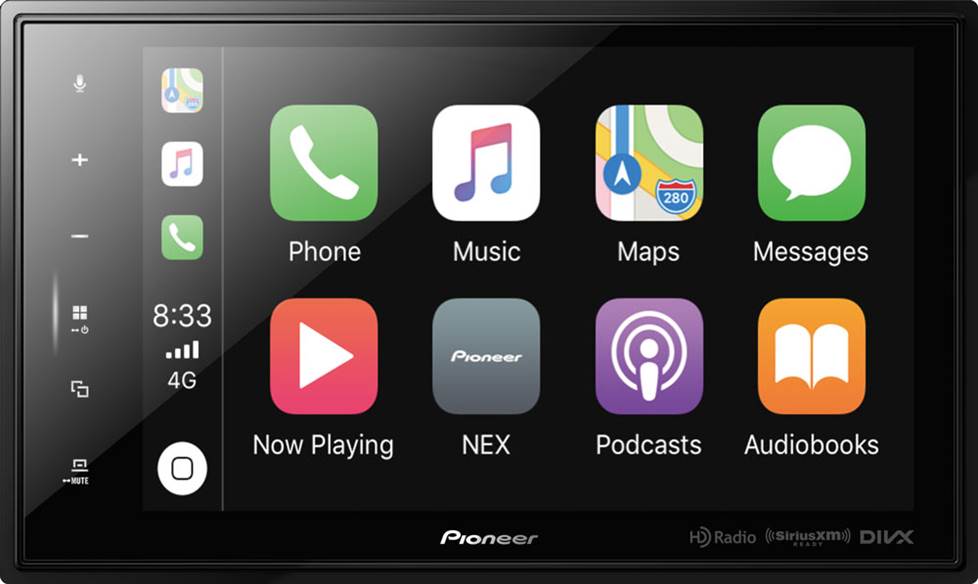 The DMH-C5500NEX has an 8" capacitive touchscreen
Easy Bluetooth® pairing
"Connecting my phone via Bluetooth is just as effortless. In fact, it was so seamless that my phone was already connected to the receiver before I realized it was done! There's no tedious searching in the menu to connect the phone, no juggling back-and-forth between phone and receiver, and no passwords or codes. I just tap on the Bluetooth icon (while the phone is disconnected from CarPlay or Android Auto), select my device from the list, and that's it!"
Final recommendations
Although Lex didn't get to evaluate these receivers in terms of sound quality, he got enough hands-on experience to share these thoughts: "Both the DMH-C2550NEX and the DMH-C5500NEX are among the best receivers out there. Both are easy to navigate and stocked with must-have features. The most difficult aspect of either receiver is choosing which one to go with!"
"On one hand, the C5500NEX's 8" display is a sight to behold, but it unfortunately won't fit most dash setups. It'll be perfect for anyone who owns a RAM, Silverado, or a similar truck with a larger dash, especially if you're willing to modify your vehicle and fabricate your own dash kit."

"But for the average driver like me, who cannot count on much dash space, the C2550NEX is a perfect fit. All of the same features are there, it's easier to install, and the still-impressive 6.8" screen is nothing to frown at. You really can't go wrong with either option!"
---
We can help you choose the right receiver
Big thanks go out to Lex for taking the time to help us out.
If you want to know more about the Pioneer DMH-C550NEX, DMH-C2550NEX, or other touchscreen digital media stereos, contact us by chat, phone, or email. Our friendly and knowledgeable advisors will be glad to help.