Hands-on review of two Sony touchscreen stereos
Sony embraces large screens and prodigious power
Heads up!
Welcome to this article from the Crutchfield archives. Have fun reading it, but be aware that the information may be outdated and links may be broken.
In a nutshell: We review the Sony XAV-AX7000 and XAV-AX8000 digital multimedia receivers. Some of the points we looked at are:
Bult-in power and system expansion options
Taking the upgraded Apple CarPlay features for a spin
Improvements we'd like to see
Read on for the full hands-on review.
When I heard that I'd be getting early hands-on with a pair of new Sony car stereos, I noted that it'd be around the time that the updated version of Apple CarPlay® would be available with the iOS 13 launch in late September of 2019. I was eager to check out the stereos — not just to see how they perform on their own, but also to give the new Apple CarPlay features a test run since I don't have a touchscreen receiver in my own car.
Despite similar interfaces and CarPlay and Android Auto™ compatibility, there are tremendous differences between the Sony XAV-AX7000 and the Sony XAV-AX8000, and each can appeal to a wide range of drivers. One more important similarity is that they both work with optional SiriusXM satellite radio. For testing purposes, I hooked up the stereos to a pair of 6-1/2" component speakers in wedge enclosures so I get quick impressions of their sonic output.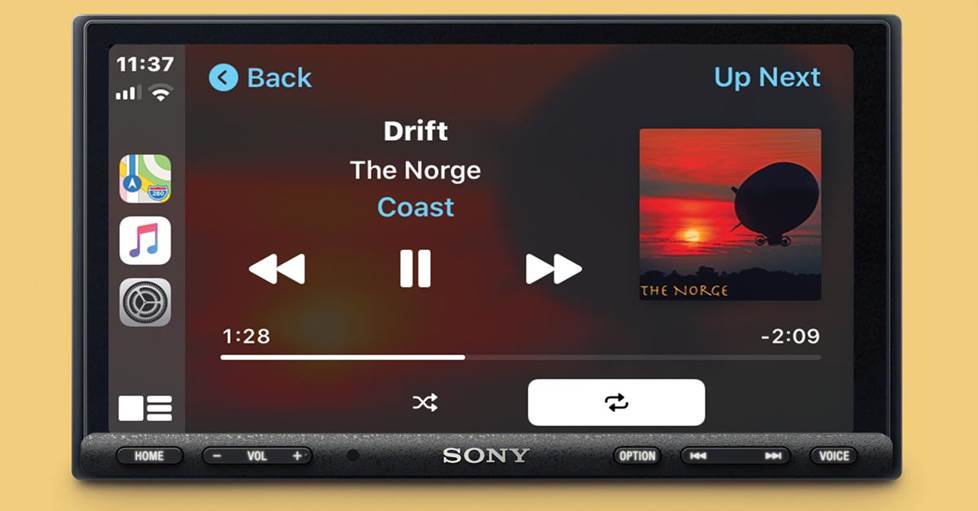 Sony XAV-AX7000 digital media receiver — Power to spare
The XAV-AX7000's built-in class-D amplifier boasts an impressive 45 watts RMS per channel. That's about twice the power of other aftermarket stereos. It offers more flexibility when it comes to adding aftermarket speakers, as the options with or without an outboard amp have increased with more baseline power available. It'll even power a single subwoofer with a direct connection, which is not something many other stereos can claim. But if you want to add one or more amps, Sony's included three sets of 5-volt preamp outputs for strong, clean signal delivery.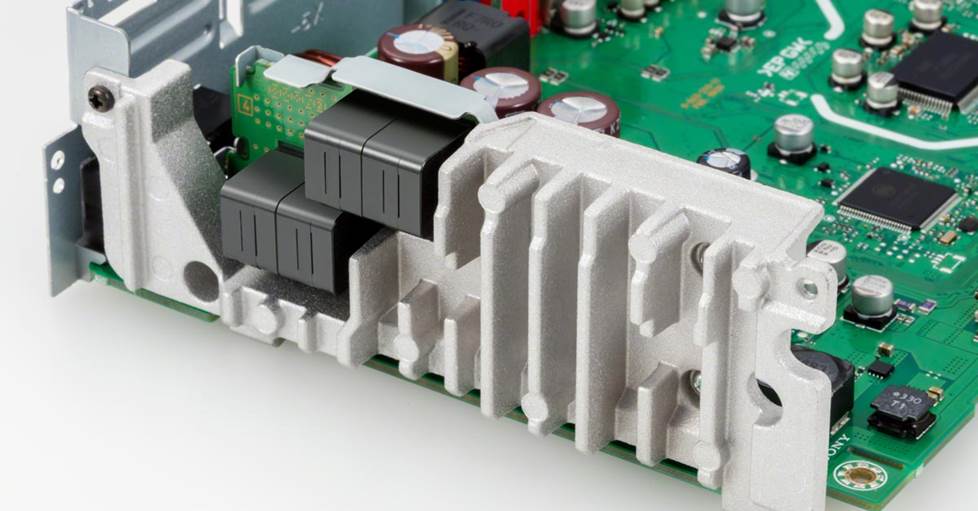 A stout heatsink keeps the XAV-AX7000's built-in amplifier from melting down.
Finger-friendly display
The XAV-AX7000 sports a 6.95" anti-glare, capacitive touchscreen display. Although I didn't get to try it out in a vehicle, I can say that the screen layout was uncluttered and seemed to be easy to read. And the large size works well with Apple CarPlay's emphasis on larger album artwork. Fingertip responsiveness was solid, too.
The chassis, while not shallow, was only a couple of inches tall so it should offer plenty of room to work with for installations in tighter dash openings or where space for cables and wiring harnesses might be limited. Syncing my phone over the Bluetooth® was straightforward and hassle-free.
The ear test — power makes a difference
The XAV-AX7000 boasts two rear USB inputs, one each for a phone and a thumb drive. I played some tunes through the speakers from both sources. There was hardly any delay when switching between the sources, including FLAC files of John Coltrane's A Love Supreme on my thumb drive.
The music sounded fantastic, with noticeably higher volume and clarity than I've heard from other stereos in the past. The speakers were nothing to write home about, but they were getting plenty of robust input from the Sony's amp.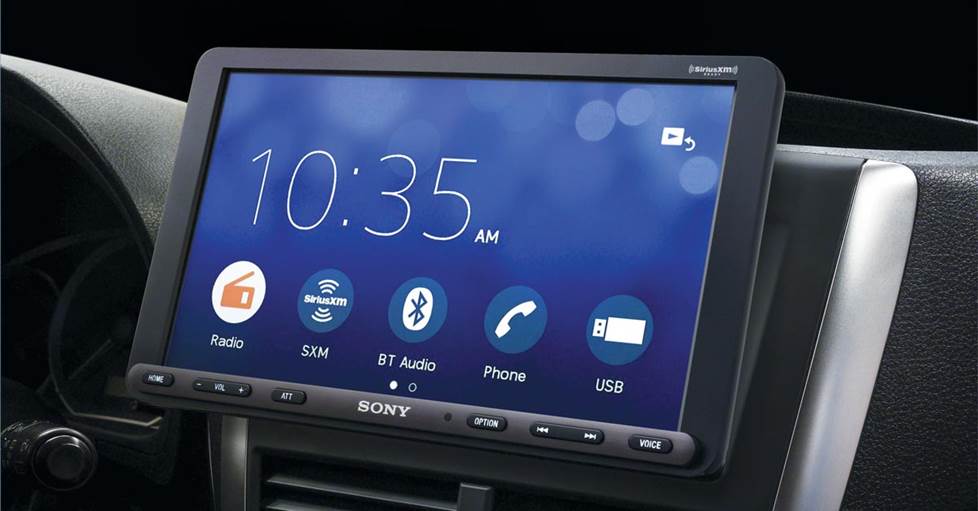 Sony XAV-AX8000 digital media receiver — A big screen for most dashes
This stereo might not have the built-in power of the XAV-AX7000, but the 8.95" floating touchscreen makes it a real head-turner. This receiver provides a large display that'll work in most dash configurations, including single-DIN (2" tall) openings.
Modular chassis for installation options
The idea behind the XAV-AX8000 is simple: the modular chassis can fit in 2" tall (and larger) dash openings, and the separate display connects to it through a 3-way adjustable mount. The mount provides adjustments for the screen's height, depth, and viewing angle, so the driver can choose the best position for accessing the large display. Once you've found the perfect spot, everything locks into place so you can drive with confidence.
Fine performance
The receiver was a snap to wire up for some testing at my desk, and within seconds I was playing around with its gigantic TFT display. The bezel features hard buttons for quick adjustments and initiating voice commands for CarPlay and Android Auto.
The sound through the 6-1/2" speakers was what I've come to expect from Sony — accurate and pleasant to the ear, not unlike other Sony stereos with typical wattage specs. The stereo's 5-volt preamp outputs and an external amplifier would make sonic improvements easy. There's only one USB input with this stereo, and it's located on the rear of the display, but an included cable makes connection a little more convenient.
Upgraded Apple CarPlay
The new Apple CarPlay Home screen (seen here on the XAV-AX8000) lets you choose your next app or access recently used apps with ease.
I am a big Apple fan, so I was keen on checking out Apple CarPlay's first upgrades in five years on these stereos. I have an iPhone 6s — not exactly the cutting edge of technology but it gets the job done. With iOS 13 installed on my phone, the new CarPlay features automatically showed up once I plugged in to the stereos.
I was impressed with the tiled Dashboard screen, which offered a concurrent view of nearby roads, what I'm listening to, and text notifications (see below). One of my favorite features is the inclusion of Light Mode, which allows for dark text on a white background — perfect for those sunny days. But Dark Mode is still the default to ensure you're not blinded by the glare from the stereo's screen at night. Apple also made the album artwork larger, while also giving users the ability to turn the artwork off entirely. You can read more about the iOS 13 CarPlay updates in our article about Apple CarPlay.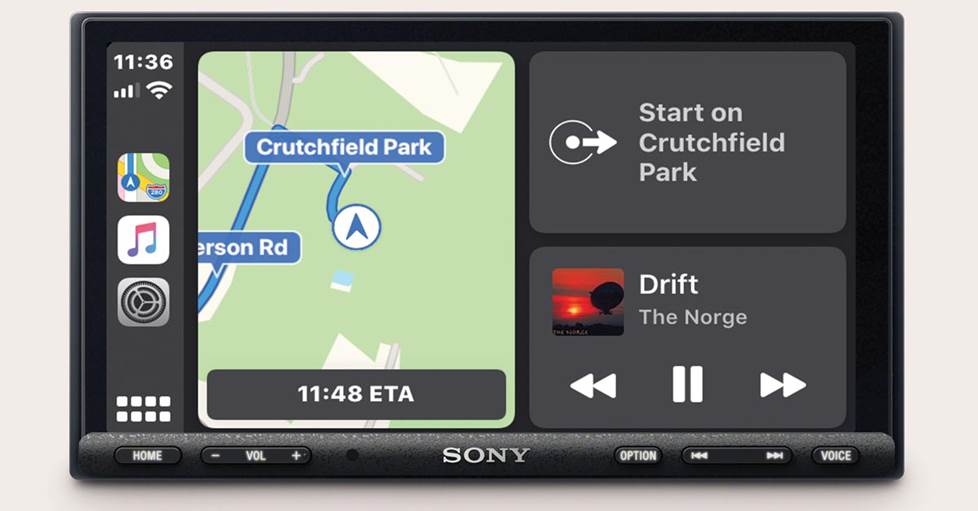 The new tiled CarPlay Dashboard screen shows me a map, my music, and important notifications all at once.
I also spent a little time with Android Auto™ on these stereos using an older phone. I appreciated the new layout with a bottom navigation bar, which let me choose other apps to explore while still seeing turn-by-turn GPS directions on the screen.
What I'd change
I enjoyed playing with both of these receivers, but there are a couple of things Sony could do to make them even better. For starters, they could both use upgrades to higher-resolution displays. The pixel size is not quite as noticeable on the smaller XAV-AX7000, but with a 9" display like the XAV-AX8000, increased resolution would go a long way to making it much more appealing to the eye. I also think the XAV-AX8000 could benefit from an additonal USB input, so listeners could move between a smartphone and a thumb drive. Finally, I'd make the USB input on the XAV-AX8000 more accessible than awkwardly placed on the rear of the large display.
Final thoughts on these new Sony receivers
Although there are a couple of fixes I'd suggest for these stereos, there's still plenty to recommend about both of them. I thought that including hard buttons for volume, home, voice commands, and track forward/back on the bezels was especially helpful.
I predict a lot of folks will be pleasantly surprised by how the XAV-AX7000's built-in amplifier brings out the details in the music. Any other stereo would require the hassle of installing an outboard amp to get this kind of sound. And of course the versatility of the XAV-AX8000 makes it a no-brainer for anyone who wants a large screen without tearing a giant hole in their dashboard.
---
We can help you choose the right receiver
If you want to know more about the Sony XAV-AX7000, XAV-AX8000, or other touchscreen digital multimedia stereos, give us a call. Our friendly and knowledgeable advisors will be glad to help. And you get free lifetime tech support with every Crutchfield purchase.