Harman Kardon CL and BT headphones review
Two different sounds, one innovative design
Heads up!
Welcome to this article from the Crutchfield archives. Have fun reading it, but be aware that the information may be outdated and links may be broken.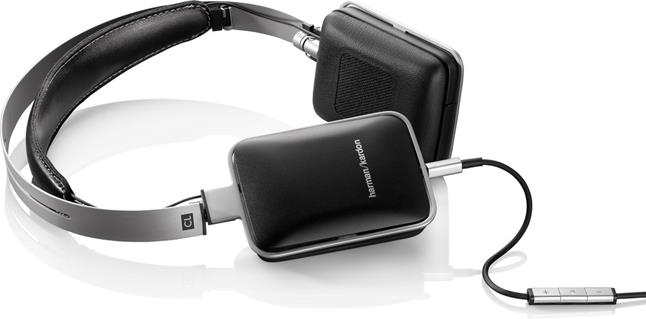 Harman Kardon CL on-ear headphones
I was pretty excited to see Harman Kardon develop their first line of headphones. With so many other manufacturers jumping into the fray, it's good to have a venerable audio company like H/K bring their experience to the marketplace. They introduced five models last year, and I auditioned the CL (Classic) and BT (Bluetooth®). While similar in design, I was surprised to hear how different they sounded.
The most striking characteristic of both models is the rectangular earcups, which Harman acknowledges is a stylistic nod to the iPod® and iPhone®. The shape is certainly an attention getter, which is half the battle with headphones in an increasingly fashion-driven marketplace.
Ever wish for a bigger headband?
The unique design of these headphones goes beyond mere fashion. A metal bow sits above the self-adjusting leather headband and holds it and the earcups in place. This bow is actually exchangeable with an additional larger bow that ships with each model. That's right – they're effectively giving you a choice of two included headbands. That's a pretty unique feature and an important one, given how vital fit is to satisfaction with any set of headphones.
Both the CL and the BT come with the smaller bow installed. The CL's earcups are compact and fit on the ear, while the BT has larger around-the-ear cups. I needed the larger bow for a comfortable fit with the CL, and swapping it out proved simple. Just twist the earcups 180 degrees and they slide off of the bow. Then pull the headband down and slide the plastic tabs on each side out of the slots on the bow. Just be sure you don't mix up left and right. For some reason, HK labeled the bow with L and R markers rather than the earcups. If you forget which is which, just remember that the side with the cable input is the left, a nearly universal rule for headphones.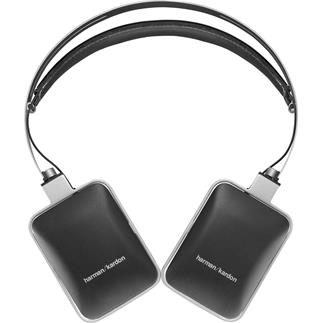 Harman CL (Classic) on-ear headphones
More listening yields more comfort
I found the CL to be quite comfortable and extremely secure on my head once I swapped to the larger bow. The leather headband adjusts automatically to the size of your head. There is a fair amount of clamping pressure, which got a bit uncomfortable around the 45-minute mark. But as I wore them more, they loosened up a bit. And I liked how they fit snugly enough to form a good seal against my ears, preventing too much sound from leaking in or out.
The BT's weren't quite as comfortable. I found the small headband a little tight, while the large was definitely too big. But were I keeping these headphones rather than just auditioning them, I'd go with the smaller headband and bend the bow out a bit to loosen the fit. The closed-back around-the-ear design of the BT provided excellent noise-isolation, even better than the CL.
The CL sound
My first impression of the CL's sound was that it's very bass-heavy, like many headphones being produced these days. But while up-front, the bass was tight and nicely defined, not loose or boomy. And while powerful, the bass didn't seem artificial like it does with some headphones. It felt more natural, just emphasized. It really brought out the bass guitar in songs like "Getaway" from Dr. John's 2012 album Locked Down. The low-end emphasis can really bring out the groove on rhythm-driven tracks, whether it's hard rock, hip hop or jazz.
But it's the CL's midrange that impressed me the most. It's smooth, natural-sounding, and not at all recessed. Vocals sound beautiful and stand out nicely, such as on Lauryn's Hill's funky "Every Ghetto, Every City." At times, the lower-midrange can get slightly obscured by the powerful bass response, as I found with the guitars on "Honey" from the self-titled debut by Nashville's Torres. But the more I listened, the less I noticed this issue. Either I just got used to it or I just wasn't listening to too many recordings where these frequencies bumped up against each other in a clumsy manner.
A DAC/amp can make them shine
The high-frequencies are nicely balanced with the mids, though perhaps a tad recessed. Depending on how much high-end detail and airiness you prefer, some listeners could find the high-end a bit lacking. I, however, felt they occupied a nice middle ground between too bright and rolled off and were nicely balanced with the mids. Listening to lossless files as well as using a good digital-to-analog converter (DAC) and headphone amp can help bring out the high-end a bit more. I tried both with Bob Dylan's "Isis" from the Bootleg Series Vol. 5: Live 1975, playing a lossless FLAC file through the AudioQuest DragonFly. The combination CL and DragonFly wonderfully presented Dylan's most super-charged band with dynamics and clarity, with Dylan's shouting and snarling front and center.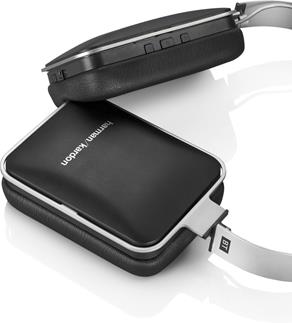 The Harman Kardon BT features earcup controls for use with Bluetooth streaming of music and calls.
The BT sound
Once I was familiar with CL's sound signature, listening to the BT headphones threw me for a loop. I expected a similar sound, but they are quite different. The BT's bass response is still strong, but much less up-front than the CL. I also found the midrange recessed compared to the CL, while the high-frequencies are more present. I preferred the sound of the CL, but from reading various reviews on message boards, this is certainly not a universal opinion. Less bass and more high-end could make these more attractive for many listeners.
The beauty of Bluetooth
Of course, the BT is a Bluetooth headphone designed for wireless listening. After getting a feel for how they sounded with a wired connection (a cable is included), I tried out the Bluetooth function. I had a little trouble pairing it with my iPod touch® initially, though my stubborn refusal to read the instructions may have contributed to this. But once I paired them, I had no trouble with dropouts and was able to maintain a smooth connection easily within a 30-foot range. The earcup track and volume controls are extremely easy to use without fumbling around trying to figure out which button is which.
There is always going to be a drop-off in sound quality with Bluetooth, though the BT supports the near-CD quality aptX® codec. But if you're like me, trading a sliver of sound quality for convenience is often a reasonable compromise. And though streaming my music wasn't exactly a transcendent experience, it wasn't bad – it just wasn't as good as the CL. If you're listening on the go, rather than sitting and listening critically, you may well find the sound to be pretty good. That's what I discovered while walking around my house listening to An Evening with the Allman Brothers: Second Set. I must admit, there is something magical about moving about wearing headphones with no cable.
The bottom line
Overall, I enjoyed both the Harman Kardon CL and BT headphones. While I preferred the CL's natural midrange, I appreciate the BT's wireless performance and flexibility. Harman Kardon' unique approach to fit with both these headphones is inspired and will hopefully lead to more innovative designs from other manufacturers. If Bluetooth is a priority, the BT is a great choice, particularly if you own an aptX-compatible device. But if sound quality is more important, the CL is an excellent entrée into high-fidelity headphones, with a good DAC and amp offering even greater sonic possibilities.