Harman Kardon Wireless HD audio system review
Bluetooth® and Wi-Fi® offer more multi-room music choices
Heads up!
Welcome to this article from the Crutchfield archives. Have fun reading it, but be aware that the information may be outdated and links may be broken.
If you're looking for an easy way to play music in several rooms, there are plenty of options. Maybe you want a system that works with your Wi-Fi® network, so you can send music to multiple speakers at the same time. Or, you could simply put a Bluetooth speaker in each room for simple streaming from your smartphone or tablet to a single speaker at a time.
Having trouble deciding? Harman Kardon's Wireless HD system offers both Wi-Fi and Bluetooth connectivity. Plus, you can send Bluetooth audio to as many as five speakers at once. That's an exciting development that offers tremendous versatility – so exciting, I decided to take this system home and try it out.
The system
There are two powered speakers in the Harman Kardon Wireless HD lineup: the Omni 10 and Omni 20.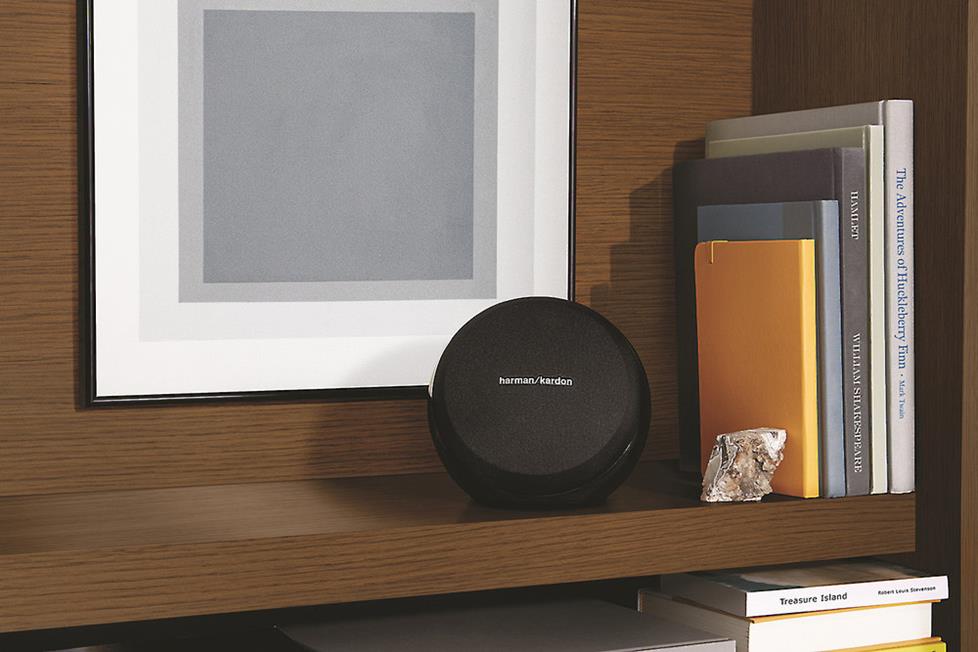 The smaller Omni 10 is about the size of a cantaloupe. It has a 1-3/8" tweeter and a 3-1/2" woofer powered by dedicated 25-watt amplifiers. There's also a rear-firing passive 3-1/2" bass radiator for a little extra low-frequency punch.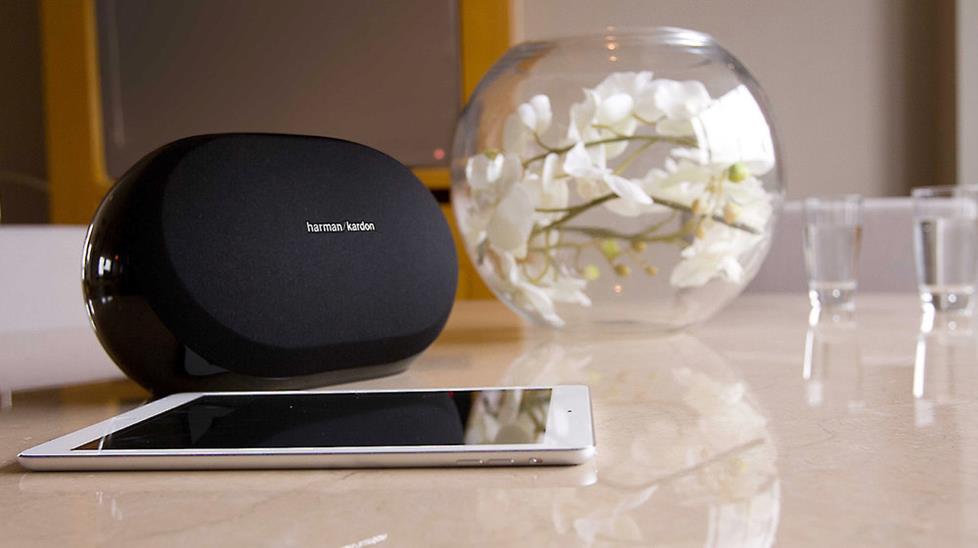 The larger, elliptical-shaped Omni 20 is roughly the size of a football. It features four built-in speakers – two 3/4" tweeters and two 3" woofers – powered by dedicated 15-watt amplifiers as well as a 6" x 3" rear-firing passive bass radiator. (iPad not included.)
There's also a device for integrating this system into your existing home theater or stereo: the Adapt.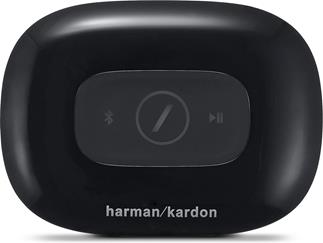 The Adapt is not much bigger than a hockey puck and offers a 3.5mm stereo line output for connecting to a home theater receiver or amplifier.
From unboxing to setup in just a few minutes
I set up an Omni 10 in my bedroom, the Omni 20 in my kitchen, and connected the Adapt to my basement stereo system. The next step was getting all the devices connected to my Wi-Fi® network. This allows the speakers to communicate with each other, as well as with the free HK Controller app. I downloaded the app on my iPad – it's available for Apple® and Android™ devices.
Setup was extremely easy using the app. Honestly, you probably won't need to look at the instructions included in the box. Just plug in the speaker, open the app, follow the on-screen directions, and you should be connected in just a minute or two. After setup is complete, you can also assign room names to each device so it's easy for everyone in the household to see which speaker is which in the app.
Playing music over Wi-Fi: the HK Controller app
I started out using the app to play music over my Wi-Fi network. I wanted to check out the app's ins and outs and see how intuitive it is. I really like the design of the app, with its graphical display of the various speakers or "rooms" available as well as album art for music stored on your device. Playing a song is as simple as dragging it into a room.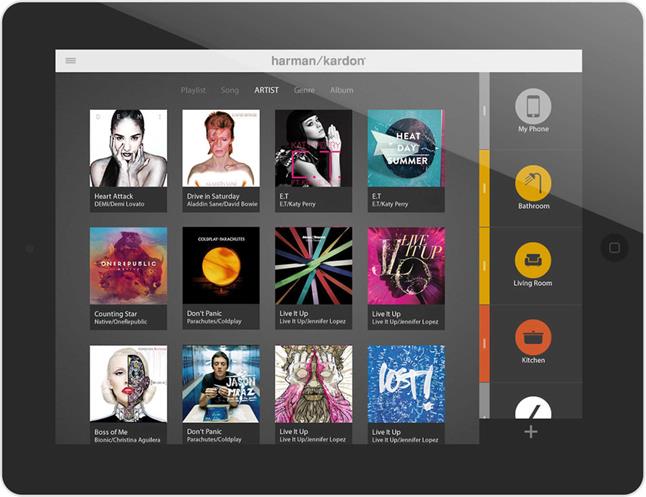 The free HK Controller app shown on an iPad. It's available for iOS and Android devices.
While the app is very user-friendly, music service choices are currently quite limited – basically, it's whatever tunes you have stored on your device. The good news is that Deezer and Qobuz will be supported when they launch in the U.S. in 2015. Both of these services are expected to offer high-resolution streaming. That's cool because the Harman Kardon Wireless HD system supports high-res files up to 24-bit/96kHz. More music services are expected to be added as well. Plus, Bluetooth connectivity opens up MANY more choices.
The speakers: how do they sound?
I started off my listening using the app with the smaller Omni 10. It offers impressive output for such a diminutive speaker. It also doesn't try to do too much – it maintains a relatively balanced tone. Better that than try to deliver extended high and low frequencies that can skew the sound too far in one direction or another.
One thing I love about the Omni 10 – you can place it just about anywhere. Not only is it small, but that passive radiator is very forgiving. I was worried placing it against a wall might amplify the bass response, making it sound too boomy. No such problem. I put it on a shelf and cued up a song from the Q-Tip and Busta Rhymes mix tape The Abstract and the Dragon. I was expecting an avalanche of low-frequencies. instead, the Omni 10 delivered them in just the right dose.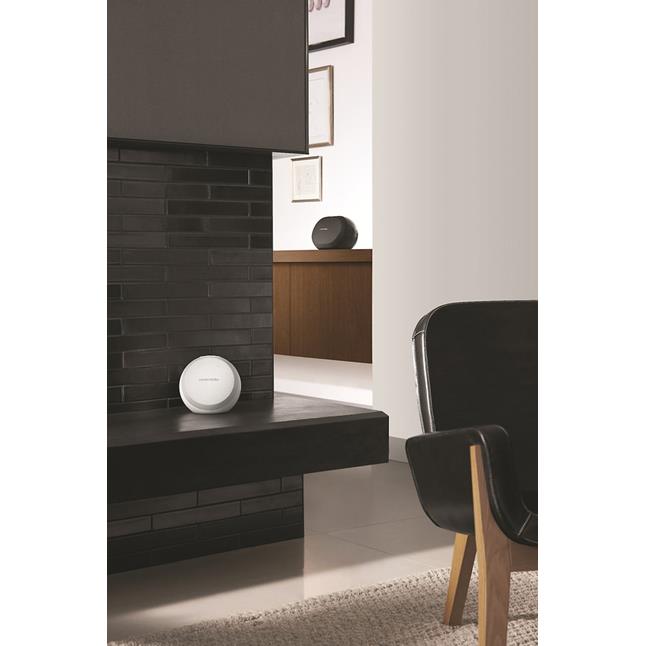 Place Harman Kardon Omni speakers in different rooms to create a whole-home audio system.
The Omni 20 definitely took things up a notch. Bass extension was much deeper, yet not at all bloated. I moved it to the same shelf as the Omni 10 – the results were just as impressive. The deep bass extension of the Omni 20 leaves more room for midrange clarity, and the overall sound is more open than the Omni 10. Naturally, the larger Omni 20 will play a good bit louder than the 10.
You can also set up two Omni 10s or 20s to work as a stereo pair. I tried this with two Omni 10s and was quite pleased with how large the soundstage was, with pretty good left/right imaging. It's a great option for larger rooms.
Adapt your stereo or home theater for wireless music
You can use the Adapt as part of the Harman Kardon system. But it also just makes a good standalone Bluetooth adapter for your stereo or home theater system. Network connectivity is the missing link in my basement stereo, so I welcomed the Adapt and the ability to stream music from Spotify. The sound was quite good –not on par with a CD, as I found out when I compared Lake Street Dive's "Rabid Animal" in both formats. But Bluetooth is about convenience, and I loved how convenient it was to dial up any one of millions of songs rather than just the albums in my collection.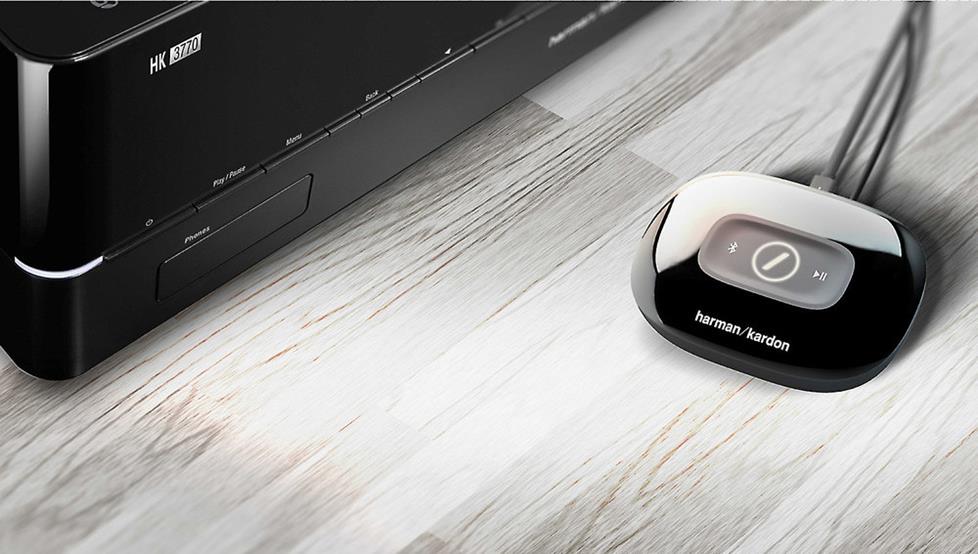 The Adapt adds wireless music to your existing stereo or home theater system.
The "Link" button: let your music follow you
So what about playing music in more than one room? Of course, the app will let you do that. You can group rooms together or activate "party mode" to play the same song through every speaker. However, there's another cool way – and you don't even need your smartphone.
Every device in this system has a large "Link" button on the top. Just press and hold, and it will send the song playing on that speaker to every other device in the system. I tried it out with the Omni 20 in my kitchen. I ran downstairs to the basement – my floor-standing speakers were alive with "Kathleen's Theme" by Les McCann and Eddie Harris. As I headed for the bedroom, I heard my wife yelling. She was not too pleased at the fact that the Omni 10 in there was also blasting the song, drowning out the movie she was trying to watch.
I told her, "Hit the big button." She walked over to the Omni 10, pressed the Link button, and the music stopped. Just to test out the Link button I walked over and pressed it again. The music started playing once more.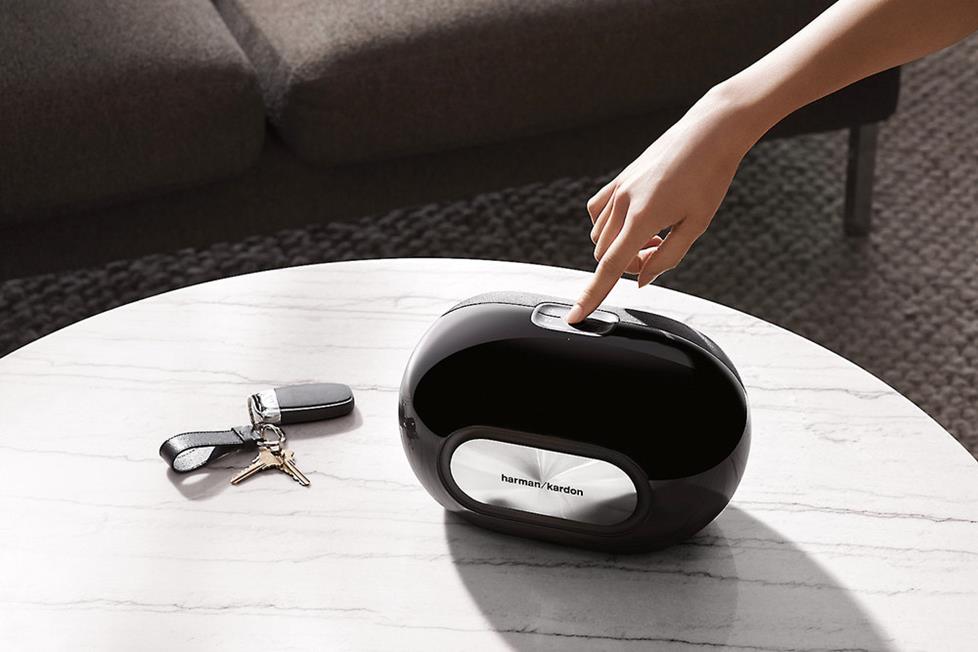 The "Link" button lets you send music to every speaker in the system or activate a single speaker.
The Link button adds some nice functionality for those times when you don't want to fool with the app. Just press the button and you walk into a room to let your music follow you. There are also volume and play/pause buttons on each speaker – very handy if you left your phone charging in the other room.
On to Bluetooth
Next, it was time to try some Bluetooth streaming. Now I could play music from any app! I paired my iPad with the Omni 20 in the kitchen, opened up Spotify and cued up a playlist. Sound quality is slightly diminished with Bluetooth – it's not quite as full and clean. But it's a fair trade-off for the practically unlimited selection of listening choices Bluetooth offers.
In addition to Spotify, I enjoyed an Elvis Costello performance from "Late Night with David Letterman" on YouTube™, and streamed an MP3 I downloaded from iTunes back in the dark days of copy-protected files. When my son later grabbed the iPad and started playing Angry Birds, he was delighted to hear how bold and detailed the sound effects were coming from the Omni 10.
The real fun began when I used the Link button to send my Bluetooth stream to other rooms over Wi-Fi. The Link button works just the same as it does with Wi-Fi. The only difference is that the music will briefly pause when you press the Link button to activate party mode. Also, you must use the Link button to activate multi-room use with Bluetooth – the HK Controller app has no Bluetooth functionality. These minor quibbles aside, the ability to send Bluetooth streams to multiple speakers throughout the house is fantastic.
The Bottom Line
I had a lot of fun playing with the Harman Kardon Wireless HD system. While the app could use more music services, it didn't bother me at all thanks to Bluetooth. In fact, I prefer to look at the Omni 10 and Omni 20 as two of the coolest Bluetooth speakers you can buy. They sound wonderful, don't take up much space, and can link together to play almost any song or other audio you can imagine throughout your home. As Harman Kardon continues to refine the app and add more music service support, this system's only going to get better.