Smart home buying guide
How to customize your own smart home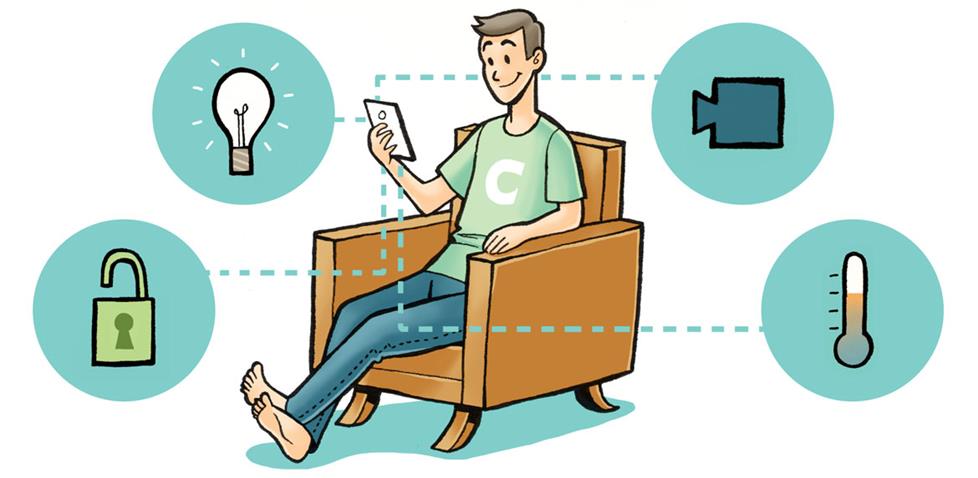 Smart home automation puts remote control of your comfort, convenience, and safety at your fingertips, no matter where you are.
Good news: you can now lock your front door, turn lights on and off, or check on your kids from miles away. Just connect some handy smart home gadgets to your wireless network to upgrade your family's safety, comfort, and convenience.
Home automation devices can help you keep tabs on things like who's in your home or how much energy you're using for heat and cooling. Better yet, these handy gadgets give you numerous ways to control what goes on in your house, even if you're stuck at work or on vacation. This guide will help you figure out what you want your system to do, and how to choose the parts you need to outfit your smart home.
Voice control with Alexa, Google, and Siri
The introduction of voice assistants made it easier than ever to create and control a custom smart home system. Install one or more voice assistants like Alexa or Google Home, and you'll be controlling your connected devices with convenient voice commands in no time.
Get connected with a wireless hub and sensor kit
The heart of any smart home system is the hub — the brains of the operation if you will. It connects to your wireless network and passes information between you and any modules you've installed. Most vendors offer a starter kit that includes a hub and a selection of sensors and triggers. You can get started easily and get an idea of where you might want to expand coverage in the future.
Example: Samsung SmartThings Home Monitoring Kit
This kit contains an automated outlet that turns lamps off and on. There's also a motion sensor that lets you know when someone is moving through a room. It also includes two multi-purpose sensors that can detect movement, vibration, a change in orientation, and temperature shifts. It boasts a wide range of sensing and reporting applications, and you can always add more modules to the network.
Samsung began integrating SmartThings control into TVs in 2016. In other words, no separate hub required. Similarly, SmartThings control is built into Samsung Connect mesh Wi-Fi router systems.
[shop for Samsung SmartThings]
Get comfortable and save money with a smart thermostat
When you connect your thermostat to your home network, you take direct control of your comfort. Even better, you'll find you can save money on energy bills. You can change temperature settings from the couch or the car. You can prioritize efficiency by setting a temperature schedule so the HVAC system only runs when you're home. You have complete control from any location.
Example: Nest Learning Thermostat
Spend just one week setting your Nest thermostat by hand, and it will learn your preferences. Then you can follow your daily routine without worrying if you're heating or cooling an empty house. In independent studies, the Nest Thermostat saved an average of 10-12% on heating bills and 15% on cooling bills. The thermostat integrates with the Nest Protect smoke and carbon monoxide alarm and the Nest Cam, and it's compatible with a wide range of devices made by other home automation companies.
[Learn more: What works with Nest?]
Secure windows and doors with sensors and smart locks
Automated security modules let you lock and unlock the door while you're away. You can let out-of-town guests or contractors in, and keep everyone else out.
Some kits let you control your garage door as well. Contact sensors let you know when doors and windows open and close. Attach a geofence tag to your child's backpack, and you'll know they got home safely and on time.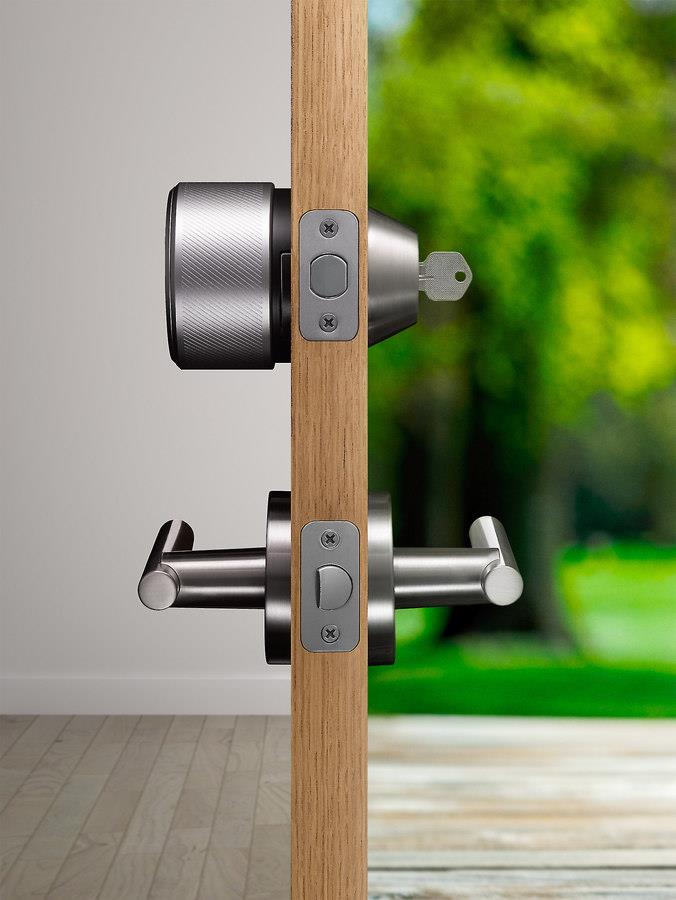 August locks work with your existing deadbolt to improve security and convenience.
Example: August Smart Locks
The August Smart Lock installs over your existing deadbolt. It provides intelligent remote access to your home, so you and your welcome guests can come and go without needing to carry keys. And a lost key no longer means a call to the locksmith — just use your smartphone and a free app to let yourself back in.
[Learn more about August Smart Locks]
Keep home and family safe around the clock
Keeping loved ones safe is a top priority. A wireless home security system makes it easier than ever to put eyes and ears on entryways, outbuildings, parking spaces and back yards. Your smartphone can notify you when a sensor is triggered, so you feel secure even when you're sleeping, working, or on vacation.
Have warm light welcome you home
A good automated lighting system can brighten your day in so many ways. It lets you see what you're doing on a dark night, but it also provides a sense of warmth that helps to make a house feel like a home. Imagine settling in for movie night and dramatically dimming the lights after everyone's settled in with a bowl of popcorn. Did you forget to turn off the porch light? Fix it without getting out of bed. The front hallway can light up to welcome you after a long day at work.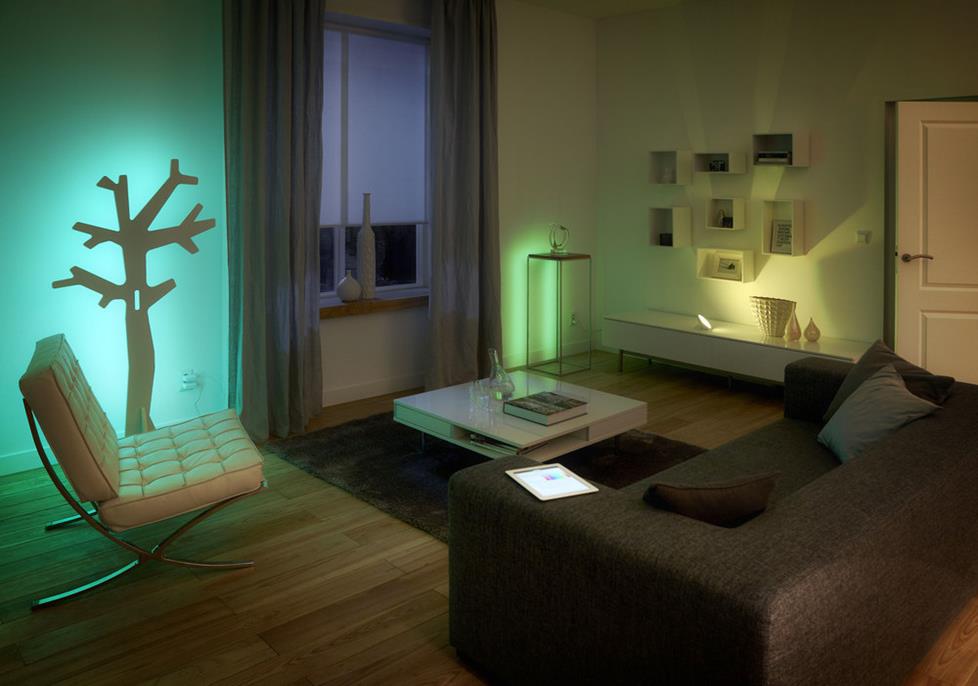 Philips Hue lights are convenient, efficient, and decorative.
Example: Philips Hue Lighting System
Hue bulbs look pretty ordinary when they're off, but as soon as you flip the switch, a whole new world opens up. For starters, the LED bulbs are energy-efficient and long lasting — each bulb shines for up to 15,000 hours (compared to an average 1,000 hours for an incandescent) before it needs to be replaced. They can produce warm or cool light, and they're dimmable, so you can get exactly the amount of light you want at any time of day. The real fun starts when you get creative — each bulb can replicate up to 16 million colors, so it becomes part of your decorating scheme.
Tie the whole house together with ever-expanding options
New smart home gadgets, produced by a myriad of different companies, are coming out every year. The trick is to make sure everything you choose is able to work as part of the overall system in your home. Here are a few things to keep in mind:
App control
Each manufacturer offers a free, downloadable app that monitors and controls the devices you buy from them. If you stick with one manufacturer, you'll be able to control everything from one app that's right there on your mobile device. Devices that are compatible with Apple HomeKit — currently Nest and Philips Hue, likely with more to come — allow voice-activated control via the Siri app.
[Read more: Smart Home Automation with iOS 10]
Communication protocols and cross-brand compatibility
Some companies are trying hard to be all things to all people, but it's generally true that you can use several different brands of equipment as long as they use the same communication protocol — essentially, just make sure they all speak the same language. The most common protocols are called ZigBee and Z-Wave. The Harmony remote listed above speaks both, but if you're not ready for that just yet, check the "details" tab on anything you're buying to make sure everything's on the same protocol, or check in with a Crutchfield advisor at 1-888-955-6000.
Whole-house remote control
If you want to put whole-house automation control in the palm of your hand, the Logitech Harmony Home Control is the Rolls Royce of remote controls. It gives you one-touch control over your TV, music, movies, and many types of home automation.
Use the handheld remote from your favorite couch position, or use Harmony's free app from your smartphone. You can set up custom commands — "Movie Night" for instance — and the remote will dim lights and turn on the TV, soundbar and blu-ray player at the touch of a single button.
To make things even easier, Logitech's hub-based controllers now work with Amazon's popular Alexa device. This means you can use simple voice commands like "Alexa, turn on sports" to get your entertainment gear going.
Last updated 6/12/2019