Outdoor TV buying guide
How to choose and install an outdoor TV
In this article: we'll discuss how outdoor TVs survive exposed to the elements and help you find the right outdoor TV for your needs.
Along the way, we'll explain why your indoor TV should stay inside and give you some ideas on how to pump up your outdoor sound.
Picture it in your mind: a warm breeze, the smell of food grilling in the distance, and a bright, crisp screen playing the big game while your friends and family gather around. Sounds cool, right? That's exactly the kind of experience a TV designed for the outdoors can provide.
Outdoor TVs can be permanently installed outside and are made to resist all sorts of weather conditions. They're the perfect addition to your back yard, deck, patio, or pool area. You can spend time in the sun without missing out on the latest binge-worthy show, or provide a welcome diversion to keep your guests entertained.
Can I use an indoor TV outside?
That's a big "nope." It might be tempting to take your regular TV and mount it outdoors, but you'd quickly regret it. You should never use an indoor TV outside, even if it's sheltered by a patio roof.
Here's why:
Bad weather and electronics don't mix. Condensation adds up fast and the wind will blow in rain, snow, or dust right past a covered deck. And if you live near the ocean, salt air will make quick work of your TV.
It's not safe. Wet environments don't just ruin your TV, they're dangerous around electronics. You're risking an electrical hazard by connecting an indoor TV outside.
Extreme temperatures will damage your TV. Regular TVs will quickly overheat on a hot day, even positioned in the shade. And in the winter, they don't have anything to keep them warm.
Regular TVs aren't bright enough to be used outdoors. The sun is bright and will wash out even the best indoor TV's picture. You can't enjoy what you can't see.
You won't be able to get warranty service if your TV fails. By hooking up your TV outside, you've probably voided the warranty.
It's simple. Indoor TVs just aren't made to be used outdoors. So, what makes outdoor TVs so different?
Outdoor TVs boast rugged, waterproof cabinets made to resist all kinds of weather.
How outdoor TVs work
What allows outdoor TVs keep working out in the elements when other TVs can't? They're designed for it. Let's talk about the clever engineering that makes outdoor TVs so resilient.
Built tough. Outdoor TVs are sealed and power-coated to resist rust and erosion. This keeps moisture and dust away from the TV's internal components, and prevents local critters from taking refuge inside your TV.
Safe for the outdoors. Watertight cabinets and cable entries keep your outdoor TV from becoming a hazard. And their power cables are shielded and rated for the outdoors, too.
Temperature control. Built-in fans, heaters, and/or temperature dispersion systems protect the internal components of an outdoor TV against extreme heat and cold.
Extra bright screens. You'll need a crisp, bright screen capable of cutting through the sun's glare. A typical indoor TV might have around 350-450 nits. Outdoor TVs get way brighter, hitting 600-700 nits or more.
Guaranteed to work outdoors. Because they're rated to stand up to the elements, you can use your outdoor TV outside without worrying about voiding your warranty.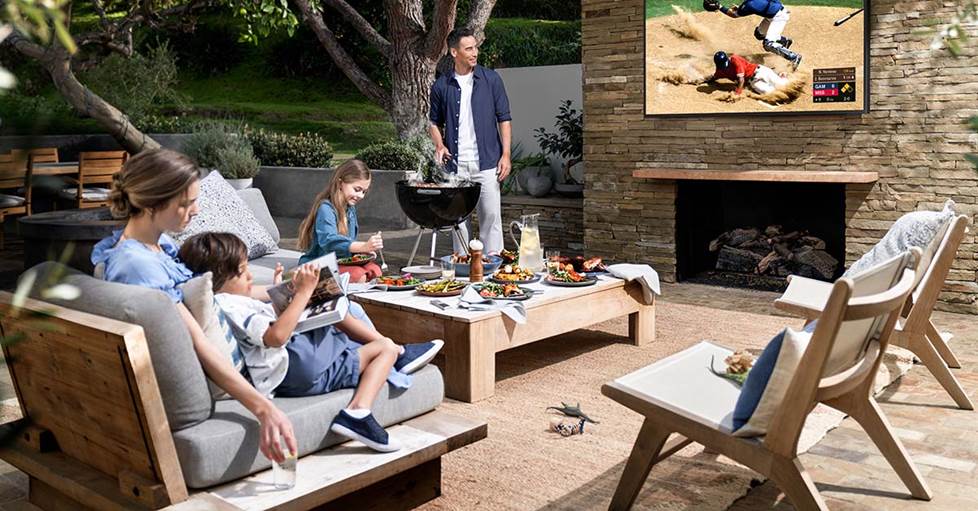 Because of their dependability and extended lifespan, a dedicated outdoor TV is the only way to go if you want to take your entertainment outside.
How to choose an outdoor TV
We offer a collection of great outdoor TVs from manufacturers like SunBrite and Samsung. There can be a lot to think about when looking for the right outdoor TV for your needs. Let's discuss some key considerations you'll want to make before pulling the trigger.
Durability
Some environments are more extreme than others. An IP (Ingress Protection) rating lets you know just how effective an electronic device's seal is. For example, the Samsung QN55LST7T "The Terrace" TV has an IP55 rating. The first number refers to its protection against particles like dust and the second against liquids like rain. In this case, "The Terrace" protects against limited dust ingress and low-pressure water from any direction.
Understanding IP ratings helps you match your TV to local environmental conditions, but not all outdoor TVs have a formal IP rating. Fortunately, in these cases, the manufacturer will provide guidance for what types of weather conditions are guaranteed for their product. As an example, the SunBriteTV SB-V-55-4KHDR-BL Veranda Series TV protects against rain, snow, dust, insects, humidity, and salt air.
Most outdoor TVs will also list the temperature range they're designed to operate within. Using our previous examples, "The Terrace" works within a recommended -22° to 122°F and the Veranda Series from -24° to 104°F.
Full shade vs partial sun outdoor TVs
Where you place an outdoor TV determines how much ambient light from the sun will impact your view. The more exposure to the sun, the brighter the TV's screen has to be to cut through that glare. Fortunately, outdoor TVs are categorized based on how much light they can compete with:
Full shade outdoor TVs are best suited for a shady space sheltered from the sun, like a covered deck, garage, or screened porch.
Partial sun outdoor TVs have even brighter screens and are designed for spaces at least partially exposed to sunlight, like beneath a latticework pergola or a patio cover.
Keep in mind that any outdoor TV will benefit from being installed in a shadier location. The more shade you have and the brighter your screen, the better your view will be.
Outdoor 4K and smart features
Just because you're watching TV outside doesn't mean you can't enjoy crisp Ultra High Definition content. We now carry an assortment of 4K Ultra HD outdoor TVs. These 4K TVs also support High Dynamic Range (HDR) for enhanced contrast and color. For all the details, check out our articles on 4K and HDR.
You can also take advantage of smart features like video streaming while you're outside. Just look out for outdoor TVs with built-in streaming apps. Want to catch up on the latest season of The Witcher on Netflix in between laps around the pool? No problem.
There are even outdoor TVs with built-in voice control now. You can control your TV with just the sound of your voice while your hands are busy tossing a football or prepping barbecue.
Outdoor TV installation tips
To install your outdoor TV you'll need to pick the right location, mount the TV, and safely connect all of your sources. We'll break down some key tips below. For even more advice head over to SunBriteTV's website, which has a great collection of how-to videos on installing an outdoor TV.
Where do I put an outdoor TV?
In most cases, you'll want an outdoor TV to face north, so the sun is always behind it. This gives you optimal daytime viewing. And even though outdoor TVs are resistant to poor weather conditions you'll still want to pick a spot that's at least partially sheltered. A simple outdoor TV cover is a great addition to double down in this regard.
You also need to consider where you and your guests will be seated (or standing) while watching your outdoor TV. If you're too far away, you're not getting the most out of your TV's picture quality. Head over to our article on TV sizes and viewing distance for specific recommendations.
Mounting an outdoor TV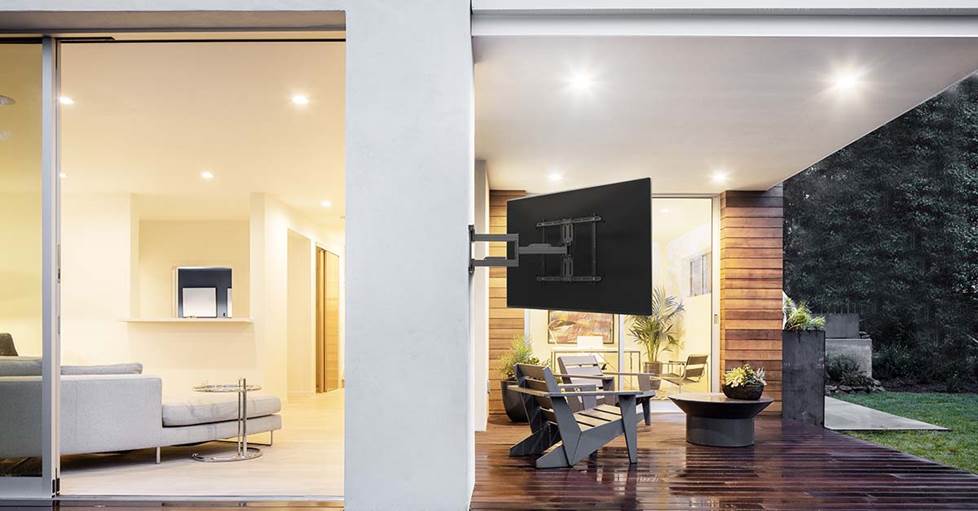 A full-motion outdoor TV mount lets your adjust your view depending on your needs or the time of day.
Most outdoor TVs are permanently installed on a wall with an outdoor TV mount. Outdoor TV mounts are rated for outside use, so they won't rust when exposed to the elements. They're also made to handle extra weight, because outdoor TVs tend to be heavier than their indoor counterparts.
The best type of outdoor TV mount for most applications is a full-motion mount. This gives you a wide, adjustable viewing angle. You can tilt/swivel the TV to point towards wherever your guests are seated and reduce possible glare.
Installing an outdoor TV works essentially the same as mounting an indoor TV, so our How to wall-mount your TV is a helpful guide for outdoor TV mounts as well.
Connecting and controlling your video sources
When you're deciding where to put your outdoor TV, you need to make sure you have access to power for your TV and all of its sources. You then need to connect each source to your TV and make sure all of these connections use cables that are rated for outdoor use.
Most video sources aren't rated for outdoor use, so if you want to connect a cable box, satellite receiver, Blu-Ray player, or media streamer, you'll need to house them in a weather-protected space nearby. This could be a garage or a nearby room indoors. If your cables are being run through your walls, be sure they're rated rated for in-wall use.
If you have a home theater receiver that supports multi-room connections, you can dedicate a second Zone to your outdoor TV. Head over to our multi-room video article for more information.
Getting Wi-Fi to your smart outdoor TV
If you're installing a smart outdoor TV, you're likely going to benefit from a mesh network Wi-Fi router system or Wi-Fi range extender. A mesh node close to your outdoor space will make sure you're getting a strong signal all the way out to your backyard or patio. This will ensure you're able to stream content seamlessly.
To learn more about mesh networks, check out our wireless router buying guide.
Getting over-the-air broadcasts outdoors
You can also pick up over-the-air broadcasts with an outdoor TV antenna like the One For All Outdoor Rural Ultimate Antenna. To learn more about TV antennas, check out our HDTV antenna buying guide.
What about outdoor TV sound?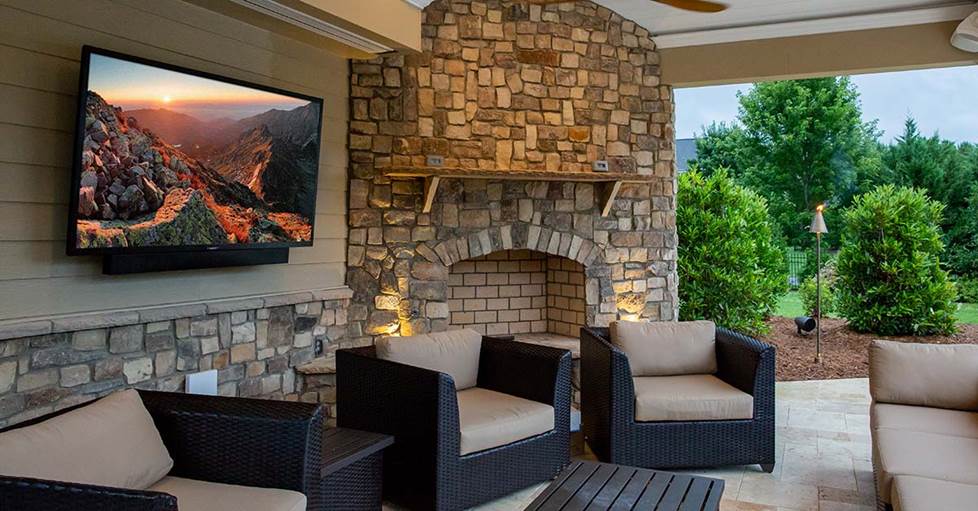 An outdoor TV deserves a high-quality sound system that can cut through all the noise outside.
Outdoor TVs are designed for a louder environment, so they tend to have more powerful speakers than indoor TVs. These can be built-in like regular TVs or removable external speakers that are stored in a weatherproof cabinet when not in use. But TV speakers can always be improved on with a dedicated sound system.
If want to pump up your outdoor sound, here are a few options:
Outdoor sound bars
A sound bar is a simple, effective way to boost your sound. Just plug the sound bar directly into your outdoor TV, no home theater receiver required. SunBrite offers an outdoor sound bar for select SunBrite TVs and Samsung makes a sound bar for "The Terrace" outdoor TVs.
Bluetooth
If you have an outdoor TV that supports Bluetooth audio streaming, you can stream your sound to a portable Bluetooth speaker. This setup gives the flexibility to move your sound on the fly, which is great for parties.
Get started today!
Getting started with an outdoor system can be a little tricky, but we're here to help. If you need a little guidance on finding the right gear for the job, don't hesitate to get in touch with one of our friendly Advisors.
Free lifetime tech support is included with your Crutchfield purchase. Our techs can help you get your gear set up and assist with problems down the road.
Last updated 2/4/2022