How to choose a drone for business
Get the job done with a commercial UAV
An Unmanned Aerial Vehicle (UAV) can be fun to fly, but there are also advanced models with special features that make them ideal for business use. For example:
weather-resistant chassis materials let you keep a schedule even on rainy days
greater payload capacity allows your drone to carry specialized equipment
expanded safety features help protect your employees and property
custom apps let you use your drone to collect and analyze the precise information you need to get the job done
Commercial drones are helping farmers, firefighters, building contractors, surveyors, and many other professionals get the job done every day.
"Business owners are finding an ever-growing number of ways drones can be used at work," says Crutchfield business account manager Christopher Hall, a licensed — and enthusiastic — drone expert.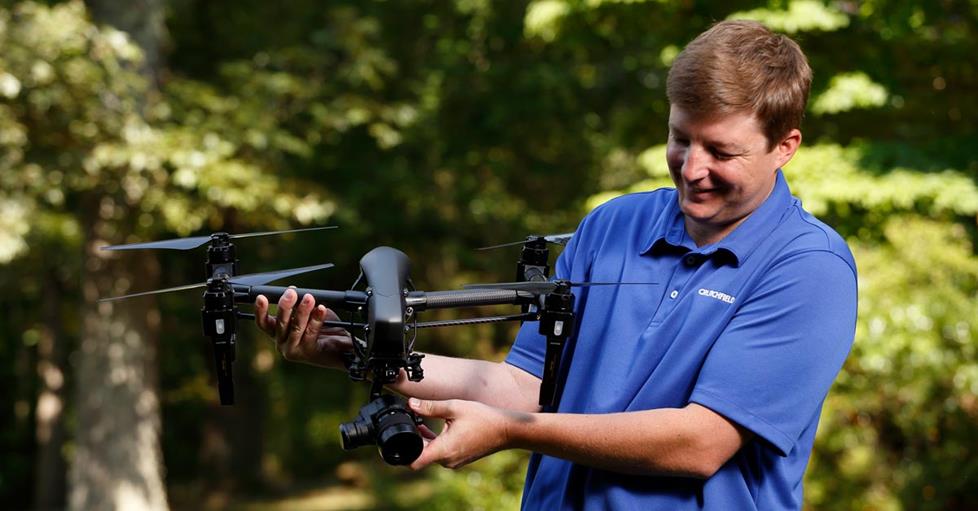 Christopher Hall is a certified drone pilot (14 CFR Part 107). Call him at 1.800.315.4620 for advice on drones for your business.
Let's take a look at how drones can help your business.
Find the right drone for the job
There are some features you'll want to look for when deciding which drone is right for your business.
First we'll look at the advanced features shared by most general-use commercial drones. Then we can look at some drone packages designed for very specific use cases.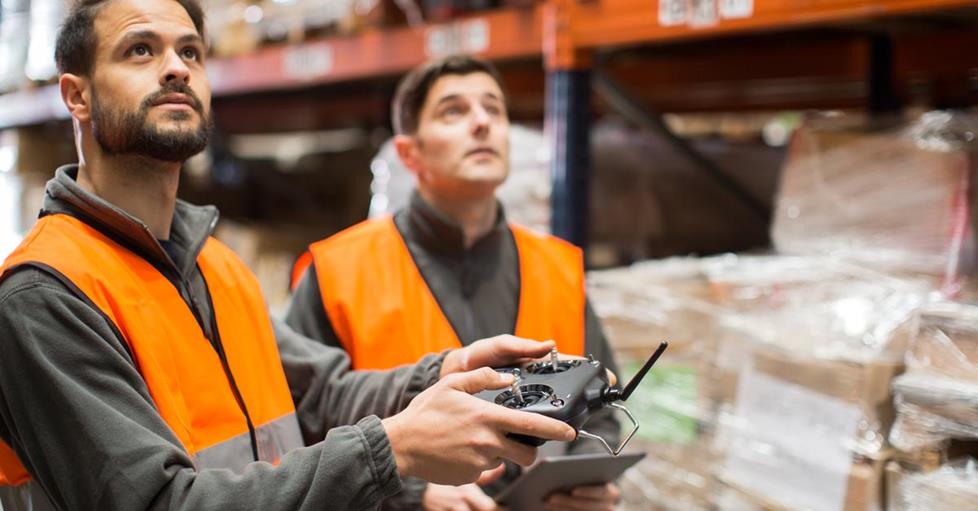 Drones can help track inventory in cavernous warehouse spaces.
Rugged chassis
Most high-end consumer drones are built on a light, tough alloy chassis that can handle a hard day's work in mild weather conditions. Make sure you know the drone's ingress protection (IP) rating if you plan to use it in all types of weather.
A drone like the Matrice 200 V2 is equipped with a weather-resistant body that's meant for heavy industrial use.
High-res imaging
Most drones feature a 4K-capable camera, but a select few add value for photographers and filmmakers. For instance, the DJI Inspire 2 features a CineCore 2.0 image processor with robust file transfer and storage tools. It can transfer high-res images at up to 1,000 mbps — a smart investment for anyone who needs big, sharp images that can be edited.
Advanced flight control options
Your drone will likely ship with just one controller, but many business uses require a separate pilot and camera operator. If you suspect you'll need dual operators, it's easy enough to pick up an additional pro-quality controller, like the DJI Cendence.
Customizable and expandable
If you want to be able to make changes on the fly, look for a model that's customizable and expandable. The DJI Mavic 2 Enterprise, for instance, features interchangeable accessories, including a beacon, speaker, and spotlight.
Obstacle avoidance
An experienced and cautious pilot can always use a little help with in-flight safety. Most commercial drones have obstacle-sensing technology built in, so the drone can avoid potential collisions. Many are also equipped with software that tracks real-time positioning information for nearby manned and unmanned aircraft.
Interchangeable payload
This usually means the drone has a gimbal with a mount that lets you swap out cameras for different use cases. This is a common feature for general-use commercial drones that might be re-purposed frequently.
Industry-specific drone packages
Many commercial drone packages include custom hardware and software for performing very specific tasks. Let's look at some examples.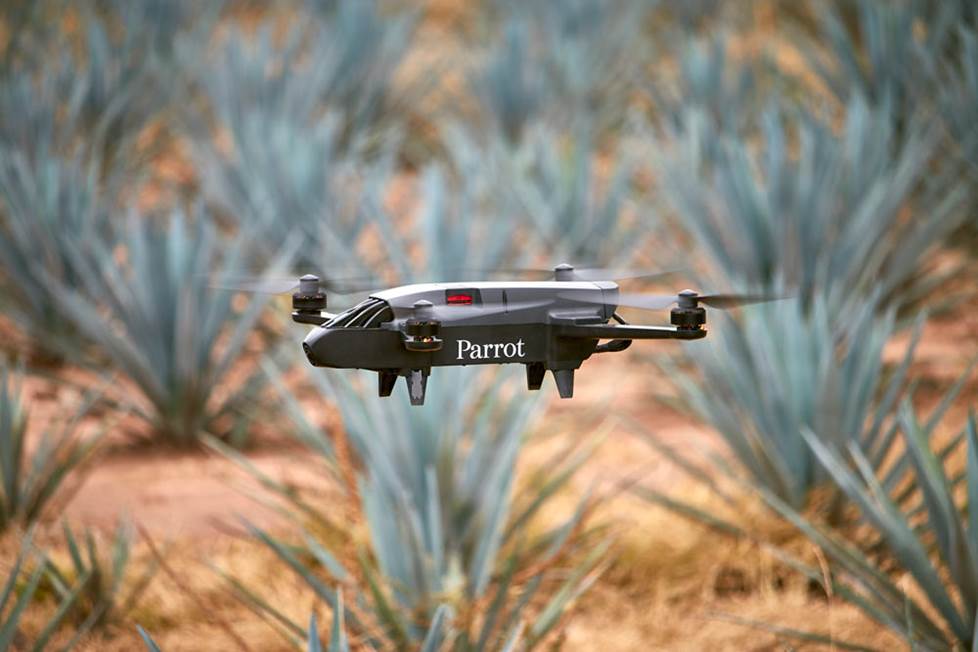 The Parrot Bluegrass Fields quadcopter gathers in-depth data and includes analytical software that helps farmers manage diverse crops.
Farming
Agriculture is a very hands-on business, but success also depends on seeing and understanding the big picture. A drone like the Parrot Bluegrass Fields offers a birds-eye view of your plantings, along with specialized tools for capturing and analyzing in-depth data on your crops and fields.
You can plan automated flights and add GPS and text annotations to photos for reference. And it generates normalized difference vegetation index (NDVI) maps in real time. After the drone lands, the included software generates custom index maps for detailed crop performance analysis, and lets you layer data to help visualize crop trends over time. You can draw field boundaries and annotate crop focus areas on images, and create zonation and prescription maps for precise fertilizer application. And it's all exportable, so you can send data to a farm management information system and apply what you've learned.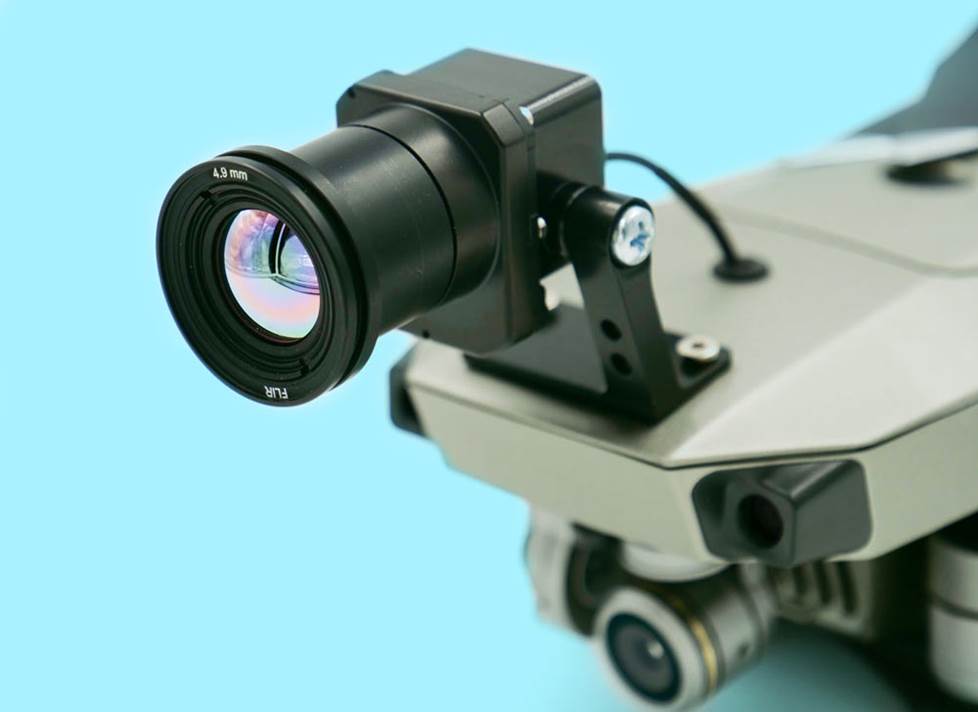 The DJI Mavic Pro Platinum RTF Thermal Solution 'copter features a top-mounted FLIR Boson 640 thermal camera that picks up heat signatures.
Firefighting and public safety
The DJI Mavic Pro Platinum RTF Thermal Solution package is ideal for firefighting, search-and-rescue, and security applications. It features a built-in, gimbal-mounted 4K camera for capturing full-color video, plus a FLIR Boson 640 thermal imaging camera that picks up heat signatures. You can view both types of image simultaneously in real time.
Move the slider left to right to compare standard and thermal views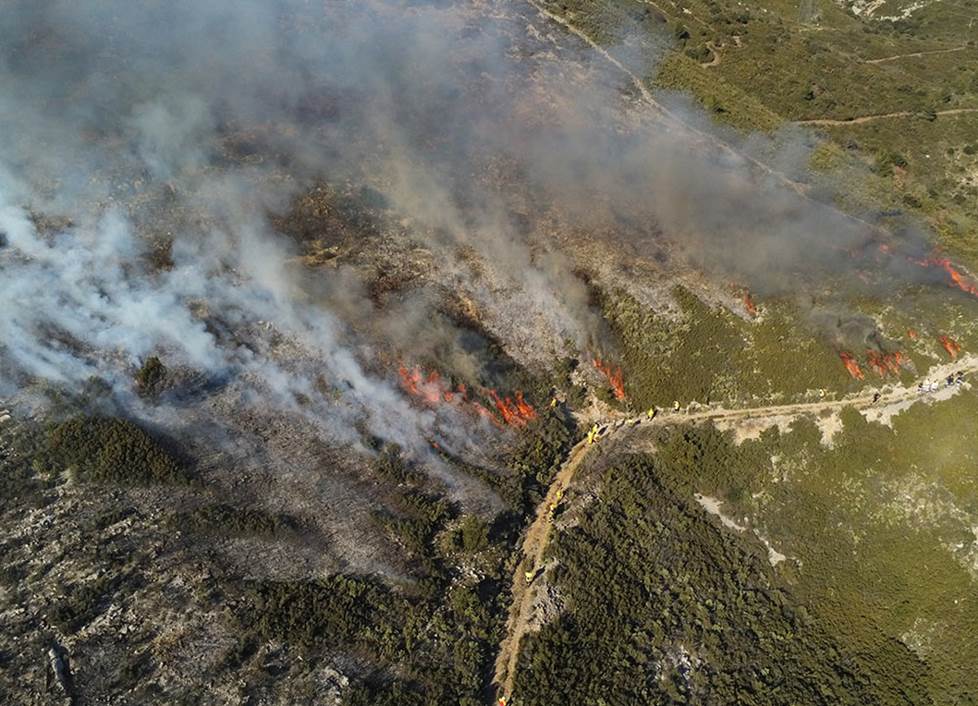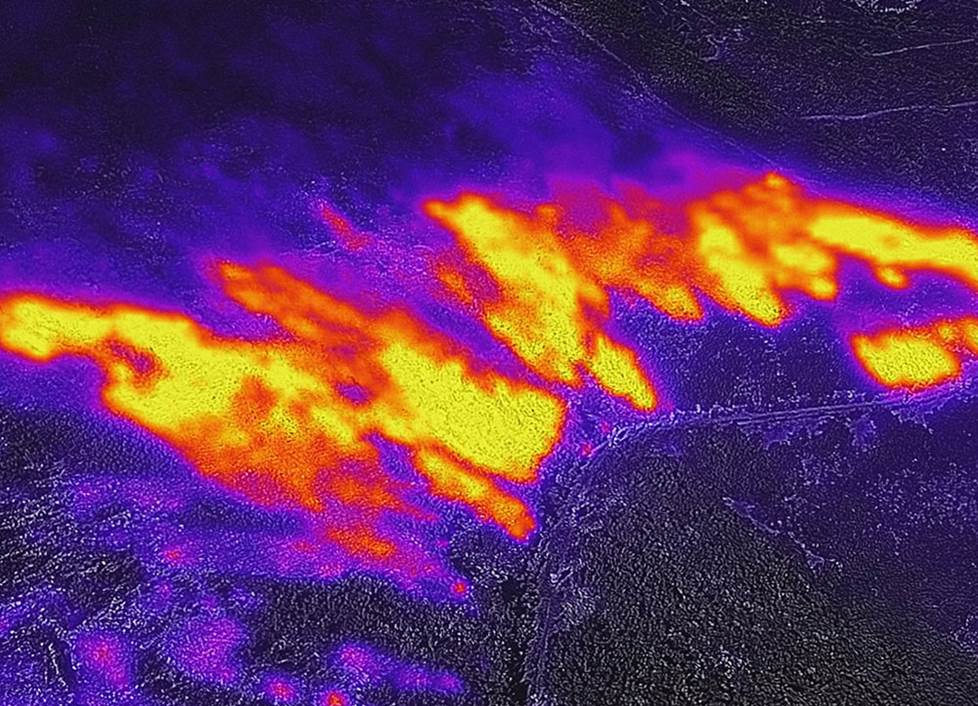 The Parrot ANAFI Thermal drone takes a slightly different approach, integrating a 4K camera and thermal imaging camera on the same gimbal mount. The cameras are able to tilt up to 180-degrees, and the operator can compare standard and thermal images taken from a uniform angle.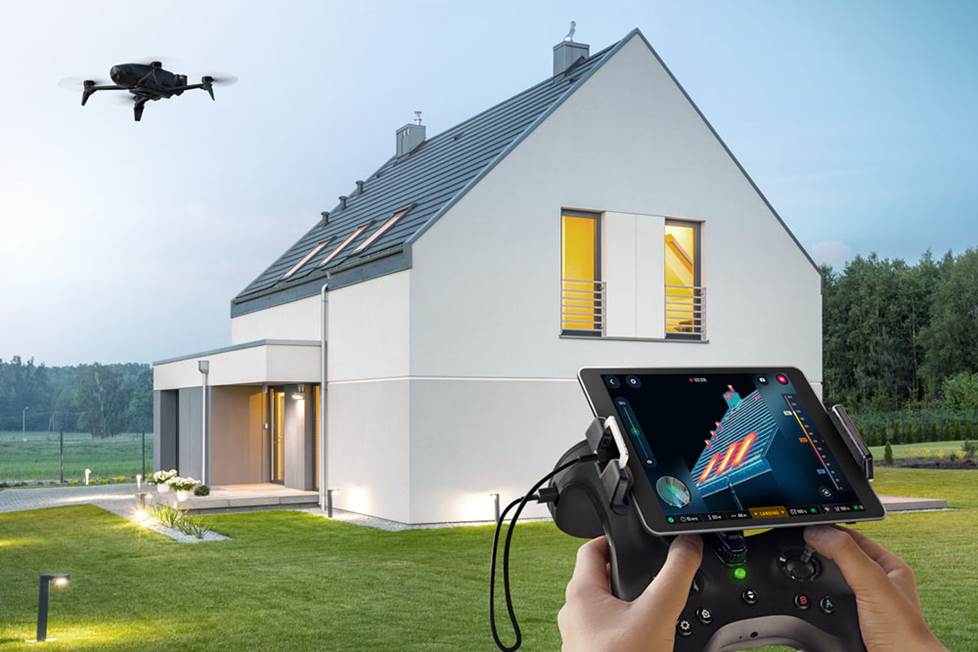 The Parrot ANAFI Work drone is designed to provide contractors and site inspectors with valuable information about construction projects.
Construction and site inspection
The Parrot ANAFI Work is designed to help contractors, real estate agents, and building inspectors visualize their projects. It can be programmed to repeat the same flight path every day to show progress over time.
There's a one-year subscription to Pix4DModel software, which is designed to take the images your drone collects and build a 3D model for analysis and sharing. Results can be exported to compatible third-party architectural software.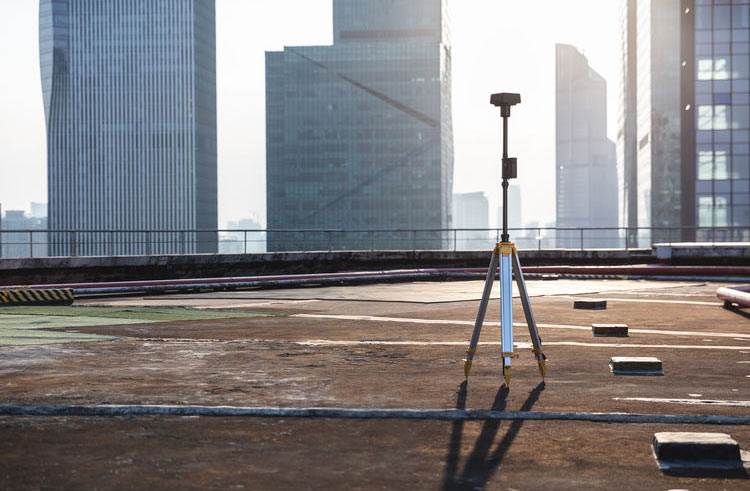 DJI's D-RTK ground station synchronizes with a drone flying overhead to provide centimeter-accurate surveying data.
Surveying and mapping
The DJI Phantom 4 RTK Combo package brings centimeter-level accuracy to aerial surveying. A D-RTK mobile station is included — it's a high-precision ground-level GNSS receiver that makes mapping information extremely accurate. Included TimeSync software keeps the flight controller, drone camera and RTK module synchronized.
These are some of the most popular task-specific models available as of summer 2019. We expect to see more in the future.
Software development kits (SDK)
Didn't see your industry listed above? No problem. Most commercial drones offer access to the manufacturer's software development kit, or SDK. Industry giant DJI calls theirs DJI Developer. An SDK allows experienced programmers to write custom software for controlling flight characteristics, camera function, creating flight paths, and more.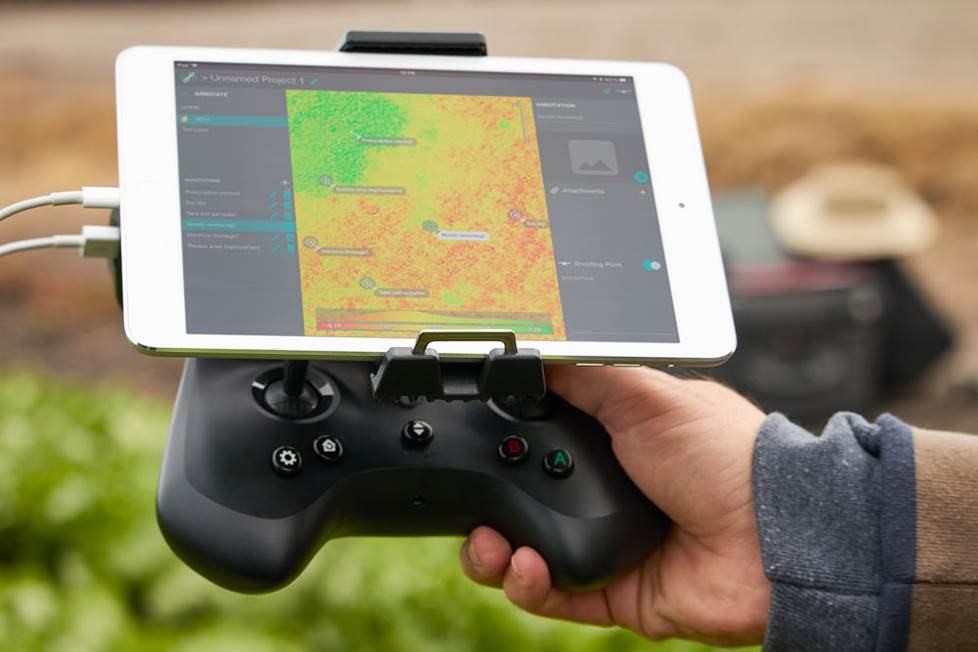 Many controllers are designed to hold a smartphone or tablet. Others have a screen built-in.
Accessories
Drone accessories and replacement parts are very important. It's always a good idea to keep spare parts on hand, so the failure of one piece doesn't delay completion of a time-sensitive task.
Spare propellers and rechargeable batteries are a must-have, and a multi-battery charging hub allows you to charge spent batteries while the drone is in flight, so you can stay aloft longer.
Most commercial drones ship with a high-end remote controller, but you may find you want some added features. DJI's Smart Controller has a big, bright screen built-in, so you can see what your drone sees, share it on social media, and even livestream. The Cendence controller is set up to handle broadcast-quality video transfer, and can be used in conjunction with another controller so one operator handles the flying, while the other controls the camera.
It's a good idea to keep several memory cards on hand, too.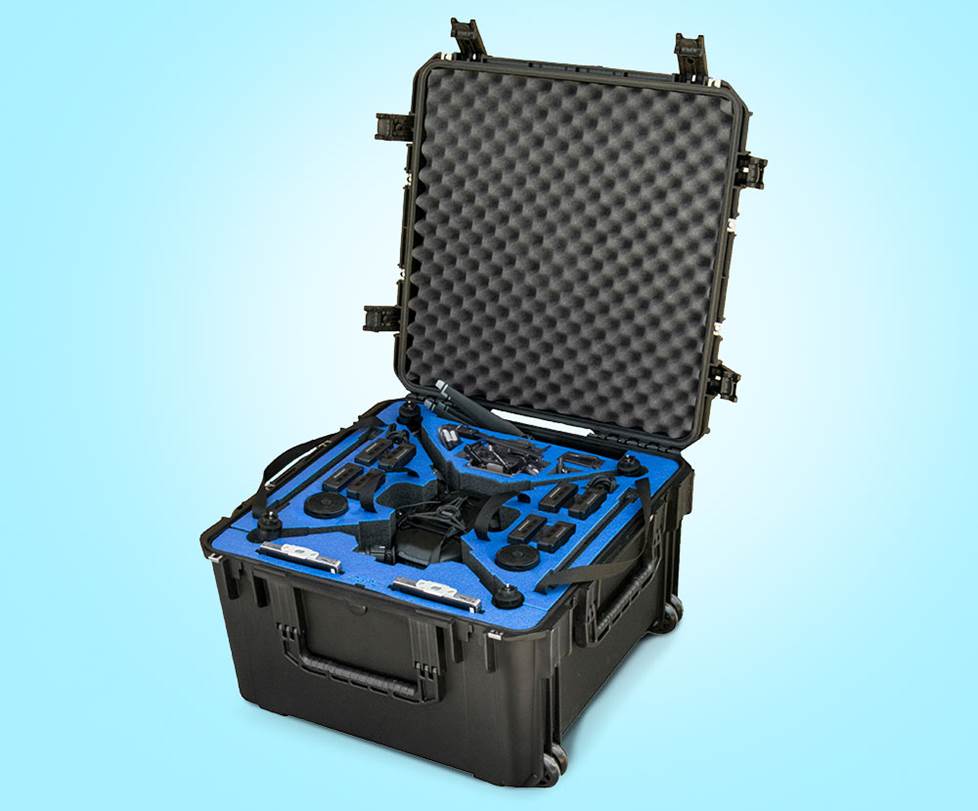 GoProfessional cases, like this one designed to fit the DJI Matrice 200, provide custom-cut foam cushioning on the interior and a rugged outer shell to protect valuable drones during transport.
Protect your investment
Commercial drones are tough, but you want to give them all the extra protection you can, especially if you take them with you when you travel.
"A hard carrying case is a great way to protect your investment," says our drone expert Christopher. GoProfessional makes hard cases and backpacks that fit specific drone models. The hard cases feature a rugged plastic exterior and custom-cut foam compartments that cushion drone parts against drops and bumps. Some have a retractable handle and wheels.
Big, bright monitor screens
Drones transmit images and video to a remote controller, where it is typically displayed on a mobile device in a cradle or a built-in screen. These screens vary widely in resolution, and may be difficult to see in bright sunlight.
DJI makes a series of full-color, high-resolution monitors with large screens and high brightness levels. The CrystalSky Ultra Brightness Monitor, for example, features a nearly 8" screen, 2048 x 1536 pixel resolution, and brightness of up to 2,000 nits (most mobile devices top out around 300 nits).
We'll help you find the right fit
Commercial drone use is a booming business, and things are changing quickly as new products come to market. We see new uses for drones crop up on a near-weekly basis.
Our drone expert Christopher is a certified drone operator (14 CFR Part 107), and he's ready to guide you as you search for the right drone for your business.
"I'm here as a resource to answer questions related to drone technology," says Christopher. "Crutchfield is a licensed dealer, so we work closely with manufacturers to make sure you're satisfied with your experience."
Call 1.800.315.4620 for a quote. We'll help you take to the skies and get the job done.