How to install your Sonos system
with Flexson stands and accessories
Heads up!
Welcome to this article from the Crutchfield archives. Have fun reading it, but be aware that the information may be outdated and links may be broken.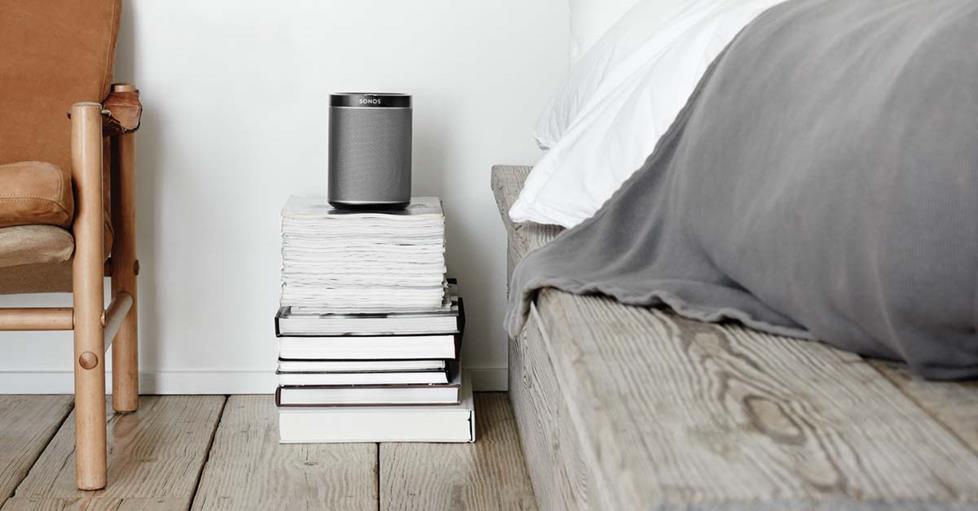 Improvised speaker stands might work in a bachelor pad. But Flexson offers nicer options for civilized homes.
Sonos speakers and components make it incredibly easy to get music playing throughout your home. But where do you put all that gear?
Fitting Sonos into your décor
Speakers that are not thoughtfully placed can make your space look cluttered.
Many people (myself included) temporarily set a new speaker in any available space just to get it up and running. But placing it on the nearest open shelf or counter might not be good for your decor or for the sound of the speaker. Proper height and positioning are particularly important for rear channel speakers in a Sonos home theater system.
Flexson stands, brackets and accessories are made for Sonos products. They offer placement solutions to help you get the most out of your Sonos system.
Sonos speaker placement
Floor stands
One option is to place your Sonos speaker on a floor stand.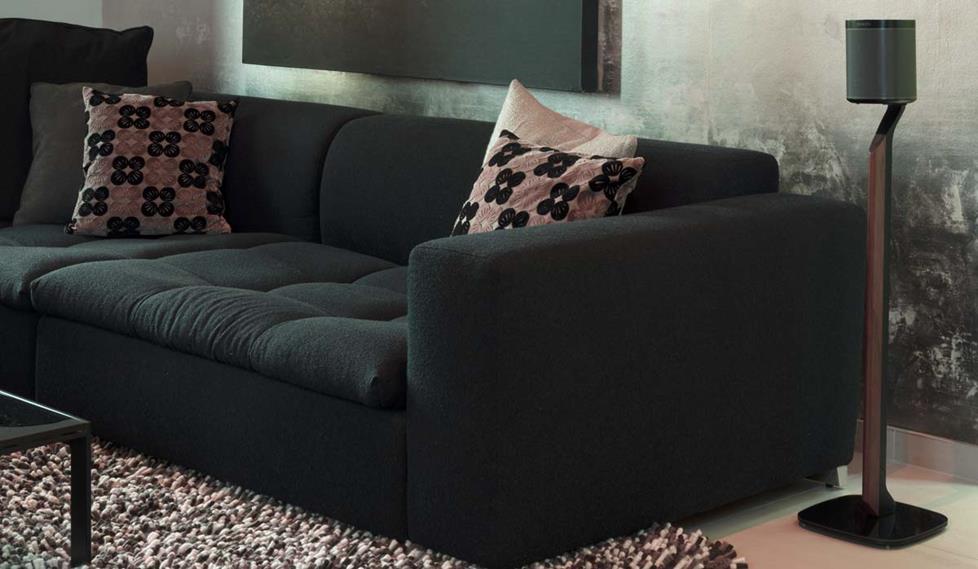 A floor stand lets you place your Sonos speaker in an out-of-the-way location, such as a corner, or behind a couch. Flexson stands feature hollow posts to hide power cables, so there are no loose wires hanging.
Wall and ceiling mounts
If counter and floor space are at a premium, consider wall-mounting your Sonos speakers. Flexson wall mounts are adjustable. You can position your speakers as needed after installation.
Sonos home theater options
You can combine Sonos components to make an impressive wireless home theater system (see our article on Wireless Surround Sound with Sonos).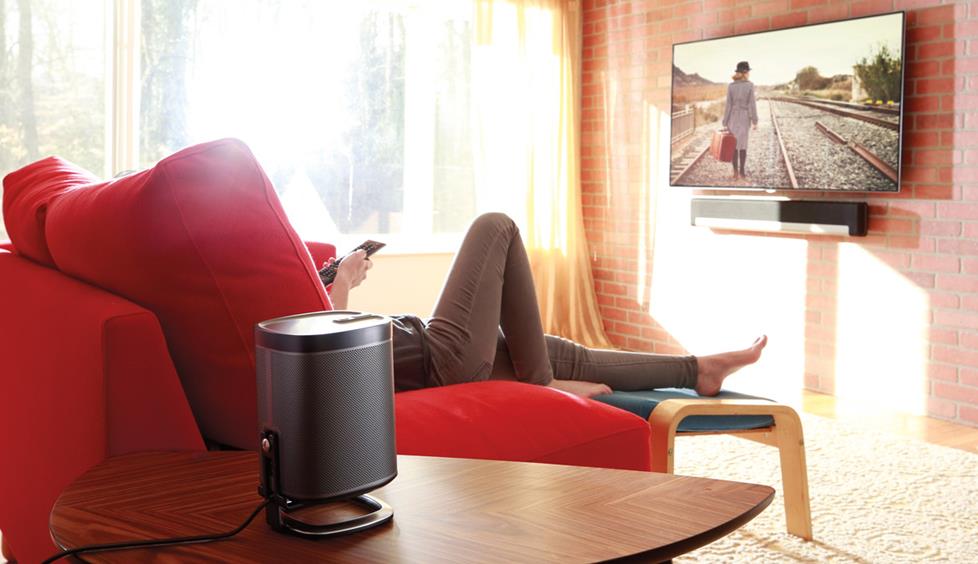 A Playbar, Playbase, or Beam is a great TV sound bar option. Add a SUB for a 3.1 wireless system. Add a pair of Play:1 or Sonos One speakers for the rear channel speakers, and you've got a 5.1 wireless surround sound system. Of course, that also means you have four different speakers to set up around your room.
Mounting options for your Sonos Playbar or Beam
If your TV is wall-mounted, you can secure your Sonos sound bar under it with a simple wall mount kit.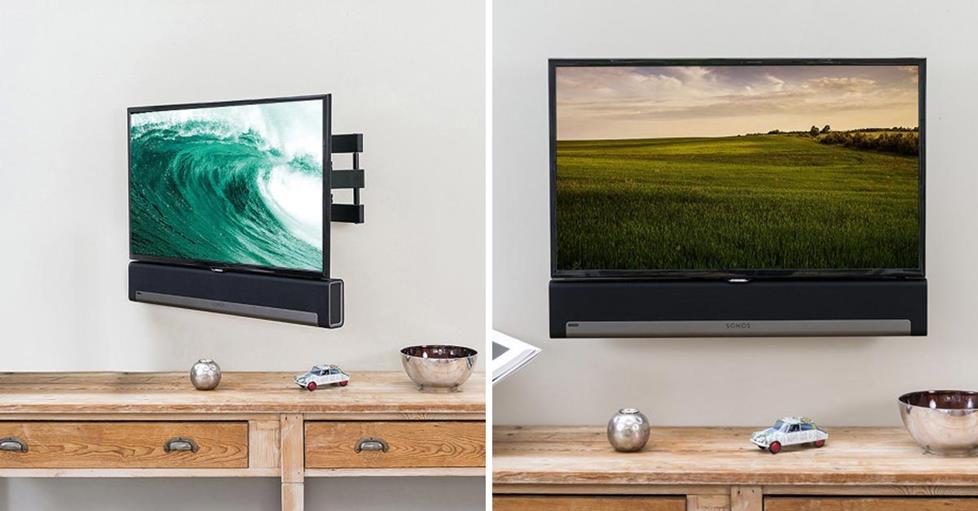 You can mount your flat-panel TV and a Playbar as a seamless unit
Is your TV on a full-motion mount? Attach your Playbar or Beam to it with a Flexson screen mount to keep it aligned with your TV.
This platform lets you set a Playbar in front of your TV
Rear channel speakers
You can use Flexson mounts to place your Sonos rear channel speakers on the wall or suspend them from the ceiling. Floor stands behind your couch is another good option.
Add-ons for your Sonos sound bar
There are some simple audio adapters that can make your Sonos sound bar even more useful.
Home office speaker solutions
Do you use Sonos speakers with your computer? Flexson desktop stands for Play:1 or Play:3 speakers tilt them upwards for optimal listening at your desk.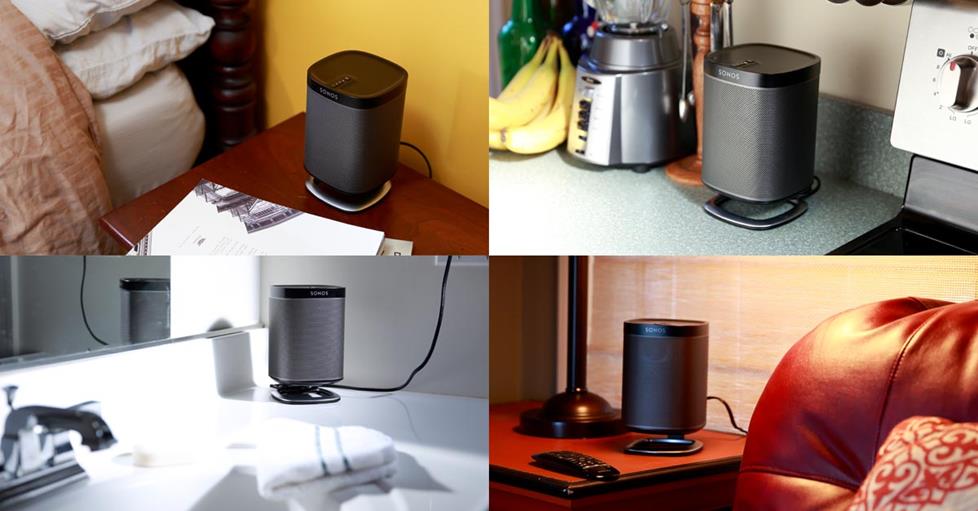 Flexson desk stands to hold your Sonos speakers at a slight angle.

The illuminated Play:1 stand can give you extra desktop illumination. It's also great for ambient light in a bedroom or den.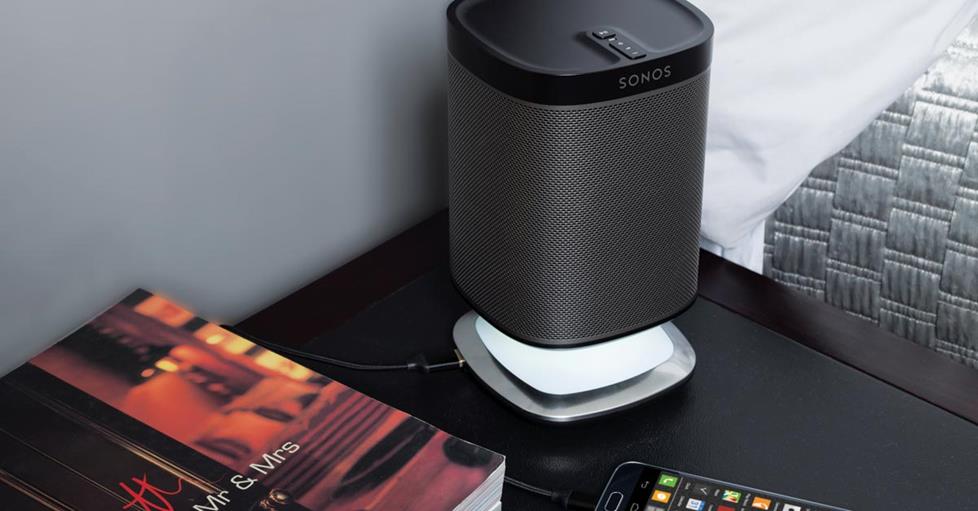 This stand won't light up a room, but it makes a great nightlight.
Connect, Connect:Amp and Boost options
Flexson even offers ways to organize these Sonos components.
You can wall-mount your Boost for better placement.
Wall-mounting is also an option from your Connect or Connect:Amp.

Got questions?
Our advisors can help you plan your ideal Sonos system. Call 1.888.955.600.