Indie filmmaker starter kits
The gear you need to make professional, cinematic videos
Heads up!
Welcome to this article from the Crutchfield archives. Have fun reading it, but be aware that the information may be outdated and links may be broken.
In a nutshell: Want to make professional-quality movies on a small budget? I'll tell you everything you need to know to build your starter indie filmmaker kit — without having to go to film school or Hollywood like I did. Topics include:
What's in an indie filmmaker kit?
Before we dive into specific gear recommendations, let's talk about what a filmmaker's kit typically includes.
What you need in a filmmaker kit
First, you'll need a camera. Filmmaking is a visual art form. The quality of your camera will have a direct effect on how your story resonates with the audience.
Sound is just as crucial as picture. Make sure you have a reliable recorder with high-quality microphones.
Memory cards are necessary for both your camera and audio recorder. Compatibility is key. Your card will need to have enough speed and space to accommodate the information your devices are capturing.
A sturdy tripod is a cinematographer's best friend. It's essential for steady stationary shots, as well as smooth tilts and pans.
Lighting is another crucial part of video making. When you think about it, the camera is capturing the light. The better the light, the better the image. We don't sell lighting equipment, but I provide a link below to get you started.
Finally, you'll need an external hard drive to back up all your data. Plus a bag to carry it all.
Now, let's take a closer look at some key components.
Camera vs smartphone
Smartphones these days have cameras that are perfectly suitable for achieving a cinematic look.
Need proof?
Director Sean Baker shot his Sundance selected film on an iPhone 5s. Oscar-winning director Steven Soderbergh has used an iPhone 8 to shoot his last two movies.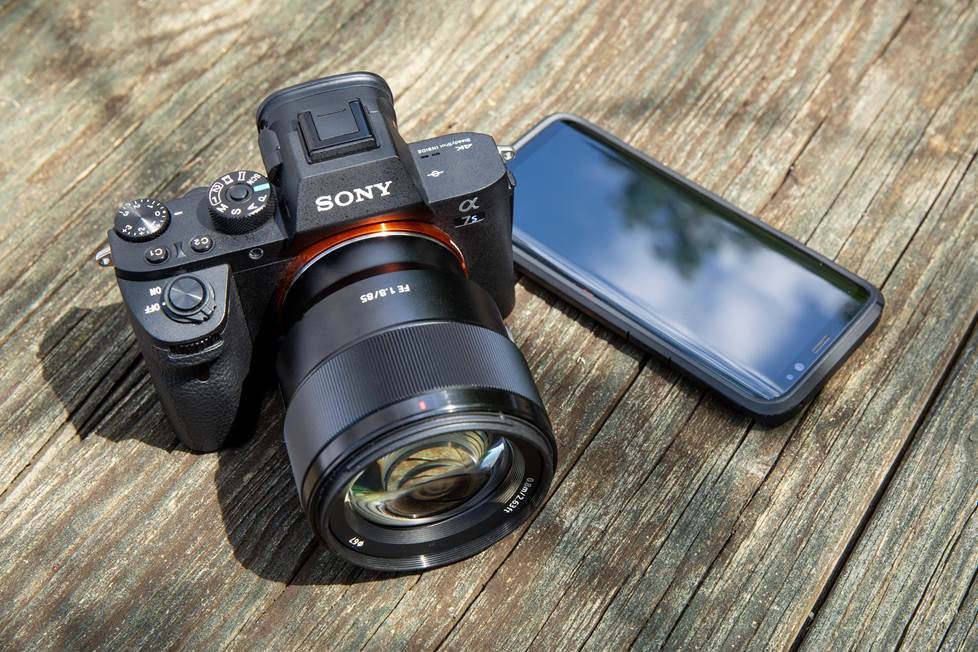 A dedicated camera will give you higher resolution and more features. However, you probably already own a smartphone and you would be surprised what it's capable of.
Is it better to have a dedicated camera? Absolutely. It's going to give you a higher-quality image. You're going to have more control of focus, ISO and aperture. You can switch out lenses. But if you're just starting out, or you like getting extra creative, don't be shy to pick up the phone you've already paid for.
If you do choose the camera route…
Mirrorless vs DSLR cameras for shooting video
You can make great movies with either. However, mirrorless cameras are often optimized for video shooting, whereas DSLRs are more powerful for still shots.
Perhaps the biggest advantage for mirrorless cameras is their hybrid autofocus systems. There are two types of autofocus systems, phase detection and contrast detection. Phase detection is faster, but contrast detection is more accurate. Modern mirrorless cameras combine these systems to be precise, without losing any speed.
DSLR autofocus systems, although great for still shooting, tend to be laggy when capturing live video. This will stick out when you go to watch your footage or show it to an audience.
The picture quality is similar, with mirrorless having a slight edge at similar price points. The reality is the market is moving toward mirrorless. Camera companies are prioritizing that technology.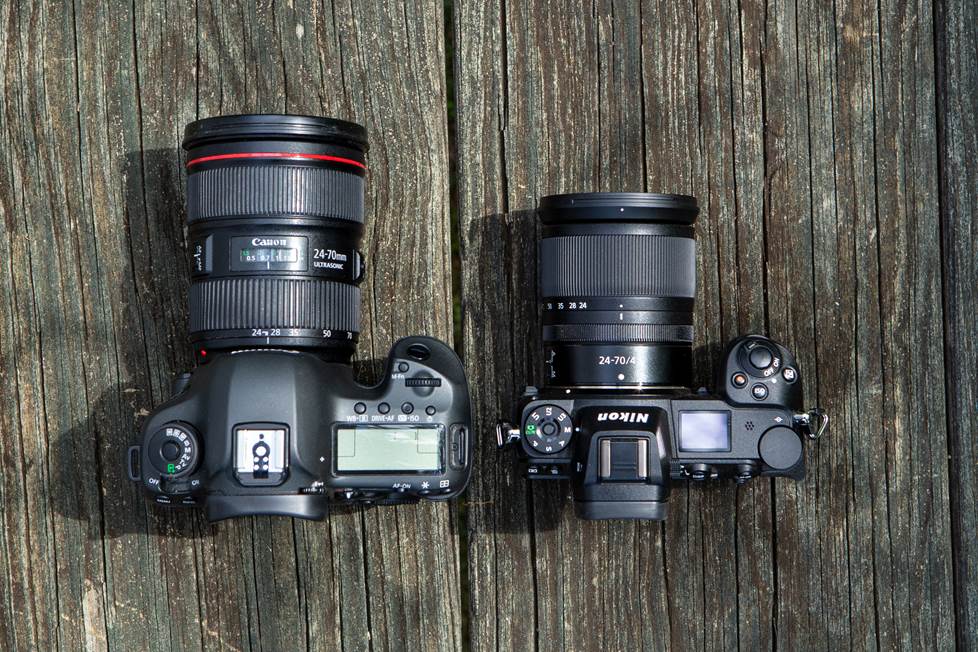 Although DSLR cameras are great for still photography, mirrorless cameras have become the better option for shooting video.
A major benefit of mirrorless cameras is the smaller size. This lets you place the camera in unusual, creative ways.
For these reasons, I will be recommending mirrorless cameras.
Your signature style
Think of your camera and lens like a musician thinks of his guitar and amp. He has chosen specific models because he digs the sound the combination creates. Different camera bodies and lenses will create a different cinematic look.
Watch test footage from different Sony, Nikon, and Canon cameras to learn how they can help you create your own signature look. Lenses will also play a major role in how your footage looks.
The bottom line for cameras? If you can control video settings (manual focus, ISO, aperture) and shoot in HD, you can make movies with it.
The importance of sound
Great images alone do not make for a great film. I consider sound quality to be just as important for conveying your story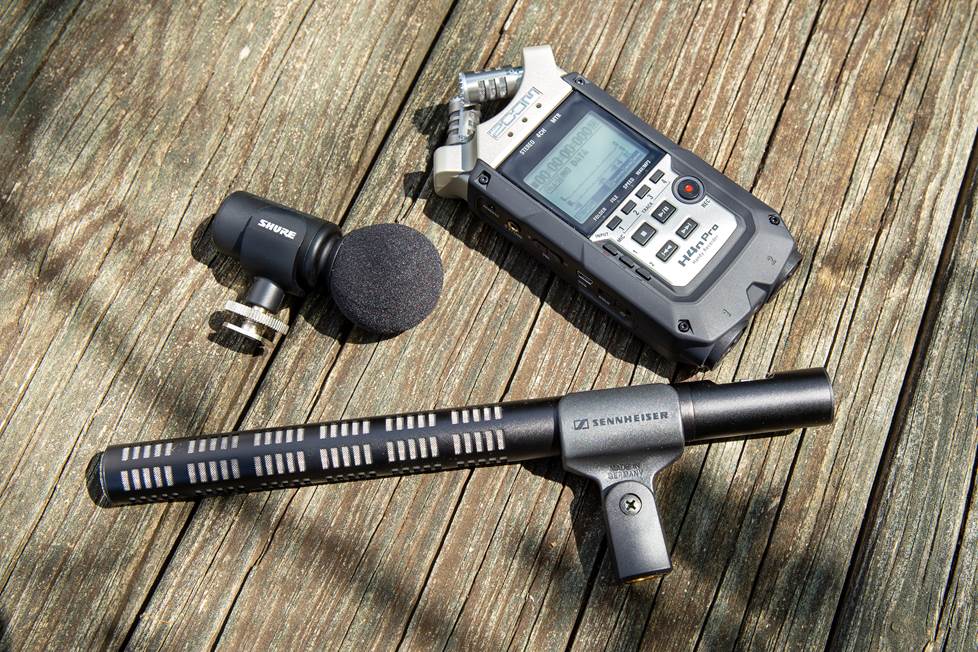 Detailed, clear sound will make your indie movie stand out.
Nothing will make your production seem more amateurish than hissy sound, excessive wind or being unable to hear the actors. But with the right gear and proper execution, there's no reason you can't achieve professional sound.
After you've recorded a decent track, you may need to do a bit of noise reduction in your chosen editing program.
The Crutchfield indie filmmaker kits
1. The smartphone kit
The Shure MV88+ digital video kit gives you the accessories to raise your YouTube, Tik Tok and Instagram game to a professional level. It features a digital condenser microphone that plugs into your smartphone charging port (both iPhone and Android compatible).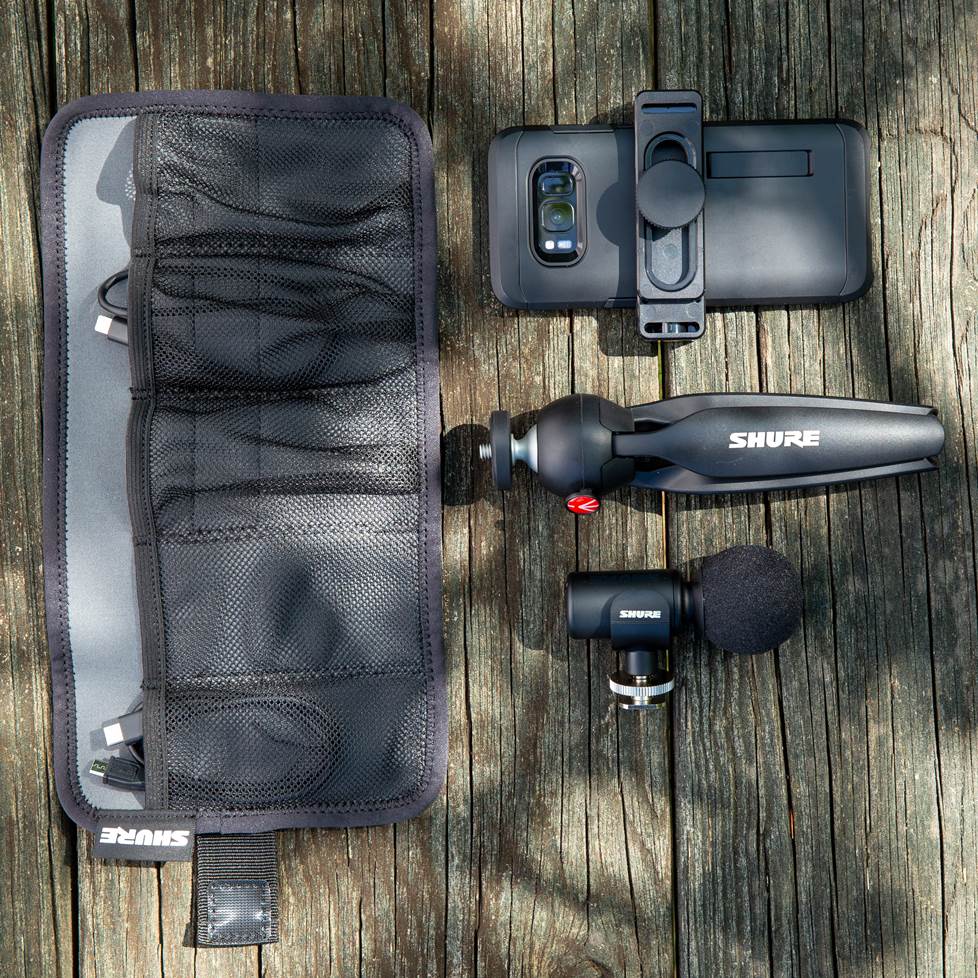 The Shure MV88+ kit is easy to bring anywhere.
Shure MV88+
One of my favorite parts of the Shure MV88 is its selectable direction feature. The mic can record what's directly in front of it like a shotgun mic, or through the sides for a bi-directional recording.
The ShurePlus™ MOTIV™ app lets you control everything. You can record uncompressed audio that can be fine-tuned with five-band EQ controls.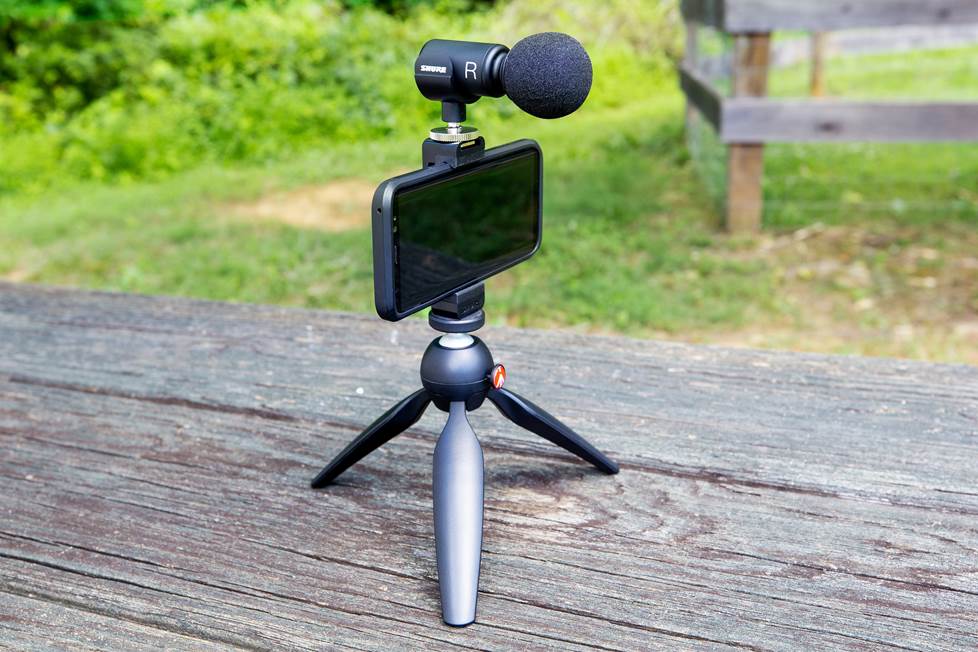 The Shure MV88+ microphone sounds much better than built-in smartphone mics.
Manfrotto mini tripod
The other main item of the MV88+ video kit is the Manfrotto mini tripod. You can adjust it to any angle with the ball mount. You can also bring the legs together and hold it like a selfie stick for shooting on the move.
Accessories
Rounding out the kit are the necessary cables, a roll-up case, and a mount for your mic. The quality construction of the mount stuck out to me.
I have a less expensive external smartphone mic that came with a mount that has broken on me a couple of times. Waiting a week and a half for replacements before I can shoot is no fun. It's a testament to the kit that they put effort into the little things.
2. Beginner camera kit - gear to get started in filmmaking
A recent study by The Sun asked 1,000 kids age 6 to 17 what they want to be when they grow up. One-third of them said YouTuber. Could we see online digital videos overtake television and movies as the default form of entertainment? Our beginner camera kit gives you everything you need to get started in the art form.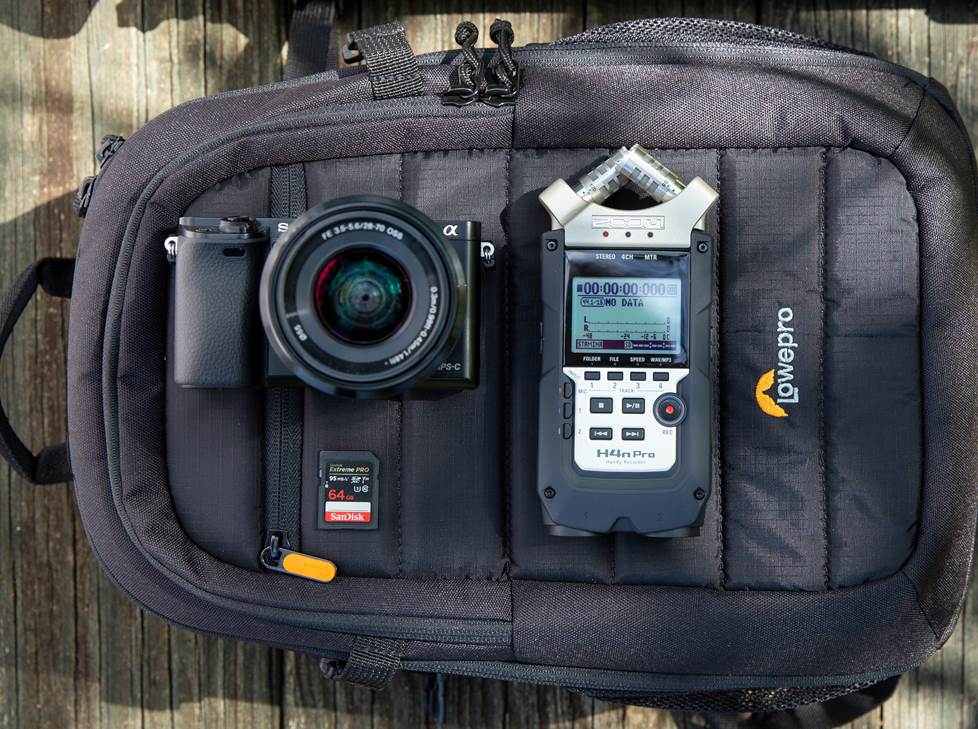 The Sony a6000
If you go on YouTube now and search "best beginner camera for filmmaking", the Sony a6000 will come up again and again. Five years after its release, it's still an indie shooter favorite. Let's look at a couple of reasons why.
First and foremost — the image quality. The a6000 uses the same APS-C 24.3-megapixel image processor as the more expensive a6300 and a6500 models.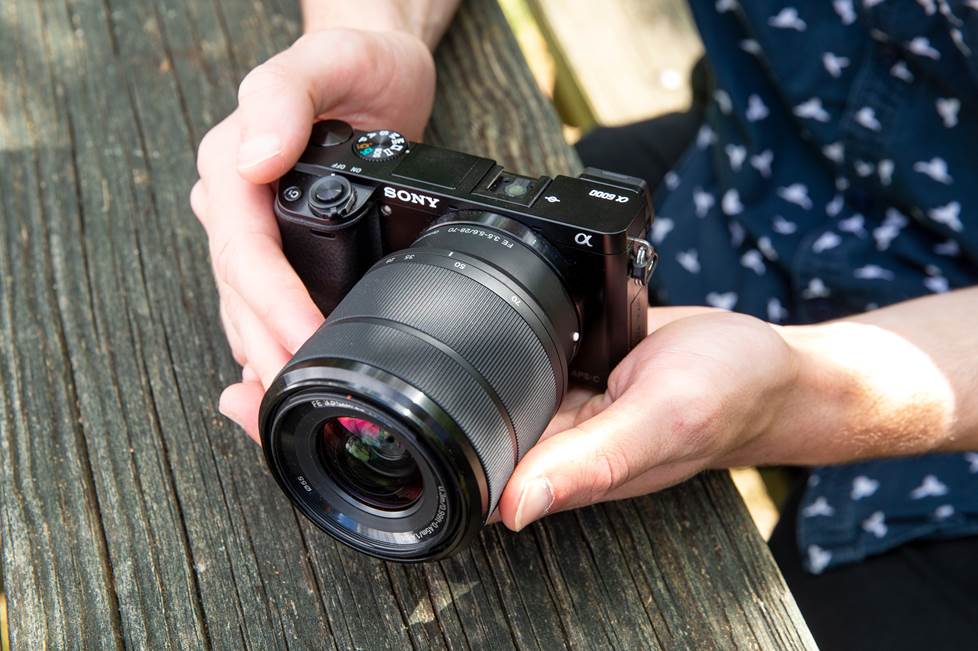 The a6000 has been a favorite among indie filmmakers since its release.
Something that drew me to the a6000 is its ability to shoot in low light. Not everyone has the initial budget for legitimate cinema lighting. Meanwhile, you will be relying on natural light or household lights. The Sony a6000 outperforms its competitors at similar price points when the light is less than ideal.
If you're serious about filmmaking, it's important you learn how to focus manually. However, if you are just doing simple talking-head shots, you'll need a camera with a good autofocus function. Sony mirrorless cameras find the subject fast.
The final advantage of choosing the a6000 is that it's in the Sony family. If you go with the a6000, and decide to upgrade to a more expensive Sony model in the future, all your e-mount lenses will be compatible.
Zoom H4N Pro Audio Recorder
Now, we need to make your footage sound good. For that, I have included the Zoom H4N Pro digital audio recorder. This is going to give you everything you need to start out, with room to accommodate upgrades.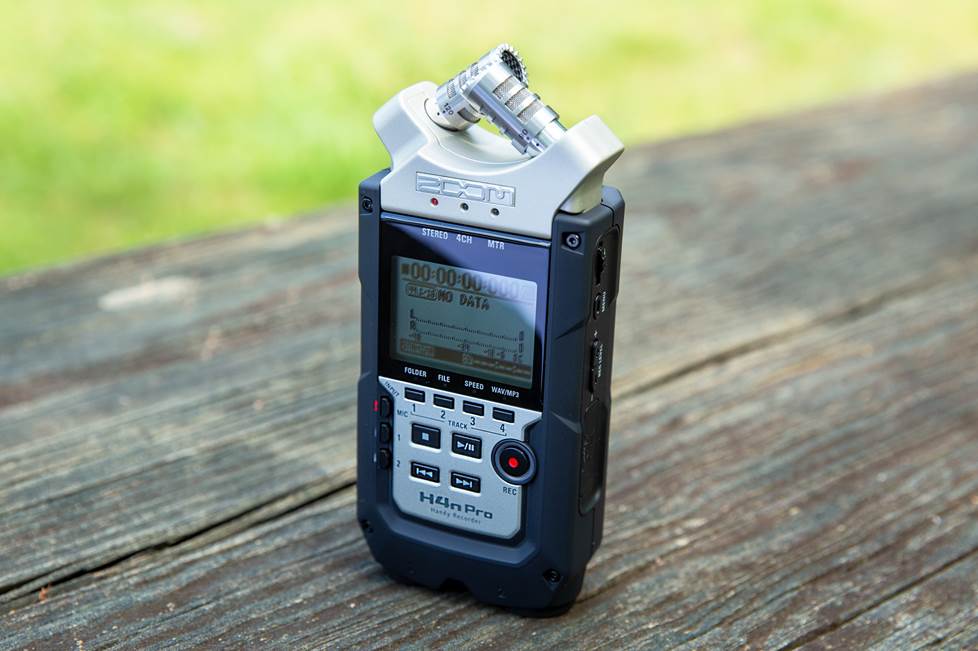 The Zoom H4N Pro audio recorder is the perfect building block for recording professional quality sound.
The built-in stereo microphones capture detailed and accurate sound. It has a limiter, compressor, and low-cut filter to prevent distortion and ensure a consistent recording level. Placing the Zoom H4N just off camera will produce professional-quality sound to match your image.
Keep in mind, we are recording sound separately from the video. You will need to sync the audio and video in your editor. Do not worry, this is a much simpler process than when I first started.
The best feature of the Zoom H4N Pro for me is the additional inputs. It has two XLR inputs for shotgun microphones as well as a 1/8" for a lapel mic. The more mics you have recording, the more options you'll have in post-production.
Manfrotto Befree Live Tripod
A tripod is a must-have for filmmaking. Learning how to get the shots you need with only panning will make you a better filmmaker. The stability of a tripod will also save you from shaky images.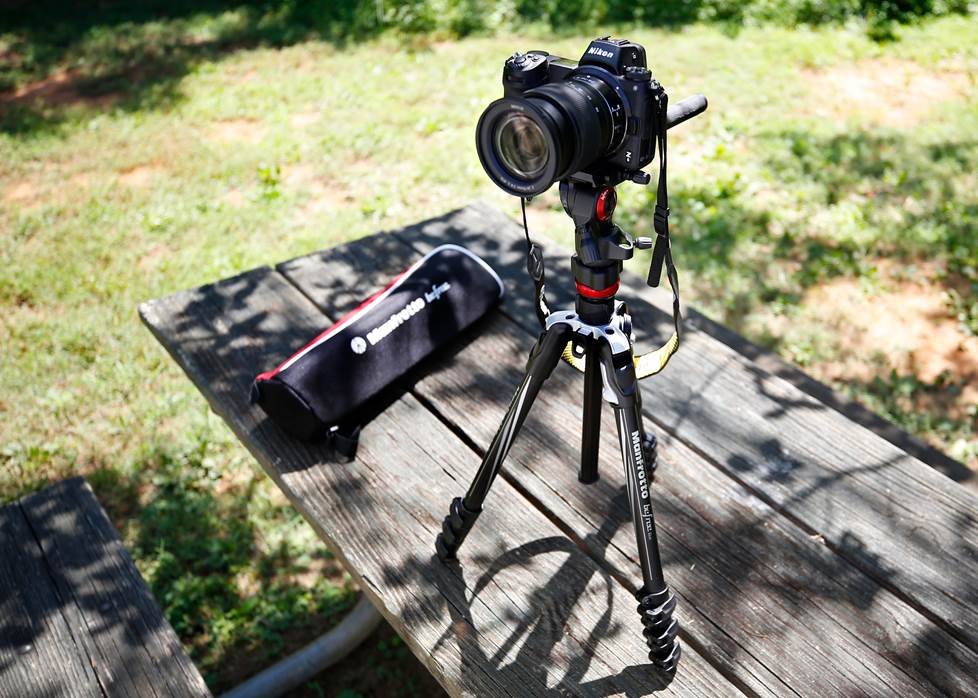 The Manfrotto Befree Live tripod was made with indie filmmakers in mind.
When I started this article, our tripod selection was good for still photography, but we lacked one with the smooth fluid head needed for video. We talked to some people and were able to get the Manfrotto Befree Live tripod, which is made for filmmakers.
The design and construction makes silky tilting and panning shots second nature. It also folds into itself, making it easy to carry for guerilla style run and gun filmmaking.
Complete kit:
Zoom H4N (no longer available from Crutchfield. Try the Zoom H5 instead.)
Lowepro Tahoe bag
3. The enhanced camera kit
For my dream kit, I'm only going to upgrade a couple of things. Remember that it's not the gear you have, but how you use it. More expensive and more advanced gear won't save a weak story and poor execution. That said, powerful tools only gain more power in the hands of skilled directors. Here is what I recommend.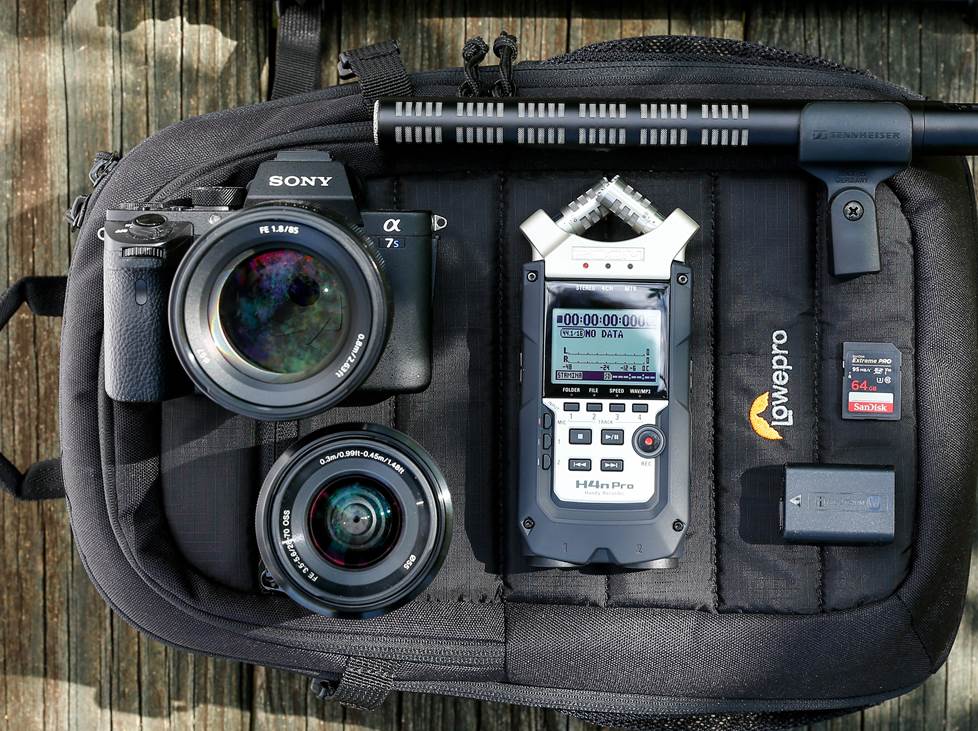 Sony a7S II
The Sony a7S II is the mirrorless camera for video today. Probably because Sony made it explicitly for that purpose. It shoots 4K raw using full-frame format. That's a fancy way of saying it produces more pixels for greater detail in the image.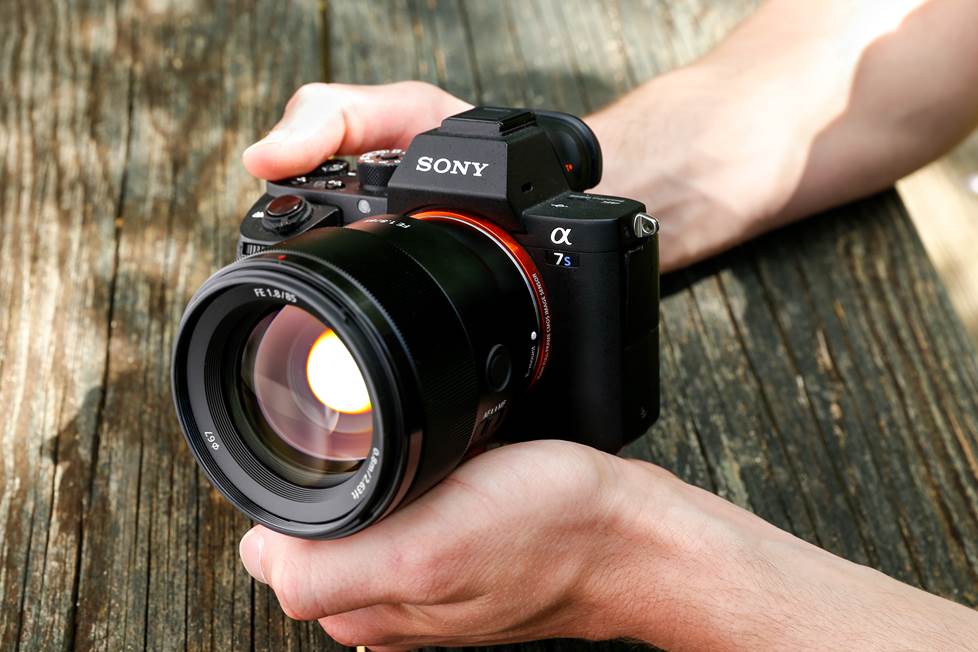 The Sony a7S II is one of the best consumer cameras ever produced for video.
This camera has legendary low-light performance. Cameras straining to make the most out of light can often blur or distort the image. Not the case for the a7S II. I was able to shoot in the dark using only streetlights and the moon, and the image was still sharp and clear enough to add color correction.
Sony has also added image stabilization to the camera that corrects camera shakes from 5 different axes. I don't always like to shoot handheld, but the smooth performance of this camera could convince me it was fixed to a dolly.
Two lenses
Since the A7S II doesn't come with a lens, I recommend picking up a Sony SEL2870 28-70mm. It's a standard, everyday utility lens that can cover everything from a wide to a close-up.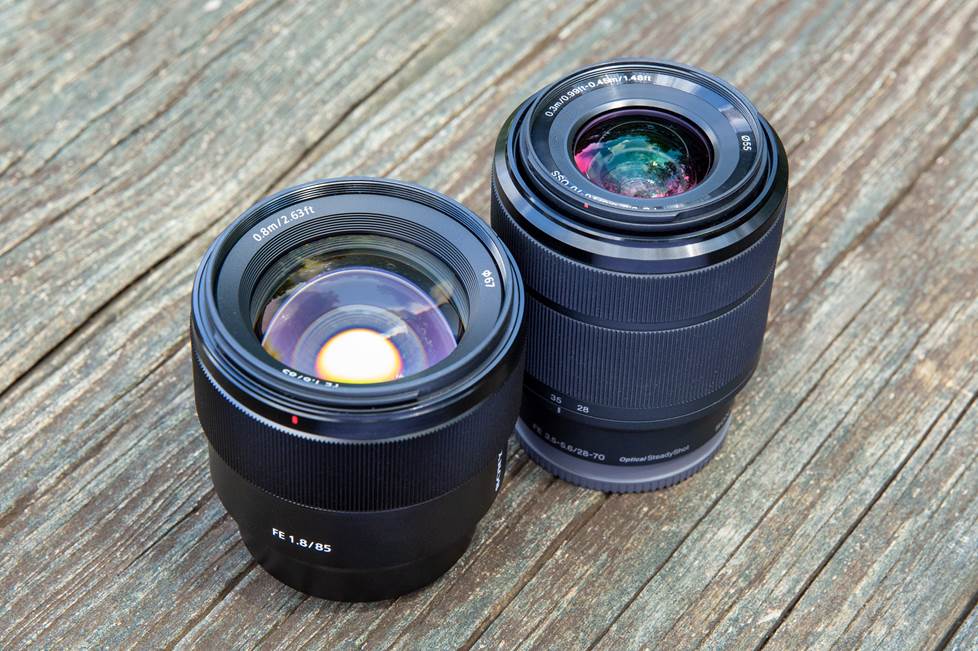 Lenses play a huge role in how your footage will look. The more you have, the more looks you can get in your film.
Next, I would want to start investing in prime lenses. That means they stay at a fixed focal length. One of our most popular e-mount lenses is the Sony FE 35mm. This will produce beautiful, sweeping wide-angle shots.
Perfect sound
I considered recommending Zoom H6 audio recorder, but I decided against replacing the H4N Pro. The H6 upgrades from 4 to 6 recording channels. It allows up to 128 GB of audio data instead of 32 GB. There are more knob options for controlling gain. Most enticing, it doubles the battery life.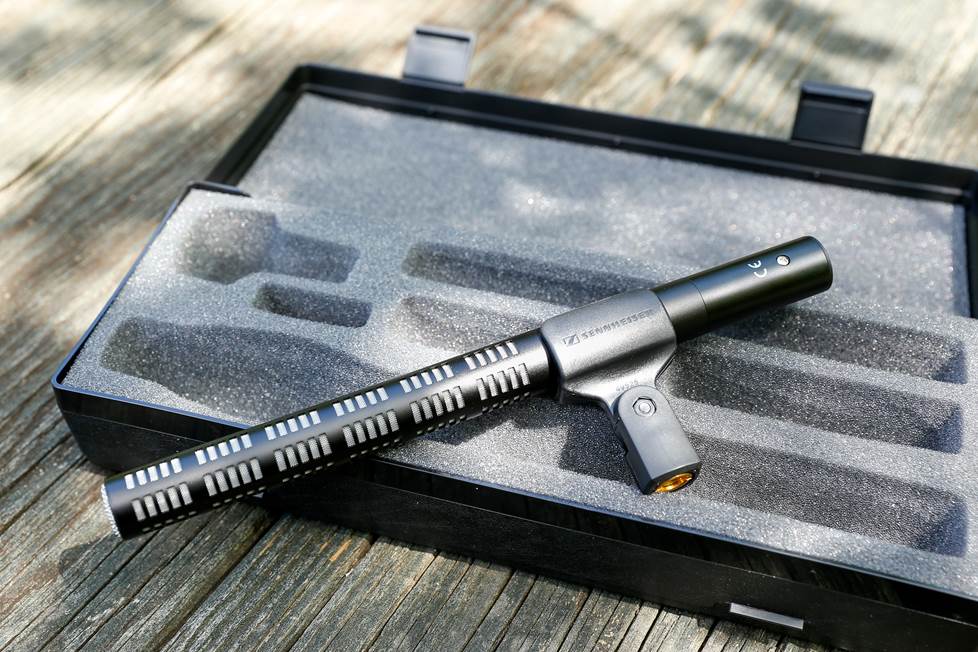 Shotgun mics are critical for getting clean dialogue recordings.
But I don't think any of those are worth the extra price, especially for smaller scale productions. What I do recommend is adding a professional quality shotgun mic. For that, you can't do much better than the Sennheiser ME66/K6P combo. The K6P is a phantom power module that powers the ME66.
At this point, I should say that you will need a boom pole, something we don't carry. Here is a helpful video on how to build your own for about $25.
Complete kit:
Zoom H4N (no longer available from Crutchfield. Try the Zoom H5 instead.)
Sennheiser ME66/K6 Shotgun mic
4. Canon video creator kits
When I went to film school, everyone had a Canon. They are capable cameras at great price points.
A major advantage of Canon cameras is their flip-out screen. It's reversible, a feature that Sony cameras do not have. This allows you to watch yourself while filming, without needing to purchase an external monitor. It also helps to have flexibility when you are shooting at odd and awkward angles.
Canon also has dual pixel™ autofocus, which is consistently the fastest autofocus for cameras under $1,000.
Create stellar videos straight out of the box
Canon video creator kits come with a Rode VideoMic GO that connects straight into the camera's audio port, so you won't have to sync sound in post-production. Video and audio will record straight to the single SanDisk memory card that comes in the kit.
Together the Canon cameras and Rode mic are perfect for starting out as a content creator or vlogger.
5. Nikon Z6 filmmakers kit (if cost is no object)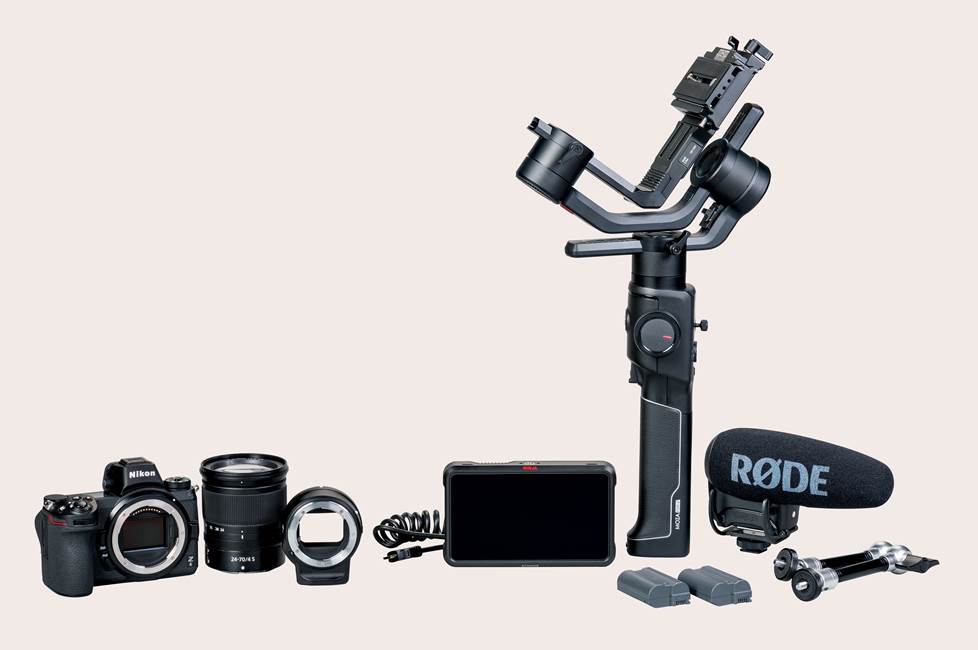 Resident camera expert Deia Z had strong opinions about this selection. She recommended the Nikon Z6 kit. It's expensive, no way around that. But it's a good value compared to other equipment in movie making.
It includes the Moza Air 2, a handheld stabilizer that gives you dynamic shots that are smooth as butter. The Rode Videomic Pro+ shotgun mic connects directly to the cameras hot shoe mount. Finally, it comes with an Atomos Ninja V 4K external monitor so you can check your shot with hyper detail.
Have questions?
Shopping for cameras can be confusing. For more details, here is a mirrorless camera buying guide.
If you need more personal advice about cameras or anything mentioned in this article, our Advisors know the gear inside and out. Contact us today.
Free lifetime tech support is included with any Crutchfield purchase.