BassLink
Infinity's compact powered sub defies the laws of nature
Heads up!
Welcome to this article from the Crutchfield archives. Have fun reading it, but be aware that the information may be outdated and links may be broken.
Bass takes space
Bass takes space. That's the immutable law of nature that has frustrated man since the dawn of time. The Infinity BassLink sets out to disprove this law, incorporating interesting technological twists and unusual construction to maximize its low-frequency output. How successful has this little giant been in its effort to fool Mother Nature? For two weeks, I lived with this compact powered subwoofer, playing my favorite test tracks and pushing it to the limits.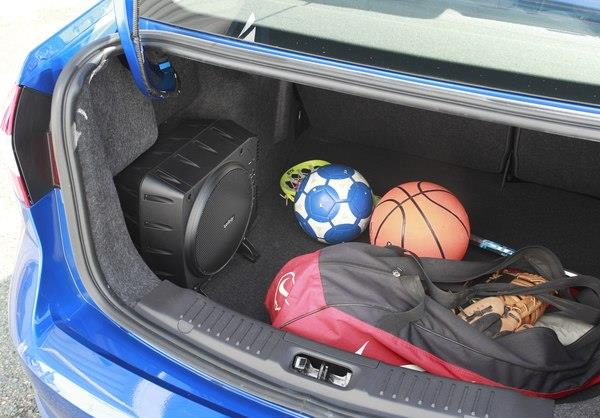 The compact BassLink doesn't take up much space.
First, everybody has different tastes, drives different vehicles, and listens to different music, so everybody has a different opinion on what constitutes great bass. I like to crank up the music LOUD in my Jeep Cherokee, and I like lots of bass. But I don't like big, boomy bass that imposes itself on the rest of the music, and I like my car system to sound as much like my home system as possible.
Second, let's get one thing straight from the beginning. The BassLink will not win any bass competitions. If you are accustomed to a pair of 15" subs driven by several hundred watts, believe me, the BassLink won't do it for you. The BassLink is designed strictly for the person who wants to add significant bass to a car system without losing a lot of space.

The BassLink's control panel offers plenty of options for tailoring the bass to suit your vehicle.
The Infinity BassLink
This futuristic-looking device uses a 10" subwoofer, a 10" passive radiator, and a 200-watt Class D amplifier to pump out impressive amounts of bass from an extremely compact enclosure (available in black or clear plastic). The passive radiator is a non-powered speaker whose cone moves in response to air pressure generated by the powered 10" sub in the BassLink — it's a good way to produce extra bass without adding too much cost.
Plenty of control
Controls include an adjustable low-pass filter (50 Hz to 120 Hz), a bass boost (adjustable from -6 dB to +3 dB at 40 Hz), a phase switch, and a wired remote control which allows you to control the sub's level from the front of the vehicle. Installing the BassLink was a breeze — I just attached my existing power, ground, and remote leads to the screw terminals, hooked up my RCA patch cables, and we were off to the races.
The experiment begins
With the BassLink's gain about halfway up and the low-pass filter set at around 80 Hz, I slid Buddy Guy's Heavy Love CD into my Pioneer receiver, and cranked it up. The BassLink responded with a massive volley of bass that had me diving for the remote! I turned down the gain, made a few more adjustments, and fell in love. This little box easily matched the output of my everyday modest bass setup, and it wasn't even sweating.
I did notice a little bit of unpleasant boominess and a lack of distinction in upper bass notes, so I experimented by turning the unit around so the active 10" speaker fired into my seat back. Problem solved — totally! If your receiver doesn't have a subwoofer output, you'll really love the handly little wired remote. I found myself reaching for it constantly to tweak the bass as I moved from one recording to another.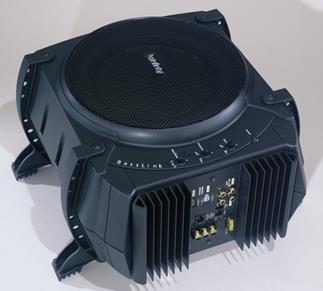 The Infinity BassLink can also be positioned horizontally in your vehicle's trunk
Location, location, location
Over the course of a week, I put the BassLink through its paces with a wide variety of tunes ranging from Badfinger to Culture, and the Infinity never failed to impress. It produced rock-solid, thick bottom end, and it melded so perfectly with my Infinity Reference components up front that I never once got the sensation of bass coming from behind me.
It's important to experiment with the BassLink's location before mounting it permanently in your vehicle — its punch and focus varied noticeably according to its placement. But once it's tuned to your vehicle, look out! It's shocking to hear bass of this magnitude coming from such a small enclosure.
The verdict, please!
In a week of driving and experimenting, I never heard a hint of distortion from the Infinity BassLink. This precision-engineered product is capable of very high output levels, and it jammed hard in my Jeep with its 10" sub and 200-watt amp working at about 1/4 capacity. On occasion, I totally forgot it was there — the ultimate compliment you can pay a subwoofer. In any vehicle where space is an issue, I would recommend the BassLink to even the most ardent basshead.
See all of our powered subwoofers.