Infinity One Bluetooth® speaker review
Testing out Infinity's first portable speaker
Heads up!
Welcome to this article from the Crutchfield archives. Have fun reading it, but be aware that the information may be outdated and links may be broken.
Does Infinity's first portable Bluetooth speaker stand out in a crowded field of wireless speakers? It's certainly an eye-catching specimen.
I pulled the Infinity One from the box, and noticed how substantial it felt. Its ceramic-coated aluminum frame has a high-end look and feel. Turn it on, and the Infinity logo on the side of the cylinder lights up. Bass radiators on either end assault the air with impressive force:
It's cool to see the radiators in action. But with no grilles to protect them, I worried that they could get damaged. The One will look great on your desk, kitchen counter, or even out on the deck. But it may not be the best choice for tossing in a backpack full of camping gear.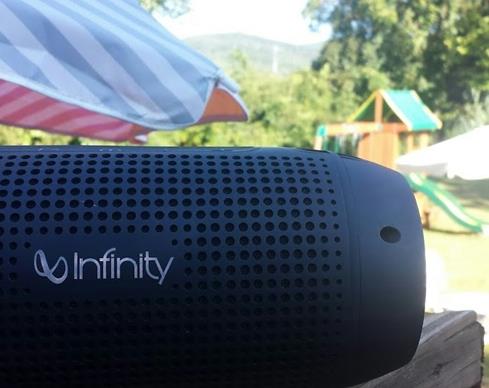 The Infinity One sounds and looks great on a countertop or deck.
The speaker is fairly large, compared to most portables. It measures close to 9 inches from side to side and almost 4 inches top to bottom. Weighing nearly three pounds, it's also on the heavy side for lugging around.
Rubber buttons on top are your major controls. Once you've synced up your Bluetooth device, you can toggle volume and switch songs with your phone or tablet. Five lights above the inputs indicate how much battery is left.
Testing it on the tailgate scene
To see how it would perform outdoors, I brought it to a recent football tailgate party. The Infinity One turned heads in a parking lot full of loud conversations, flying bean bags, and sizzling grub. Within 15-20 feet any direction, it sounded exceptional. In the most distracting of settings, the Infinity One made quite an impression.
When a friend called for directions, a push of the backlit "play" button had him on speakerphone. The Infinity One's built-in SoundClear® Echo microphone relayed my instructions with clarity. It also picked up the catcalls from the rest of the group.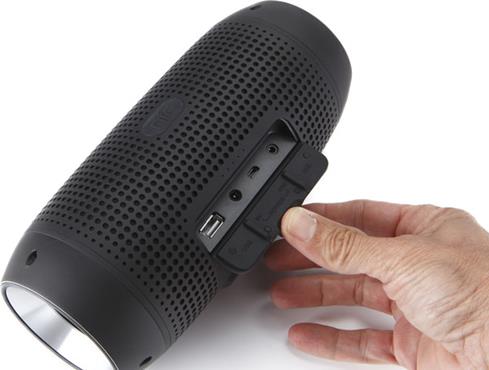 Pull back the rubber flap to access the aux and charging inputs. An AC adapter is included, but you can also use a mini USB connection. Charge your phone with the USB input.
A second opinion on the One
Back in the office, I sought out a critical listener for his take. Crutchfield Advisor Cory worked for years as an audio engineer in a recording studio.
"I've been on a pretty big 70's Clapton kick lately, so I started with some songs off the Backless album," he said, "It's a pretty well recorded album and everything came through in a balanced fashion."
Most portable speakers distort at higher volumes. Cory noted that that even as he cranked it up, "nothing became too harsh."
"Smaller speakers can usually reproduce highs pretty well, so I look at the low-end response to see what sets one unit apart from another," Cory said. "'Next Year' by Foo Fighters has a pretty intricate moving bass line that lesser speakers can lose track of. The One reproduced those parts with ease and accuracy."
To further test the bass, Cory played the latest album from Childish Gambino. He was impressed.
Four active 1-3/4" drivers are spaced out and face in different directions, angled slightly upward. When you place the speaker on a table, the sound aims toward your ears.
"I didn't expect the speaker to be able to reproduce any of the sub bass tones that are so commonplace in modern hip-hop," he said, "but it did hold enough low-end to keep the music satisfying and full."
While Infinity doesn't claim a 360-degree sound field, Cory enjoyed good sound as he moved around the One.
"The dispersion around the speaker was even. There wasn't really a bad spot to be," he said.
Final Thoughts
Does the One do enough to stand apart from the pack? It's well-built, has long battery life, and sounds awesome. For extra-rugged outdoor applications, other options may make more sense. But for stationary use and occasional outings like the tailgate, it's a winner.