14 questions for Axel Grell, Sennheiser's headphone guru
A conversation with the company's lead headphone designer
Heads up!
Welcome to this article from the Crutchfield archives. Have fun reading it, but be aware that the information may be outdated and links may be broken.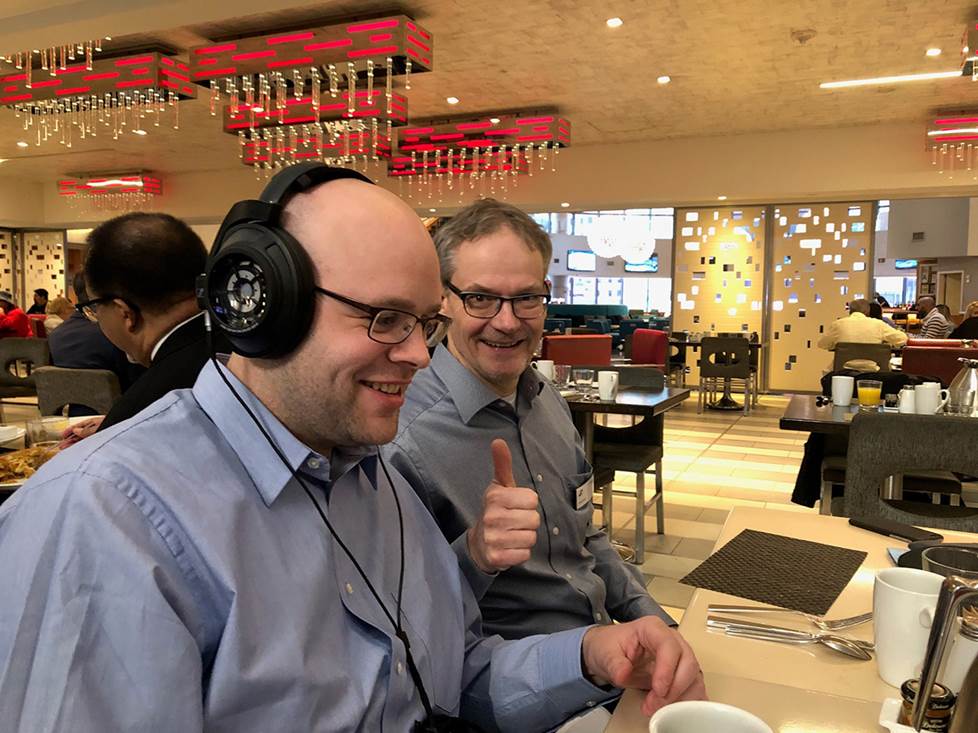 Axel arrived from Germany with the new Sennheiser HD 820 headphones — complete with gleaming Gorilla Glass earcups. (Photo by Tommy Kinstle, Crutchfield)
There's something special about slipping on a pair of Sennheiser headphones — you can almost sense the company's storied history. And for nearly 30 years, chief engineer Axel Grell has spent his time sculpting Sennheiser's distinct house sound.
So imagine my thrill to meet him in a bustling Manhattan breakfast spot to talk headphones. We were both in the big city for CanJam NYC — the world's biggest personal audio/headphone show. He arrived from Germany holding his latest masterpiece: the HD 820 closed-back headphones.
Jeff Miller: So CanJam is basically a celebration of the world's best headphones. How has this market changed in the last decade?
Axel Grell: It's nice to see it grow. Nine years ago, we released the HD 800, and there were no headphones in this price range. There were a few electrostatic models, but that's it. The HD 800 really opened up the market. (The HD 800 S is the latest version of Sennheiser's flagship open-backs.)
And these [closed-back] HD 820 headphones have that same spacious sound I've strived for since the beginning with our open-back models. But they have better noise isolation. After we settled on Gorilla Glass earcups, it took us about a year to develop a "deep drawing" [reverse-concave] earcup design that helps move air away from the driver.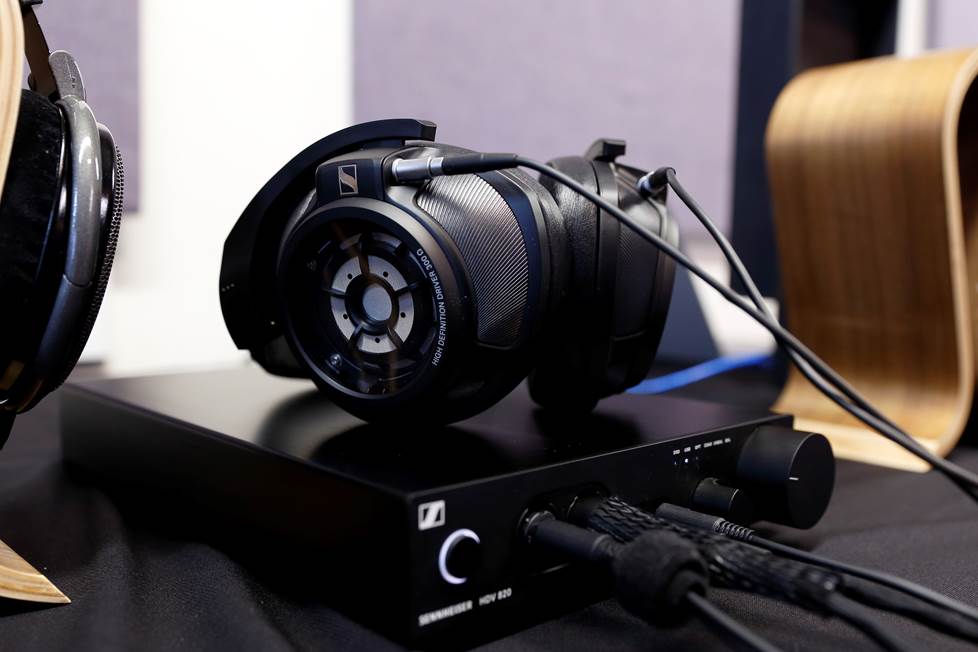 The HD 820 headphones perform their best when driven by a powerful headphone amp like the Sennheiser HDV 820.
So when did you start at Sennheiser?
It was 1991. My boss gave me a pair of headphones and said, "Make it better." And he didn't tell me how.
Just "make it better"?
Exactly. I worked a lot to make improvements. The result was the HD 580 headphones.
Many of my Crutchfield co-workers call that model their gateway into high-end headphones. How did you know where to start?
First I analyzed everything. Then I said, "OK. The damper is against this part, but that's not the root cause for the resonance…"
Then one thing after another, analyzing, coming up with new designs to avoid one failure. Try, fail again, and keep going.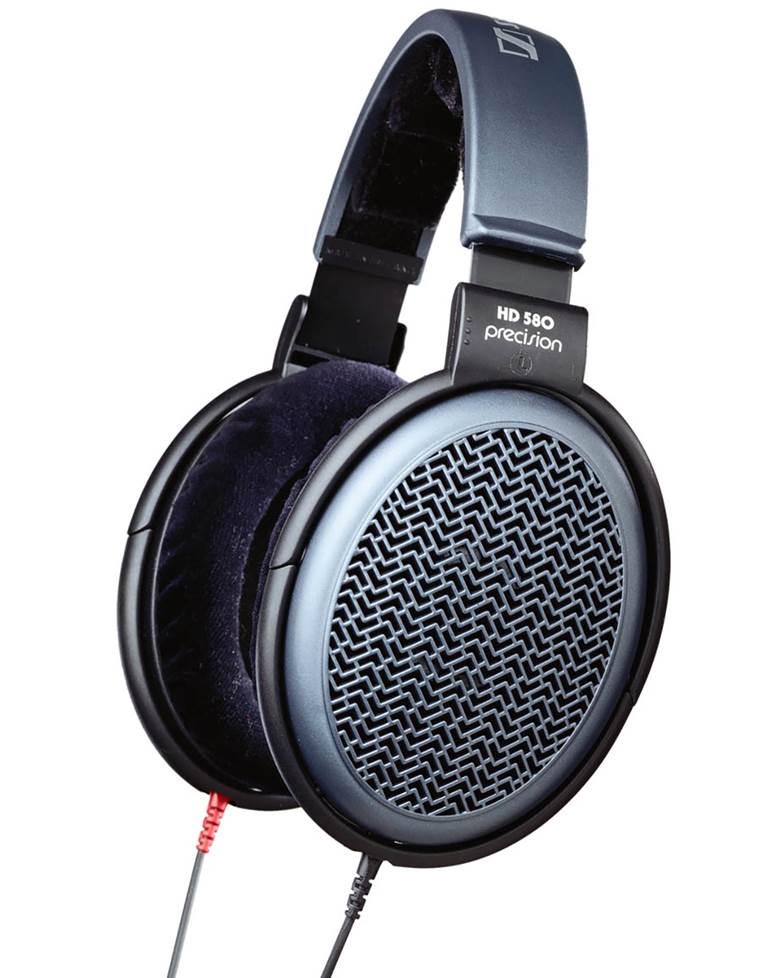 The HD 580 lineage of Sennheiser headphones is still popular among audiophiles today — the latest version is the HD 660 S headphones.
So you had some experience before?
I had an engineering background — in a former life, I built loudspeakers. Plus, I mixed live sound for my band after university.
Oh cool! What was the name of your band?
Storemage...it was a group of my friends. We actually toured Europe with a band who ended up being pretty big. We thought we would make it big, too — because we thought we were completely original. Then we heard a band named R.E.M. and said, "Maybe we're not so original." (Laughs)
So I imagine there are always design tweaks you can make to a set of headphones.
Yes, if you look at the HD 660 S, the diaphragm shape is very similar to the basic design I made back in 1992. We have made small improvements from time to time, but the shape is very similar. Of course, the same processes that took three weeks back then, now take less than two days with computers.
The simulation of complex diaphragm and voice coils can be done in real time. Back then, we had a card system for simulations and measurements — and we had to wait weeks for results.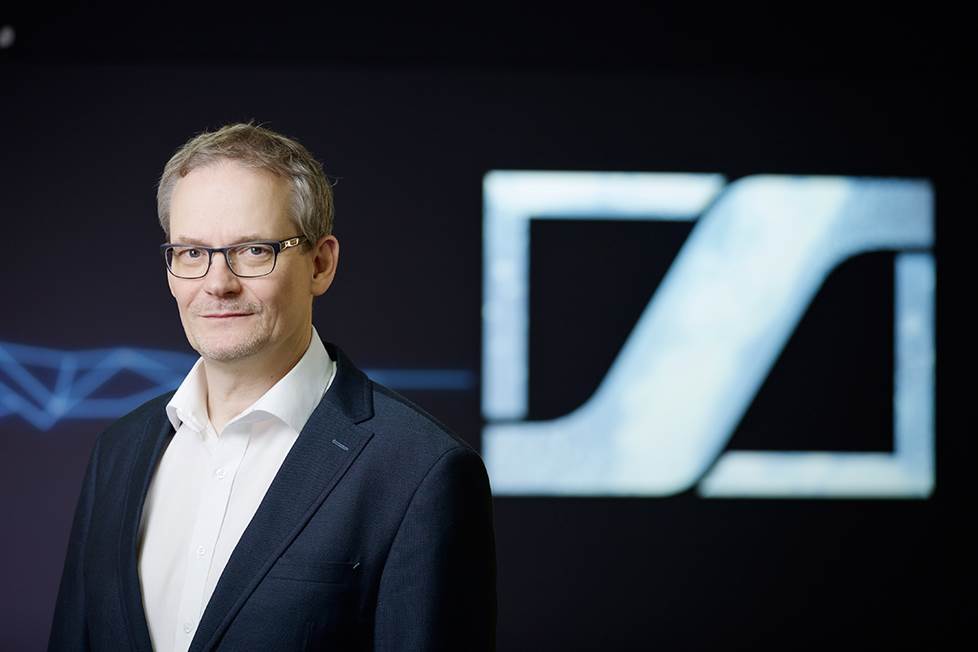 Axel Grell is Sennheiser's chief headphone engineer, and has been with the company since 1991.
So it is pretty impressive that you guys were able to get so far along back then.
Yes, I actually have [an early edition of] the HD 580 at my house. I don't get a lot of time to just relax and listen at home, but when I do, I'll still use those headphones a lot.
What other headphones do you own?
The other headphones I use at home — when I'm not testing new products — are the 800 S headphones and the original Orpheus.
(The Sennheiser Orpheus was a legendary electrostatic headphone system released soon after Grell joined the company. It was a spare-no-expense, multi-tube amplifier and headphone combo that was widely considered the best in the world — until Grell improved the design in 2015, to create the Orpheus HE-1.)
Oh wow. You were able to land one of the originals?
We had discontinued the line, and had one left. It was a little worse for wear because we used it as our demo unit. But I asked Dr. Sennheiser if I could buy it. He said sure, and I brought it home and fixed it up a bit.
How do you even approach updating "the best headphones in the world"?
I love the transparency of the original Orpheus, but it needed stronger bass. When we made the new one, I said, "we need a headphone that's not just transparent, but has some real force." (pumps fist)
With a speaker setup in a room, you don't just hear the bass, you can feel it. So you have to make something extra to recreate that with headphones.
EVENT LISTENING: My moment with the Orpheus HE-1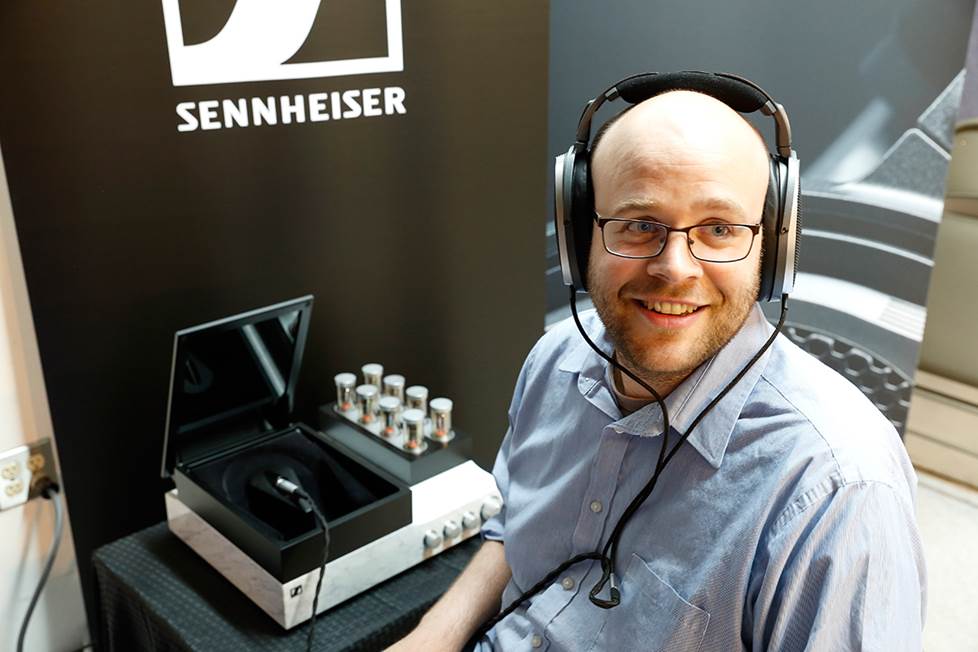 I was fortunate enough to audition the epic, $60,000 Orpheus HE-1 headphone system.
Tucked away in private suite just off the main showroom lobby, Sennheiser set up the $60,000 Orpheus HE-1 system designed by Axel Grell. They offered appointment-only listening sessions for those of us fortunate enough to make it to CanJam. The prepared playlist of high-resolution tunes were all originally recorded using sister-company Neumann's premium microphones.
Each track popped with lifelike musical detail, incredible dynamics, and pinpoint imaging. But the last song really stood out. I really don't want to spoil the grand finale — just in case you get a chance to experience this special listening event someday. But let's just say it is a song we've all heard a million times from an artist who is instantly recognizable.
My first reaction was "is this a cover?" Then I noticed the artist's distinct voice — only clearer than I'd ever heard — and I said, "Oh, this must be a different arraignment." It wasn't. This was the decades-old original recording. But I was hearing the instruments and backup vocals as never before — perfectly separated and blended.
Even powering up the Orpheus HE-1 feels like a special experience
What is the key to a great-sounding set of headphones?
The main thing is the driver. Just like with a car: you need the right engine. There are basically two schools of thought (for dynamic drivers): you can use a stiff or a soft diaphragm.
Very stiff diaphragms work really well for handling resonance within the range of human hearing. But high-resolution recordings have frequency signals above 20kHZ that can mix-down into the audible range. Resonances in that range can give you this annoying sound.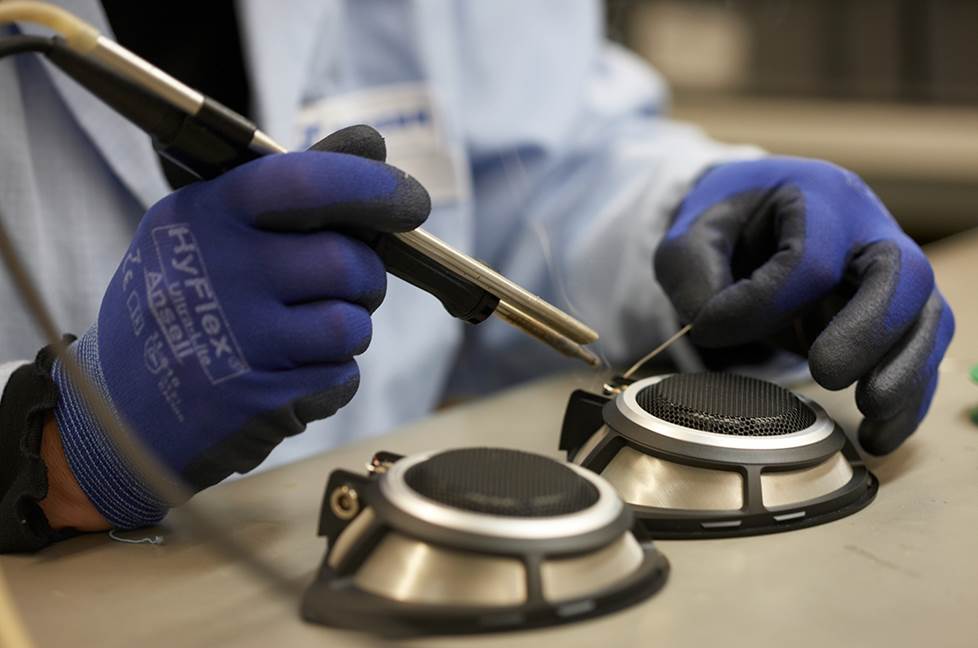 Grell's team assembles each driver of their top-shelf headphones by hand.
So you prefer soft drivers, right?
Yes, that's what we use at Sennheiser. Now, a softer diaphragm on its own can have resonances in the audible range. So we add a damping material to the driver — it works similar to a car door. If a car door were pure sheet metal, you'd hear a crashing sound every time it closed.
But with dampers, you get the nice sound that a door should have. This is how our dynamic drivers behave. You just hear the basic impulse, not all those grating high-frequency resonances.
Sounds like it's pretty important that you have full control over the sound. Do you guys build all of your drivers in-house?
We produce the transducers for nearly all of our headphones. And our highest-end models are hand-crafted by my team in Germany.
How many people are involved in your lab?
Eight, no nine. One person is in the basement constantly taking measurements. We keep our measuring equipment there because it is underground, where there is less reverberation.
Each and every driver is 100% tested for frequency response, distortion, polarity and a list of other things. Everything that could be tested is tested, and not only in the lab, but in the production.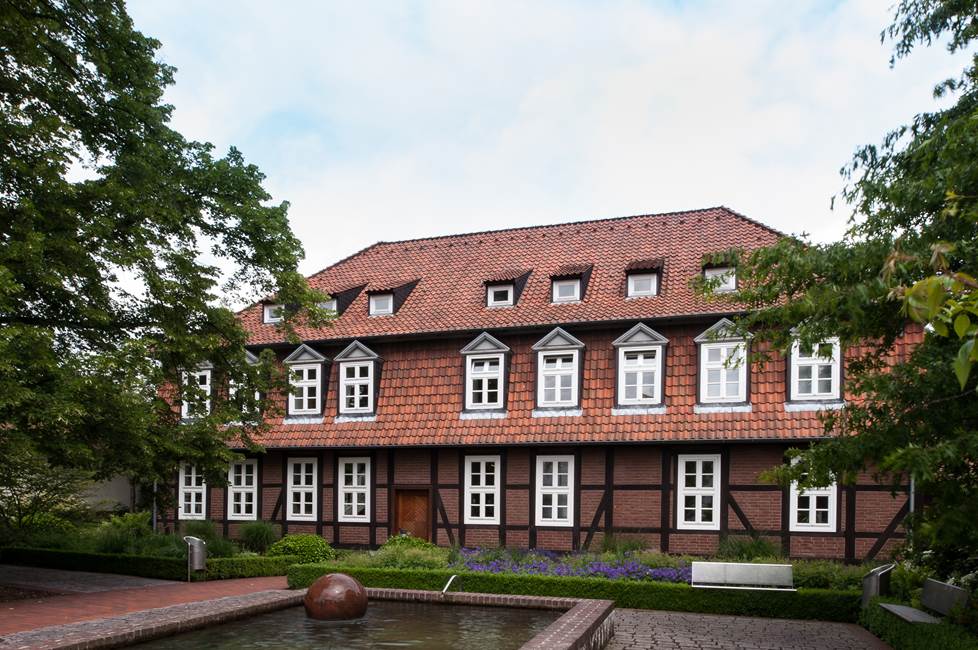 Sennheiser's original 1950s headquarters in Wennebostel, Germany. The company now employs over 2,500 people in 90 countries worldwide.
Gorilla Glass earcups are a very unique design choice. How and why did you land on that for the HD 820s?
We wanted to make a closed headphone that sounded as open as possible. So initially, we just used the HD 800 S and put a [flat, plastic] cover around it. That didn't work as well as I thought it would. So we said, "OK, the back is not good when it's flat — it needs to be concave."
And the plastic was not stiff enough, so there were resonances. It vibrated at certain frequencies. So we put some stiffening bars across the plastic. It didn't look very nice, but it worked OK for a prototype.
We were looking for a stiffer material that was also lightweight. Gorilla Glass is VERY stiff, lightweight, and it's transparent. I want to show off those transducers!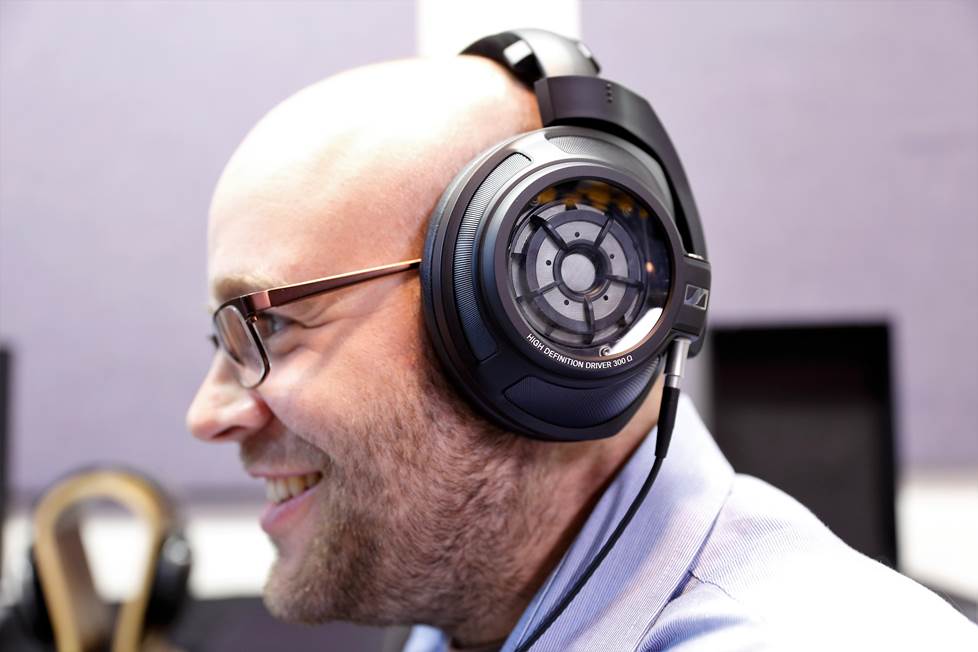 The Gorilla Glass earcups give you a glimpse of the HD 820's high-performance drivers.
So with all the tweaking and measuring that goes into designing headphones, how do you know when you have a finished product?
It's simple…very simple, really. When I listen to music that I've known very well for over 30 years, and it gives me goose bumps? Then I know I have a new creation, and the headphones are ready.
You can't influence that. It's something that just happens (snaps fingers). Measurements are really only good for the engineers. In the end, what I want to create is a direct connection to the music.