Intro to home and field recording
What you need for a home studio or mobile recording
Are you thinking about turning a spare room into a home recording studio? Looking for a portable kit to record live performances? You can get great results with gear that's surprisingly affordable. This article will help you choose the equipment that's right for your purposes.

Compact digital audio recorders make it easy to capture high-fidelity recordings of live performances.
Recording live performances
The simplest solution for field recording is a handheld digital recorder. These lightweight battery-powered recorders have built-in microphones that capture live sound in remarkably crisp and accurate detail.
Features like automatic record level settings, built-in limiters, and low-pass filters make it easy to get good clean sound without watching meters and twisting knobs all night. On the other hand, some models do allow advanced users to connect outboard microphones and set levels manually. Many portable recorders even incorporate features you'd expect in a computer-based multi-track home recording system.
Laptop computers and tablets can also be used for battery-powered field recording or mobile podcast production. Some microphones can be connected directly to a computer via USB or to a tablet via a simple adapter. The microphone's signal goes to an audio recording program in your computer or tablet.
To connect multiple microphones to your laptop, use a compact USB-powered digital audio interface (a component that will be equally useful in your home studio).
Recommended accessories for field recording:
Equipping your home studio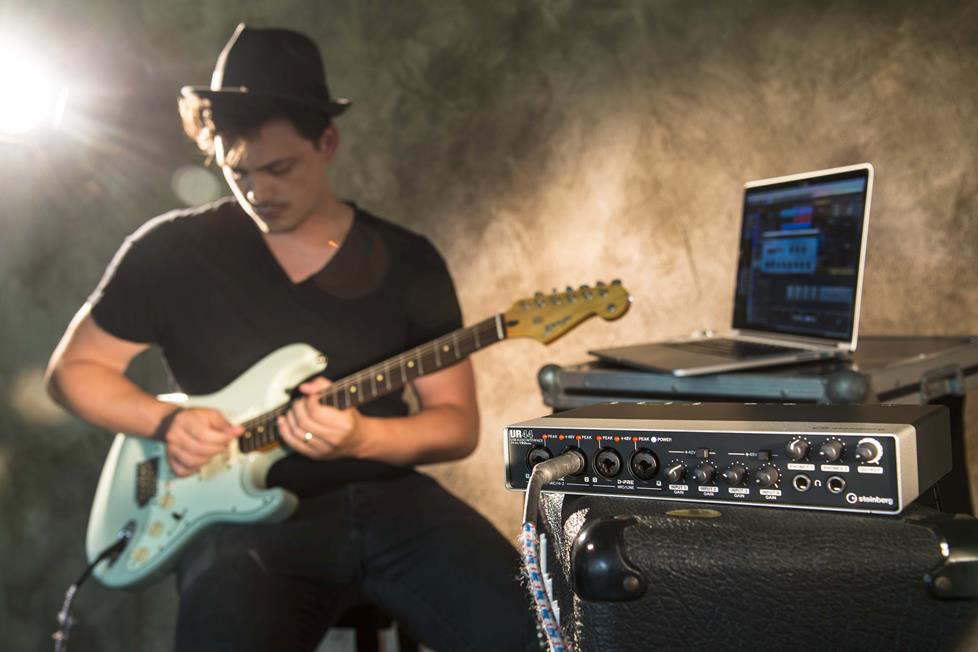 Plug instruments and microphones into your audio interface for recording with your computer.
To set up a basic home studio, all you need is a spare room and a few pieces of gear. Say you're a singer/songwriter who wants to produce a home-made CD to sell at your gigs or create some digital music files to share or sell online. A starter system might include the following:
The interface usually comes with a starter version of a popular DAW program. These programs typically includes basic instrument sounds, a few drum loops, and some signal processing "plug-ins" to sweeten your tracks with effects like reverb and delay.
Your DAW records multiple tracks of audio and lets you tweak and mix the tracks to get the sound you're after. Then you can burn your song files to CD or distribute them online at a site like SoundCloud.
With a starter system like this, you'll typically record one or two tracks at a time. You won't be able to use multiple microphones to record drums on separate tracks.
To record a lot of musicians playing all at once, you'll need higher-level gear, and more of it. You may need a more powerful computer and a bigger hard drive. You'll may need to use a mixing board in addition to (or in lieu of) the audio interface. And you'll need a headphone distribution system, so multiple performers can hear the mix at the same time.
Before you invest in an audio interface, check the computer requirements. Some of the newer hardware and software won't work with older computers or slow connections like USB 1.0. Make sure you have a compatible CPU and operating system, plus enough RAM and hard disk space to do what you want to do. It takes a lot of processing power and disk space to record lots of tracks at the highest quality settings.
To get an idea of what it's like for a beginner to use a DAW, watch this PreSonus video:
More information
See our other pro audio buying guides:
To learn about DAW software try the following sites:
Last updated 9/24/2019