iOS music creation 101
Learn about the gear and apps you need to practice, perform, and record music with your iPad or iPhone
Heads up!
Welcome to this article from the Crutchfield archives. Have fun reading it, but be aware that the information may be outdated and links may be broken.
You don't need a studio full of gear or years of practice to have a blast making great sounds with your iPad® or iPhone®. All you need to get started is GarageBand® or another music-making app of your choice. You can have instant fun making beats, singing along with karaoke tracks, or playing virtual instruments.
But you can go way beyond fun and games. Get to work with an app that helps you practice your instrument. Add an accessory or two, and you can make polished, professional-sounding multi-track recordings, then easily share them with your fans.
There's a vast array of hardware and apps to serve whatever purpose you have in mind. This article will help you find the right tools.
---
Playing with built-in sounds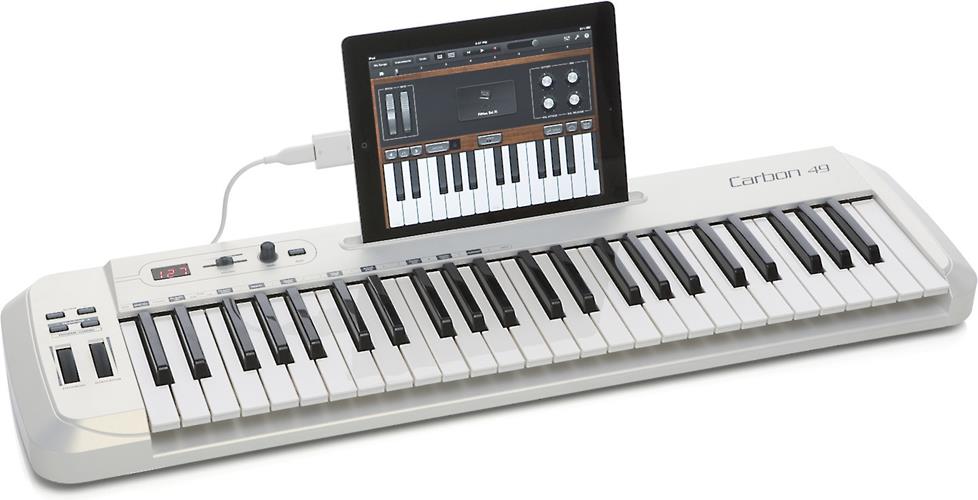 Use a MIDI controller to play virtual instruments with greater ease and expressiveness.
A good place to begin your music-making journey is by using your touchscreen to play the "virtual instruments" that are built into apps like GarageBand. To learn all about how to use GarageBand for iOS, check out the Groove3 tutorial series or search YouTube™ for free video lessons.
To make the virtual instruments feel more like real ones, connect a MIDI controller. A MIDI controller is a small piano-style keyboard or percussion pad. It's like adding a typing keyboard for word processing with your iPad.
---
Try an external microphone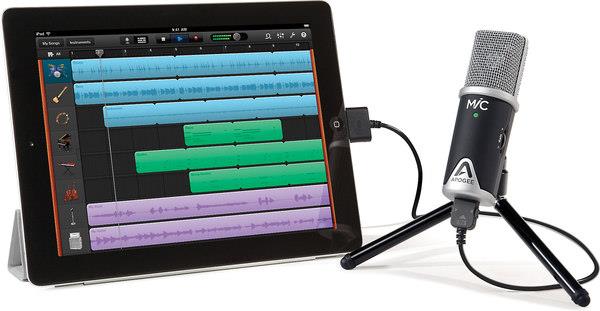 Apogee's Mic 96K iOS microphone records vocals and acoustic instruments to your iPhone or iPad with studio quality.
Try the built-in mic for recording voices and real instruments. Once you get the hang of it, you'll be eager to find better ways to capture sound.
The simplest approach is to connect an iOS microphone, one that plugs straight into your iPad or iPhone. If you'd rather use a different sort of microphone or plug in an instrument, get an iOS audio interface.
An audio interface like the Focusrite iTrack Dock lets you record two audio sources at the same time. You can lay down vocals alongside an instrument track. There are two XLR inputs for microphones and two line inputs for keyboards or drum machines. Plug an electric guitar or bass into the instrument input. If you have a compatible MIDI controller with a USB output, you can connect it to the iTrack Dock's USB input.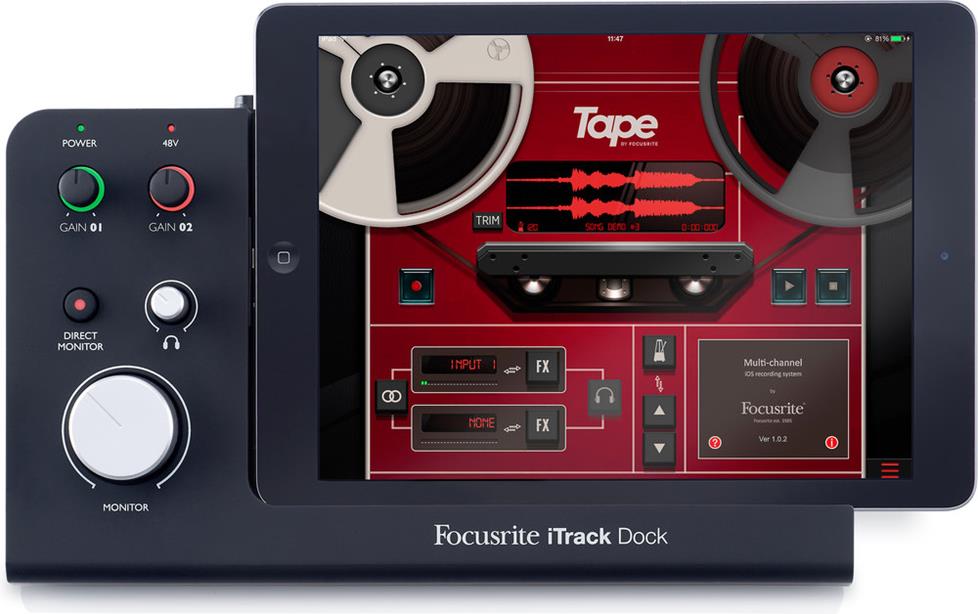 The Focusrite iTrack Dock comes with a simple recording app called Tape.
Like a computer recording interface, the iTrack Dock lets you connect headphones or powered studio monitors to hear what you are recording or play back your takes. The Direct Monitor button sends the input signals from your mics and instruments directly to your monitors (instead of routing the signal through your iPad first). This means your timing won't be thrown off by the slight signal delay (called latency).
Looking for an alternative to GarageBand? There are plenty of good recording apps out there. Some are even simpler than GarageBand, while others are nearly as sophisticated as the top computer-based recording programs. Consider these:
---
iOS for guitar
Connect your guitar to an interface like the iTrack Dock, and you'll find no shortage of apps to explore. Here are a few to take a look at:
Amp and effects simulators
Learning tools
---
How will you listen?
The tiny speakers in your iOS device are OK in a pinch. But they won't let you hear all the highs and lows. If you're the least bit serious about making and listening to music, you'll want a good set of headphones and a wireless speaker.
For guitarists, one wireless speaker really stands out. The Line 6 AMPLIFi™ 75 is a beast of a speaker for music streaming. But it's also an amazing guitar amp that doesn't look out of place in your living room.
---
More cool iOS music-making apps
Loopy HD — Layer recordings of your voice, your instruments, or any other sounds. This app was made famous by Jimmy Fallon and Billy Joel, who used it to record a four-part doo-wop duet on the Tonight Show.
Red Karaoke — Red Karaoke provides professional-quality backing music and on-screen lyrics for singing along with a wide selection of popular tunes. You can change the key of a song to match your voice. If you have an Apple TV, you can use AirPlay to display the lyrics on your TV. Make a video of your performance and share it with your fans.
Drum beats+ — A drum machine app that earns kudos because it's incredibly easy to use and sounds great. It comes with 100 pre-recorded beats, and you can buy more, of course.
Audiobus — An app that lets you chain apps together and use them simultaneously. For example, you could feed a drum machine app and a guitar amp simulator into a recording or looping app.