JBL Flip portable Bluetooth® speaker review
This compact speaker offers more than just portability
Heads up!
Welcome to this article from the Crutchfield archives. Have fun reading it, but be aware that the information may be outdated and links may be broken.
If you're a music nut like I am, you rarely like to be anywhere without a song playing in the background. And while headphones are one way to accomplish this, sometimes it's nice to share the wealth and let others hear what you're listening to. Plus, you don't always want to be isolated from what's going on around you.
So I spent a recent Saturday with the JBL Flip to see what kind of sound this compact Bluetooth speaker can deliver. I stayed home all day, but I was always on the move. And the Flip came with me just about everywhere I went, paired with my iPod touch® to provide a nice soundtrack to my day.
That's the beauty of the Flip – it's very small and portable. Its cylindrical design is about the size of a soda can, though a little longer, with a flat bottom to keep it stationary. Two 1-5/8" internal drivers are powered by dual 5-watt amplifiers. There's also a bass port concealed somewhere beneath the Flip's exterior to help enhance low-frequency response.
Sound quality and quantity
I started my day by quickly pairing the Flip with my iPod touch so I could stream music from MOG, an online music service similar to Spotify. The Flip's big sound easily cut through the din of the exhaust fan and streaming water while I took a shower (the Flip isn't waterproof, so don't even think of bringing it in the shower).
The quantity of sound was impressive from something so compact. The bass output is pretty light, and the sound signature skews toward the high end of the frequency spectrum. But it does so with clarity and openness that similarly priced speakers can't always replicate.
I brought the Flip to the kitchen while I made breakfast for my kids. After honoring their request of "Gangnam Style," I played "Relatively Easy" from Jason Isbell's Southeastern. Isbell's acoustic guitar caught my attention as it sounded full and detailed. When the piano entered, it paired beautifully with the guitar, giving the Flip's sound more depth than I had previously heard. This little speaker had some tricks up its sleeve.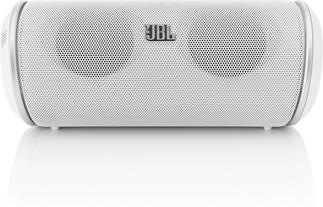 The Flip features 2 1-5/8" drivers and dual 5-watt amplifiers to generate lots of sound from its compact size.
Take it out in the sun
It was a perfect day to get some yard work done, and what better way to keep motivated than with music. I switched from MOG to some lossless tunes stored on my iPod touch. When I first took the Flip outside, I wasn't expecting much. I figured this tiny speaker's sound would disappear in the great outdoors.
But the Flip's outdoor performance surprised me. It put out enough sound to broadcast Sam Cooke's smooth voice on "Bring It on Home to Me" with enough volume to make me hope my neighbors are fans of this soul legend (isn't everybody?). I set the Flip on the bottom step of my deck along with my iPod touch before pulling weeds and cutting tree limbs for an hour. Even as I hauled the debris to the woods behind my house, a good 40 yards away, I could still hear Cooke's voice broadcasting across my lawn.
Battery charging and wired use
It was time for a break – for me and the Flip. I needed to recharge with some lunch and the Flip's built-in battery needed a recharge as well. A fully charged battery will allow up to five hours of operation. A status light on the Flip lets you know when the battery is running low. When charging with the included AC adapter, the light will turn off when it's fully charged and ready for use again.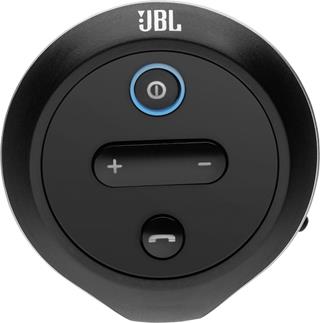 The Flip features volume controls, a call answer button, and a status light to indicate low battery power and Bluetooth pairing.
I plugged it in and grabbed my iPad® to watch a few minutes of "Breaking Bad," my latest Netflix obsession. The Flip makes an excellent tablet speaker, far superior to the miniscule one built into the corner of my iPad. Even for our aging portable DVD player – a staple for long car trips with the kids – the Flip could elevate the sound to louder and clearer levels. No, our DVD player doesn't have Bluetooth. But thanks to the Flip's miniplug AUX input, you don't have to go wireless. It also makes the Flip attractive to those of us clinging to an iPod classic®.
Good recordings yield good results
After lunch, I wanted to start writing down my impressions of the Flip for this review. I went downstairs to my computer with the Flip in tow. As I was writing, I listened to Otis Taylor's My World is Gone. It continually made me stop typing and listen, as it brought the best out of the Flip. The guitars and banjos further revealed its strength with acoustic instruments. And the electric guitar solo on "Blue Rain in Africa" was almost jarring with its dynamic punch. This beautiful recording illustrated this tiny speaker's ability to grab your attention.
Use it as a speakerphone
That evening, we had friends over for dinner. I grabbed the Flip to provide a little background music. My friend Mike was intrigued. He wasn't thrilled with one of my music choices, so I let him take control. He pulled out his iPhone®, paired it with the Flip, and quickly starting streaming his own selections.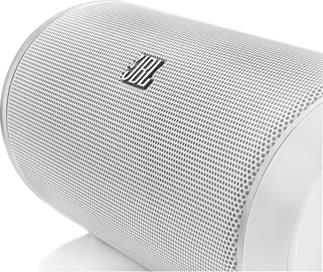 Suddenly, he looked puzzled. "What happens if I get a phone call?" he asked. I turned the Flip to the side and showed him the "call-answer" button. "Just press this and use the Flip as a speakerphone," I said. He nodded in approval as I told him about the built-in microphone and how the music would automatically pause during phone calls.
The bottom line
All in all, it was a pretty good Saturday made even better with The JBL Flip at my side. This impressive speaker isn't going to be confused for a giant-killer offering the last word in wireless sound quality. But at this price, it just might be the perfect entry point. It packs a lot of value into its compact size, with sound quality and quantity that was eye-opening. Best of all, it's easy to grab and take just about anywhere – without any wires slowing you down.