KEF LS50 and LS50 Wireless speakers review
Two pairs of elite speakers that left us smiling
Heads up!
Welcome to this article from the Crutchfield archives. Have fun reading it, but be aware that the information may be outdated and links may be broken.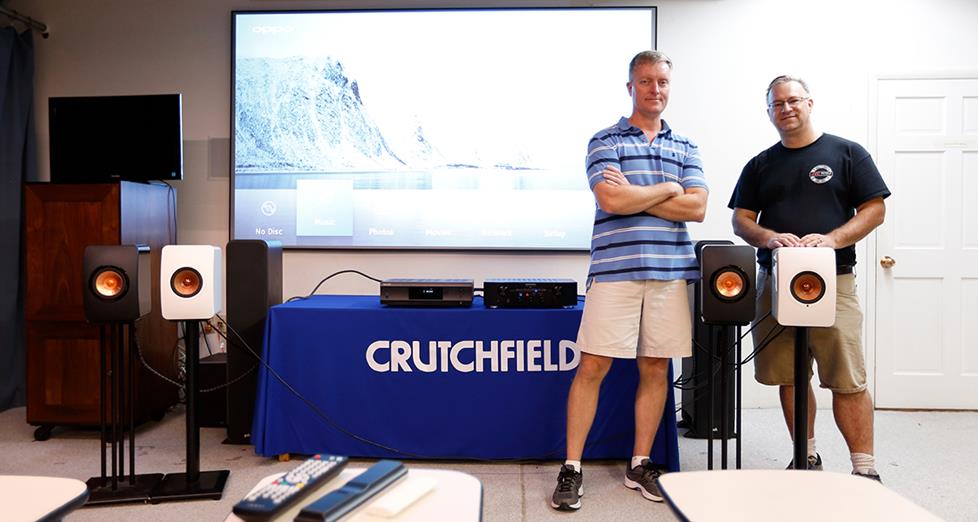 Meet Dave and Travis, members of our "Demo Days" crew; a group of A/V enthusiasts who love setting up speakers for us to listen to.
One of the best parts of working at Crutchfield is listening to the variety of speakers that come through our doors. We were especially jazzed when we got to rock out to two pairs of nearly identical KEF LS50 speakers.
Both pairs have the same drivers and design, but with one key difference. The passive LS50s connect to an external amplifier or receiver for power, while the LS50 Wireless have built-in, driver-matched amplification.
We wanted to hear how similar (or different) they sound. We also wanted to get a sense of how to choose between them for a new stereo system. Read on to find out what we heard.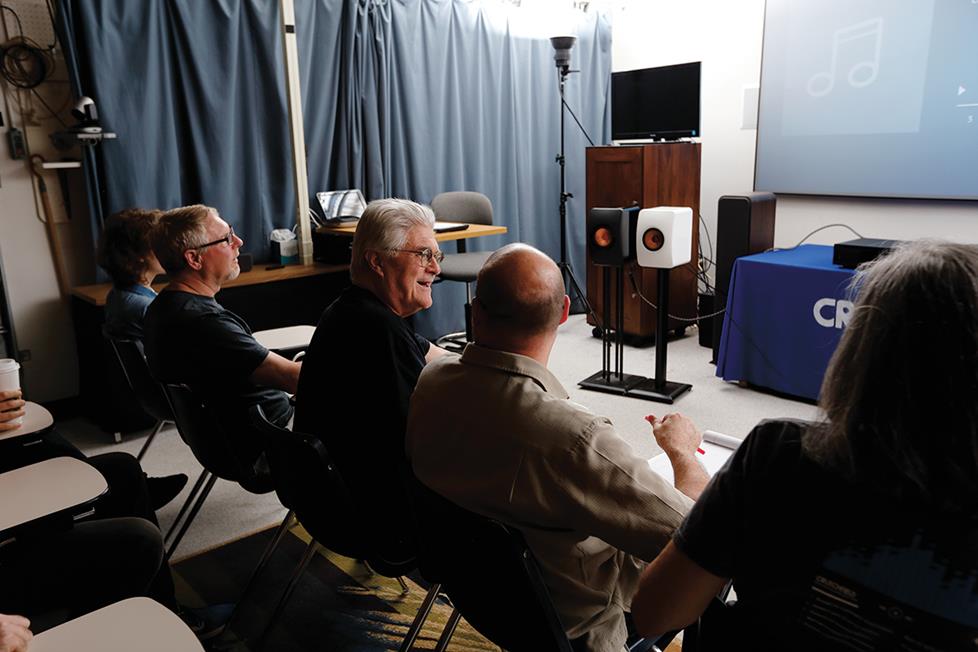 We were stoked to listen to both pairs of KEF LS50 speakers side by side.
KEF has a well-earned reputation for building superb speakers. We've known about their excellence for years, but only recently started carrying these two models. We couldn't wait to test them both.
Our listening setup
We held the demo in our vendor training room. Both sets of speakers got their signal from FLAC files played through the Oppo UDP-205 Blu-ray player. The passive LS50s were driven by the Marantz PM7005 integrated amplifier.
We made sure that the volume level of the KEF LS50 Wireless and the Marantz amp were the same. This made toggling the mute buttons on each remote simple, allowing for a real-time performance comparison. We switched back and forth multiple times during each song to spot any sound differences.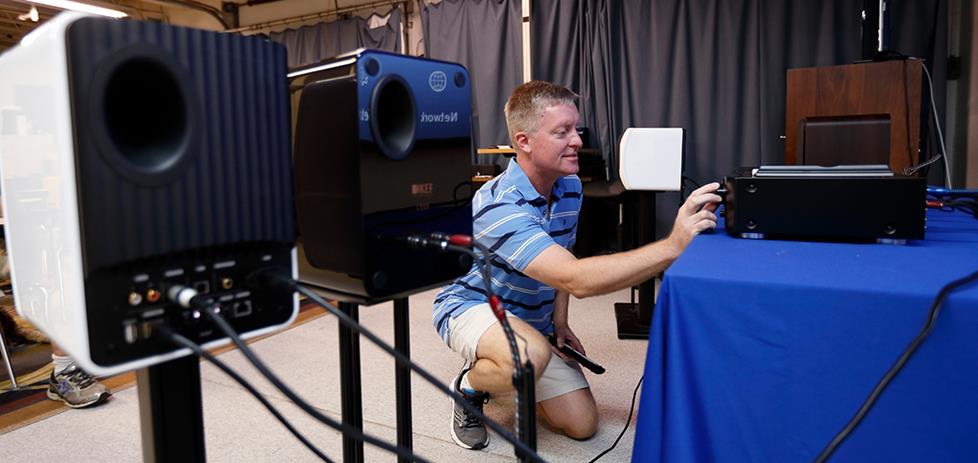 Dave fine-tuned the settings prior to our listening session.
Feedback from our staff
As we listened, spirited conversations sprouted up. It seemed like there was nearly a 50-50 split among the listeners on which pair they preferred. Some felt that the LS50 Wireless created a soundstage that was both more focused and a little larger than the traditional LS50s. Others felt the passive speakers created more of a "live show" feel.
"The differences between the two were more obvious on some tracks than on others," said Jim Ralston, web editor and rock drummer. "Often it was very subtle. To my ears, the passive speakers 'rock out' just a little more, with a slightly more forward midrange. I loved how they articulated all the detail of Billie Holiday's super-expressive vocal on 'Lady Sings the Blues.'"
"On the other hand, I think the powered speakers have a more controlled, accurate overall presentation, with a bigger, wider soundstage," Jim said. "I think they have a slight advantage in low frequency extension, too. The stand-up bass on Bill Evans' 'Waltz For Debbie' was rich, fluid, and detailed."
Our group noted distinct tonal differences between the two models. But these differences shifted depending on what we listened to. For example, on some tracks the bass response was stronger on the powered speakers, but on others the passives had more powerful low-end extension. There wasn't a clear-cut winner.
Ultimately, each model proved itself worthy as the centerpiece of a stereo system, producing pinpoint imaging and a wide "sweet spot." We did definitively agree that both pairs lived up to the reputation that preceded them. Charlie, web editor and lifelong musician, summed it up nicely: "If my life depended on choosing between the two, I'd be a dead man."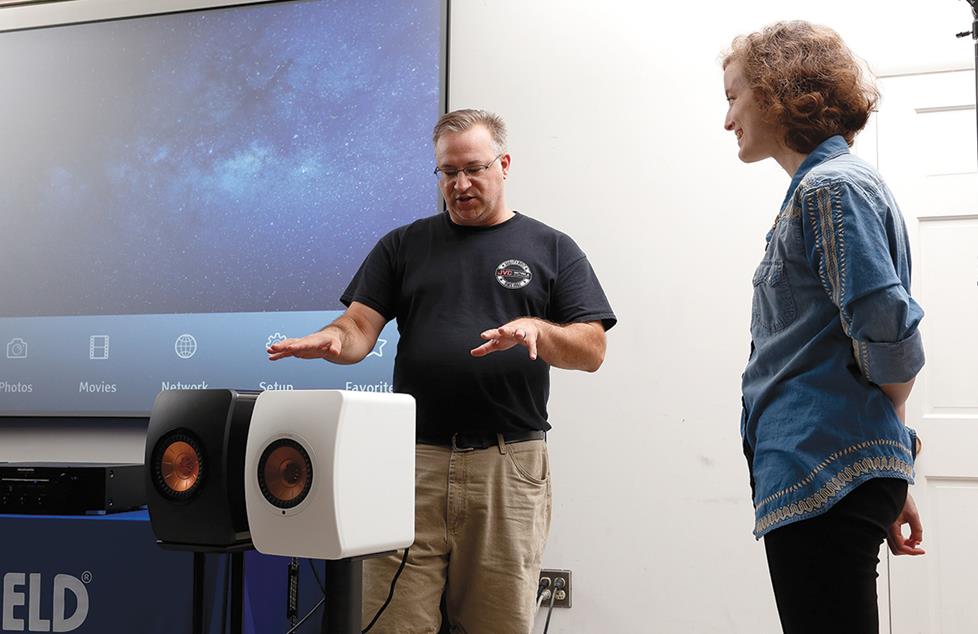 Travis explains the differences between the two models to Hannah after the listening session.
Which LS50s are best for you?
LS50 Wireless
If you're building a new stereo system and want to keep things simple, the LS50 Wireless are an excellent choice. They're the ultimate minimalist hi-fi rig, since they have high-quality amplification and digital-to-analog conversion built in. No external amp to contend with makes for a clean, high-performance system that doesn't take up much real estate in your room.
The LS50 Wireless offer both analog and digital inputs for connecting a turntable, CD player, or your TV. Or stream music over Bluetooth® or through Wi-Fi® from your home network. You can also connect an external subwoofer if you want more bass in your system.
These speakers have some cool hidden features, too. On the back panel you'll find buttons that let you designate where in the room the speakers are located. Choose from your desk, speaker stands, the wall, or "free space" for intelligent room equalization. Want more hands-on control of EQ and room adjustment? Download KEF's free app and fine-tune your system from your phone.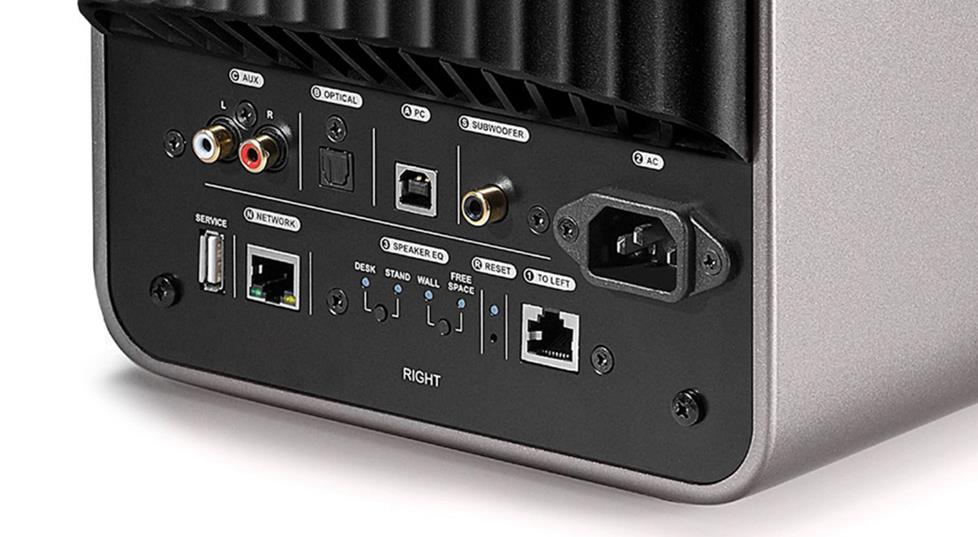 The LS50 Wireless speakers offer a variety of inputs for your entertainment sources.
LS50 passive speakers
Do you already own a high-quality amplifier, or are in the market for a new one? If your answer is yes, and you want to build your system around it, the passive LS50s are the obvious choice. KEF has spent decades refining the sound of their reference-level bookshelf speakers. The aptly named LS50s are the culmination of their hard work, marking 50 years of speaker innovation.
Most folks that choose the passive LS50s use them in a two-channel stereo system. But KEF also designed these beautiful speakers for home theater use as well. You can purchase a single speaker from KEF to use as the center channel of a voice-matched 5.1- or 7.1-channel surround sound system.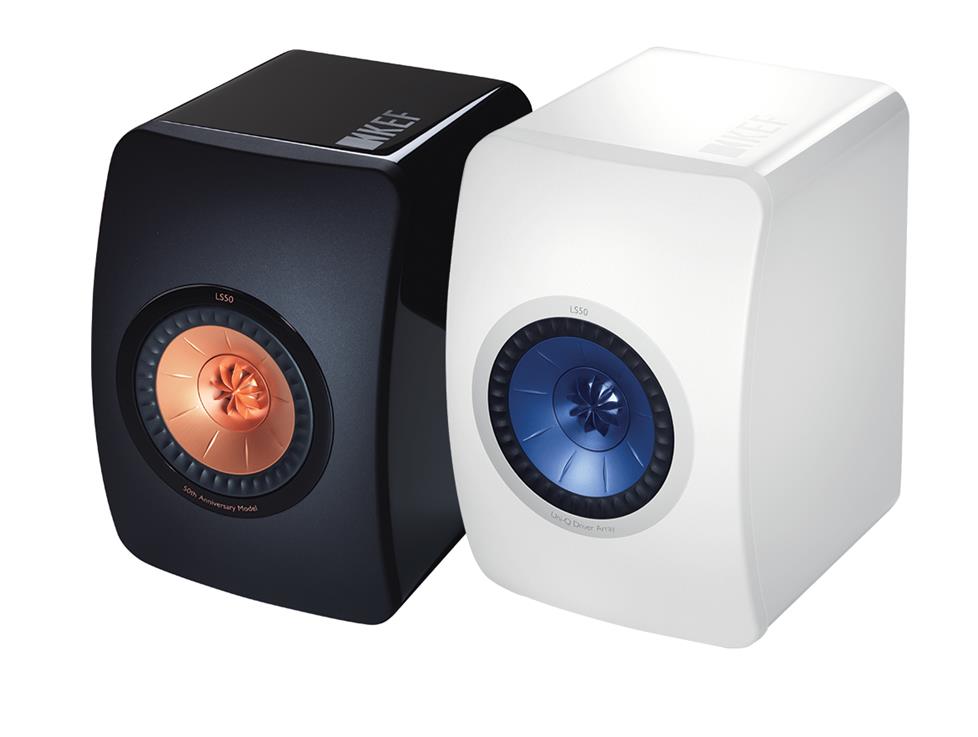 The 50th anniversary KEF LS50 bookshelf speakers are available in two high-gloss finishes. Their grille-less design makes them really stand out in your room.
Let your ears be the judge
Ready to give a pair of LS50s a shot? We know it's hard to choose high-end speakers without being able to listen to them in your home. That's why we offer a 60-day total satisfaction guarantee. If they don't end up being the right fit for your system, just return them in like-new condition for your money back.
Personalized advice from our team of experts
Have questions about these speakers? Our expert Advisors know them. Contact us today. Free lifetime tech support is included with every Crutchfield purchase.