Hope for Android users?
Kenwood's new Music Control app for Android
Heads up!
Welcome to this article from the Crutchfield archives. Have fun reading it, but be aware that the information may be outdated and links may be broken.
If you're an Android phone user and car audio enthusiast, you may feel like the deck is stacked against you. "Made for iPhone®" pops up on nearly every new car receiver's feature list, but there's not a lot of love out there for Android phones. Sure, you can connect your Android phone to a new car receiver with a patch cable to the auxiliary input, or even use a Bluetooth link. But these connections have their limitations, both sonically and in the amount of control they offer from the receiver.
But the winds may be shifting towards Android. Kenwood's new Music Link for Android feature, available on all their 2012 receivers with USB inputs, offers a new level of control over the music stored on your Android device.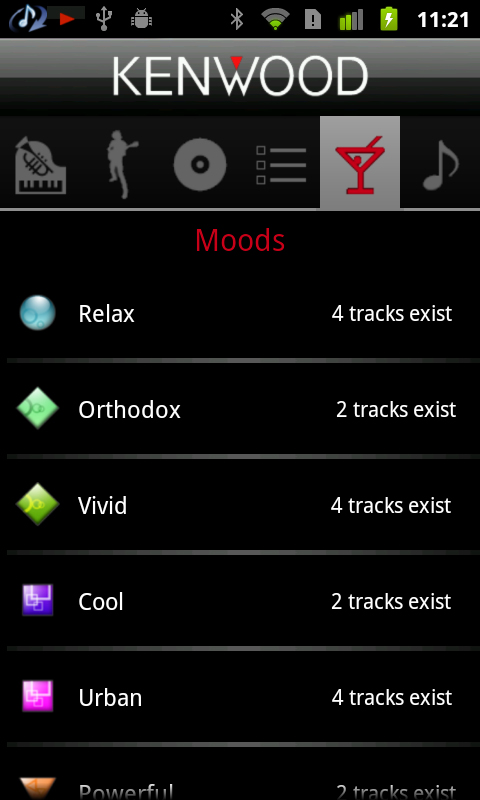 The Mood Search screen
Music Control
The first thing you'll need to do is to head to the Android Marketplace and search for "Kenwood Music Control." The app is free, so download it and install it on your Android gadget. The app will import and categorize your music, which might take a little time, so you may want to give it a chance to do its thing overnight before you try it out.
iPod® functionality (only better)
When you're setting out for a drive, plug your Android into the USB input on your Kenwood receiver and you're ready to enjoy your music. According to the latest scoop from Kenwood, you'll have search features for playlists, artists, albums, songs, and genre. That's familiar territory for those of us used to using an iPod, but Music Control goes a bit further with Mood Search — it sorts your musc by moods like Relax, Vivid, Cool, Urban, and more.
How's it work?
We get a lot of questions from Droid fans on compatiblity of car audio gear with Android phones, so for Android users, this is pretty promising stuff. We'll be setting up some tests in the Crutchfield Labs soon to check out how well Music Control gets the job done with a variety of different Kenwood receivers.
I'll be back with more soon!