Klipsch Groove wireless speaker review
Our take on this splash-proof portable Bluetooth speaker
Heads up!
Welcome to this article from the Crutchfield archives. Have fun reading it, but be aware that the information may be outdated and links may be broken.
Some compact Bluetooth® speakers have whimsical or kitschy designs to catch your eye. Those can be fun, but the Klipsch Groove is a different animal. Designed to match the unobtrusive looks of a classic guitar amplifier, this compact speaker is more about big performance in a small package. And given how much our customers love Klipsch, we know that logo on the front is enough to capture their attention. I tried the Groove out to gauge its size-to-performance ratio.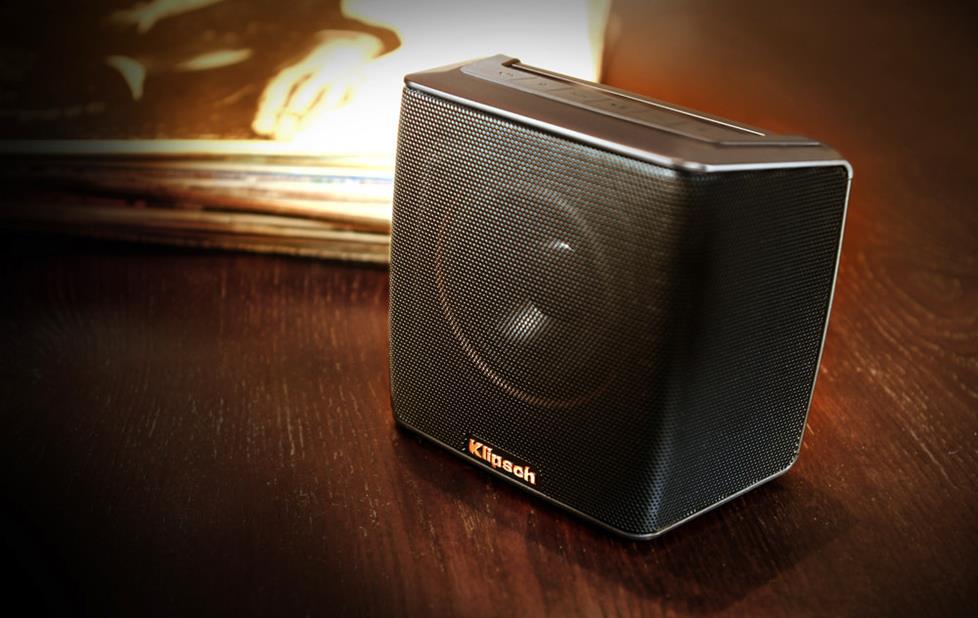 The Klipsch Groove plays music wirelessly from your Bluetooth-enabled phone or tablet.
Cataloging the speaker's features
When the Klipsch Groove arrived here at Crutchfield HQ, we were in the process of organizing our library of catalogs that we've published for the last 40-plus years. It was a tedious task — we were in dire need of some tunes to get through it.
I pulled the Groove out of the box, easily gripping the compact speaker with one hand. It's not even as tall as my smartphone, but it felt incredibly sturdy with more heft than most speakers its size. A rugged metal grille protects the 3" aluminum driver, and there are rubberized control buttons on the top panel.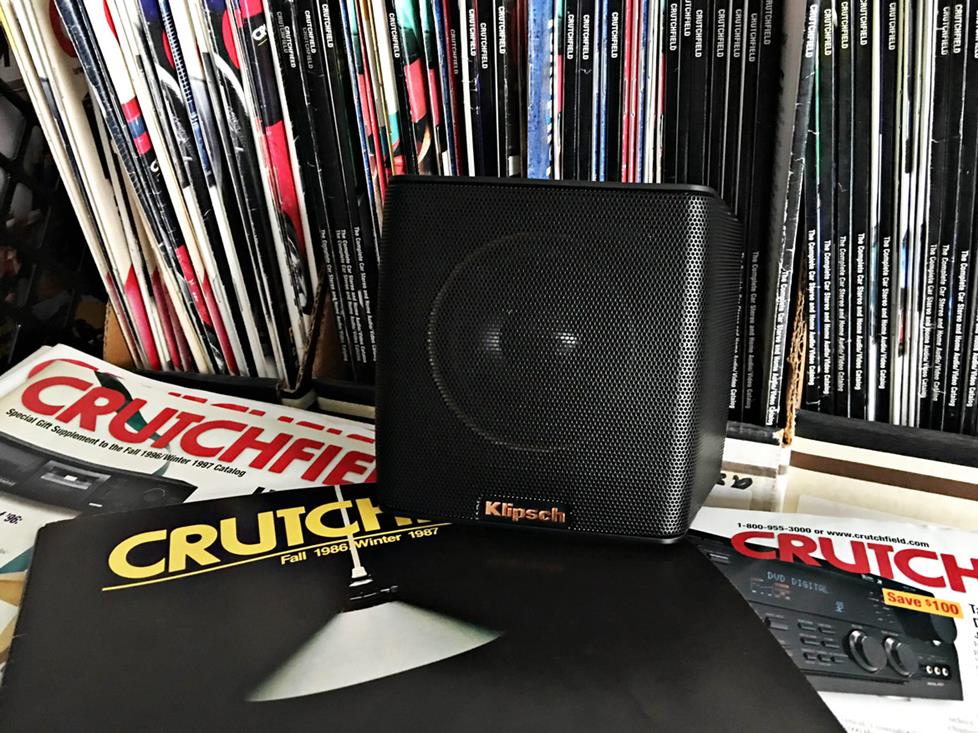 The Klipsch Groove showed up at our Charlottesville, VA headquarters just in time to help us through some housekeeping.
A quick guitar lick signaled when I successfully paired The Groove wirelessly to my smartphone. We cued up a Stevie Ray Vaughn playlist and let his energy carry us through our work. The Groove's single driver provided the muscle, while passive radiators on each side gave the speaker some extra bass response. We were surprised how much soulful sound this little bad boy put out.
Life on the road
Any good portable Bluetooth speaker needs to be able to withstand some bumps and bruises. The rough-and-tumble Groove wasn't designed to sit on a shelf. A built-in battery gives you up to eight hours of get-up-and-go listening on a single charge. It's durable and even splash-proof, so you don't have to worry about a spilled drink putting it out of commission.
I certainly put this speaker through the ringer myself. In the weeks I tried it out, the Groove provided the soundtrack to a football tailgate, garage work, and an impromptu reunion with some old buddies. It was during that last one — playing some cards and remembering good times — where the Groove really shined.
As we told tall tales, hurled lighthearted insults, and put back a few beverages, the Klipsch handled our haggard, grimy playlist with appropriate grit. The speaker stood its ground, even when we cranked the volume to compete with our voices. From Hank to Ozzy to Wu-Tang, there was edginess to the Groove's sound that you don't hear from some of the slicker speakers this size. Don't get me wrong, more pristine tracks sounded clear and detailed. But this speaker thrived during songs heavy on bass and distortion.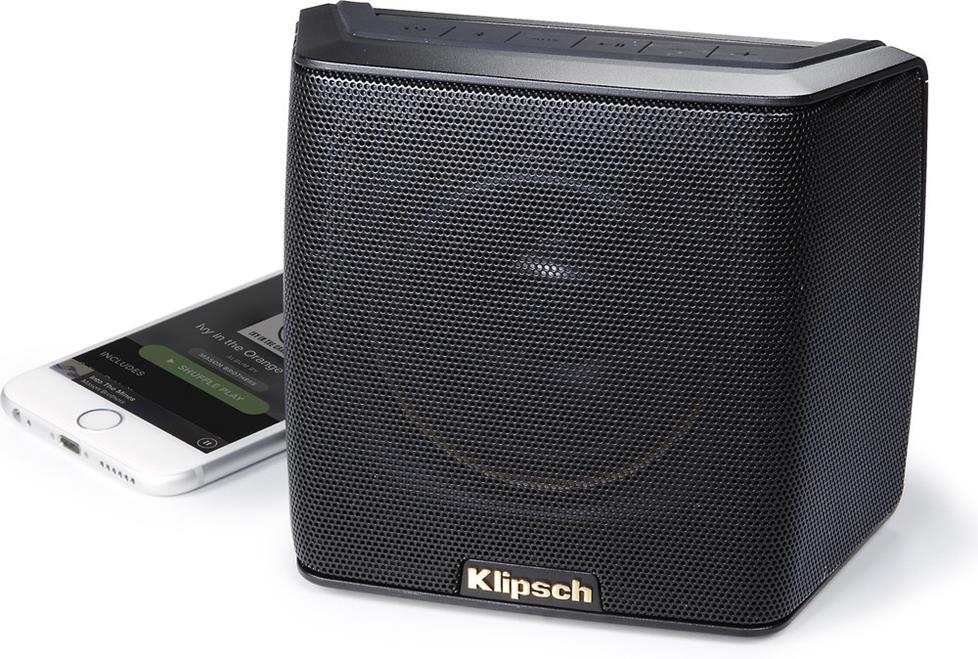 The compact Groove isn't even as tall as my smartphone.
So does Klipsch have a hit?
Music lovers looking for impressive sound from a very compact speaker will get a kick out of the Klipsch Groove. It's easy to take pretty much everywhere, and it still has the brawn to play your tunes pretty loudly. Plus it's splash-proof, rugged, and exciting to listen to. After spending some time with it, I'd certainly welcome an encore.