How to Choose a CD Changer
Heads up!
Welcome to this article from the Crutchfield archives. Have fun reading it, but be aware that the information may be outdated and links may be broken.
Why consider a CD changer?
There are lots of reasons to check out our selection of mobile disc changers. Maybe you want both cassette and CD in your car; or perhaps you'd like to enjoy CDs while keeping the non-CD factory radio in your leased vehicle. Does the idea of cruising with a changer full of your home-recorded discs appeal to you?
Did you know that you can record up to 10 hours of MP3 or other format music files on a single CD-R or CD-RW? Fill an MP3-compatible changer with MP3 discs, and you can drive for days without hearing the same tune twice.
Whatever your interests or reasons, an in-car disc changer will improve the quality of your drive time.
Safety and convenience
Let's face it, it's dangerous fumbling around for a disc when you're at the wheel. A changer eliminates the distraction of changing discs at high speeds — you're free to concentrate on your driving, while you enjoy continuous music. A user-friendly remote control lets you keep your eyes on the road as you navigate through tracks.
A changer also means convenience. Your discs are organized in the changer, so they won't get damaged or misplaced rattling around on the floor of your car. Since it installs in your trunk or under your seat, your changer will be safely out of sight and pose no temptation to would-be thieves. If you select a changer with disc titling or ID-3 tag display capability, you'll be able to keep track of artist, disc, and track information on the readout of your compatible receiver (or on your add-on changer display/control panel).
Warning: removing your seat could deactivate your vehicle's SRS system.
What are your options?
Picking a changer for your vehicle isn't difficult. You'll find a couple of options, one of which should be perfect for your particular situation:
1) Add-on Changer: If you're driving a leased car or cruising in a classic vehicle, you might be hesitant to swap out the factory radio for a new in-dash receiver. Fortunately, that doesn't mean you have to give up the many advantages of a changer. With an FM add-on (or RF) Changer Package, you can get terrific-sounding results playing an add-on changer through your existing FM radio.
Universal add-on CD changers work with any car stereo with an FM tuner. The changer uses an FM modulator to let you play your CDs over an unused frequency on your FM radio without interfering with FM reception. A separate controller/display module attaches to your dash so you have direct control of the changer.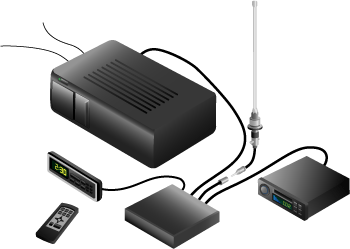 Add-on changers connect to any FM car stereo.
There are several advantages to using an universal add-on CD changer. First of all is the price tag — add-on changers are usually the least expensive way to go. A strong second advantage is its universal nature. Since it works with any FM car stereo, you can move it to your next vehicle.
A minor, but fun, benefit, is the direct control/display panel. It is often easier to use than the factory radio's controls. And some controllers will display CD titles and song names — a very handy feature on changers that play song-laden MP3 discs.
2) Receiver/Changer Combo: If you already have an aftermarket stereo, or are thinking about getting one, adding a CD changer to it (the two units must be from the same manufacturer) might be your best option. You'll enjoy the superior performance of an aftermarket receiver and the convenience of the CD changer. And you'll appreciate the ability to re-install them in your next vehicle.
3) Factory Integration: Crutchfield offers an a few CD changers for factory systems — these packages include a changer and an adapter designed for specific vehicles. We also offer adapters that let you connect an aftermarket changer to your factory radio that has CD changer controls. With these options, you retain the use of the factory radio's controls to run the changer and enjoy full digital sound quality. (Remember, this option only works in certain vehicles, so check with an Advisor at 1-888-955-6000 before ordering.)
What to look for
With all the technology built into these versatile changers, it can be confusing trying to pick the one that's right for you. Here are a few things to look for:
Disc Titling:

If you carry multiple magazines in your car or if you record your own discs, disc titling makes it easy to locate your tunes. Some changers can read the CD Text info that's encoded on the CD by the manufacturer.

Shock Protection:

Some changers can read ahead on a disc and store up a reservoir of music data. If a bump in the road causes a CD to skip, the changer plays from the stored reservoir until the data stream is re-established — a great feature for offroaders or a vehicle with a stiff suspension.

CD-RW compatibility:

Most changers will play CD-Rs, but some will not play CD-RWs (rewriteable discs) — an important feature if you record your own discs.

MP3 decoding:

If you want to play music files that you've downloaded from your computer, look for a changer that can play MP3 (or WMA or AAC) files. The ability to read ID-3 tags (artist and track info) makes it easy to find a particular song — an important feature when you consider that up to 10 hours of music can fit on a single disc.
Whichever type of changer you choose, get ready for the fun of having long-playing, digital-quality tunes in your car. It'll change the way you think about driving.