Multi-Disc Changers Installation
Heads up!
Welcome to this article from the Crutchfield archives. Have fun reading it, but be aware that the information may be outdated and links may be broken.
Your car, SUV, or truck probably presents a number of good places to mount a disc changer. The most popular locations are in the trunk or under a front passenger seat. And many glove boxes are large enough to accommodate a changer. As a Crutchfield customer, you'll get all the installation help you require from our exclusive free guides and our technical support, free with most orders.
Warning: removing your seat could deactivate your vehicle's SRS system.
Getting started
You'll find that the most valuable commodities to any successful installer are patience and time. It's a good idea to set aside more time than you think you'll need, so that you can work carefully and even have a good time getting the job done.
Before you get started, disconnect your negative battery terminal, as you would with any other type of installation. Make sure the mounting surface you've chosen is rigid enough to support the changer firmly, so it won't become loose during a sudden stop. Avoid mounting your changer on top of your rear deck or anywhere else it will be subjected to direct sunlight.
Mounting the changer in your trunk
Suspending the changer from the bottom of the rear deck (inside the trunk) is a popular way to go because it keeps it hidden and also takes up no usable space. However, changing the magazine is a little more cumbersome and running the cable to the front of the car will take more work.
If you do decide to mount the changer in your trunk:
Enlist a second pair of hands. It will save you time and you can ask your helper to hold the changer in place while you insert the self-tapping screws.
When working in the trunk be sure to tape over the latch so you won't become trapped inside accidentally.
Make sure that your changer's location won't interfere with the torsion bar spring of the trunk lid. Observe how the spring moves as you close the lid before you settle on the exact mounting spot.
Look before installing!
No matter where you put the changer, you'll want to make sure you know what you're screwing the mounting screws into. You certainly don't want to find out the hard way where your fuel tank or brake lines are. Also, check to see that there's enough space for the magazine to be smoothly inserted and removed, and that you can easily access the eject button. When you mount your CD changer, make sure you set the switch on the side of changer to the correct angle setting.
Running the cable
If you're mounting your CD changer in the trunk, you'll probably want to run the changer's signal/controller cable(s) from the in-dash receiver down one side of your car. (You'll have to remove your receiver from the dash to access the changer connection.) If you also have an amplifier in the trunk, run the CD changer cables on the side opposite the amp's 12-volt power cable. You'll be less likely to introduce engine noise into your system.
In most cars, you'll be able to find a hole or crevice to slide the cable from the trunk into the passenger compartment. You may have to remove the rear seat to find it. If you're having trouble with this (or any other aspect of your installation), call us toll free for technical advice — please have your Crutchfield invoice handy.
To hide the cable beneath your carpeting, you will have to remove the door sill. As you pass the cable along the floorboard, make sure it doesn't sit too close to a seat rail, where it could be pinched or damaged when the seat is adjusted.
If you're running the cable up the driver's side, you'll want to make sure it doesn't end up in the way of the pedals or hood latch. Tie it firmly in place with wire ties and coil up any excess cable, so it won't fall on your feet as you drive.
If you're adding on your changer, you'll have to remove your receiver from the dash in order to access the changer input. After you plug the changer cable into the receiver and reconnect your battery cable, test the changer thoroughly before you fully reinstall your in-dash receiver.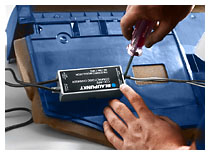 Be sure to position the FM Modulator so its antenna cable will reach your in-dash receiver.
Extra connections for add-on CD changers
Add-on (FM-style) CD changers require a few extra connections. You will have two 12-volt power wires to hook up, just as you would with an in-dash receiver. One goes to a constant source of power and the other goes to a switched 12-volt source.
You'll also have a black ground wire that will be secured beneath a nearby screw that makes contact with the metal body of the vehicle.
The signal cable runs from the changer to the FM modulator (usually a hideaway unit, though some are built into the changer itself). Another cable will be run from the FM modulator to the antenna input of your in-dash radio. If this leaves a lot of slack in your antenna lead, tie it off so it won't fall down and interfere with your pedals. Then you'll plug your antenna into the FM modulator.
Selecting the add-on changer's FM modulation frequency and output level
Take a few moments to play with your radio to determine which of the available modulation frequencies is least likely to be shared by a strong local radio signal, then use your display unit (or wireless remote) to select this best frequency. If you travel into an area that does have a strong station on your modulation frequency, you'll be able to reset your selection.
Most CD changers feature adjustable output level, allowing you to match your CD output level to the output levels of your radio and tape player.
Mounting the display unit
The changer's wired display/control panel often mounts with Velcro tape. Wipe the mounting surface clean before attaching the Velcro tape. Some people prefer to leave the display loose so it can be tucked safely out of sight when they leave their vehicle. Whatever you decide, make sure the cord is out of your way, so it won't get tangled in the pedals or the steering wheel.
When you've got it up and running
Take a good look at your handiwork, and congratulate yourself for pocketing the dollars you might have wasted on a hired installer, and for learning more about your vehicle's sound system.