CD Changers for Factory Stereos
Heads up!
Welcome to this article from the Crutchfield archives. Have fun reading it, but be aware that the information may be outdated and links may be broken.
This might sound familiar to you: you're about to purchase a new car and, out of curiosity, you ask the dealer about adding a CD changer to the stereo. But when the dealer fills you in on the details of getting one, your first reaction is, "I'm sorry, how much?"
We know how you feel. Now here's the good news. We have a couple of solutions for you, both of which cost significantly less than the exorbitant dealer prices for the multi-disc entertainment you want:
Factory-compatible — For vehicles that have built-in controls for a factory CD changer, we carry vehicle-specific changers for a large number of makes and models. One of these will let you take advantage of those controls and give you a seamless integration. And the list of vehicles we can accommodate gets larger all the time.
Universal — If there is no aftermarket option that can integrate with your controls, or if your car stereo doesn't have built-in changer controls, don't worry. There's another solution available: universal add-on CD changers.
We'll discuss both below.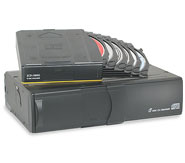 USA SPEC makes many factory-compatible CD changers, like this one for 1994-up Honda stereos.
Solution 1: Factory-compatible CD changers
These days, many factory stereos have controls for a factory CD changer. If yours does, then you might be able to take advantage of them. We already ruled out going back to the dealer. The factory-option CD changer can cost as much as $1,000. And that may not include the installation fee! Nuts to that.
Luckily, there are other options. Factory-matched CD changers package a universal-use CD changer together with a vehicle-specific adapter cable. The adapter cable connects the changer to the factory radio, allowing the changer to work in a variety of vehicles. These CD changers function exactly like the factory changer would, but usually at around half the cost (or less).
Another option is an integration adapter. Integration adapters let you connect an aftermarket changer (usually from Alpine, Kenwood or Panasonic) directly to your factory stereo. These adapter cables are not universal. Each one is made to work with a specific brand and model of changer in a specific vehicle.
How do you know if one of these options will work for you? Click on Outfit My Car and you'll be able to see whether any of these options are available for your car.
Why use a factory-compatible CD changer?
The primary advantage of a factory-integrated CD changer is the seamless interface with your factory stereo. After all, it connects and is controlled just like the factory option, but often at less than half the cost. (Note, however, that factory-compatible changers do not typically work with your factory mounting brackets; you'll want to use the brackets included with your changer.) And since it's a direct connection, unlike add-on changers, which route the music through the FM radio, you'll hear better sound quality — especially if you plan to replace your factory speakers.
One thing to keep in mind with a factory-compatible CD changer is vehicle-specificity. When you go this route for adding a CD changer, you should be intending to keep this vehicle for a while, or be willing to leave the changer in the vehicle when you and the car part ways. It's possible that you might be able to get an adapter to connect the CD changer to your next vehicle, but you shouldn't plan on it.
Solution 2: Universal CD changers that work with any vehicle
Universal add-on CD changers are, well, just that. They work with any car stereo with an FM tuner. The changer uses an FM modulator to let you play your CDs over an unused frequency on your FM radio without interfering with FM reception. A separate controller/display module attaches to your dash so you have direct control of the changer.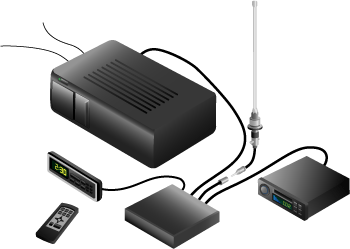 Add-on changers connect to any FM car stereo.
Advantages of universal CD changers
There are several advantages to using an universal add-on CD changer. First of all is the price tag — add-on changers are usually the least expensive way to go. A strong second advantage is its universal nature. Since it works with any FM car stereo, you can move it to your next vehicle — a nice feature if you lease your car.
You'll have plenty of options when it comes to selecting an add-on changer. Most car stereo manufacturers make at least one model of add-on CD changer. And there are several models out there that play MP3 discs, too.
A minor, but fun, benefit, is the direct control/display panel. It is often easier to use than the factory radio's controls. And some controllers will display CD titles and song names — a very handy feature on changers that play song-laden MP3 discs.
Installation
Installation involves finding a spot to mount the changer, such as in the trunk (if you have one), in the front console, or under a seat. Installation will be simplified if you can mount it inside the vehicle cabin, rather than in the trunk, because it will be easier to route the cables. From the changer, you run one or more cables to the car's stereo and make connections for power and ground.
Warning: removing your seat could deactivate your vehicle's SRS system.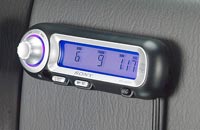 The wired control module provides easy music navigation.
If you're lucky enough to have a vehicle that is pre-wired for a factory changer, and are using a factory-compatible CD changer, then the installation may be quick and painless. The cables are usually already in place at the factory changer mounting location. If you're installing an add-on changer, you should also decide where you want to mount the control panel — somewhere within easy reach of the driver's seat. Installation can be a little time consuming, but can probably be done in an afternoon and doesn't require a professional installer's expertise.
For a more detailed explanation of CD changer installation, we have a Learning Center article devoted to that very topic: Installing a Multi-disc Changer.
Take your pick
Universal add-on CD changers provide a changer option for every vehicle. Because they can work with any FM car stereo, add-on CD changers make great gifts. And if your car, truck or SUV has controls for a factory CD changer, then you may be able to choose from several of the above options.
Whether you think of a CD changer as a cool convenience or a party waiting to happen, there's no doubting its utility. Having a factory stereo should not prohibit you from adding some extra entertainment to your daily commute.