Navigation Glossary
The features and terms to know in vehicle navigation
Heads up!
Welcome to this article from the Crutchfield archives. Have fun reading it, but be aware that the information may be outdated and links may be broken.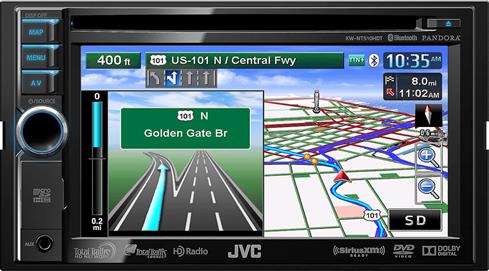 Editor's note: Most of the information below is out of date and no longer being maintained. For the most up-to-date info, please see our in-dash navigation buying guide and our portable GPS navigation buying guide.
---
Click on a letter below to jump to that section of the glossary.
A B C D E F G H I J K L M N O P Q R S T U V W X Y Z
A
---
B
---
Bluetooth®
Bluetooth wireless technology in GPS navigators lets them connect to compatible cell phones for hands-free dialing and receiving of calls. The primary use for Bluetooth in navigation devices is to be able to call a POI at the tap of a button. Not all cell phones are compatible with all Bluetooth devices; see our Introduction to Bluetooth for more information.
C
---
D
---
DGPS
GPS users can get improved accuracy with Differential GPS (DGPS), which corrects GPS signals to within an average of three to five meters (as compared to a typical 6-12 meters with the normal GPS signal). This system consists of a network of towers that receive GPS signals, and then transmit a corrected signal via beacon transmitters. In order to get the DGPS corrected signal, users must have a differential beacon receiver and beacon antenna in addition to their GPS.
DVD-ROM
A single DVD-ROM disc contains the mapping data of the entire North American sub-continent. Systems with DVD capability don't require you to change discs depending on your location.
E
---
F
---
G
---
GPS
GPS, which stands for Global Positioning System, is a navigational system designed and operated by the U. S. Department of Defense (DOD). Coded satellite signals from three or more GPS satellites are processed by your vehicle's navigation computer every second, which then calculates the vehicle's velocity and geographical location.
Graphical User Interface (GUI)
An onscreen system (including menus, maps, etc.) to control a mobile audio/video system. The user employs touch controls or cursors on the monitor to navigate through system functions and parameters.
Gyroscope
Navigation systems use an internal gyroscope to track the turns a vehicle makes, which helps the system determine the direction in which a vehicle is traveling.
H
---
I
---
J
---
K
---
L
---
M
---
N
---
NAVTECH CDs
NAVTECH makes several mapping discs, each containing detailed maps of different regions of the U.S. Each disc contains all interstate highways, federal/state highways, and county roads within a region, as well as street information for cities and larger towns.
O
---
P
---
Points of Interest (POI)
Points of interest are specific types of destinations found in all GPS navigation devices. Typically, they are divided up by category, such as dining, lodging, gas stations, parking areas, emergency services, local attractions, sports venues, and so on. Usually, some categories are subdivided even further, such as different types of restaurants depending on the fare. Sometimes a phone number is included with the name and address information.
Q
---
R
---
Route Optimization
Route optimization is how the GPS device determines the best path between multiple destinations on a single trip. Some GPS devices can only route from one stopping point, or waypoint, to the next in the order entered — this is known as "itinerary" mapping, There is often a limit to how many waypoints can be mapped to once a route is established. True route optimization is usually found in advanced GPS models, which can calculate the shortest possible distance between a number of destinations on the same trip. This feature requires faster internal processors and memory to handle the calculations.
S
---
Speed Pulse Generator Kit
Some older vehicles (mainly pre-1980s) do not have vehicle speed sensor wires. You'll need a special speed pulse generator kit to adapt these vehicles to accept an in-dash navigation system. Portable navigators will work fine.
Speed Sensor Lead
This lead connects to your vehicle's speed sensor to transmit the speed and mileage of the vehicle to the navigation computer.
T
---
Text-to-speech
Text-to-speech voice prompts announce the actual street names when giving directions, instead of generic instructions. For instance, they say "turn left on South Street," instead of "take the next left." Some navigators offer this for every street, others for major roads and highways only.
Traffic-ready
The ability to detect and map traffic congestion along a route is a key feature, as traffic can severely impact the time it takes to get to a destination. Older devices often required an extra antenna or module and required a subscription fee for traffic-information services. Many of today's navigators include these services for free.
Transport Modes
Transport modes indicate if a portable GPS navigator can be used for guidance outside of a motor vehicle. Some devices offer guidance for cyclists and pedestrians by employing different traffic rules than they do for cars. For instance, one-way streets would not apply to someone walking from one point to another, so the navigator would ignore any street restrictions and provide the most direct route when in pedestrian mode.
U
---
V
---
VSS Signal Coupler
The VSS (vehicle speed sensor) wiring in Ford cars and trucks is different than that of other vehicles. This coupler amplifies the speed pulse in Fords, bringing it to a level that's compatible with a navigation unit.
Voice Commands
Voice-command functionality allows the user to access the GPS device without touching the screen. In some cases, the device will recognize simple voice commands, such as "home" and "work," or perhaps "last" for the most recent destination entered. Advanced GPS models recognize spoken words and letters so an entire address can be entered without touching the screen.
W
---
WAAS
WAAS (Wide Area Augmentation System) is a network of 25 ground reference stations, ranging from the US to Canada to Mexico, that monitor GPS satellite information and create a GPS correction message. This correction message accounts for disturbances in the ionosphere, and for timing and satellite orbit errors. The WAAS-corrected signal can give your GPS unit a position accuracy of less than three meters (as compared to a typical 6-12 meters with the normal GPS signal). WAAS is ideal for open-water or flat terrain navigation, and is currently available in North America only.
X
---
Y
---
Z
---