Peripherals Installation Guide
How to connect a CD changer, satellite radio tuner, or digital music player to your car stereo
Heads up!
Welcome to this article from the Crutchfield archives. Have fun reading it, but be aware that the information may be outdated and links may be broken.
This installation guide will help you connect a peripheral sound source such as a CD changer, satellite radio tuner, hard disc player, or digital music player to your existing factory or aftermarket in-dash stereo.
You can also download a pdf of the Peripherals Installation Guide. Note: To view this file, you will need the Adobe Acrobat PDF reader (free download).
Tools Needed (depending upon vehicle):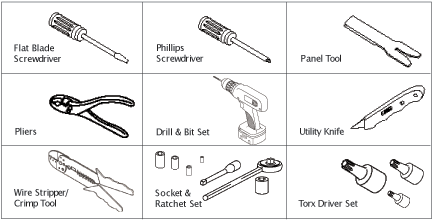 As with any car audio/video installation, your first step is to disconnect the negative terminal of your car battery to prevent short circuits.
There are several configurations for connecting a CD changer to your in-dash stereo:
Aftermarket stereo to same-brand changer
Connecting a same-brand CD changer to an aftermarket stereo requires mounting the changer and running the proprietary cable (see page 5), and then making a connection at the back of the stereo. You'll need to remove the stereo from the dash to access the rear of the stereo's housing — see your MasterSheet™ for instructions on removing the stereo.
Note: When connecting a same-brand peripheral to a stereo, make certain that the components are able to work together. Sometimes the proprietary operating protocol, plug, or software changes over time within a brand. If you have any questions about the compatibility of a stereo/peripheral combination, contact a Sales Advisor.
Factory stereo with changer controls to factory-matched CD changer
CD changer/adapter packages from USA Spec work with the factory sound systems of many newer vehicles. An adapter cable (included) runs from the changer to the port on the back of the factory radio. Availability of these packages changes frequently, as do makes and models of compatible vehicles. Use the online vehicle selector at crutchfield.com or contact a Sales Advisor to learn more about the specific options we have available for your vehicle.
Factory stereo with changer controls to aftermarket changer via vehicle-specific adapter

Vehicle-specific adapters allow you to connect an aftermarket changer to a factory stereo with changer controls.
If your factory stereo has built-in controls for a CD changer or other peripheral source, you may be able to connect an aftermarket changer via a vehicle-specific adapter. These adapters are available for a number of vehicles. Installation involves connecting the adapter to the aftermarket CD changer and to the factory stereo. Some vehicles already have a factory-installed CD changer cable, so the vehicle-specific adapter is connected at the changer location (typically in the trunk). In most vehicles, you will have to run the cable from the changer up to the dash (see page 5).
FM modulators
If your factory or aftermarket stereo doesn't have changer controls, an auxiliary input, or an available OEM adapter, you can add an external source to your system with an FM modulator (also sometimes called an RF, or radio frequency, modulator). A wireless FM modulator transmits the source signal to your stereo over a standard FM frequency, which you can then tune on your stereo. A wired FM modulator offers improved performance, since it plugs into the antenna input of the stereo.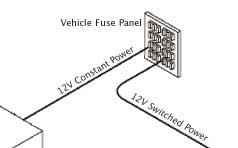 Power connections can be made at the fuse panel.
Installing wired FM modulators
To install a wired FM modulator, first find a good mounting location. Keep in mind that you will need to access your factory radio through its antenna input, as well as connect the peripheral source to the modulator. Common locations include the trunk, under a seat, behind an interior panel, and in the cavity behind the stereo (see page 5).
Warning: removing your seat could deactivate your vehicle's SRS system.
FM modulators require two 12-volt connections: one to a constant power source, the other to a switched (on/off) source. Since you have to remove your radio to get to the antenna input, you'll have easy access to the power and ground wires in your factory radio harness. If you don't want to splice into your factory wires, you can make the power connections at your fuse panel. Look for empty fuse holders and insert fuse taps. Attach your CD changer's 12-volt wires, which normally come out of the hideaway FM modulator, to the fuse taps. You'll also have a black ground wire that must be secured beneath a nearby screw that makes contact with bare metal on the body of the vehicle.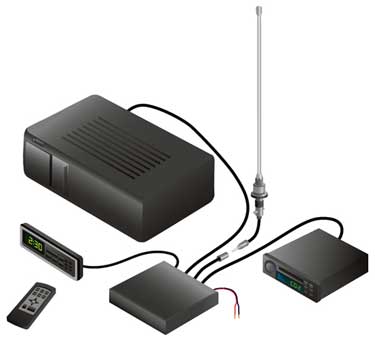 FM modulators connect between your vehicle's antenna and stereo, allowing you to add a variety of audio sources to your system.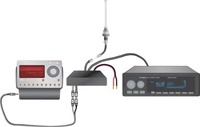 Satellite radio tuner connected via wired FM modulator.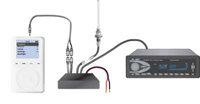 MP3 player connected via wired FM modulator
Following the instructions on your Crutchfield MasterSheet™, remove your stereo from the dash and unplug the antenna from the rear of the unit. Plug the vehicle's antenna cable into the antenna input on the FM modulator. Next, run the output of the modulator to your stereo's antenna input (certain vehicles require antenna adapters — use the online Vehicle Selector or call a Sales Advisor to inquire about a specific vehicle). If this leaves slack in your antenna lead, tie it up so it won't fall down and interfere with the foot pedals.
Install your new component and make all of the audio connections at the FM modulator. Determine which of the available modulation frequencies is least likely to be shared by a strong local radio signal and set it on the hideaway box before you mount the unit (on some models you can change this setting on the fly).
Wireless FM modulators
Wireless FM modulators make it even easier, letting you make connections without removing your stereo or running extra wires. The trade-off, however, is in sound quality. While wireless modulators are convenient, they are susceptible to outside interference and static. Installation is easy — just connect the modulator to your source and plug in its cigarette lighter power adapter.
Auxiliary inputs for aftermarket stereos
An auxiliary input makes it easy to connect just about any aftermarket peripheral to your stereo, preserving the sound quality of the original source. Depending on your stereo, you'll either have a 1/8" minijack or a pair of RCA connectors on the back of the unit. Some newer models even offer this input on the front panel of the stereo, which can be great for connecting a portable player that you'll be taking in and out of the car. Some radios will require an adapter to convert the changer port into an AUX input, so check your manual or call a Sales Advisor if you have any questions.

Using an auxiliary input to connect a peripheral source will give you the best sound quality.
To connect a peripheral via an auxiliary input, install your new component (connecting it to power and ground if needed; the AUX IN only receives the audio signal). Run a cable from the audio out of the peripheral to your stereo. If your input is located on the rear of your stereo, remove it from your dash using the instructions in your vehicle's MasterSheet™. It may be convenient to connect an extension cable to the rear aux inputs, and to position the cable's female inputs at an easy-access location in your vehicle. This lets you plug in your component (you may need a minijack to RCA adapter) without removing the stereo every time. Then, set the stereo to recognize the new AUX IN connection (if necessary).
Auxiliary inputs for factory stereos
If your factory radio has changer controls, an adapter may be available to convert its changer port into an auxiliary input. Connecting an external source to your factory radio in this way gives you the best possible sound quality. Use the online Vehicle Selector or call a Sales Advisor to see if adapter is available for your vehicle.
Cassette adapters
While they're not as common as they once were, wired cassette adapters are still a convenient way to add a peripheral to a cassette-based audio system. In fact, it's a great way to connect a portable player or satellite radio tuner to a rented or leased car, since you don't need to remove the stereo or disturb the installation in any way. A cassette adapter, however, is a less than perfect solution for a permanent installation because it doesn't provide power for your source, won't sound as clear as a direct-wired connection, and clutters your dash with unsightly wires.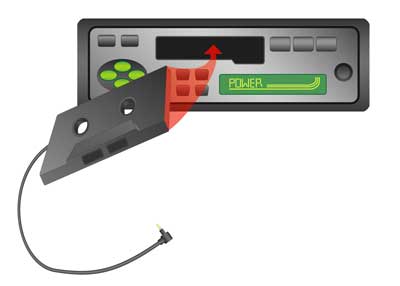 Cassette adapters are easy to use and to move from vehicle to vehicle.
With that in mind, connecting a cassette adapter is a relatively simple installation. The cassette unit loads into your stereo and trails a cord with a 1/8" minijack plug on the end. Just connect your source, plug it into the adapter, power it up (with either batteries or a cigarette lighter adapter), and go.
iPod adapters for aftermarket stereos
With the popularity of portable music players like the Apple iPod®, mobile audio manufacturers have sought ways to integrate them into the car without sacrificing sound quality or usability. Most aftermarket car receivers have integrated iPod controls and you can connect the player to the receiver with your Apple's USB cable. There are still a few instances where an adapter is required.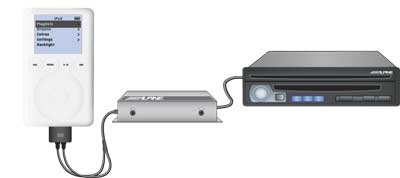 Apple iPod connected via an aftermarket interface to an aftermarket stereo.
iPod interface kits use a hideaway box that lets users listen to their iPod through their car speakers, control song and folder selection from the stereo's display, and charge the iPod's batteries via a single connection. The compact box connects to an input on the rear of a compatible stereo, and connects to the iPod's dock connection. The box can be secured under a front seat (or any convenient location) with included self-tapping screws or velcro strips. Some iPod adapters are nothing more than cables, and require very little in the way of mounting.
Warning: removing your seat could deactivate your vehicle's SRS system.
iPod adapters for factory stereos
If your factory radio has changer controls, an adapter may be available to convert its changer port into an iPod input. The adapter typically consists of a universal iPod connection box and a vehicle-specific adapter cable (sometimes packaged together). Connecting an iPod to your factory radio in this way gives you the best possible sound quality. Use the online Vehicle Selector or call a Sales Advisor to see if adapter is available for your vehicle.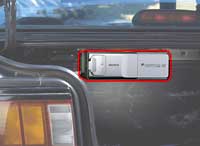 CD changer mounted to the bottom of the rear deck.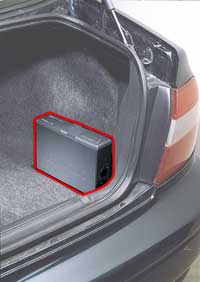 Changer mounted on the trunk floor.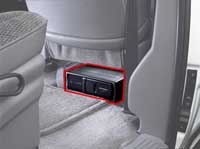 CD changer mounted under a seat.
Mounting tips: Trunk
If you plan to suspend a CD changer or hideaway box from the bottom of the rear deck, first make sure the component won't interfere with the torsion bar of the trunk lid. Observe how it moves as you close the lid before you settle on the exact mounting spot.
Many changers come with mounting brackets that you secure to the vehicle with bolts or screws. Get a helper to attach the nuts to the mounting bolts while you hold the changer in place and run the bolts through the brackets and the holes you drilled in the deck. If your changer mounts with self-tapping screws instead, you might be able to handle this step by yourself.
Mounting tips: Under a seat
When mounting any peripheral component under a seat, be certain that the component is well-ventilated and that it will not interfere with any seat adjustment controls. You may find it necessary to remove the seat to access the floorboard. If you use self-tapping screws or need to drill pilot holes to secure the component to the vehicle, make sure you know what you're drilling into. Check that the gas tank, brake line, and other parts are not on the other side of where you are drilling/screwing. Most components also include the option of using Velcro strips.
Warning: removing your seat could deactivate your vehicle's SRS system.
Cable routing
If you're mounting your peripheral source in the trunk, you'll probably want to run the signal/controller cable(s) from the in-dash stereo down one side of your car. (You'll have to remove your stereo from the dash to access the changer connection.) If you also have an amplifier in the trunk, run the source's cables on the side opposite the amp's 12-volt power cable. You'll be less likely to introduce engine noise into your system.
In most cars, you'll be able to find a hole or crevice to slide the cable from the trunk into the passenger compartment. You may have to remove the rear seat to find it. To hide the cable beneath your carpeting, you will have to remove the door sill. As you pass the cable along the floorboard, make sure it doesn't sit too close to a seat rail, where it could be pinched or damaged when the seat is adjusted.
If you're running the cable up the driver's side, you'll want to make sure it doesn't end up in the way of the pedals, the steering column, or hood latch. Tie it firmly in place with wire ties and coil up any excess cable, so it won't fall on your feet as you drive. Remember to test the new source thoroughly before you fully reinstall your in-dash stereo.
See page 6 for tips on removing panels to conceal cables.
Panel Removal
| | |
| --- | --- |
| The instructions below address, in general, what panels may need to be removed and how they typically come off. Often, panels can be pried up at edges. Screws and retaining clips might also be present that will require removal (Figure 1). To prevent damage, always use care when removing panels. | |
Door Scuff Plate removal

The plates are usually removed by prying up the edges to release clips. Some vehicles will have screws present which will need to be removed (Figure 2).
Seat Belt removal

A seat belt may be located on the panel that needs to be removed. Most seat belt anchor covers pry off. The seat belt anchor is secured with a large nut or bolt (Figure 3).
Pillar Trimpanel removal

Remove seat belt if present. Remove screw covers, screws and plastic retaining clips, if present. Pry up edges of panel to remove (Figures 4 & 5).
Kickpanel removal

Look for screws and pry-out retaining clips to remove. Pry out edges of panel to release and remove (Figure 6).
Routing wire behind the dash
Route wire behind the dash and secure with plastic wire ties. Be sure that wire does not interfere with any moving parts to ensure safe operation of vehicle.
Routing wire for components and power connections
Determine desired locations for each component. Use the most direct route for wires. Remove panels necessary to route and conceal wires. Test system before reinstalling panels.