All About Portable Satellite Radios
Heads up!
Welcome to this article from the Crutchfield archives. Have fun reading it, but be aware that the information may be outdated and links may be broken.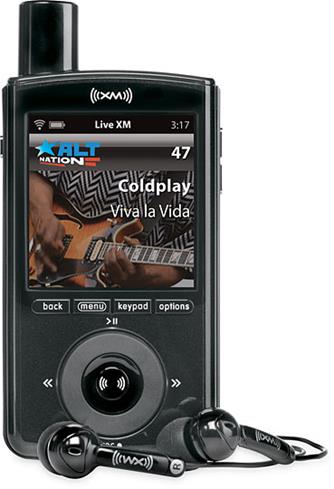 Editor's note — SiriusXM doesn't currently have any new portable satellite radios on the market. But if you happen to find a used one somewhere, everything below still applies. They were a cool type of product that aren't available anymore.
Portable satellite radios let you listen to satellite radio just about anywhere you go.
Portable satellite radios are very similar to standard portable music players — they're designed for music on the go. Portable satellite radios feature built-in antennas that receive the satellite signal, and come with rechargeable batteries. All you have to do is plug in headphones (a set of earphones is usually included in the package with the radio), and you can listen to and carry them around easily. Reception can be tricky sometimes, though. It can be blocked by surrounding buildings and tall trees, and sometimes even by your own body (depending on which way you're facing and how you're carrying it). You'll get the best reception outdoors, in the open.
Most portable satellite radios not only receive live satellite signal, they'll let you save up to 100 hours of content, depending on the model, which you can listen to anytime you want. They also let you store and play back your MP3 and WMA files. When you plug in the included headphones and use one of these as a portable — out of its car or home dock — you can listen to a mix of your music files and your recorded satellite radio content. Keep in mind that you can only use up to half the portable's memory for digital music files, and that MP3s and WMAs take up more memory than songs saved from satellite radio broadcasts. In a portable with a 50-hour memory, for example, if you split the memory evenly between digital music and satellite radio content, you'll get 25 hours of stored satellite radio, and 8-12 hours of digital music files.
Portables also work just like plug-and-play satellite radios. Most portables come with either the car kit or home kit you'll need to play the radio through your car and home stereos. Some include both kits. Best of all, you'll be able to use the radio as a portable, listen in your car, use it with your home stereo, and pay only one subscription fee.
What should I look for in a portable radio?
Display size
Not surprisingly, the bigger a portable radio's display is, the easier it is to see. Also, the number of lines in a display determine the amount of information it can show you. Luckily, most portables offer you six display lines. Most satellite radio/MP3 player combos also feature bright, easy-to-read color displays.
Design
Ergonomics do play a role when selecting a portable radio, especially given the fact that you can carry it around with you. You'll want to find one that's lightweight and easy for you to use. Aesthetics matter, too — you'll probably want your radio to look good in your car, and to blend well with your home stereo components.
Wireless FM transmitter frequencies
As mentioned above, a wireless FM transmitter helps you use a portable radio with any in-dash stereo. The more frequencies on which an FM transmitter can broadcast, the better. More choices mean you're more likely to find an unused FM frequency. This is especially helpful in large cities with high FM station density.
*Important note from Crutchfield: Current FCC rules limit the transmission strength of wireless FM transmitters to a point where transmission needs to take place very near your FM antenna. Sirius and XM include extra wiring in order to address this issue, but Crutchfield strongly encourages customers to use an auxiliary input, wired FM modulator, or cassette adapter to ensure your satisfaction with the performance and cosmetics of a satellite radio in the car.
Channel presets
The more channels you can save as presets, the easier surfing and finding your favorites will be, especially in the car. Presets are usually stored in banks, one channel per number button per bank. For example, if your radio has three preset banks, and ten number buttons, you'll be able to save 30 presets. Most portables offer 30 presets.
Internal memory
Portable radios let you store anywhere from four to 50 hours of satellite radio programming in their internal memories. You can capture live broadcasts, or set the radio's timer to store broadcasts you want to hear later. You can access stored material at any time. This feature is ideal if you want to listen to satellite radio content in places where you can't receive a live satellite signal.
Portables that let you upload digital music files typically only allow you to use up to half of the internal memory for your MP3s and WMAs; the other half is reserved for satellite radio content.
Song memory
Portable radios also let you save the names of either song titles or artists, then will alert you whenever they're playing, no matter what channel you're currently listening to. When a song or artist comes on that you want to hear in the future, you can save it. Later, when it's playing again, you'll hear a beep, and have the option to switch over to it by pressing a single button. Twenty names is usually the limit, although some can save more.
Info extras
Most portables can show scrolling, customizable information on their displays. Usually, these are either sports scores or a stock ticker. In most cases, you can select the teams you'd like to see updated, and the stock symbols you'd like to follow.
Wireless remote
Portable radios usually come with wireless remotes. They make controlling the radio in the house (or from the backseat of a car) much easier.
Extra accessories:
Some portables come with extra accessories, such as an external antenna. You can connect it to your portable, then clip it to your shirt (or hat) to get even better reception when you're using the radio in portable mode.