Get Smart Security for Your Car
Start your car from your phone
Heads up!
Welcome to this article from the Crutchfield archives. Have fun reading it, but be aware that the information may be outdated and links may be broken.
Americans love gadgets — like smartphones.
And we love our cars, too.
Now we can combine the functionality of smartphones, like the iPhone®, Android, or BlackBerry®, with security systems that protect our cars.
The Benefits of a Security System
A security system is a smart way to protect your car from theft or break-ins. Even the most basic systems feature shock sensors that trip the alarm when the car is disturbed, and ignition kill switches that disable the starter if the car is broken into. Security systems also work with your power door locks, so you can lock and unlock the doors from a distance using the security system's remote.
And you can do more. Many security systems offer remote start. Remote starters let you start the car from a distance, so you can stay inside the house on a cold morning while you warm up the car.
Most systems use RF (radio frequency) remotes to communicate with your car. But these have limited range, and that range is further lessened when you're in a building that blocks the signal. And with most systems you've got to be able to see your car to know if it's received your commands — although there are some remotes with 2-way transceivers and LCD screens, they too suffer from the curse of limited range.
A new generation of security systems and smartphone apps are changing all of that. These new systems use cellphone networks and your smartphone to let you control your security system and keep you up to date on your car's status — almost anywhere you go. These smartphone operated security systems provide confirmation that your commands have been received at your car, and they'll alert you when the alarm's been activated via a text message. Some even offer features like car dealer and repair shop locators, too. Freedom and flexibility
The possibilities these systems offer are pretty cool. If your system has remote start, you can start your car from almost anywhere (and get instant feedback that your command has been received). Of course you can do the obvious things, like starting the car on a cold morning at home, but consider these other possible scenarios:
You're shopping in the depths of a big box store on a hot summer day. Start the car and you can put those jumbo bags of frozen goods into a car that's already been cooled down.
Your spouse locks his or her keys in the car. You can come to the rescue, no matter where you are.
Service plans - part of the cost
This convenience does come at a cost. Since your system communicates across cellphone data networks, you've got to subscribe to a service plan to use the systems. Prices vary, depending on the contract.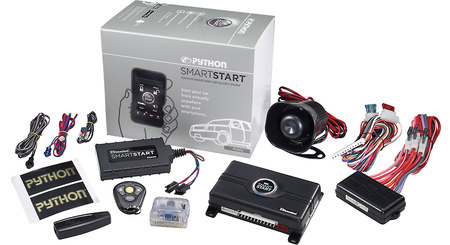 Python PS5000 SmartStart alarm system
Get on board
There a couple of different ways to team up a security system and a smartphone. The most direct route is to install a security system like the Python PS5000 SmartStart system. It's a complete security, keyless entry, and remote start system purpose-built to work with your iPhone, Android, or Blackberry. And it comes with the added bonus of 24/7/365 roadside assistance included with the service plan.
Python's DSM100 module lets you add smartphone capabilities to some Viper and Python security systems. It's a great way to add on to the capabilities of an existing system.