Vizualogic's Dual Headrest Monitor Package
How I learned to stop worrying and love headrest monitors
Heads up!
Welcome to this article from the Crutchfield archives. Have fun reading it, but be aware that the information may be outdated and links may be broken.
To the average consumer, putting together a mobile video system for your rear seat passengers can be a little intimidating. It can be confusing to figure out how various products work together — does Brand A's monitor work with Brand C's wireless headphones? — and even more confusing to determine how it will all fit together in your vehicle. How much should you spend on a backseat video system? What exactly do you need? And once you've got the stuff, how do you install it in your car?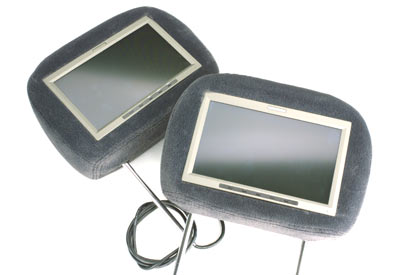 Vizualogic packs high-quality 7" monitors into these replacement headrests, along with the dual source capability that makes backseat fighting a thing of the past.
If you're getting a new car, it might seem easier to order a video package from the dealership. If you're buying a used car, it might seem simpler to pay someone else to design and install a system. But, every once in a while, a mobile video product will surprise you with its intelligent design and ease of installation, and that's definitely the case with Vizualogic's new Advantage Series Dual Headrest Monitor package. My mission — find out what's involved in installing one of these Vizualogic packages. And, once installed, what will it do for you?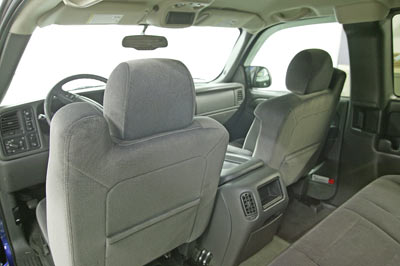 The interior of the GMC Sierra awaits the Vizualogic headrest monitor transplant.
Why replace your headrests?
The idea is simple — instead of tearing up the original headrest to install a monitor, just replace it with an exact duplicate headrest that contains a 7" video screen. Vizualogic found that its 20 years of experience in building custom car interiors gave it a couple of big advantages over its competitors. They were able to build copies of the original headrests that matched factory cosmetics and complied with all U.S. safety standards (specifically, all Federal Motor Vehicle Safety Standards for head restraints, occupant protection, and fire safety). And they were able to make the headrests just a shade larger than original equipment in order to house a larger 7" monitor screen (even the largest factory headrest can only accommodate a 6-1/2" monitor).
Customers and installers responded positively to Vizualogic's single headrest replacement monitor, so the next logical step was creating an entire dual headrest system — the Advantage Series — which contained two headrest monitors, two pairs of wireless headphones, an audio/video junction box, and all the wiring and installation hardware needed. Just add a source (a DVD player or VCR), and you've got a complete backseat video system. With a few hours of work, you can install a first-rate system that offers a level of versatility you'll never find in a factory or pieced-together video system.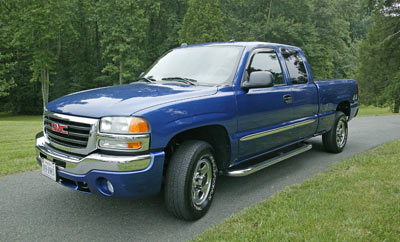 This beautiful 2004 GMC Sierra is a prime candidate for a headrest video system — no flip-down screen to obstruct the driver's rear view.
The real world
A friend of mine offered his 2004 GMC Sierra as an installation guinea pig, so the two of us got to work unpacking the Vizualogic box. The dual headrest monitor package contains quite a bit of equipment:
two headrests with built-in monitors;
a 3-channel, 2-source audio/video junction box;
two sets of wireless headphones;
an FM modulator;
a wireless remote control;
and connector cables.
Feeling somewhat intimidated by this pile of stuff, we thought "Well, we might as well grab the bull by the horns, and do the headrests first." Most factory headrests have a tiny button at the bottom of the post that allows you to remove them. On the Sierra (and most GM vehicles), you have to insert a paper clip into a small slot in the headrest post to pop it out. We removed the two factory headrests, and then tried to get a handle on how to install the new headrest/monitors.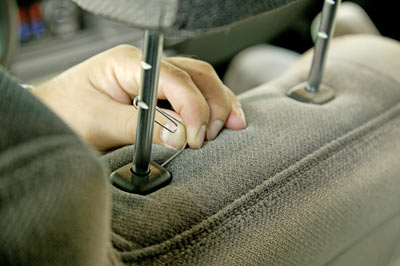 You need the right tool for the job — a paper clip can be used to remove the GM headrest from its seat.
The Vizualogic headrest has a short video cable that runs down through its tubular metal post; it has to be threaded down through your seat and routed to the connection box. We decided that we'd worry about threading the wire down through the seat later. First, we wanted to see how cool the monitors would look, so we dropped the cable down into the seat's interior and slid the Vizualogic headrests into place. Sweet. From the front, they look exactly like the factory headrests. Each headrest tilts forward in 4 positions so the rear passenger can adjust to the best viewing angle. We adjusted the tilt control to the extreme forward position (still very comfortable for the driver), so the video screens were perfect for rear seat viewing in the GMC Sierra.
You can access the interior of 99% of all car seats through a flap that opens up at the bottom of the seatback (some have clips, some have Velcro). We figured we'd have to stick a coat hanger up inside the seat, and fish around for the wire. We opened up the flap to the Sierra's seat and — bingo! — out popped the video cable. We had both headrests installed in a matter of 8 minutes. Surely the rest of the process couldn't be this easy.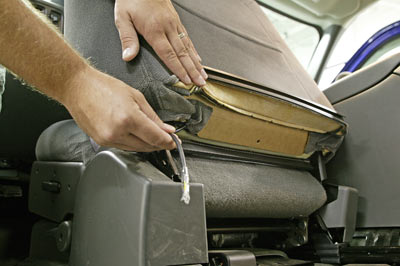 Installing the replacement headrests is surprisingly easy. Undo the flap at the bottom of the Sierra's seat, and out pops the video cable.
Hooking it all up
We abandoned hope as we inspected the audio/video connection box, with its imposing jumble of wires and connectors. We consulted the installation manual, which (amazingly) we could actually understand. The connection box (which you install under a seat or behind a panel) is a 3-channel, 2-source selector — that means you can plug in two audio/video sources (DVD, VCR, video game, etc.), and then send it to three different video screens.
But, lo and behold, as we looked at the connection box, we began to see the logic behind the cables (OK, they're all labelled, so that helped). Here's what we found:
two sets of RCA inputs (which accept the signal from the outboard sources);
three cables with odd-looking plugs (which send video to the Vizualogic monitor cables);
three sets of RCA audio/video cables (which send video to an in-dash monitor or any other non-Vizualogic monitors);
power and ground cables;
and finally, two sets of IR outputs (more on those later).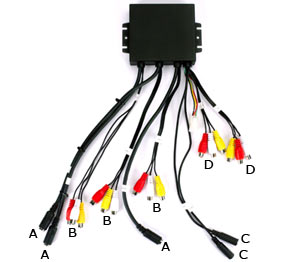 Here's a rundown on the inputs and outputs on the connection box:
A: audio/video outputs to Vizualogic monitors
B: RCA audio/video outputs to non-Vizualogic equipment
C: infrared outputs for remote control of audio/video sources (DVD, VCR)
D: audio/video inputs
We placed the connection box under the driver's seat in the Sierra, and started to hook things up. Vizualogic uses a fairly short cable on their headrest monitor, to make it easy to thread from the headrest down through the seat. They provide extension video cables, which we used to connect the headrest monitor cables to the audio/video connection box. Next, we placed a Blaupunkt DVD player under the rear passenger seat, and ran its RCA patch cables up to the connection box. So far, so good.
Here's how the connection box works: each one of the video outputs has one cable with a multi-pin plug and another cable with RCA jacks. Let's say you want your DVD player to play through your in-dash monitor, as well as through the headrest monitors. You'd connect the multi-pin plug from Video Output #1 on the connection box to your driver-side Vizualogic monitor, then hook the Video Output #1 RCA outputs to the video inputs on your in-dash monitor — whichever source you choose to play on your driver-side monitor will also play on your in-dash monitor. Video boosters are built into the connection box, so you can connect up to six monitors without degrading the picture.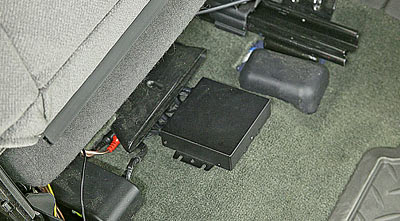 Central command: the connection box fits nicely under the driver's seat in the Sierra.
And that brings us to an important point — it's illegal almost anywhere in this great nation to watch video on a front seat monitor while the vehicle's in motion. If you want to watch video on an in-dash monitor, you must connect the green wire on the Vizualogic connection box to the parking brake. Engage the brake, and you can watch while the vehicle's parked. Otherwise, forget about it.
Back to the business at hand — we have the two headrest monitors and the Blaupunkt DVD player hooked up, and we've connected the power leads (constant power, switched power, and ground) to the Sierra. Things are moving quickly!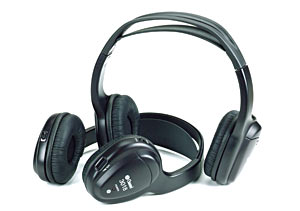 Wireless headphones allow each backseat passenger to select and enjoy separate programming, and the driver doesn't have to listen to dueling soundtracks.
All systems go!
Everything is up and running, and we're ready to watch a DVD. But how do we listen to the soundtrack? Vizualogic gives you two options. You can connect the audio outputs to an FM modulator (included in the package), and connect the modulator to the antenna input on your car's radio. Tune to an FM frequency that you've selected, pan to the rear speakers, and the whole crowd back there can listen and watch. Or, if you have a smaller audience, two sets of wireless headphones are also included. The headrest monitors have built-in IR blasters, so each passenger can enjoy a movie with a set of headphones while you listen to music up front.
But wait, there's more! Each set of headphones has a Channel A/ B switch. Let's say your two kids are watching the latest Olsen Twins DVD, and Junior gets bored (impossible, you say). He can switch his headrest monitor to a video game, and select audio for the game on his headphones. When the Olsen Twins movie ends and Sis wants to play the video game with Junior, she can switch over too. Beauty.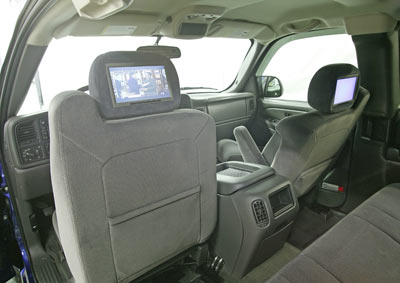 All systems go! The driver's seat headrest displays the picture from the Blaupunkt DVD player, while the other monitor is ready for a second source.
The quality of the built-in monitors is evident. The picture is superior, and the controls allow you to power up, adjust the picture (brightness, color, and contrast), and choose your source. There's no flip-down screen to obstruct the driver's view through the rear view mirror, and you can always add more sets of wireless headphones to accommodate a larger crowd in the back.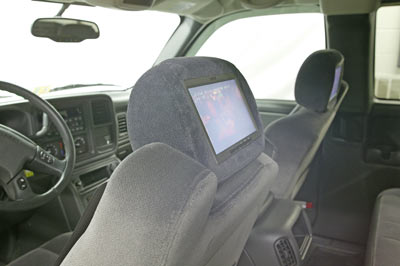 Even tilted all the way forward, the headrest feels perfectly comfortable to the driver. In some vehicles, you'll need this extreme range of adjustment.
It took a while to make everything look nice — routing the wiring under the carpet, securing the components, etc. But, all told, the entire operation took about 4 hours max. And, when it was done, I was amazed to hear myself say "Is that all there is to it?" If you have any experience installing car audio equipment, this installation is a piece of cake, especially if you're not going to use the FM modulator (which requires pulling your radio out of the dash). I'm not handy in the least — I wouldn't have attempted this myself. But with a knowledgeable friend there, it went quickly and it was easy to understand how it all hooked together.
Since there's no cutting involved, you can install this dual headrest monitor setup in a leased vehicle. If you own your vehicle, a video system is a big plus when it's time to sell. Or if you're trading in for a similar vehicle, just remove the equipment, put back the vehicle's original headrests, and install the Vizualogic system in your new car. OK, OK, I know — I'm starting to sound like an ad here. But rarely in my life has such an incomprehensible pile of wires and gear turned into something so easy to install and use. For that, my hat is off to Vizualogic for creating a very cool, extremely user-friendly, mobile video system. Amen.
---
Editor's note: We no longer carry these head rest monitors from Vizualogic, but we still have similar packages from other brands. Much of the above information applies to these other packages. Click here to see our selection of headrest monitor packages.