How to Avoid Common Home Theater Pitfalls
Heads up!
Welcome to this article from the Crutchfield archives. Have fun reading it, but be aware that the information may be outdated and links may be broken.
Here's a list of tips to help you avoid potential setup problems and achieve better performance from your components.
Read the owner's manual
Now, I know that some manuals are as dry as a bone, but the fact is that most contain important clues to the proper setup and operation of your system. At the very least, you should give them a look. Most pitfalls stem directly from this oversight.
Get the sound right — connecting your disc player for audio.
This is a problem I see happen all the time. While the red and white stereo audio cables will get sound to your receiver, the truth is you'll almost always need an optical or coaxial digital audio cable to get discrete Dolby® Digital and DTS® surround sound.
Also, most recent DVD and Blu-ray players use a High Definition Multimedia Interface (HDMI) cable to conveniently transfer both digital audio and video signals with a single wire. However, if your system uses one of these connections, you may still need an optical or coaxial audio cable, since HDMI might not be able to carry audio signals with all disc player and receiver combinations.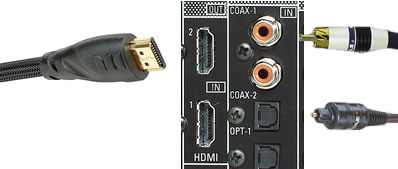 HDMI, coaxial digital, or optical digital — be sure to connect your disc player to your receiver with one of these types of connections for optimum sound quality.
Get the picture right — setting up your disc player for video.
Right out of the box, the default video display settings on your DVD or Blu-ray player will generally get you some kind of picture. But those settings may not always be the correct ones for your specific TV.
Choosing the proper aspect ratio in your player's video display menu (usually labeled "4:3 standard TV" and "16:9 widescreen TV") ensures you get a picture that's sized correctly to match your standard or widescreen set. This is definitely key if, for example, you don't want to see an impossibly tall and lanky Frodo or an abnormally squat looking Gandalf.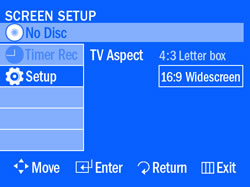 Use your disc player's setup menu to get a properly formatted picture on your TV screen.
Set your disc player's audio output to match your receiver's capabilities.
When you first plug your disc player in, it probably won't be set to send the best audio signal to your receiver. That means that even if your receiver's capable of surround sound, and you're using the right connections, your DVD or Blu-ray player might not deliver the correct signal, and you won't be getting the full surround sound benefits you paid for.
You'll see a few options in your player's audio setup menu — choose the surround sound setting (usually labeled "bitstream" or "Dolby Digital") instead of the stereo setting (frequently labeled "PCM" or "Digital PCM"). And be sure to activate the player's "DTS" output as well if your receiver has a built-in DTS decoder.
Many Blu-ray discs also have high-resolution audio, like Dolby® TrueHD and DTS-HD™ Master Audio, encoded on them. But getting your Blu-ray player and receiver to play nice together can be tricky. Be sure to check out our article on connecting your Blu-ray player if you're having trouble getting high-resolution surround sound to your receiver.
By setting your disc player's audio output properly, you'll get the best possible surround sound from your system.
Select the best playback modes from your disc's menu.
It might be surprising, but even if you use the right connections, and set your DVD or Blu-ray player correctly to output surround sound, you may still have to take an extra step to make sure you hear surround every time. That's because most DVDs and some Blu-ray discs don't have surround sound automatically set as their default playback mode. And some Blu-ray discs give you a couple of options for high-resolution surround sound, so you'll want to pick the best one for your system.
In order to get a disc to output surround sound, go to the disc's main on-screen menu by pressing your player's "Disc Menu" button and selecting the disc's audio options, usually labeled "Audio Setup" or "Languages." From there you can choose the best surround format your system is able to support, like Dolby Digital 5.1 EX or Dolby TrueHD, and DTS 5.1 ES or DTS-HD Master Audio. (For more information about surround sound, see our article "Understanding Surround Sound Formats.") Then check the front-panel display on your receiver — you should see an indicator light or text display that shows you if you're listening to true discrete multichannel sound.
On most players, you can change the soundtrack settings on the fly by simply pressing a button on the remote. Try cycling through the various surround sound options as the disc is playing to see which mode sounds best to you.
Don't take your subwoofer's placement and settings for granted.
If your subwoofer sounds incredibly powerful — even while listening to a violin solo — you may need to take a closer look at how and where you have it set up. Location is frequently a matter of necessity. But if you have the luxury of experimenting with placement, you may find that where you put your sub makes a big difference in the quality and evenness of bass response throughout your room.
A general rule of thumb is the closer you position your sub to walls or corners, the stronger the bass. But be careful — placement that's too close to room boundaries can result in bass that's boomy or distorted. Most subwoofers (and many receivers) have controls that allow you to fine-tune bass output. Just remember, even though sound quality and bass performance can be very subjective, the main idea is to end up with bass that goes deeper, not just louder.
Calibrate your speaker system's output levels properly.
Simply getting sound from all of your speakers isn't enough to ensure accurate sonic performance. Years of setting up sound systems has taught me that additional calibration of speaker levels can bring out subtle nuances and special effects that our ears might not be able to pinpoint but can nonetheless appreciate — like a sense of three-dimensional space on a multichannel music track recorded in a concert hall, or the realistic sound of airplanes flying overhead during your favorite action movie.
I've used an inexpensive analog decibel meter before, and the consistently accurate results I get are impressive. Fortunately for the many folks who don't have that kind of equipment, quite a few receivers now come supplied with their own microphone, and feature a built-in automatic calibration system that can also do a great job.