Blank Media: How to Choose
Heads up!
Welcome to this article from the Crutchfield archives. Have fun reading it, but be aware that the information may be outdated and links may be broken.
Listening to your favorite custom song mix, capturing baby's first steps, sharing your digital pics of the blue Caribbean — every kind of audio, video, or digital image recording must be captured and stored on some type of media. And while online solutions such as cloud storage are becoming more popular, there's still a need for saving — or backing up — files to some form of hard copy. Blank media comes in many different shapes and sizes, for a wide variety of applications.

High capacity memory cards are often used in DSLR cameras.
Blank discs include recordable and rewritable CDs, DVDs, and Blu-ray discs. Blank tapes include VHS, S-VHS, Mini DV, and audio cassettes. Digital cameras and portable music players generally use some form of removable flash memory to store pictures or audio files; common types of blank memory cards include CompactFlash® cards, Secure Digital® (SD) cards, Memory Sticks®, and more.
For more information about individual types of media, see our Blank Media Glossary.
Which format is right for you?
One of the most important things to think about when shopping for audio/video gear is what kind of media it uses. Because blank media formats vary enormously, consider the following factors when evaluating your entertainment options:
Price

— Blank media ranges from very inexpensive to considerably higher in cost; keep your budget in mind, yet be aware that you may be giving up durability and portability perks for a lower price.

Capacity

— The amount of storage you need can partially determine your choice of media (subject to compatibility with your gear). Memory cards, for example, come in a variety of sizes, but high-def cards with a 16-gigabyte or greater storage only work with certain kinds of cameras. And the same can be true of disc players. CD-Rs and DVD-Rs (which have ten times the storage capacity of CD-Rs) can be read by most DVD players and PCs with DVD drives. High-capacity format recordable Blu-ray discs can store three times or greater the amount a DVD-R can hold, but require a compatible player in order to use them.

Availability

— If you travel a lot, make sure you carry enough extra blank memory cards or discs to capture all the photos or video you want. It's true that you might be able to find some extra memory while you're traveling, but depending on where you go, there may be a more limited selection or higher prices than you'd find at home. And while you might have online storage, if you don't have access to the Internet (if you were vacationing in a remote location, for example), that extra memory you bring might mean the difference between saving all your shots or having to constantly delete some to make room

Ease of use

— Depending on your needs, one type of media may be preferable to another. If you want fast access to video you just shot with your camcorder, for example, then you'll probably want to save your footage to DVD. If you want a media that will more readily lend itself to editing, then you'll probably want to use a tape format.

Durability

— Some types of media are virtually indestructible, like flash memory cards and drives; some require careful handling, like DVDs and CDs; some simply don't have a long lifetime, like audio cassettes. If the longevity of your recordings is important to you, then you'll want to chose gear that stores content to more durable media.

Rewritable media

— Many types of media, like CD-RW, DVD-RW, and flash memory cards can erase existing data and store new information in its place. Other media, like CD-R, offers one-time storage, often at a lower price.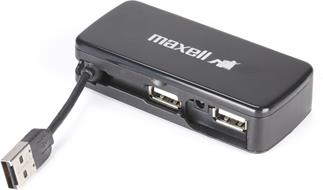 Memory card readers let you connect your memory card directly to your computer, generally via USB, without having to connect your audio or video device. [Maxell USB Hub/Multi Card Reader shown above.)
Digital media and PC connectivity
The use of blank media usually involves a computer somewhere in the process. Music libraries for portable music players are normally created and maintained on computers, and then transferred to the players. Videos from camcorders usually get moved to computers for sharing, editing, and storage.
To transfer music, video, or digital pics to and from your computer, you first need to make a connection. There are lots of possibilities. For one thing, many digital cameras, digital camcorders, and portable digital music players can connect directly to your PC, usually via a USB port..
If you're using some kind of memory card, however, a memory card reader you'll need an adapter of some kind to connect it to your computer. That's where card readers come in. These readers can accept a wide variety of memory cards, and connect to your PC via a USB port or other terminal common to computers. Before you buy, think about how you're going to connect your new digital A/V gear to your PC. Making sure you've got everything to make the connection now makes for easy operation later.