Choosing a prepackaged surround sound system
Heads up!
Welcome to this article from the Crutchfield archives. Have fun reading it, but be aware that the information may be outdated and links may be broken.
Today's TVs look fantastic, but the sound you get from their small speakers just can't do the picture justice. There are a number of options for getting better sound, but if you want to get that "movie theater experience" in your home, a full surround sound system is the way to go.
You've got two options for surround sound: building your own system or choosing a prepackaged one. There are pros and cons to each. For example, building your own system will often offer higher performance, and give you the power needed for larger rooms. But a prepackaged system might save you some money and be easier to set up. You can also find some cool features in prepackaged systems, like wireless rear speakers, that are harder to get with separate components. [Shop for a prepackaged home theater system.]
All prepackaged home theater systems come with at least five speakers, a subwoofer, and an A/V receiver — beyond that, there are lots of additional features to choose from.
Video and music options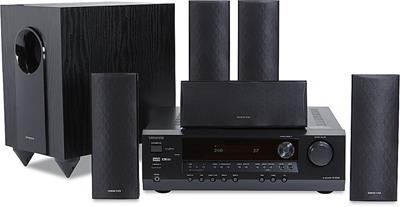 If you already have a disc player, then look for a system with a standalone home theater receiver — it will also offer better sound quality, too.
Disc player
Some systems have a Blu-ray player built directly into the receiver to create a single media console. This is a great option if you don't have space for a lot of components.
Wi-Fi

®

Some newer prepackaged systems also allow you to connect the receiver to your existing wired or wireless home network and stream web content from services like YouTube™, Netflix®, and Pandora® Internet Radio. Many Wi-Fi-capable systems also let you play music stored on your computer.
iPod® dock
Some prepackaged home theater systems come with iPod docks in the box. Other systems offer USB inputs for connecting your iPod, iPhone, or iPad®. Be sure to check the compatibility of the home theater's receiver with your generation iPod, and read closely to find out exactly what kind of playback you get. For example, some systems will only play music from your iPod through the speakers; others will also give you video playback, onscreen menus, and full control of your iPod with the system's remote.
Sound quality
If you want better sound, look for systems with higher-quality receivers. For example, receivers with class D digital amplifiers offer clean power and detailed sound.
Powered subwoofer
"Powered" subs have their own built-in amplification, and can deliver deeper, more accurate bass. "Passive" subs get their power from the receiver, like the rest of the speakers, and won't pack as much of a punch.
Lossless surround sound formats
All home theater receivers these days support 5.1-channel Dolby® Digital and DTS®. Some also offer built-in decoding for Dolby® TrueHD and DTS-HD™ Master Audio. These two advanced surround sound formats give you exceptionally detailed sound to go with the high-def picture on your TV. You can learn more about the different surround sound formats available using our helpful chart.
Features for easier setup
Plenty of inputs
If you want to connect additional gear to your system, like a cable box or a gaming console, then you should check to make sure it has the type and number of audio and video inputs you'll need. For example, if you plan on hooking up high-def sources to your receiver, then make sure that it has enough HDMI or component video inputs. Prepackaged systems that offer a dedicated home theater receiver generally come with more inputs for additional gear.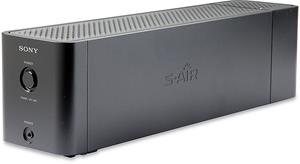 Wireless rear speakers can make your setup much easier. A separate rear amplifier means you won't have to run wires from the front of your room to the back. It receives signals from the receiver and provides power to your rear speakers. Just plug it into the wall and connect your surrounds.
Automatic speaker calibration
With automatic calibration, you simply place the speakers following these basic guidelines, and plug an included microphone into the receiver. The receiver plays test tones and "listens" to your speakers, adjusting their settings to best suit your room and setup. You can check out our video to learn more about how automatic speaker calibration works.
Wireless rear speakers
Some home theater systems come with a second, smaller rear amplifier that you can connect to your rear speakers. It saves you the hassle of running long wires from the front of your viewing room to the back. If it's not included with a system, you may be able to get it as an optional add-on.