Understanding Mini DV Camcorders
Heads up!
Welcome to this article from the Crutchfield archives. Have fun reading it, but be aware that the information may be outdated and links may be broken.
Trying to decide what camcorder format is right for you? In this article, we'll take a closer look at today's tape-based digital camcorders: Mini DV. You can also get the scoop on digital camcorders in general in this article on finding the right camcorder.
Mini DV camcorders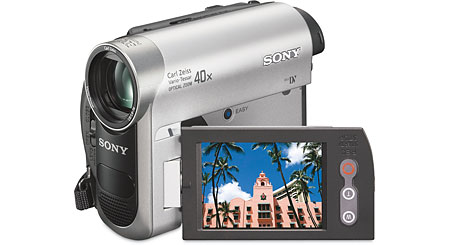 Mini DV camcorders are lightweight and portable. (Sony DCR-HC52 shown above)
Mini DV camcorders record video to small Mini DV tapes which are reasonably inexpensive, reusable, and widely available. The resulting compact size and portability of these cams makes them excellent travel companions.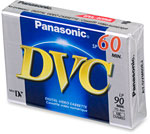 Mini DV tapes are widely available and very small, making them easy to find and carry when traveling.
But their popularity stems from more than easy-to-find, compact media. Although they vary by manufacturer and model, these camcorders come with a wide variety of features, extras, and prices. For example, features such as low-light settings, digital photo modes and image stabilization are increasingly common on most Mini DV camcorders. Higher-end models may offer advantages such as specialized red, green, and blue imaging sensors (for a cleaner, more accurate picture), a video light (for low-light shooting) or the ability to record high-definition video. And these days, Mini DV cams aren't just for upper-end enthusiasts; they're available (with slightly fewer features) for amazingly affordable prices. Basically, there are Mini DV models for novices who simply want easy filming and for experts who need a cam that'll do it all.
One of the most important advantages to Mini DV, though, is its capacity for detailed, precise editing. Unlike the footage from DVD, hard drive, flash memory, and memory card camcorders, Mini DV video permits frame by frame edits. So if you plan on lots of editing, and you want your fades and cuts to be pinpoint accurate, Mini DV makes a lot of sense.
Watching your Mini DV movies
Mini DV camcorders connect to a TV or home theater system via audio/video jacks. These A/V outputs range from basic composite video to high-def-capable HDMI. The better your video quality and your TV, the more you'll benefit from using better-quality connections. (See our article on audio and video connections to compare different kinds of video connections.)
To transfer full-motion video to your computer, all Mini DV camcorders use an i.LINK™ digital A/V jack (also called "IEEE 1394" or "Firewire"). Since detailed video files are large, you'll want to make sure you have ample memory space to store these files. We actually recommend using an external hard drive to keep a backup copy of your footage, as it saves space on your PC, and means that a lost or damaged tape doesn't mean priceless family memories are gone forever. Every five minutes of footage will use approximately one gigabyte of memory. For more information, see our article on watching, sharing, and editing your home movies.
Photos and MPEG or M-JPEG movie clips are typically stored to optional flash memory. These files are usually transferred to a computer by a USB connection. High-speed USB is recommended for quicker transfer times, but not required in most cases. (Be sure to check your camcorder and PC for compatibility first.)
High-definition Mini DV camcorders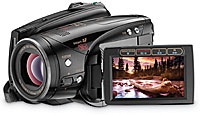 With the popularity of high-definition TVs, HD camcorders can be a great way to record detailed home videos. (Canon HV40 shown above)
Mini DV camcorders were the first consumer camcorder format to deliver high-def recordings. HD Mini DV camcorders capture video to Mini DV tapes in widescreen 1080i resolution, which is the same resolution used for most high-def programs on TV today. Many of these camcorders also offer a standard-definition mode with a more traditional squarish 4:3 aspect ratio, so you'll be able to choose whichever resolution best suits your needs.
To let you take full advantage of your high-def video recordings, HD camcorders offer either component video or full-sized HDMI outputs. (They also offer other analog outputs for older TVs.) With a high-quality connection to your TV, your home movies will look crisp and detailed — almost professional. When it comes to editing or storage, you can transfer your video to a computer through an i.LINK digital A/V jack. If you plan to do a lot of editing, make sure that you'll have software that can handle high-definition video (not every camcorder comes with full editing software). Again, for more info, check out our article on watching, sharing, and editing your home movies. And for storage purposes, do keep in mind that HD footage is more detailed than standard footage, which means it will take up even more memory.
In short, Mini DV camcorders and high-definition Mini DV camcorders make sense if you:
want a small, portable camcorder
want to record to easy-to-find tapes
need an affordable camcorder
want a wide range of features
plan on doing precise, frame-by-frame edits