Home theater receivers FAQ
Answers to questions about choosing and using a home theater receiver
Heads up!
Welcome to this article from the Crutchfield archives. Have fun reading it, but be aware that the information may be outdated and links may be broken.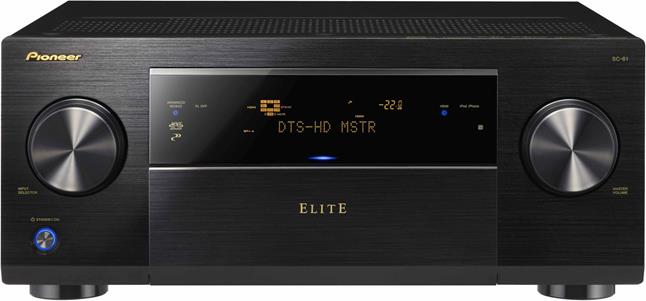 Shopping for a receiver
Q: How much power do I need?
A: In general, the louder you like to listen, the larger your room, and the less sensitive your speakers are, the more power you need. As you shop for receivers, however, keep in mind that even if you don't listen loud, you may still want a more powerful amplifier. In fact, the biggest benefit of higher power isn't volume — it's increased dynamics and improved sound quality.
Another important factor to remember is that not all receiver wattage ratings are directly comparable. Pay particular attention to the range of frequencies, or bandwidth, listed next to the receiver's power rating. For audio components, "full bandwidth" is considered the entire frequency range of human hearing — 20-20,000 Hz.
Full-bandwidth power ratings are a more conservative measure of power than ratings derived using a narrower range of frequencies. So a receiver that delivers 100 watts per channel at 20-20,000 Hz is actually more powerful than one that delivers 100 watts per channel at 40-20,000 Hz.
Note that some home theater receivers list full-bandwidth rated wattage for stereo operation, but do not specify bandwidth for their multichannel home theater modes. For such receivers, you should assume that the multichannel wattage is not full-bandwidth rated.
Q: Do I need a 3D-capable home theater receiver for 3D TV?
If you want to watch 3D TV at home, there are a few must-have pieces. You'll need a TV capable of displaying 3D video, and special 3D glasses for everyone watching. You'll also need a 3D video source, like a 3D Blu-ray player and 3D Blu-ray movie, as well as an HDMI cable to connect it to your system.
So where does a home theater receiver fit in? Well, if you plan on switching your 3D video sources through your receiver, you'll need one capable of passing those 3D video signals on to your TV.
Now, if you don't have a 3D-capable receiver, you could run 3D video signals directly to your TV via HDMI, and run an optical or coaxial digital audio cable to your receiver for surround sound. That's a less-than-ideal solution though.
Having a 3D-capable receiver in your 3D TV system gives you a couple of key benefits. First, you'll still be able to enjoy the convenience of running a single HDMI cable to your TV (as opposed to one from your receiver and one from your Blu-ray player). Second, you'll still be able to get the ultra-high-resolution soundtracks available on Blu-ray discs, like Dolby® TrueHD and DTS-HD™. (Those formats generally require an HDMI connection, so optical or coaxial digital won't cut it.)
Check out our article about 3D TV for more info on what you need and how 3D TV works. And for more info on Blu-ray player connections, see our article about hooking up your Blu-ray player.
Q: I'm interested in music, not home theater. Am I wasting my money buying a receiver with Dolby Digital and other types of surround decoding?
A: Look for a receiver that has everything you need in terms of quantity and quality of power, inputs and outputs for connecting your components, and price. That's more important than choosing between a stereo and home theater model.
Home theater's popularity has resulted in more and more receivers (even inexpensive models) that include Dolby Digital processing. Since the surround sound decoder only accounts for a relatively small percentage of the cost, certainly don't avoid a receiver that's perfect for you in every other way just because it's multichannel.
Additionally, the multichannel capabilities of a home theater receiver can offer benefits even to the hardcore music-only fan. Two high-resolution audio formats, SACD and DVD-Audio, are capable of delivering audio in the same 5.1-channel speaker configuration employed by Dolby Digital. A stereo receiver won't let you enjoy such discs in their full multichannel glory, but a home theater receiver equipped with a 5.1-channel input will. Home theater receivers also offer digital processing modes that let you transform stereo music into enveloping multichannel surround sound. Plus, home theater models offer the convenience of digital audio inputs and outputs.
Receiver terms and technologies
Q: What is the difference between HDMI switching, HDMI conversion, and HDMI upconversion?
A: Most receivers with HDMI inputs and outputs offer three levels of capability. The most basic is HDMI switching. This allows you to connect two or more HDMI-equipped components to a receiver (depending on the number of HDMI inputs) and switch between them, sending the video signal from the selected component out to your HDTV. This functionality maintains the quality of your source's digital HDMI video signal and is especially handy if your TV doesn't have enough HDMI inputs.
HDMI conversion is a receiver's ability to accept a variety of incoming video connections from the components in your system and pass them all to your HDTV through a single HDMI cable. HDMI conversion does not improve the picture quality of any of your sources, but it does allow you to use each component's best video output connection in order to preserve the highest possible picture quality. This single-cable connection also conveniently eliminates the need to switch inputs on your TV every time you want to view a different source — a kindness for less technically inclined household members and guests.
HDMI upconversion, also known as video scaling, allows a receiver to upgrade any non-HD video source to a superior high-resolution video signal that more closely matches the capabilities of your HDTV. This gives your DVDs and older video sources a crisper, more detailed look. However, there are limits — don't expect your VHS tapes to look high-def.
It's worth noting that some manufacturers may use the term "video upconversion" to describe video conversion. We've made an effort to clearly classify these features for every model on crutchfield.com.
Q: What is THX® and what does it do for me?
THX is a certification program developed by Lucasfilm Ltd to ensure a high-quality movie theater experience. To earn the THX badge, a home theater receiver must meet Lucasfilm's rigorous standards for power, processing, and audio purity. Certification also means that a receiver is equipped with exclusive THX processing enhancements designed to faithfully re-create the cinematic experience in your home. THX Surround EX™ modes enhance the sound of all your multichannel sources, and can even transform them into convincing 7.1 surround sound if you have a 7.1-channel system.
Q: Dolby Digital, DTS... what's up with all those surround sound formats?
A: Almost every movie, TV show, and video game out there these days offers some form of surround sound to provide a more exciting viewing or playing experience. Although there are lots of different surround sound formats available, each taking a somewhat different approach to providing room-filling multichannel sound, today's home theater receivers are equipped to decode them.
To find out more about the various types of surround formats and their capabilities check out our surround sound article, as well as our Receivers Glossary for a list of terms.
Q: How is a dual-room/dual-source receiver different than a receiver with "A" and "B" speaker outputs?
A: There are two main differences. The first is that dual-room/dual-source receivers allow you to send signals from different sources to each room. For example, you can enjoy surround sound from a DVD in your main listening room while a housemate listens to a favorite radio station in the second room. Note that these receivers can only send stereo signals to the second room, not multichannel home theater sound.
The second difference is that some dual-room/dual-source receivers do not power a second set of speakers. They feature preamp-level outputs for the second room that require an additional receiver, amplifier, or a set of powered speakers in your remote listening area. However, if a dual-room/dual source receiver is described as having powered outputs for the second room, then all you'll need for your second room is a set of speakers.
Entertainment sources and options
Q: What do I need to integrate my iPod® into my system?
A: A lot of receivers these days make it easy to add a portable music player to your home audio/video system. Most models now feature a proprietary connection for a brand specific iPod dock that allows you to turn your iPod into a fully integrated part of your home theater. This lets you enjoy its music, and possibly video, through your main system. You can also often control your iPod with the receiver's remote, and display its menu on your TV screen for even easier operation. See our informative iPod dock article to learn more about choosing a dock for your system.
Many receivers also feature a front-panel USB connection that lets you connect an iPod or thumb drive. In addition, some receivers also bypass the iPod's digital-to-analog converter (DAC) when you use the USB connection. This enables the receiver to use its own DAC as well as built-in processing capabilities that restore fidelity lost in many compressed file formats.
One of the newest features to appear on receivers is Apple AirPlay®, which provides a means of using iTunes® with your receiver. If you have an iPod touch®, iPhone® or iPad® running iTunes 10, you can send stored music to your receiver via your wireless home network. The receiver still requires a wired connection the router. You can stream music to your receiver from anywhere within range of your Wi-Fi network. For instance, if the receiver in your living room is connected to outdoor speakers on your patio, you can control the music directly from your iPod, without having to move indoors to do so. AirPlay also lets you stream music from a computer running iTunes 10, too.
Most receivers also offer a front-panel mini-jack or RCA audio connection that allows you to simply connect your iPod's or other MP3 player's headphone output via an adapter cable to play songs through your receiver and speakers. Keep in mind, though, that you won't be able to control your player with your receiver's remote or view the playlists on your TV screen using this type of connection.
Q: How can I play games and HD video from my Android™ device?
A: If you have an MHL® enabled Android smartphone or tablet you can enjoy HD video and multi-channel audio through a compatible receiver.
Some receivers feature a front-panel MHL-ready HDMI input that lets you connect your Android gear via the MHL cable that came with the portable device. In addition to letting you to watch content on an HDTV connected to the receiver, accompanying digital sound tracks, including surround sound, will be decoded and played through your system's speakers or TV if desired. Connecting to your receiver also enables the receiver remote to control your portable. Your device will also recharge while connected to your receiver in this manner.
You may want to visit the MHL website to determine if your Android device is MHL compatible.
Q: How can I play music from my computer?
A: There are a couple of methods to get music from your network to your home receiver. There are separate components, like the one pictured at right, that can easily be connected to your receiver. These components can access files on your computer and often allow for direct connection to Internet music sources as well, even with your computer turned off. These sources fall into two categories: Internet radio and Internet music services. To learn more about Internet radio, check out our article on Internet radio. You can also find out more about Internet music services from our article on this topic.
There is a second, more direct way of getting music from your network or the web to your receiver. Many receivers are networkable or Internet-ready. You will frequently see the term "DLNA Certified". Learn more about this with our DLNA article. With this certification, the receiver will integrate nicely with most of today's home computer operating systems. Just connect your receiver to your home network using Ethernet cable, or to your wireless router if you have a Wi-Fi enabled receiver. You'll also need high-speed Internet access for Internet radio and music services.
Q: What do I need to add satellite radio to my receiver?
A: Many of today's receivers are XM Ready or SIRIUS Ready — that means they let you add an optional external tuner in order to receive subscription-based XM or SIRIUS satellite radio. These tuners often come in home "kits," and allow you to connect a XM or SIRIUS unit to your home A/V system. They connect to a proprietary XM or SIRIUS jack on your receiver's back panel.
XM and SIRIUS both also offer stand-alone component tuners that connect to your receiver via standard optical digital or stereo RCA connections. (However, unlike most satellite radio kits, these tuners can't display channel information on your receiver's LCD.)
Getting the best possible picture and sound
Q: Which connections should I use for the best picture quality?
You've got several main options when making video connections — HDMI (which carries both audio and video), component video, S-video, and composite video. Whenever possible, we recommend a high-definition-capable connection. That means using component video or HDMI cables to make your hookups.
HDMI should generally be your top video connection choice. It can carry detailed high-definition signals, including 1080p — the highest resolution currently available. If your receiver doesn't offer HDMI inputs, but your TV does, you may want to consider making an HDMI video connection to your TV, and running a separate audio connection to your receiver.
Like HDMI, component video can carry a high-definition signal. In most cases, you won't be able to get 1080p video signals via component video, but you'll still enjoy a great-looking high-resolution picture. That makes component video an excellent alternative to HDMI. Keep in mind that, unlike HDMI, component video can't carry audio signals, so you'll need to make a separate audio connection.
S-video and composite video connections can be found on just about every A/V component. If the component you're connecting isn't high-def, S-video or composite video cables will likely be your only option. If that's the case, then they're obviously the way to go.
For a closer look at this topic, see Steve's TV connections article and Kristen's in depth cable article.
Q: Which connections should I use for the best sound quality?
With most newer home theater receivers you'll have four options when making audio connections — optical digital, coaxial digital, HDMI (which actually carries both audio and video), and analog RCA connections. Stereo receivers typically offer only stereo RCA inputs, so there won't be any other hookup options available.
If you're connecting a component to a home theater receiver for surround sound (or even two-channel music), an HDMI cable or an optical or coaxial digital cable is usually the best way to go. The HDMI connection has the added benefit of being able to transfer the latest high-resolution surround sound formats, as well as high-definition video, if both your receiver and source component support it.
Many Blu-ray and SACD players decode multi-channel audio internally, and output the processed sound through 5.1 or 7.1 analog RCA outputs. You can use RCA connections for this type of setup with excellent results, as long as your receiver has corresponding multi-channel audio inputs. This setup works especially well for receivers that don't have HDMI.
For a closer look at this topic, see Kristen's in depth cable article.
Setting up your receiver
Q: Do I have to connect my video sources to my receiver?
A: No you don't. People frequently make video connections through their receiver because their TV lacks enough inputs to accommodate all the components in their system. However, for the best possible picture quality, purists may want to connect their video components directly to the television (assuming the TV has enough of the right kind of inputs) to avoid any possibility of signal loss or interference. Of course you'll still need to make an audio connection from your video sources if you want to hear the sound they offer through your receiver and speakers, rather than through your TV. (Learn more about the process of switching video through your receiver.)
One exception might be if you're dealing with HDMI connections and your receiver is capable of handling HDMI. That's because HDMI is usually a single cable connection that carries both audio and video. Because some components will only pass their top resolution video signal via HDMI, it may be to your advantage to just make an HDMI connection through your receiver. (We get into the details of switching HDMI through a receiver in the next question.)
Q: If the receiver I want doesn't have a dedicated subwoofer output, can I still hook up a subwoofer?
A: Yes, as long as the subwoofer has speaker-level inputs and outputs. You can hook up this type of subwoofer in line between your receiver and main stereo speakers. Run one set of speaker wires from the receiver's "A" speaker outputs to the subwoofer, and then run another set of speaker wires from the subwoofer to your main stereo speakers.
Q: Can I use the "B" speaker outputs on a stereo receiver for surround sound?
A: Definitely not. Your receiver's "B" speaker outputs provide the exact same stereo signal as its "A" speaker outputs. (The "B" speaker outputs are useful for connecting a second pair of stereo speakers for some other area around the house.)
Surround sound, on the other hand, consists of multiple audio channels, which carry different portions of a soundtrack. These channels must be decoded by a multichannel surround sound processor.
Q: When I run "A" and "B" speakers at the same time, how much power will go to each speaker?
A: That depends on whether the receiver's outputs are wired in series or parallel. If wired in series, your total power decreases by about half when you switch from "A" to "A+B." Four speakers then share this lower output. Your overall volume will decrease, but impedance will increase so the amp runs cooler and is less likely to overheat.
If wired in parallel, your total power is somewhat increased when you switch from "A" to "A+B" because the amplifier is presented with a lower impedance (ohm load). Four speakers then share this higher output. (Be aware that when an amplifier is presented with a lower impedance, it tends to run hotter and produce more distortion.)
Note: Some receivers only offer output for one set of speakers. And some that do have two sets of outputs don't offer an "A+B" option because they are only equipped to power one set of speakers at a time. Always be sure to check your receiver's owner's manual for specifics before you connect your speakers.
Q: How many speakers total can I connect to my receiver?
A: Any home theater receiver allows you to connect a minimum of five speakers, including a front left and right pair, a center channel speaker, and a surround pair. Most receivers allow you to connect an additional two "back surround" speakers for use with 7.1-channel sources such as Dolby TrueHD or DTS Master Audio encoded Blu-ray discs. There are even nine- and eleven-channel receivers for use with Dolby Atmos® playback, which adds two or four in-ceiling or Dolby enabled upward firing speakers to project sound from above the seating positions.
For stereo listening, you can connect an "A" pair for the room where the stereo is located, and a "B" pair for another room (as long as your receiver has two sets of main speaker outputs). Hooking up even more pairs of stereo speakers is possible, but it requires an external speaker selector that provides more speaker outputs and protects the receiver against low impedance loads. See our in-depth article about powering multiple speakers for more info.
Tip: Many receivers will not let you run the "B" and surround speaker outputs simultaneously.
Q: Do all receivers have inputs and outputs for connecting my external equalizer?
A: No. To enable use with all of your A/V components, EQs (and other external sound processors) require that the audio signal flow out of the receiver, through the equalizer, then back into the receiver before it's amplified and sent to your speakers. To add an equalizer to your system, you'll need a receiver with either a tape monitor loop or a preamp-level output/main-in loop. Look for a front-panel button on your receiver labeled "Tape Monitor," or preamp-out/main-in jacks on the back panel to make sure a graphic EQ will work with your system.
If your receiver doesn't have a tape monitor or preamp-out/main-in loop, you can still connect a graphic EQ for use with one specific component in your system. If you want to use the EQ with a cassette deck, for example, just connect your cassette deck's output to the EQ's input, and the EQ's output to the tape input on the back panel of your receiver. You'll then be able to equalize the sound of any tape you play.
Tip: Avoid using your equalizer on surround-encoded sound. Equalizing a surround-encoded signal throws off the frequency balance and your surround decoder's steering.
Q: My receiver has a lot of dust and fingerprints on it. What's the best way to clean it?
A: Not only will cleaning your receiver keep it looking nicer, it will also help prevent dust from building up and getting inside the chassis, potentially affecting internal circuitry. Here are a few simple steps to ensure that you clean your receiver effectively and safely. Before starting, always make certain your receiver is turned off.
For basic cleaning and dusting a soft, lint-free cloth will usually do the trick. Be sure to wipe away from the vent holes to avoid brushing dust or debris into your receiver. If you need to remove residue or fingerprints from the front-panel or display, slightly dampen the cloth, wringing out all the water you can. (Never use a solvent or abrasive cleanser.) Compressed air also works well to clean sensitive areas (such as around front panel controls and buttons) or harder-to-reach places, like the cooling fan behind the vents on the back of many receivers.