Listening to Dolby Atmos
Our home theater enthusiasts check out the newest surround sound format
Heads up!
Welcome to this article from the Crutchfield archives. Have fun reading it, but be aware that the information may be outdated and links may be broken.
You may have heard the buzz about Dolby Atmos, a new audio format for creating and playing back multichannel movie soundtracks. But have you actually heard it in a home theater? We set up a system in the Crutchfield Labs to see how the use of "height" channels can make movie sound even more dramatic and immersive.
We used Pioneer's Dolby enabled speakers, which are configured to deliver conventional front-, center-, and rear-channel sound, as well as reflect sound off the ceiling for four additional height channels. This is known as a 5.1.4 Dolby Atmos system (with the .1 being the powered subwoofer). We connected the speakers with an Atmos capable Pioneer Elite home theater receiver, fired up our Blu-ray player, and invited some experts from our Creative department to take a listen and give their impressions.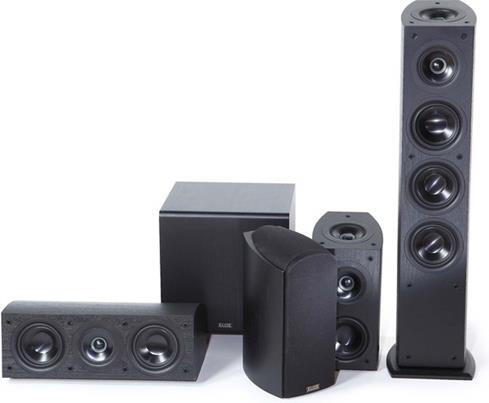 Pioneer's Elite Series speakers delivered impressive Dolby Atmos surround sound in the Crutchfield Labs' listening room.
The Gear:
Pioneer Elite SC-87 Atmos enabled home theater receiver
Pioneer Elite SP-ESF373 Atmos-enabled floor-standing speakers
Pioner Elite SP-EC73 center chanel speaker
Pionerr Elite SW-E10 powered subwoofer
Pioneer Elite BDP-80FD Blu-ray player
Sony Playstation®4 game console
After connecting and calibrating our system, we sat back and played some movie clips and even tried some video games. These included a Dolby Labs Atmos demo disc with video and music clips, and high-octane action flick The Expendables 3 on Blu-ray. These discs were encoded with discrete Dolby Atmos surround channels, while the video game, Shadow of Mordor, was upconverted to Atmos using the receiver's processing.
Comments from our listening panel
Lex, Car Audio Writer:
The Expendables 3: "The 5.1.4 Atmos mix on Blu-ray was a real kick. The sound was three dimensional. Missiles sounded as if they were literally soaring over my head. And the score really benefits from Atmos. It almost feels like a net that's wrapped around you and pulling you into the movie."
Red Bull Racing video clip and video games: "Point-of-view shots are enhanced with Atmos, allowing you to truly feel what it's like to be in the situation onscreen. I think it will be an amazing addition to video games once they are designed with Atmos in mind. For now, the upconversion really gets you into the game."
Enrique Iglesias music video: "I wouldn't have thought that Atmos would make much of a difference listening to music, but it does make the listening experience more immersive."
Dave, Managing Catalog Editor, home electronics:
The Dolby Atmos version of The Expendables 3 with nine speakers was tremendous with the movie clip. It offered amazing detail, with sounds placed accurately in the listening space. The soundstage seemed deep and three dimensional. It also extended much higher, so the entire room seemed to be filled with sound – certainly more so than it did with the 5.1 mix.
Jim, Managing Web Editor, home electronics:
Shadow of Mordor: I noticed that the shouts coming from enemy characters felt like they were placed very precisely around me, with closer and more distant sources being very easy to distinguish. (One listener in my session commented that he thought the Crutchfield employee sitting behind us was the one talking...when in fact, it was a game-generated Orc.) I didn't notice anything specific in the height layer (which is probably good!), but the soundfield seemed huge.
The Expendables 3: I expected that the Blu-ray version with discrete Atmos content would show off some gimmicky height layer effects. But, actually, the Dolby Atmos version just seemed better-focused all the way around. The sounds of gunfire, explosions, and flying missiles were locked better to the action on the screen. It didn't really call attention to itself, but rather made for a more immersive scene.
Steve, Senior Editor, home electronics:
First off, I thought the Pioneer system was far better than my current system at home — the details in breaking glass and in the artillery whizzing past us really stood out.
With Atmos engaged, the front soundstage seemed to open up and get bigger. Things sounded more distinct and less mashed together. Fly-bys overhead and to the sides were more dramatic, and gunfire off to the sides was more precisely placed and believable.
Tara, Video Production Manager:
When we were listening to the Atmos version of the movie, this was the closest that I've heard one of our systems come to replicating true movie-theater-style sound. It was really incredible — all the effects sounds were heightened. They weren't necessarily louder but they felt more dialed in — everything was coming from the proper direction and sounded really tight. I didn't necessarily notice that there was more height to the sound, but I felt more surrounded by sound. And there's one point where some big explosion occurs and the on-screen character experiences painful ear ringing — with Atmos, I was right there with him.
Loren, Catalog Analyst:
Atmos sounded much more lifelike and very three dimensional. The three dimensionality was especially noticeable with ambient effects, such as the falling leaf in the Dolby Atmos demo disc. In the Blu-ray Atmos version of The Expendables 3 there was excellent separation among the dialogue, sound effects, and background music. One thing that really caught my attention was the echo when the F1 racer ran through the tunnel at the end of that demo clip — the echo really filled the room in every direction, from front to back and top to bottom.
Charlie, Managing Web Editor, mobile electronics:
I was expecting an overblown assault with overly emphasized sound effects coming from over my head. What I heard was a movie soundtrack that was much more focused, with much clearer placement of the sound effects, and a much greater sense of sitting in a real space. Very convincing and less distracting in a way, because it sounded so real.