PA speakers buying guide
Find the right speakers for your live sound needs
Your speakers are the voice of your PA (public address) system. How do you choose the right ones? There are several questions to answer:
For what sorts of events will your speakers be used?
Will they be permanently installed, or will you carry them around from one show to the next?
How many speakers will you need to adequately serve your audience and your performers?
What types and sizes of speakers best meet your needs?
Let's start by looking at the various types of PA speakers.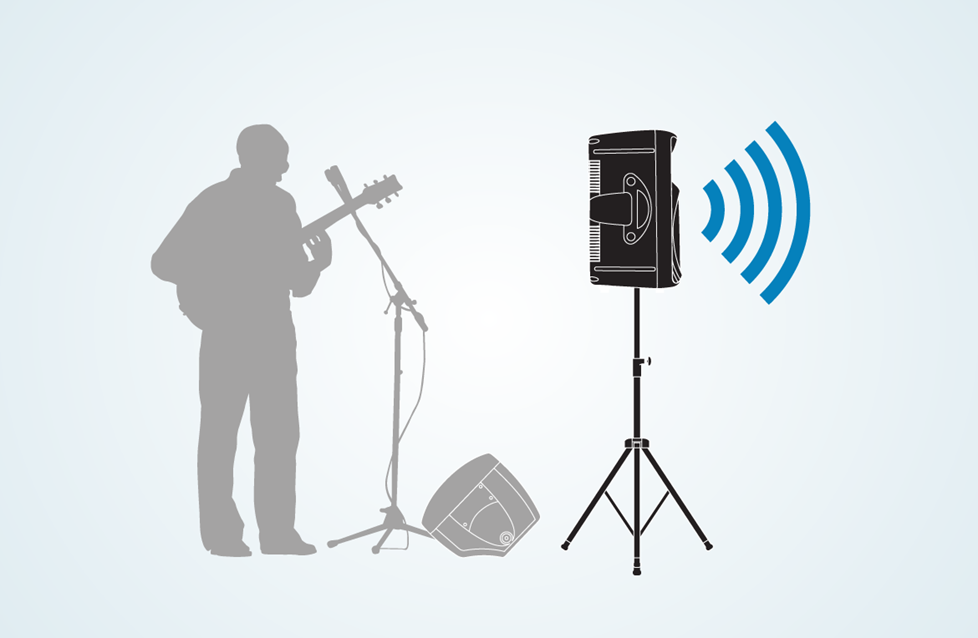 Your "main" speakers are usually positioned on either side of the stage, in front of the performers.
Main speakers
Your "main" speakers are the most important speakers in your system. They're full-range units, and they carry the indispensable sounds to your audience.
Basic systems have main speakers on either side of the stage. A large system for a house of worship or concert hall might also include main speakers along the side walls. This allows for a more consistent volume level from the front to the back of the venue.
There two types of main speakers to consider.
Active vs. Passive speakers
An active (powered) speaker has a built-in amplifier. You can connect it directly to a mixing board's output jacks. They're great for portable systems. You won't have to transport and connect a lot of amps for every event.
Active speakers simplify your shopping, too. You don't have to worry about whether the speakers and amps are a good match.
For a simple portable system, you don't necessarily need a mixer. Just plug a microphone or another sound source into your powered speaker.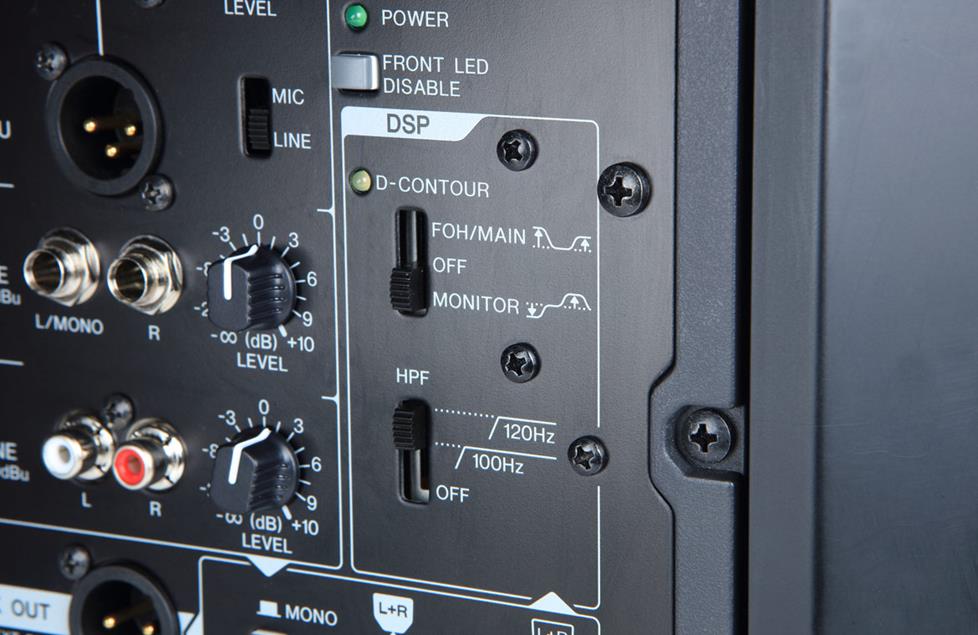 Powered speakers have inputs that connect to mixing boards or directly to microphones and other sound sources. Many models have EQ presets that tailor their sound for use as main speakers or as monitors.
Passive speakers are powered by outboard amplifiers. They're an outstanding choice for permanent placements, such as a church, school, or live music venue.
Passive speakers are good for hanging from the ceiling or wall mounting. You don't have to run AC power to them, and you won't have to climb a ladder to make an adjustment.
If you're building a large system, unpowered speakers will give you both versatility and room to grow.
How much power do passive speakers need?
Passive speakers need at least as much power as their "program power rating." Most manufacturers suggest giving them up to twice that amount of power for optimum performance.
See our pro audio amplifiers buying guide for more details. And we're here to help you find the right combination of speakers and amps for your venue.
What size should you get?
The most popular sizes for main speakers are 10", 12", and 15". Consider the size of the cabinet and the weight. If you're carting your gear around in a small SUV, you might not have room for the two 15" speakers along with everything else that's in your system. A 15" speaker might weigh upwards of 40 pounds, too.
On the other hand, if you want a lot of bass, you might want to get the 15" models. — especially if you're not going to have subwoofers in your system.
Subwoofers
When it comes to low tones like bass guitar and kick drums, live sound subwoofers are essential.
Bass takes a lot of power, so having a sub to handle that responsibility leaves the other speakers to focus on the mids and highs. That makes them sound louder and cleaner.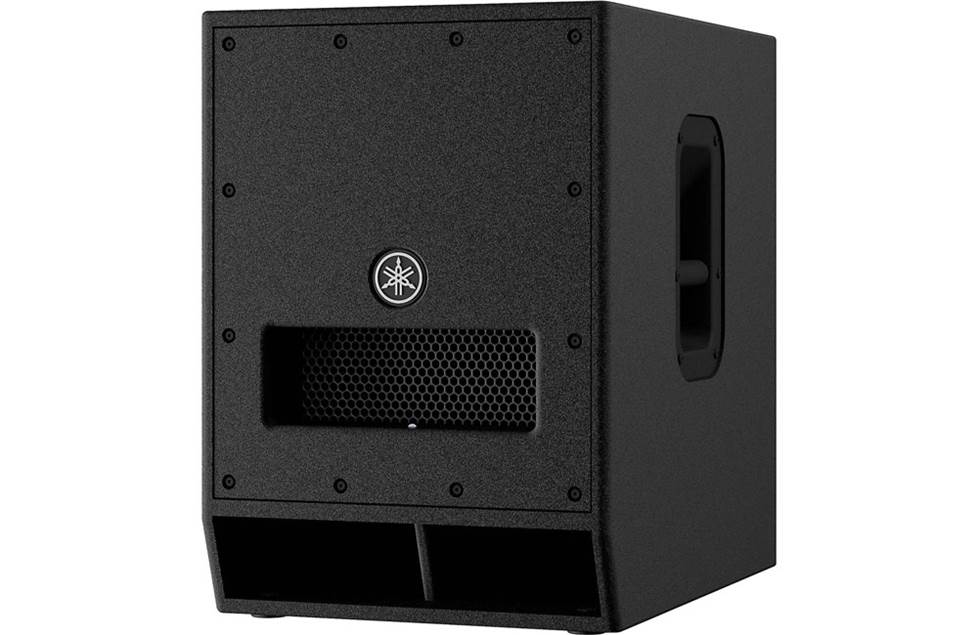 A good subwoofer, like this Yamaha DXS12 mkII, takes the bass-strain off of your main speakers
As with our discussion of speakers, the right sub for you depends on the music you're playing and the venue in which it's being played.
If you're looking for portable gear for an acoustic guitar duo, you don't really need a subwoofer.
A chamber music quartet in a small room needs a lot less bass than a rockabilly band in a roadhouse.
And those rockabilly cats need a lot less bass than the rap-metal band coming to town on Friday night. But both of these guys need the added bass power.
Powered or unpowered subs?
As with regular speakers, subs are either powered or unpowered. Which way to go depends on your system. Powered subs are easier to add to existing systems because you don't have to re-configure your amps. On the other hand, if you have an unused channel or two on your amplifier, an unpowered sub will be less expensive.
Stage monitors
Stage monitors (those wedge-shaped speakers seen on the ground facing the band) allow the performer (especially the vocalists) to keep track of what the rest of the band is doing.
Without monitors, the only thing the band would hear is all the sound it's sending forth reflected from the back wall. That would sound awful, of course, and so would the band. Stage monitors help the performers hear themselves, which is an essential part of staying in time and in tune.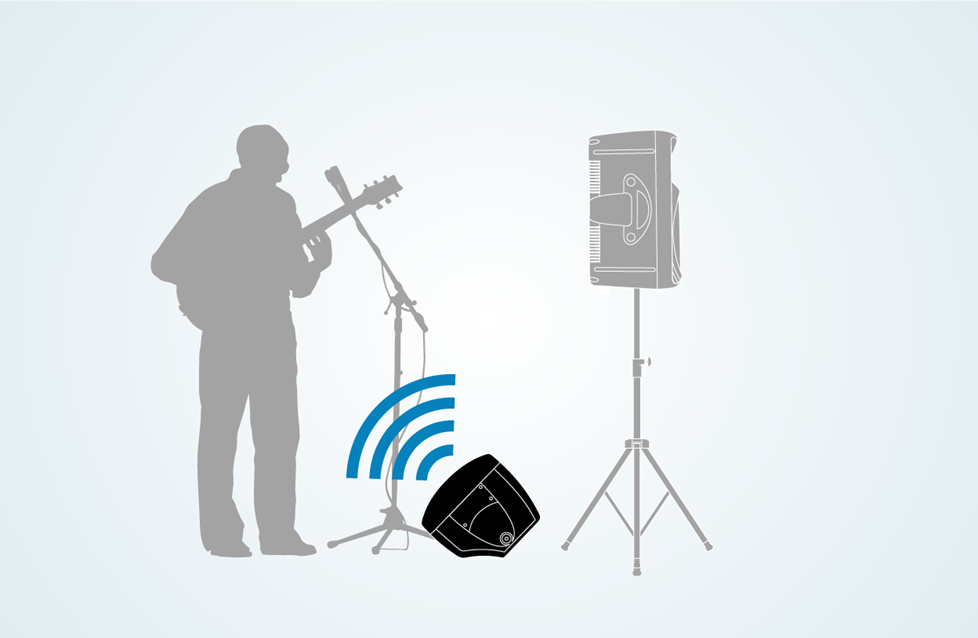 Monitor speakers play toward the performers, so they can hear themselves.
Powered vs. unpowered monitors
Like the main speakers, monitor speakers are available in powered or unpowered form.
For solo acts, small groups, or intimate venues, a powered stage monitor is a smart investment. Bigger bands or bigger halls will probably want to run larger, unpowered wedges into a bank of amplifiers. Powered or unpowered, one wedge per front-of-the-stage performer is a good rule of thumb.
"Sidefill" monitors, which you'll see on the side of the stage at larger shows, especially the outdoor kind, can also be used to help the band members keep up with what everyone else is doing.
All-in-one speaker systems
If you need a compact, versatile sound solution, an all-in-one PA system is an excellent choice. With a built-in mixer and plenty of connection options, an all-in-one system is ideal for touring acoustic acts looking for a system that fits into a small SUV or even a car.
Modern all-in-one systems are quality, professional-grade speaker systems that can fill a small venue with rich, vibrant sound.
A good all-in-one can handle anything from speeches to small musical combos. It's a smart choice if portability is a key factor in the purchasing decision.
Tips from the road
Our Crutchfield team includes a number of current or former touring musicians with years of experience hitting the road with a vanload of instruments and gear.
Among the many pearls of wisdom they've shared is that, whenever possible, you should buy a monitor that's similar to the main speakers. That way, if one of the mains goes down, you can repurpose one of the monitors and keep playing.
And remember, most speakers don't come with stands or cables. Get the best ones you can afford.
Watch the video below to see how Crutchfield's Rob Richmond, an experienced live sound pro, sets up a powered speaker system.
We're here to help
At Crutchfield, you'll find a wide range of speakers, subs, and monitors that deliver true concert quality sound for any size group or room. Whether you're a touring musician who doesn't want to buy a van, or a venue owner trying to re-vamp your performance space, you're in luck.
Contact our advisors if you have any questions or want some smart help in choosing your speakers or designing a complete system.